485. Rose Peak (01/07/06)

Hikers (24): Clive, Edita, Frank, George, Harvey, Helen, Hima, Janice, Jinglan, JP, Julia, Linda L, Michelle P, Nik, Padraig, Paul, Rich, Ross, Russ, Sabine, Sparky, Steve, Tim R, Wayne E
Distance: 20 miles
Rating: 5 difficulty, 8 beauty
Park info: Ohlone Regional Wilderness near Sunol

Write-up by Steve -- Pictures by Janice and George
A short write-up for a long hike!
Just as we were leaving the parking lot for the trailhead, Frank and Julia drove up. Many minutes later, we were off.
1, 2, 3. . .INCH!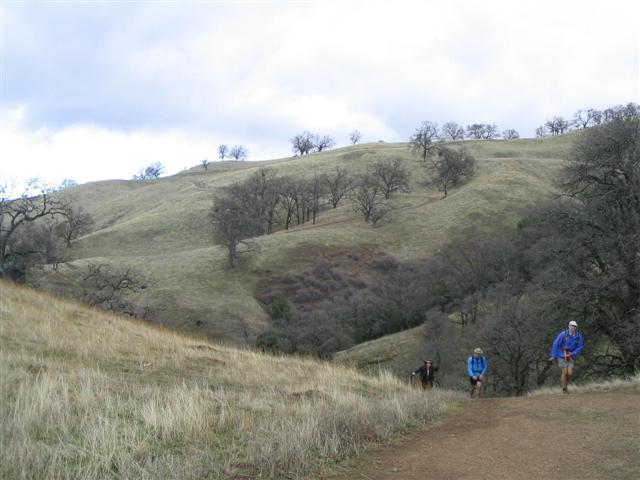 It's steep going up. . .
We were prepared for bad weather, with most people carrying plenty of raingear. For some reason I had agreed to let Sparky and some others start early for the long hike, under the condition that they wait at the top. Well, long story short, they were coming down when we got near. "Oh, it's cold!" That's what you get! Oh well, most of us actually stuck it out up there waiting for the laggards, but eventually went down without seeing newbies Stripe and Kathy L, nor latecomers Julia and Frank.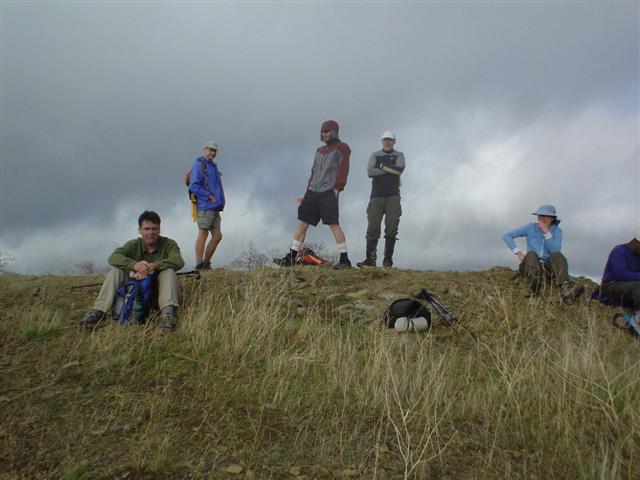 It's not exactly lonely at the top. . .but it's cold.
A few minutes down, we ran into Frank and Julia. They were progressing slowly, but everything was OK. They intrepidly continued up as we headed for the lowlands.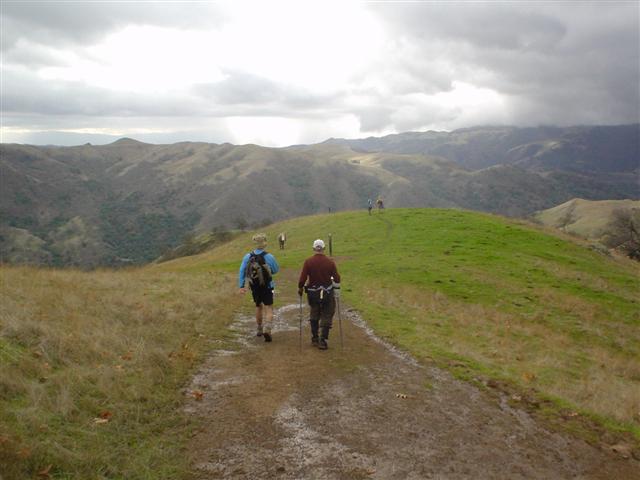 Only ten miles back to the cars
We made it back without much drama (except for the whole Jinglan/watershed incident). Based on two different barometric altimeters, we logged over 5k feet of elevation gain, but it really didn't seem like that much due to the cool temperatures.
Back at the cars, Stripe and Kathy L had left a note. They decided to do the eight-mile self-named "Black Leaf Loop". With a route name like that, we couldn't give them black leaves. However, they didn't do the hike, so we couldn't give 'em green leaves either!
Check out the rest of the pictures from George and Janice.
Milestones:
Russ's 340th leaf
Steve's 370th leaf







Pages maintained by Steve Walstra, Peter Saviz, and Russell Gee.
©2022 Intrepid Northern California Hikers