494. Flag Hill Trail (03/11/06)

Hikers (21): Dinesh, Eugene, George, Harvey, Jean-Marc, Jinglan, Linda L, Oliver, Paul, Peter, Rich, Ross, Rudi, Scott, Sparky, Steve, Sue, Walter, Wennie, Xun, Yipeng
Distance: 8 miles
Rating: 3 difficulty, 8 beauty
Park info: Sunol Regional Wilderness near Sunol

Write-up by Steve -- Pictures by Xun, George and Steve
More pictures from Sue and George.
A front had come through on Thursday, and it was cold and rainy on Friday. The forecast was for more of the same, which motivated a few of the less-intrepid people to skip the Saturday hike.
We were greeted with snow-covered peaks in the morning, with the snow level down to 500ft. The five at the carpool were enthusiastic about the possibility of hiking in Bay Area snow, which seemed likely. In fact, it seemed guaranteed when we got to Sunol (valley) and saw the surrounding white peaks (including Mission, Monument, and Allison).
Almost everyone had dressed in layered outfits. I was happy to bust out my GoreTex® jacket, which gets no use in California. By the time the hike actually started, though, it was pretty warm and people were peeling off layers. I decided to leave my jacket since the sky looked fairly clear and the hike was short. Would this be a dumb decision? Ten minutes into the hike someone said the weather was supposed to get bad around noon. . .D'oh!
1-2-3 INCH
The hike up to Flag Hill is hard in the summer because it is steep and exposed. It was a different sort of hard this time because the trails were slick from the previous rains and morning thaw. Still, everyone made it up reasonably quickly compared to the summer, and we spent the idle time taking pictures of all the snow-covered mountains. As soon as Eugene, Dinesh, and Jean-Marc got to the top, we set off for higher ground to play in the snow.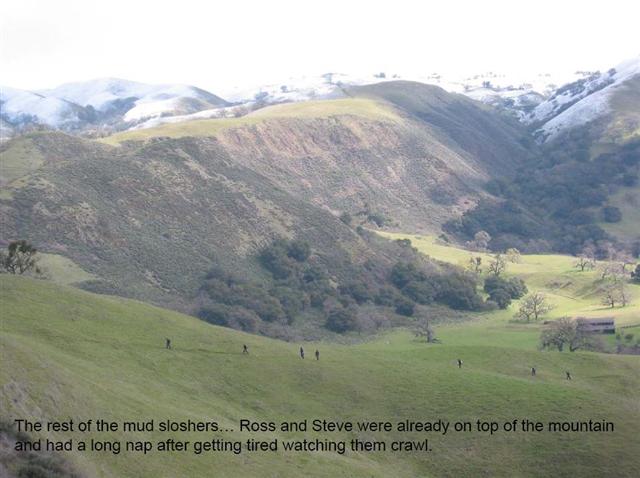 Xun puts his own captions right on the picture!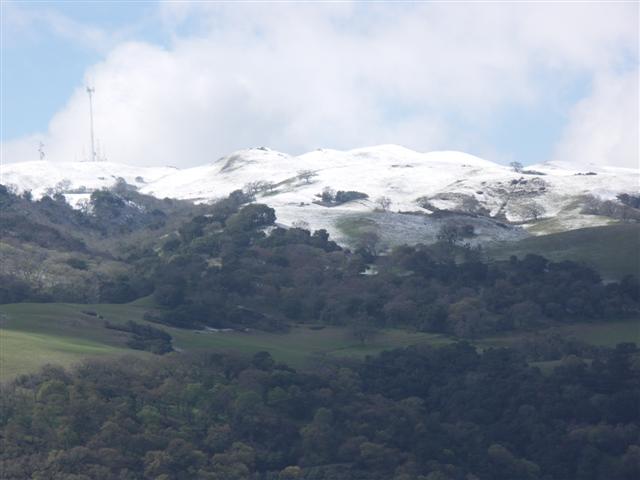 Mt. Allison from Flag Hill
Even though the hike is called "Flag Hill" (1360'), the highest point(s) occur later, including an unnamed 1545' peak and a subsequent ridge around 1600'. On the way to the first peak, we passed some snow patches on the unlit side of a hill, but nothing like we were seeing ahead. When we reached the Eagle View Trail offshoot, I waited to direct everyone down this often-missed trail. Ross and Harvey had continued up Vista Grande Road to scout for snow, but reported nothing too exciting. When we were re-grouped, we headed down the single-track Eagle View Trail. People had been pulling out their lunches--no way! Gotta get to Little Yosemite!
Eagle View Trail has a warning sign about steep drop-offs and bad trail conditions. This was the first time the sign really seemed correct, as it was slippery in a few spots. While we were waiting, I had recommended the trail to a guy with two young children as a way to get to the snow. Whoops. Hope they wised up after seeing the sign and/or experiencing the trail. . .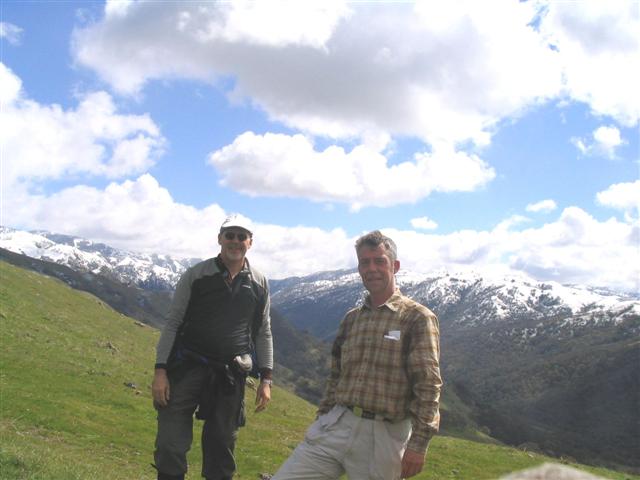 George and Rudi wanted proof of Bay Area snow.
We went down, crossed a stream, and then up, up, up toward the snow. However, as we reached an area that had been snow-covered in the morning, we only saw a few quickly melting patches. As Jinglan wisely mused, "It's like a mirage.". Alas, we would never get to lay down and make snow angels. Instead, we would have to make due with a lot of great pictures (everyone seemed to bring a camera this time) and fantastic weather. We didn't get any rain or snow, despite the forecast to the contrary. By the time we got to Little Yosemite, it was sunny.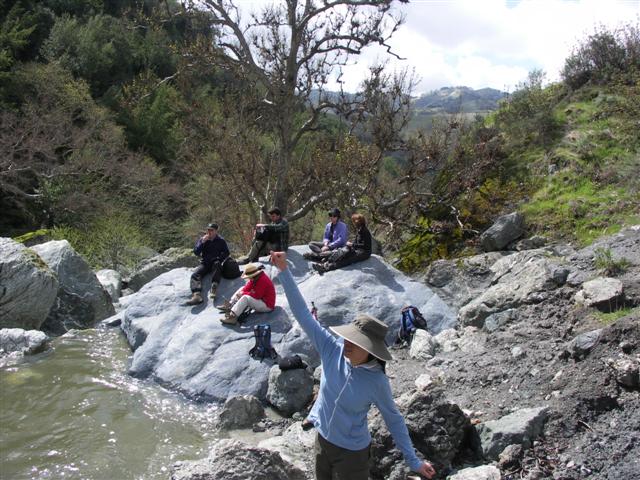 Raise your hand if you love INCH! Check out the famous blue rock.
According to the map, the official location of Little Yosemite is a bit downstream from where we normally go. Since most of us were together at this point, we went down to check it out. Ross and Harvey were ahead, and so had gone to the traditional location. The slow-pokes also went to the old location. The "new" location was great, had a much better access trail, and featured a nice big (blue) rock to sit on.
As we would learn later, the "old" location had some perks as well: Rich had brought an elaborate lunch, including a camping stove (to cook) and a bottle of wine. When I went over to round them up after we had all finished our lunches, I was pleased to find that they weren't out of wine yet. How perfect is that? Must be my birthday!
The hike back was flat as always, and we ran into lots of people. There was one nattily dressed gentlemen, complete with a vest and tie, near Little Yosemite--that's a good indication of how flat it is. After some tasty snacks in the parking lot, we called it a day.
Milestones:
Jean-Marc's 1st leaf
Jinglan's 90th leaf







Pages maintained by Steve Walstra, Peter Saviz, and Russell Gee.
©2022 Intrepid Northern California Hikers