498. Hoover Lake (04/08/06)

Hikers (14): George, Helen, Hima, Jeff, JP, Linda L, Paul, Ramesh, Ross, Rudi, Russ, Sparky, Steve, Wayne E
Distance: 18 miles
Rating: 5 difficulty, 8 beauty
Park info: Henry Coe State Park east of Morgan Hill

Write-up by George -- Pictures by George
It was a dark and stormy winter, but for once we caught a break and even though it rained the day before (and would rain again the day after) we had a pleasant sunny day.
You could tell wildflower season was in full swing because the lower lots were full, and most of us ended up parking in the upper dirt lot just above HQ. Ramesh showed up for his first hike in 6 months (period, not just with INCH) – he must have thought it was a 5 out of 10 J. Wayne was hiking again for the first time since the Sizer loop in January and had lost an amazing amount of weight since then.
When Ross rolled in we only had JP left to arrive, but he didn't show up, so it was...
1-2-3 INCH
...and off down the Corral trail. (The mystery was what happened to JP – he is a Level 5 fan and was looking forward to this hike.) Note: JP called out the hike leader for thinking of doing this hike from the South entrance, so he better show up!
Many people did not trust the weather forecast and brought raingear or packed a small umbrella just in case. We rolled along until the drop into Poverty Flat started, and on the way down we could hear running water everywhere. At the bottom we were wondering just how bad the creek crossing would be. Ross, Sparky, and Steve were first to cross, and Ross almost made it and then at the last second he had to scoot his shorts up just a bit to keep from getting wet.
Hima, Jeff and Paul crossed in quick succession, and Paul looked like he was doing the hula as the water got higher, and higher, and higher. Linda crossed bare-footed, talk about intrepid! Pretty much everyone got across just fine, but then Russ, the high-wire daredevil ace trapeze act, put on a show. He leaned to the left, then he leaned to the right, and then he did it again real quick with his arms swinging wildly. Was that the Macarena Dance I saw? I took a photo when I thought he would get his monthly bath but he recovered in a very graceful manner.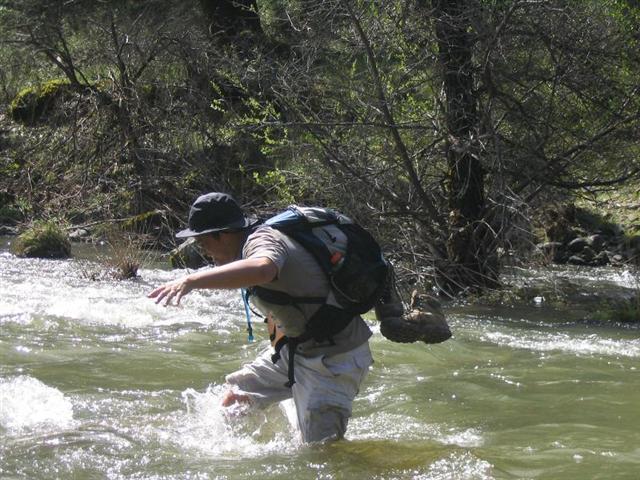 Doing the Macarena
Jackass Trail kicked us in the ass as usual, and the downhill was muddy and eroded. Now that we had crossed the "Little Fork Coyote Creek" in Poverty Flat (that is what the Coe Park map calls it) it was time to cross the East Fork Coyote Creek at Los Cruzeros (anyone know what cruzeros means? It would not translate online.) Next week we cross the Middle Fork Coyote Creek to get to Mount Sizer. Could we be having any more fun?
The most popular option for crossing the East Fork was to head downstream at a diagonal as the water was not too deep, and smooth and clear so you could see the bottom. Some went directly across to save time and got into water 6 inches ABOVE the knees. Taking the longer downstream option required hiking back along a narrow trail and boots could not be put back on until past this section so everyone ended up rebooting at the same spot.
Other parks in the Bay Area are very overgrown already this year due to warm wet weather. But someone had done serious trail maintenance on the Willow Ridge trail and removed the tall bushes that used to narrowly flank the trail. There was surprisingly little poison oak, but a lot of recently downed trees, branches and bushes made for some 'bushwhacking' as Sparky called it.
The day was getting very pleasant, just a few white puffy clouds floating around and it was just so darned green I thought I was in Ireland. The views from along Willow Ridge Rd were amazing. Willow Ridge Rd has a few ups-and-downs but nothing like the torture to get to Mississippi Lake. Just as we got to the Airport we could see Coit Lake like a jewel in the distance south of us.
The Hoover Lake Airport (now closed, rangers said the large metal pipes in shape of a large X at each end of the runway meant – do not land.) was covered with Goldfields, tiny yellow flowers, but so abundant it looked solid yellow. Steve was at the other end of the airfield so Wayne and I joined him for some picture taking. Sparky and Paul soon joined us and we dropped down to the dam at the end of Hoover Lake.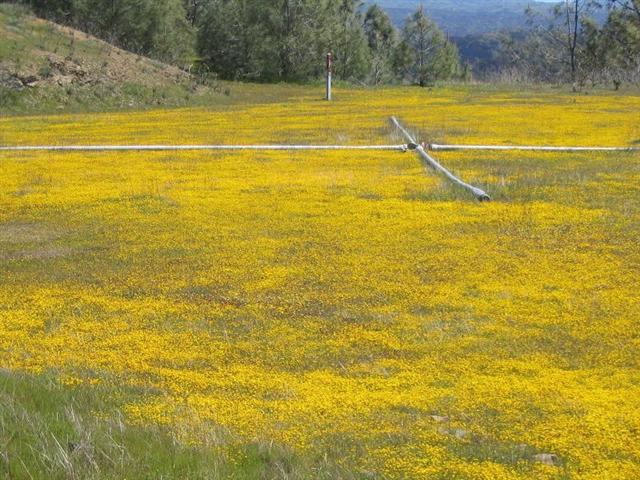 Airstrip at Hoover Airfield
Ross was sitting at the end of a patch of Goldfields having a pleasant lunch, and Helen was lying in a patch of Goldfields looking like she was on Holiday – I have never seen her so relaxed. Just behind them was the outlet creek and there was a small waterfall making pleasant sleep-inducing sounds. Pretty soon everyone was lying around in the sun enjoying the perfect temps and eating lunch. Guess who popped out of the bushes – JP ! After dropping a bunch of bills on taxis bar-hopping in SF the night before (teaching bartenders what Skittle Shooters were) he got to the start late and hiked with only his hangover for company. Didn't seem to deter his exuberance as he was lifting the long metal irrigation pipes over his head like the chimp in 2001 A Space Odyssey.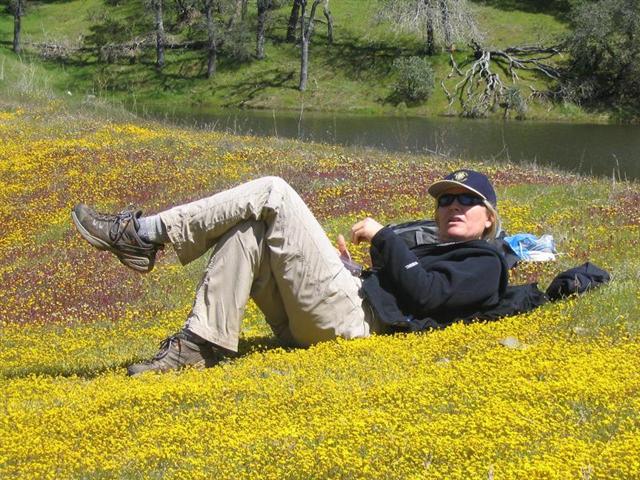 Helen makes this look too easy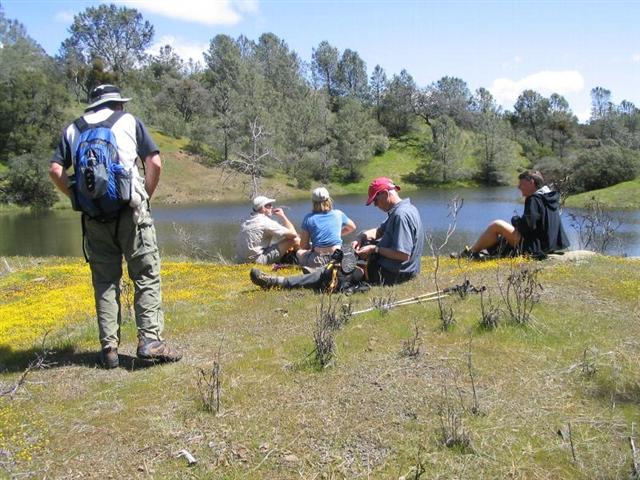 Enjoying lunch at Hoover Lake
Some people started off with energy, but some dragged for a while after such a relaxing lunch. But the incredible smell of buckeye and spectacular views got everyone going eventually. On the Willow Ridge Trail going downhill Rudi, Hima, Linda and I did trail maintenance, dragging large limbs off the trail, and in the very brushy area bending back every little branch we could. With 8 busy little hands we had an impact. But this slowed us down so Ramesh and Steve were breathing down our necks during the last section and then we popped out just above the creek crossing.
Just for fun Rudi and I went cross-country down to the stream above the point where the trail crosses because Rudi had spotted a nice gravelly place to cross. Steve gave us the standard 'short-cutting bastards' admonition as we took off down the hill. It didn't make any difference as we had a very steep climb to get back up to the road.
On previous Coe hikes I can remember the slog up Jackass, the downhill pounding from Jackass Pass to Poverty Flat, and the dread of the final uphill while dragging across a stinking hot Poverty Flat. Not this time ! The temps were great and we had another creek crossing to cool off our feet. And when we finished and got to the cars the sun was still up and it was not cold or hot – a real treat at Coe. The rangers in HQ were very interested in seeing picks of the airport (you walked all the way to Hoover Lake and back in one day ?????).
After snacks and drinks and resting a bit we started to wonder, where the heck is JP? Oh, someone saw him drive out. He ended up parking in the lower lots and didn't know we were all in the upper lot, so that meant more Mrs. Rogers' homemade oatmeal raisin cookies for Russ !
Milestones:
Helen's 10th leaf
JP's 10th leaf
Russ's 350th leaf







Pages maintained by Steve Walstra, Peter Saviz, and Russell Gee.
©2022 Intrepid Northern California Hikers