528. Twin Peaks and Mt. Davidson (09/16/06)

Hikers (12): Edita, George, Harvey, JP, Madison, Matthew, Nani, Paul, Peter, Ross, Rudi, Taylor
Distance: 11 miles
Rating: 3 difficulty, 8 beauty

Write-up by George -- Pictures by George
During scouting hikes the previous Sunday and Wednesday, and based on weather in SF the previous week, it looked to be a foggy soggy hike. But the sky was clear, there was no fog in sight, not even over the ocean.
Several people used mass-transit --Paul and Matthew I think -- all the way from San Jose. And JP used BART. Good thing too, parking in the area was pretty tight. We gathered at the gated entrance on Elk. We waited for Ross a while, then contacted him on the phone; he was having problems getting to the start. Taylor knew the area well so she guided him in, it seems he was in Daly City somewhere, or Santa Rosa maybe?
We left a map at the gate, and 1-2-3-INCH, we were off. Madison got in on the cheer so we kept it kind of quiet - 1-2-3-inch. It looked like a nice easy stroll in the City as the initial trail was a mostly flat road through Glen Canyon Park. As Peter would say, he-he-he-he!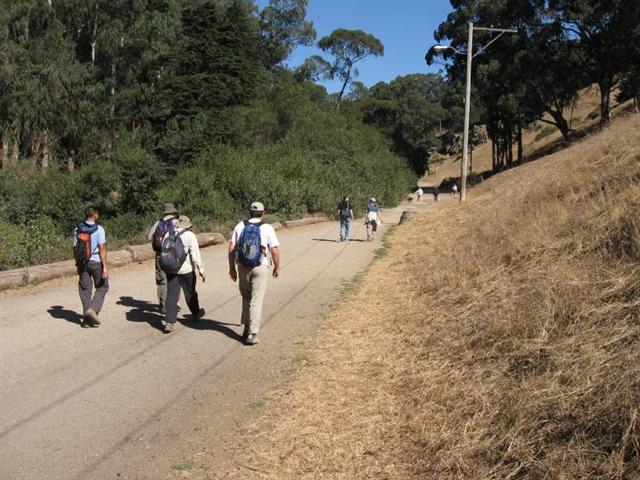 Starting off in Glen Park Canyon
Pretty soon the trail started to narrow down to a single-track and crossed a wooden bridge over a swampy area where some volunteers were clearing non-native plants. Rudi stopped to talk to a park employee; I stopped to talk to a volunteer (President of Friends of Glen Canyon Park), and JP refused to get ahead of Rudi and me as he figured we knew the route. The rest of the gang charged forward.
Coming around the next bend was a choice to follow a shaded path around the side of a hill, or to take as set of dirt steps straight up the hill. Previously, Rudi and I had taken the shady path, but you know where the gang went! Rudi and I hadn't been up there, but what the heck. We got to the top to see the gang milling about wondering where the trail was. It was back down at the bottom of the canyon, so we all went down. It had been a good opportunity to add to our altitude gain.
Back on the single-track along the canyon bottom we started to slowly climb, and finally ended up walking next to a row of homes on stilts. There were more trail volunteers clearing and widening the trail so we paused while they moved a debris pile off the trial and we continued to a set of stairs that went up to Turquoise Way. It was getting a bit steeper now.
Next a short uphill on Torquoise to Amethyst that dead-ended at the edge of Taylor's High School. We hit a dirt use-trail, and we were at a crossing for Portola Ave. Several of us waited there for Taylor who had taken the sidewalk up along O'Shaughnessy, a brutal uphill pushing a stroller! The rest of the gang charged ahead going uphill on Glenview. Contacted Ross to see where he was, and after more instructions got him headed to the gate where we left the map. We expected him to come up behind us any minute now.
We (Rudi, JP, Peter and I) crossed with Taylor, and it was Peter's turn to push the stroller uphill. It was getting pretty steep now, and his legs were like pistons charging up the hill! When we got to the top I volunteered to push the stoller. He obliged.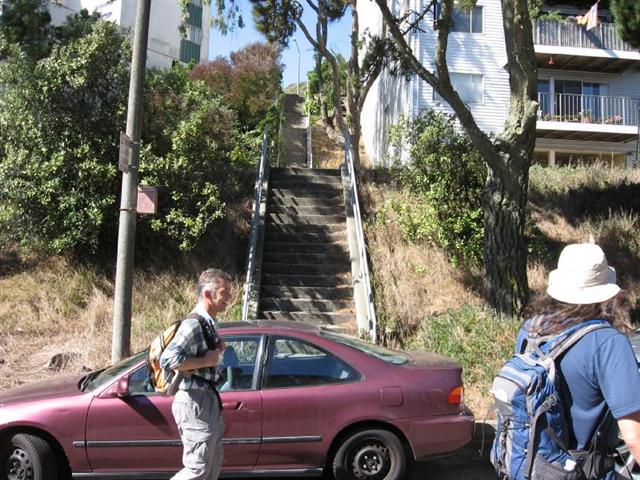 There were many stairs to climb on this day (note the INCHers about to miss the turn)
Around the corner on Burnett we separated from Taylor because we were headed towards our first set of concrete stairs. A couple of blocks later (after a Rocky-inspired run by JP up the stairs with requisite prancing and arms waving while he hummed the Rocky Theme) we bumped into Taylor and Peter just in time to help carry the stroller up the wooden steps on dirt going up to Twin Peaks from Crestline.
Peter and I hefted the stoller pallaquin-style, and we were off. Oh man, what a trudge, and my arms! Man, what a burn! We only stopped once so The Man could wipe the sweat out of his eyes (or so he says), and we made it to the top. Most painful climb of the day.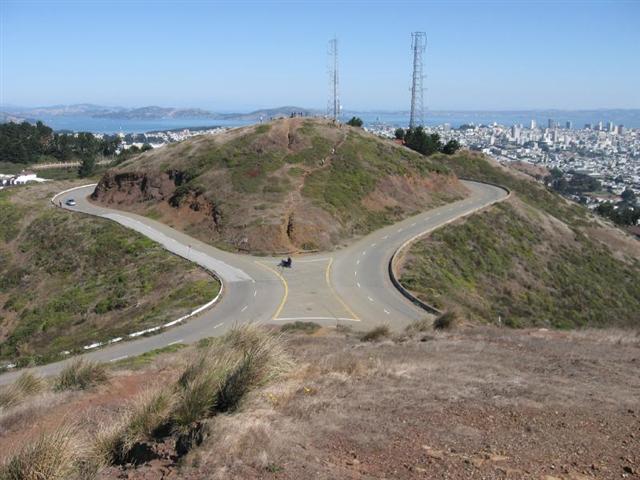 Twin Peaks -- standing on one peak, looking at INCHers on the other
Taylor headed to the Vista Point while we did the two small peaks. While on the first peak, we could see the gang on the next peak. When we caught up with them on Vista Point they were with Taylor and Madison enjoying the sparkling views of SF and the Bay. We contacted Ross on the phone and it sounded like he was approaching Twin Peaks, so we would see him soon. After a group shot we separted from Peter and Taylor and Madison for the single-track loop up, over, and around Mt Sutro.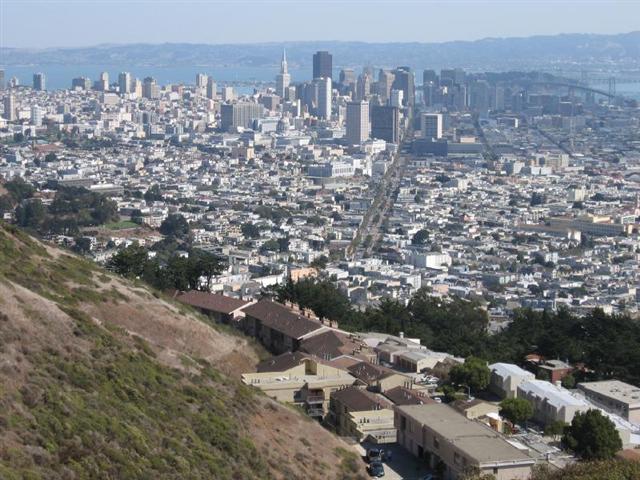 Nice clear view of the city from Twin Peaks (no fog!!!)
Edita was a map whizz, and knew exactly where to go every step of the way; she even spotted the next dirt trail hiding behind some weeds. But it was Matthew who remembered the instructions to wave at the guard who was guarding Sutro Tower. Hi! Hello there Mr. Guard! He thought we were all crazy.
Edita led a mad dash down the next path ignoring the tearing vines of death. One grabbed my hat and pulled me over to one side of the trial so I pulled out my trusty clippers and hacked it to death (Harvey is my witness!).
Rudi, being a bit of a masochist like Peter, wanted to hit every set of stairs on the map. We had not been on the Glenhaven Stairs, but they were in a nice neighborhood, and looked very small on the map, or so he said. OMG! We came around the corner and it was like, like, A Stairway to Heaven, or the other place. 167 steps. Man, what a burn!
A very short block later we hit the first dirt trail on Mt Sutro and it was a short steep access trail. Followed by a series of switch-backs up to the summit area. Man, what a burn! The top of Mt Sutro has been replanted with native species and looked great.
A quick downhill led to the Mystery Trail. We still don't know why it is named the Mystery Trail, it is a mystery. On Wednesday evening there was a freshly fallen eucalyptus, about 8 inches in diameter, across the trail. It was already cut and moved out of the way. Great trail maintenance.
Dropping down the Northridge Trail we soon hit Medical Center Way and dropped quickly into the Surge Lot, and then onto a dirt trail leading to another set of stairs - Glenhaven Stairs to Willard St. 132 steps according to Paul, but these were downhill, thank goodness.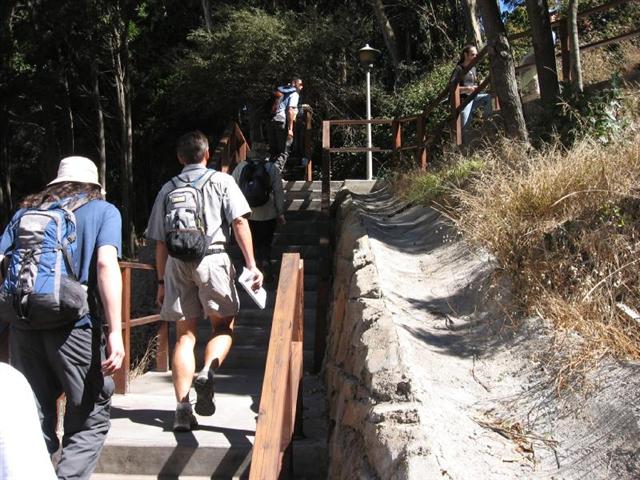 Steps, steps, steps ... and more steps
A stop at Starbucks by UCSF Med Center seemed appropriate - a jolt of Java to prepare us for the next set of stairs. And that is when Ross caught up with us too. The view from behind the Starbucks was impressive: we could see the new museum building in the park, the Golden Gate Bridge looking strange without fog, Kezar Stadium, and many other landmark; however, Edita was impatient to tackle the next set of stairs so we were off again.
137 steps up to the Surge Lot. Man, what a burn! But it was also uphill from there to Med Center Way. Just past the Wood Lot we dropped onto a connector trail to the Outcropping/Fairy Gates Trail (I kid you not!). The connector trail dropped into a canyon full of eucalyptus trees and ivy, very green and lush. When the fog is in, this is like a tropical rain forest, only colder. And you guessed it, that drop was followed by a short steep climb back up.
It was an intrepid group, so when I suggested that after seeing the Outcropping we add the Ishi Loop, a hardly used and barely maintained trail, they were all for it. The Ishi Loop loops around the Chancellor's Residence. We came to a screeching halt as everyone negotiated the narrow, slippery, poorly defined trecherous trail that dropped almost straight down for about 20 feet. And the killer vines were back too.
Pretty soon the footing was better and the speed picked up. Rudi and I had our trusty clippers with us and did trail maintenance whenever possible, but due to the speed of the pack (I could tell by the baying that they had caught a scent) we had to keep it to a minimum. We did our best on the Ishi Loop, but it needs serious work to be considered a safe trail for the general public. But INCH is not the general public!
A quick drop down to Clarendon Ave, crossing over to Dellbrook, and we were on our way to Tower Burger! Called The Man, and they were already at a taqueria waiting for us. A nice stroll through some neighborhoods, then down a dirt trail past the Juvenile Hall, a wild crossing of Portola Ave and we were inside Tower Burger ordering food right and left. This is the way to hike!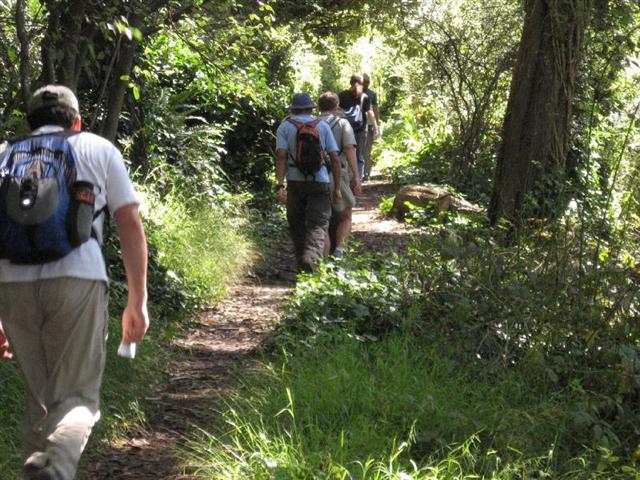 Heading up Mt. Davidson
Our last climb was to be nearby Mt Davidson. Nothing like an uphill charge with a belly full of burger, fries, and all the fixins. Taylor and Peter took surface streets, and Peter was going to come back up our route from the bottom and meet us at the top. We headed along Juanita and saw lots of nice homes including one with a driveway done up as a Japanese rock garden, a mini one. A left turn up the stairs and we were climbing again. Edita led a mad pace again, and we were huffing and puffing to keep up. Within minutes we were at the cross.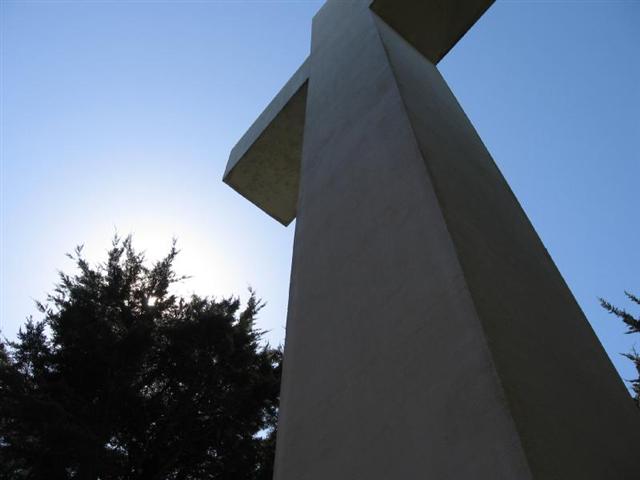 The giant cross at the top of Mt. Davidson
Ross scaled the cross using his new rock-climbing skills. Then we headed over to the viewpoint with wooden bench to wait up for Peter. We finally contacted him by phone and found out he was coming up from below us, so the gang took off. Peter came up to the top shortly and got a picture taken at the cross as proof he did the summit.
It was a quick drop through neighborhood streets and a steep drop as well. We had to lose all our altitude in a short distance, so it was a knee-pounder and toe-grinder on asphalt and cement.
(Right on the corner of Congo and Bosworth was a garage sale, and I snagged a great metal coffe pot for $3 to use for heating water at campsites. Taylor told me I should have bargained down to $2.)
One last steep uphill to Peter's car to get the maximum altitude gain on my altimeter, and we hit 2505 feet climbing. Not a bad hike in the middle of a world-class city.
Milestones:
Highest point in San Francisco county
Ross's 110th leaf







Pages maintained by Steve Walstra, Peter Saviz, and Russell Gee.
©2022 Intrepid Northern California Hikers