597. Goat Rock via Del Valle (12/22/07)

Hikers (8): George, Harvey, Helen, Iyad, Jeff, Peter, Sarah, Steve
Distance: 29 miles
Rating: 6 difficulty, 8 beauty
Park info: Del Valle Regional Park south of Livermore

Write-up by Helen and Peter -- Pictures by Steve
The first day of winter was sunny and (eventually) in the mid 50's on the OWT. No rain and no shiggy mud. Peter wasn't too happy about it, but the rest of us were thrilled. He was hoping for rain. It was freezing cold when we started, so he was feeling pretty good as he rounded us up to do the INCH cheer. So we began our journey, dumb asses that we were, all in good spirits, as if we were going to have some fun. In his rush to get the hike started, Peter didn't even have the decency to walk the 100 yards to the bathrooms. He peed on his car's tire, and then stood at the top of the parking lot giving everyone grief for not being ready to start the hike as soon as he was!
1, 2, 3 ... INCH!
The hike got off to a bit of a late start. Apparently Del Valle doesn't open its gates until 7am in December, the starting time of the hike. Waiting in line to pay, Steve walked up to my car and George's car and gave us some crap about turning off our cars, saying something about, "it's bad for the environment". Much later in the hike, Steve would show us all just how much he values "the environment".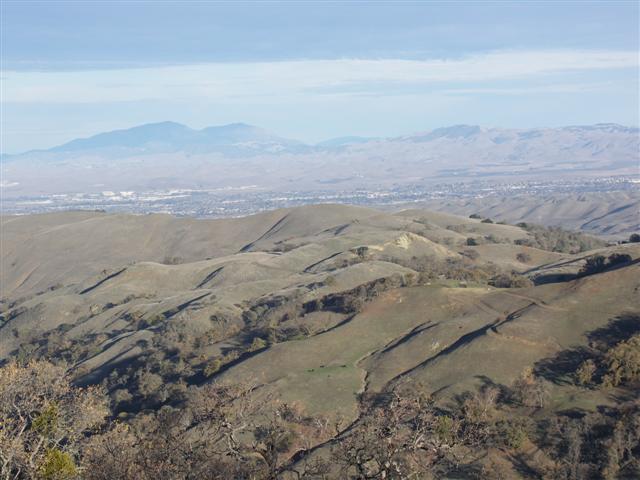 Diablo from The Big Burn
Steve, Jeff and Iyad took the lead early in the hike. Steve and Jeff had plans to do a few extra miles to see the waterfall at Murietta. We didn't see Iyad again until all of us were hiking out of the Indian Creek gully, heading back to Del Valle. Yes, he had the map; no, he didn't know where he'd been for the past 7 hours. Hey ... if you see Iyad on another INCH hike see if you can get him to tell you where he was -- it's still a mystery to us! (Peter's note: Turns out Iyad missed the turn to go down into Williams Gulch at signpost 37, and kept going along Rocky Ridge for a couple of miles, before back-tracking)
I'm pretty sure, (except for Iyad) everyone but me hiked up the "optional" side trail to Rose Peak. Been there, done that and not doing it today. I was just hoping to make it back alive and after a bit of peer pressure from the usual suspects they went off to do the peak and I took a break and ate some cheese and jelly belly's.
After a bit of deliberation a few of us decided that to get to Goat Rock, following Peter's email directions (no one had his instructions with them, maybe George remembered the mile marker, okay, if's he wrong we won't kill him .... We needed to hike to mile marker 20 and turn down the hill. At this point we are realized that we were just a short distance from Sunol and that if we kept going it would be a MUCH easier hike than the one we now faced going back to Del Valle. Well, enough of that fantasy.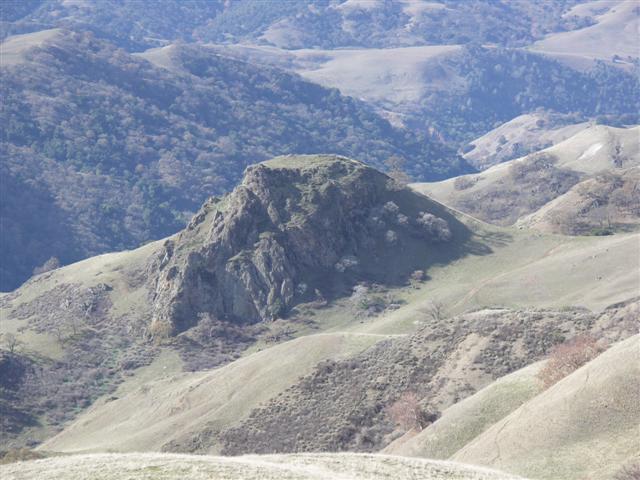 Goat Rock
At mile marker 20 we met up with Ross and his lovely companion, Lily (munching on a baggy of Goldfish). Ross couldn't make the hike today because he needed to get his Christmas tree and do his Christmas shopping, but he and Lill did take a shorter version of Santa's Death March starting from Sunol (just smarter than the rest of us, I guess). We talked a bit and he said that there was a sign at the bottom of Goat Rock indicating that you couldn't go up to the top as there were endangered species living there and you would disturb their habitat. Lily said that not hiking up was the right thing to do -- for the future. George took their picture and off they went back on the trail to Sunol and off we headed to Goat Rock.
After reading the sign, George, Harvey, Sarah and I decided not to hike up Goat Rock as we didn't want to "do something bad to the environment". Shortly Jeff and Steve and Peter arrived and thus ensued the debate of whether to ignore the sign or honor the habitat of an endangered species. Jeff and Peter decided not to go past the signage, as it was the right thing to do. Steve, however, gave several interesting arguments why he should ignore the sign, and ALL of his fellow hikers' decision not to go any farther. Like Iyad, maybe on the next INCH hike you can get Steve to tell you why he thought it was so important to hike up Goat Rock, as it's still a mystery to us. For his eco-terrorism, he was awarded the Black Leaf of Shame by our hike leader, but he counter-argued that the leader should not have planned a hike to that spot to begin with, and hence Peter also took a Black Leaf.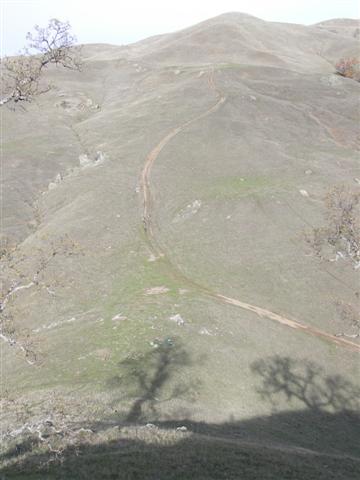 Tiny INCHers retreat from the Promised Land
Some of us didn't want to leave the lunch spot on the sunny, warm, hillside by Goat Rock. George was serving dates with filled with Chevre goat cheese and it was a beautiful day, besides we now knew the misery that lay ahead of us. I was wondering how I could possibly get back to my car without actually hiking back. Slowly we all got up, resigned to having to hike back up the OWT.
Back at the parking lot at Del Valle, George and Harvey arrived first. By the time Sarah and I arrived it was dark. Steve, Iyad, Peter and Jeff arrived just a few minutes later. Jeff cooked up some delicious mushroom soup for everyone and George offered hot tea to all. Once we all had food to eat and something to drink, the discussion ensued about elevation gain ((Peter's note: It was 9100 feet of elevation gain and another 9100 feet of loss over 29 miles, the level of the hike (most thought it should be a 7, but the GrINCH would not agree), who was getting a black leaf (Steve & Peter) ... in other words the usual end of an INCH hike conversation. Conversation to be continued. Happy Holidays were wished by all as the ranger came to kick us out of the park so she could go home and celebrate the holiday with her family ...
Merry Christmas to all, and to all a good night!
Check out George's photos of the hike.
---
Jeff and Steve's side trip to Murietta--it was running, but nothing spectacular.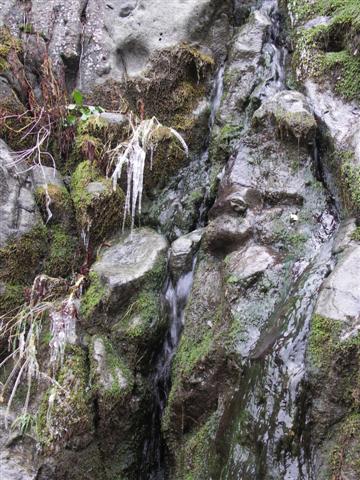 Frozen Murietta (note icicles)
Milestones:
Iyad's 10th leaf







Pages maintained by Steve Walstra, Peter Saviz, and Russell Gee.
©2022 Intrepid Northern California Hikers