598. Lobitos Creek Trail (12/30/07)

Hikers (20): Alan B, Clive, Diane, Eric F, George, Harvey, Helen, Iyad, James S, Janice, Linda L, Padraig, Paul, Peter, Ross, Sabine, Sarah, Steve, Terra, Walter
Distance: 18 miles
Rating: 4 difficulty, 9 beauty
Park info: Purisima Creek Redwoods Open Space Preserve near Woodside

Write-up by Steve -- Pictures by George and Steve
It should have been Russ's hike, but somehow it was mine. So I picked a hike Russ would have picked, but extended it to a new location. Apparently people were not out of town for the impending New Years, as 21 people showed up, including three new people who thought 18 miles sounded like a good idea for their first hike. They'll fit right in.
1-2-3 INCH!
We lost one new person right off the bat. He (Qide) wrote back later to say his New Years resolution will be to get into better shape to keep up with the group. One can hardly think of a better resolution (except to add INCH--Steve in particular--to your will).
There used to be an old bridge, conspicuously lying parallel to the Purisima Creek trail, that let you know the Grabtown Gulch trail was nearby. Those were the good-ol' days, where you had to jump the creek and hike up the no-longer-maintained Grabtown Gulch trail. There is a new (well, it's a couple years old now), well-marked trail to Grabtown now, which crosses the creek much farther upstream than the old one. The trail is just as steep, but much better maintained. Takes some of the adventure out of it.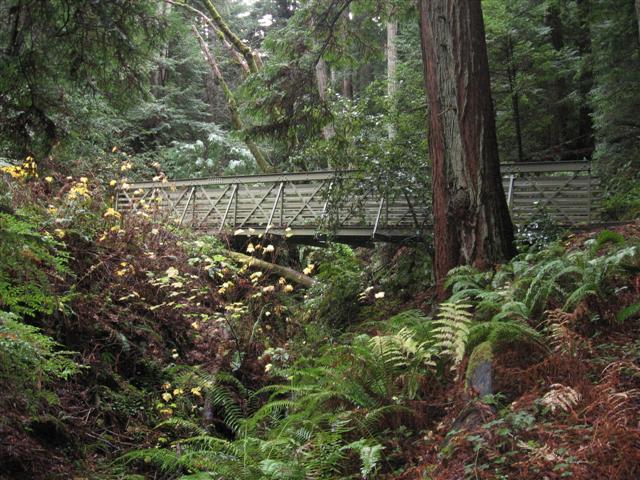 The "new" bridge to Grabtown Gulch
As always, the hike provided lots of long uphill sections, including a bonus 0.3 mile section that (innocent and trusting) Terra and I took to the edge of Grabtown Gulch. That was a sad detour since, especially since I drew up the map for the hike. The next group behind us cleverly turned the arrow (I had left) in the correct direction instead of following it blindly (cheaters!), putting us back in the middle of the pack.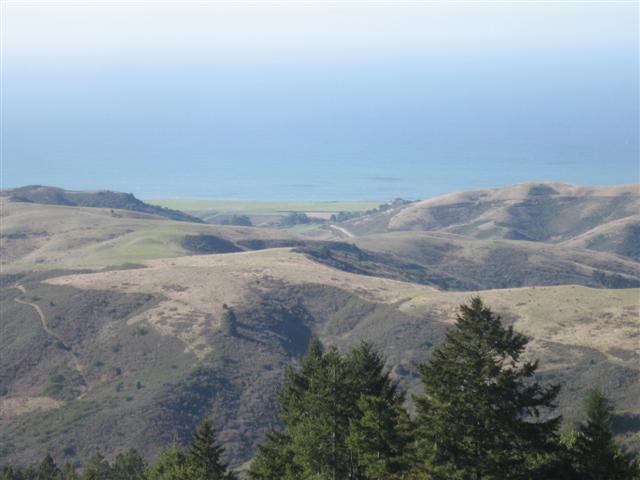 A view from along Irish Ridge
The payoff for the hike occurs right after Bald Knob (where we often end Purisima hikes) along Irish Ridge--the views of the coast were great. The turn off for the Lobitos Creek Trail that can be easy to miss, but there is an enormous redwood just down that trail that sort of waves at you (you'll understand if you see it). The final destination was a small field, and the last mile of trail leading to it does not get much use. It would be great if the park extended the trail back up to Bald Knob, which would make an enticing loop in this remote area. Considering there was once a fire-road along that route, it probably wouldn't be all that hard to create.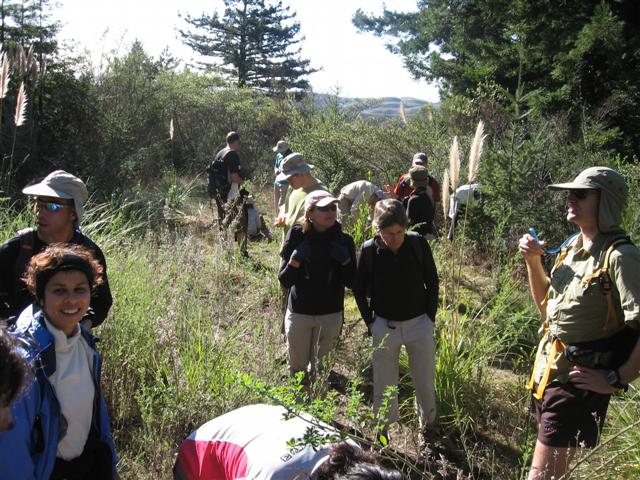 INCH captures the lunch point
The trip back had a little uphill to Bald Knob and then down, down, down to Purisima Creek. As usual, there is a nice, long uphill section to get out of the park.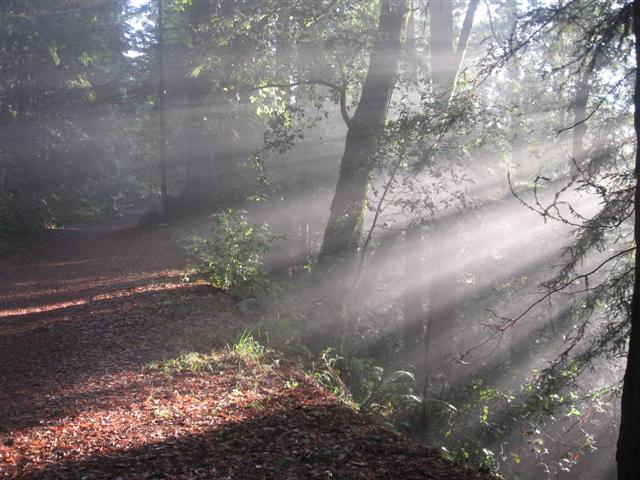 Nice views help distract from the long uphill. . .
The penalty for the front-runners was that it was freezing cold at the end. Poor Harvey nearly froze to death waiting.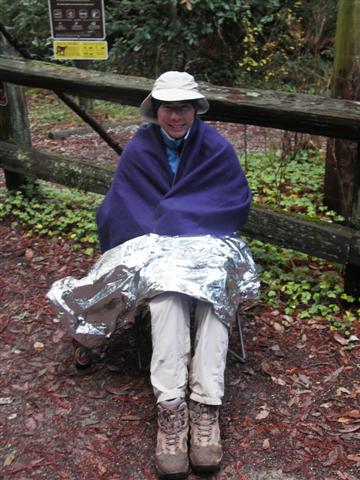 Harvey-cicle
Milestones:
Eric F's 10th leaf
George's 170th leaf
James S's 1st leaf
Sabine's 80th leaf
Terra's 1st leaf







Pages maintained by Steve Walstra, Peter Saviz, and Russell Gee.
©2023 Intrepid Northern California Hikers