616. Ramage Peak Trail (05/03/08)

Hikers (16): Brian C, Cecilia, David, Devin, Diane, Eva, Helen, Kim M, Linda L, Nani, Paul, Peter, Peter M, Ross, Rudi, Sarah
Distance: 22 miles
Rating: 5 difficulty, 8 beauty
Park info: East Bay Municipal Utility District near San Ramon

Write-up by Peter -- Pictures by Ross
After getting much grief for choosing the same (long) hikes over and over again, I finally did some research and came up with something new -- and on private land which required a permit, to boot! The plan was to hike the Ramage Peak Trail, starting at Las Trampas, crossing the San Leandro Watershed to Anthony Chabot Staging Area, and back. Based on my estimates, it would be about 21 miles.
As I rolled into the parking lot at Las Trampas, I saw a large crowd had gathered, but no familiar faces. Turns out this group was also doing the same trail, but only one-way. They set out a few minutes before us. Judging by their pace, we would be seeing them again before too long.
As we were getting ready to go, a new face appeared and asked if we were INCH. It's usually not a good idea for newbies to show up for longer hikes, especially without signing up in advance, and even more so on this hike that required permits. I did not have a good feeling about it -- especially when she told us that she wasn't even on her mailing list, but her dad was and had sent her as a "guinea pig" to test the waters -- but we had room to accommodate her on the permits, so I gave her the OK. Our other newbie, Brian, had previously written to me about the long hikes he had done, so I was not too worried about him.
1, 2, 3, ... INCH!
We headed out on the paved road up towards the big antenna on top of Rocky Ridge. We had come close to it before, but this would be the first time we actually had permits to go all the way -- how exciting! After touching the fence that surrounds the antenna, we turned back and headed over to Rock 2, the highest point on the ridge, and the highest point we would encounter the entire hike.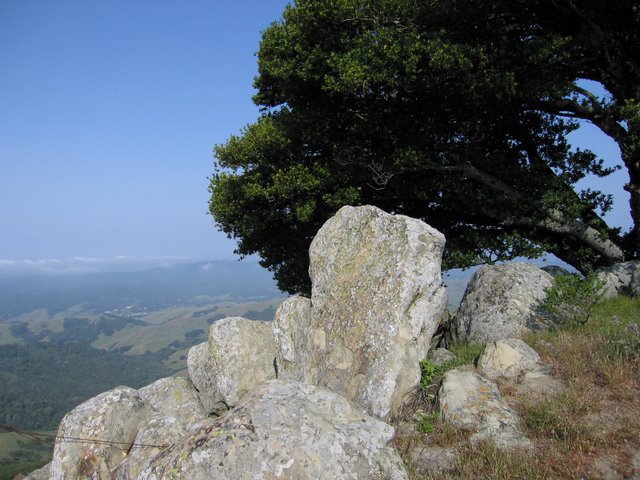 The elusive Rock 2 -- we had been close many times before but no cigar
After a quick stop to admire the view from the top, we headed out along the ridge. About halfway along the top, we turned west and started heading down into the watershed. It was a long way down, and this meant it would be a long way back up, especially at the end of the day when we were tired and the temperature would be higher. All part of the plan!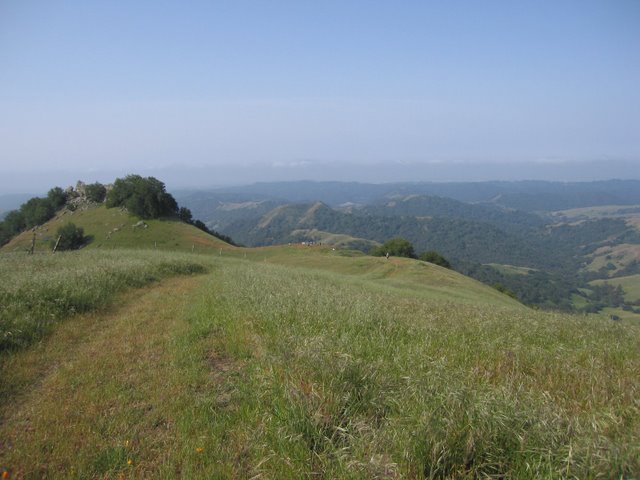 Looking out over the watershed (the group up ahead was doing the hike one-way)
We caught up with the other group at the bottom of the hill, just before the turnoff for the Ramage Peak Trail. From here, the trail was not as well-marked (as expected). As we got closer to Ramage Peak, the trail took a sharp right turn and seemed to be heading downwards and in the wrong direction. Hmmmm. I was dubious about this but kept going. It turned out to be right trail, and led us down through some dense wooded areas before bringing us back up towards the peak. Nice!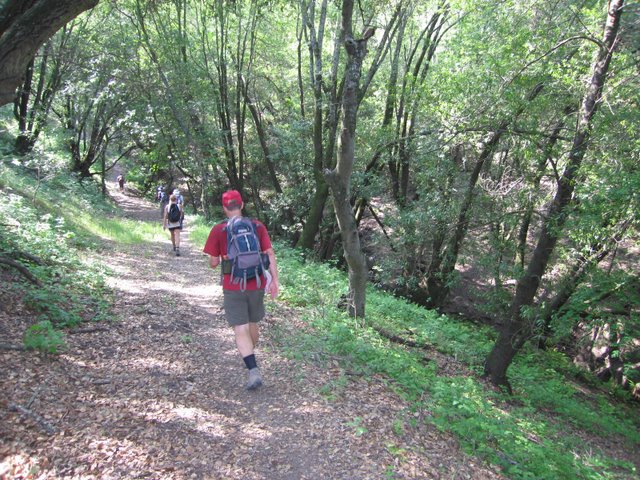 Some parts of the trail were surprisingly green and cool (we needed it)
Coming out of the woods and into the open, I saw a small trail heading off to the side, but chose to ignore it. Wrong! After about a quarter mile, the main trail petered out and we found ourselves over our heads in a field of mustard looking straight up at Ramage Peak, so we back-tracked and found the right trail that would lead us up to the peak.
I needed a hot dog to go with this mustard -- where's Sean where you need him?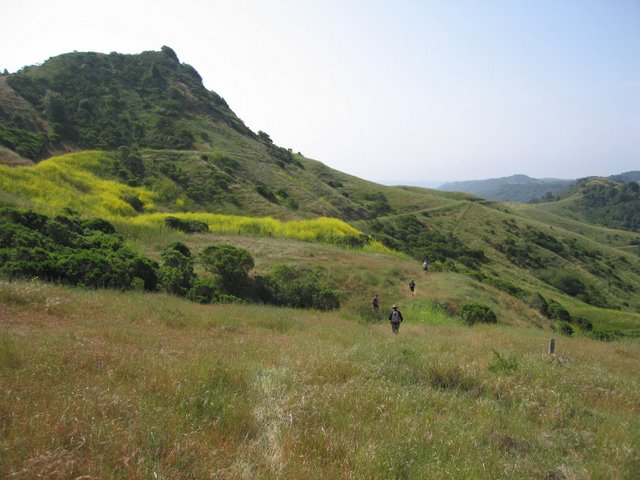 Back under the hot sun, and approaching Ramage Peak
It was a good little climb up to the peak, and we were rewarded with a nice view at the top. We took a short break to catch our breath before heading out again. This group just does not believe in resting!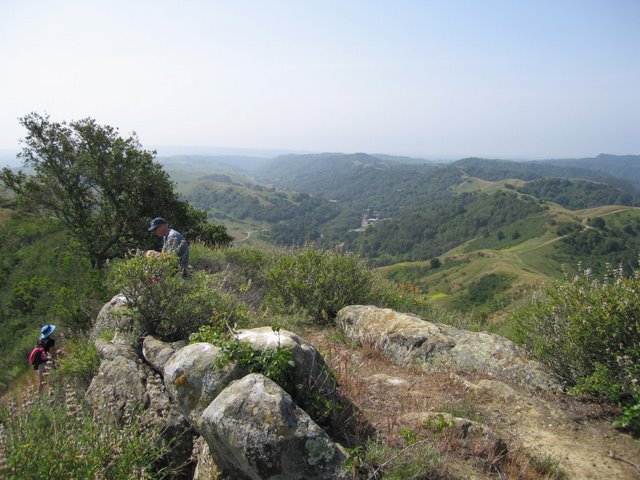 View from the peak
Heading back out, we found ourselves going through more fields of mustard before the trail finally opened up. After hopping a fence, we were on a main fire road. I thought this was not the right trail, and picked up the pace to catch up with Helen, who had been leading all the lemmings to their death. Rudi turned back to find the right trail, and I kept going. I caught up with the front of the pack at a junction a mile down the road near the San Leandro Reservoir, and convinced them of the error of their ways. Fortunately, all was not lost, as it seemed that we could cut over and get back on trail.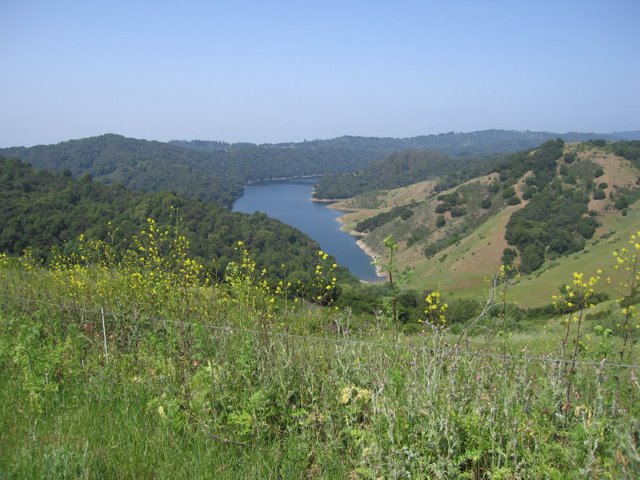 If you're this close to the reservoir, you're on the wrong trail
After walking along a paved road along the dam, hopping a couple more fences, and logging about two and a half extra miles, we were finally back on trail. At this point, I estimated we were about five miles from Chabot.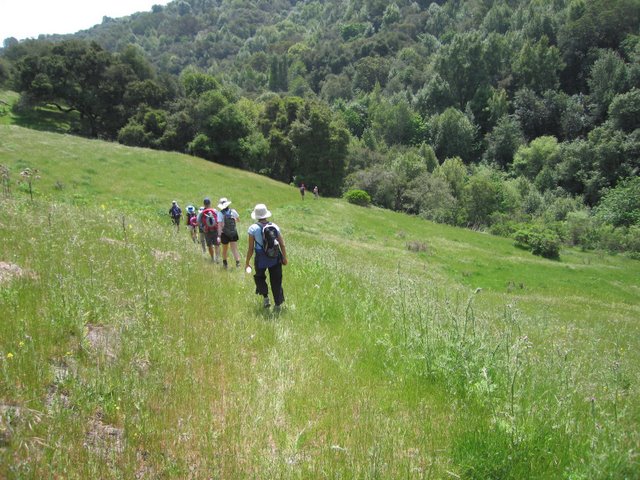 It wouldn't be an INCH hike if we didn't get lost
We kept going along the trail, and a couple of miles later found ourselves at the junction of another fire road. I could hear the sounds of gunfire not too far away. Not to worry, we were not in a bad neighborhood -- just close to a rifle range. At this point, we finally saw a trail sign which indicated we still had 2.9 miles to go to Chabot. Hmmm. We'd already been out 4 hours and Ross' GPS indicated we'd come 12 miles. If we were to continue on, it would make it a 15-mile outbound trip, and with a 12 mile return leg (assuming we would find the right trail on the way back), it would add up to about a 27 mile hike.
I needed to get back early (which is also why I had chosen this "short" hike in the first place), and I was concerned that some people may not have brought enough food and water to cover the extra miles, so I decided that this would be as far as we would go, and we would stop for lunch right here, next to the "UFO" (unfortunately, no photo). Everyone unanimously agreed that it was a good idea to call it a hike, except for Sparky who pressed on. I was very impressed with her fortitude, but I would find out later I had been duped.
You could tell the group was pretty tired because people did not seem to mind sitting in a dirt patch full of thistles under a shady tree to have their lunch. Some took the opportunity to take off their boots and rest their weary feet. It felt good to not be moving for a few minutes.
The pace started out slowly as we headed back. I think I made the right call to turn back early. As we got warmed up again, the pace picked up, and the group started to spread apart. It wasn't too long before I saw Ross take off, with David not too far behind. I wouldn't see either of them again until the end of the day.
The route back was shorter, because we didn't get lost, and didn't have to make side trips to Ramage Peak and Rock 2. I also discovered I owed Helen an apology -- the place we had gone wrong was not where we had hopped the first fence, it was at a second gate shortly afterwards. Looking back, there was almost no way we could have made the right call.
The highlight (if you can call it that) of the return leg was the mile-long climb up to Rocky Ridge at the 19 mile mark, under the mid-afternoon sun. Oh yeah! All part of the plan. It felt great to finally make it to the top -- whew!
We continued along the top of the ridge, walking away from the antenna to the far end of the ridge, and then took the Elderberry Trail back down to the parking lot. Some folks shortcut back in (you know who you are), but those with some pride left took the correct (longer) trail.
Final tally was that most people did around 22 miles on the day. Nani and Rudi's GPS both showed we did over 6000 feet elevation, and everyone seemed pretty worn out after the hike, so I upgraded it to a Level 5.
Epilog: I originally found out-post hike that Sparky had a car waiting at Chabot and had not told me. The good news is that she was able to give Eva a ride back because Eva was concerned she would not be able to make it back to Las Trampas, but the premeditated shortcut definitely warrants the Black Leaf of Shame. Note to newbies: Don't start out with a 20+ mile hike!
Milestones:
Brian C's 1st leaf
Eva's 1st leaf
Nani's 50th leaf







Pages maintained by Steve Walstra, Peter Saviz, and Russell Gee.
©2023 Intrepid Northern California Hikers