657. Grant Park Big Loop (02/14/09)

Hikers (10): David, Diane, Gacheri, George, Helen, Linda L, Paul, Peter M, Sarah, Steve
Distance: 21 miles
Rating: 5 difficulty, 9 beauty
Park info: Grant Ranch County Park in East San Jose

Write-up by Steve -- Pictures by Peter M and Steve
Before the hike started, Helen called. She was on Mt. Hamilton Road, reporting that it was closed a few miles in. I checked on-line which did say Mt. Hamilton was closed. . .just beyond Quimby Road (due to snow). Quimby goes through the NW edge of the park, so I figured we could get in that way. Helen went back and found that a lower section of Mt. Hamilton was closed due to an accident up the road (and not snow), and it should open around 9am. The carpool was already going to take Quimby, so George, Diane M, and I tried to call around to let people know the situation. Russ bailed, but everyone else decided to go for it. Normally this wouldn't have worked, but we had the advantage of an early warning because Helen thought the hike started an hour earlier.
The Intel carpool caught Helen and George at the beginning of Quimby, so we had a three-car INCH caravan all the way up. The roadblock was at the entrance to Grant Park. I got out and asked the flagman if we could park just down the road at the trailhead, and he was fine with that. We geared up and watched for more INCHers. Paul and Linda L were diverted into the park at the roadblock and wisely figured out the situation. Only Sarah and David were missing, and they were the only two we couldn't reach by phone. We left a couple of maps for them.
1-2-3 INCH!
It was a chilly start, but we were soon warmed by the stiff uphill climb from Grant Lake. From Los Huecos Trail, we could see David's truck pull in, so we knew he had made it. Once we got to the ridge line, I drew the first navigational arrow of the hike. . .in the snow.

There was some snow
We went down Cañada de Pala trail before coming back up to Antler Point. I had been looking on a Topo map the night before and discovered that where we had been going for the last decade was not Antler Point, but rather a 12ft shorter hill a quarter mile away. Then again, that location (Mariposa Point according to Peter M) has a bench and is clearly the intended "place" to go. Anyway, this time around, I thought we'd go to Antler Point. Enjoyed beating a path through the snow to the one-tree knob that is Antler Point. On the way back, Helen was coming up. She wanted to know if this was the right way (since I was leaving), and I told her the thrilling story. She continued up, and I went to the traditional stopping point to wait for everyone else.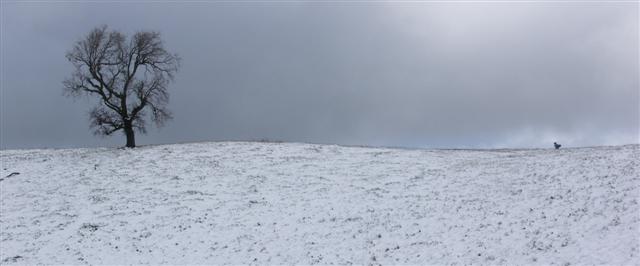 Helen en route to Antler Point

Helen shared some Valentine's candy hearts at not-Antler-Point, and we analyzed the pithy quotes while waiting for everyone to show up. From this vantage point, we could see at least four people coming up the trail. We knew one was Peter M, one would be David, one might be Sarah, but who was the fourth? After hearing about the different peaks, George wanted to visit Antler Point as well, so we timed our exit to run into trailing group on the way back to Antler Point. That worked out, and we all headed to Antler Point, including Helen, who was wondering why she had to do this twice on a 20-mile hike.

We heard that David and Sarah had waited at the bottom of Mt. Hamilton Road for it to open, which is why they were late. This was also true for the the fourth hiker, newbie Gacheri. She had just come back from hiking in New Zealand, so got to know everyone from being interrogated on the Milford Track. We took some pictures at the newly discovered point and then headed off to the other side of the park.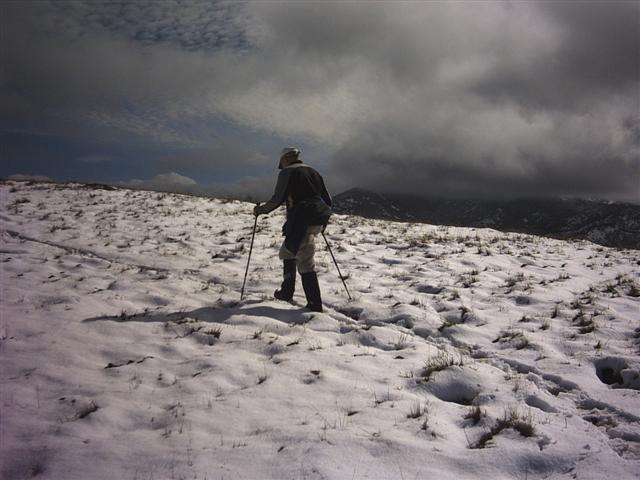 George breaks out his cross-country skis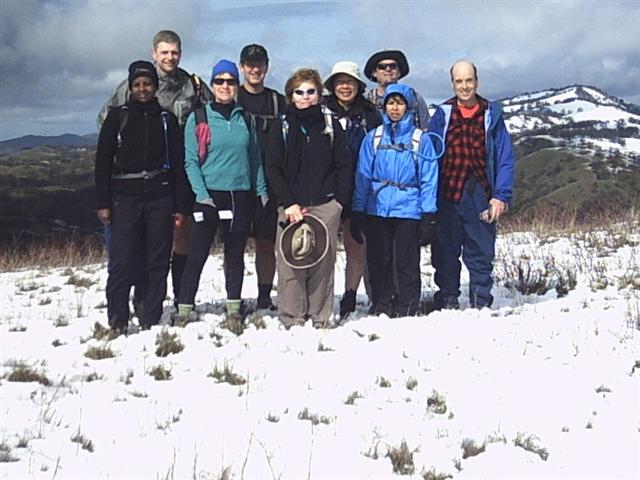 INCH on Antler Point
Just after Twin Gates, the trail heads steeply upward. Several people had never been outside the flat interior of Grant Park, so were surprised at the trails here. We got 4.5k ft of elevation change for the day, which is perhaps not so surprising since it's only 10 miles NW of Coe on the same general ridge. It seems like the fire roads were also designed by the same guy.
Parts of the Foothill Trail would be better named Creek Trail since they went right through a running creek. But the segments were easily navigated, if not slightly confusing to those who expected the trail to be above the water. Right after that was another steep uphill section. In my case, I went off to find a geocache and was greeted by a cluster of boar. There are plenty of boar in this area, but we rarely encounter them. Last time we did this hike--exactly five years ago--one of Padraig's goals was to see some boar. Next time, laddy!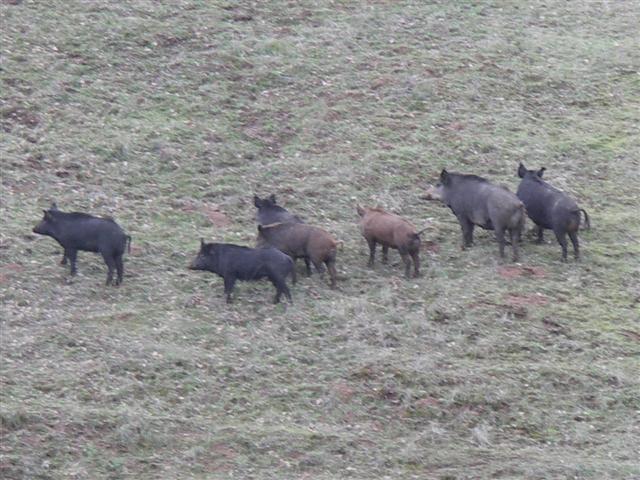 Any truffles in Grant Park?
Pigs weren't the only animals encountered. We also ran into a few bulls, including interrupting some Valentine cattle shenanigans (ask husbandry expert George for the shocking details). At another point, George very effectively cleared the trail by barking like a dog, saving us from threading between cows, bulls, and calves on both sides of the trail. We'd learn later that David, Diane, and Peter M were held up waiting for two bulls to fight over a cow herd (I heard the black bull won).
With the cows dispatched, it was smooth sailing back to the cars. The map shows a "Scenic Overlook" about half-way back along Dutch Flat trail. There is actually nothing at the point on the map. The high point of the ridge, which has a sign and a bench, is half a mile north of the map location. This is meaningful when you are 18 miles into a hike and people are asking "Is this hike every going to end?" and all you can say is that it will be all downhill once we hit that scenic overlook "any minute now". Nice views from the overlook.
Cutting through the parking lot in Grant Park is always confusing, and today was no different. Luckily, Sarah had picked up a full park map, which had an inset of this area. Once we had our bearings and were almost back, I tried to go the wrong way, but George and Sarah convinced me otherwise. Good deal. Soon the cars were in sight.
When the hike notice went out, there was a 70% chance of rain. By the time the hike happened, the rain chance had dropped to 30%. During the hike we barely got wet the whole time. Lots of green (and white) hills made for a great Valentines Day hike. Gacheri helped us finish it off appropriately by sharing a box of See's Candy. See you next time V-day falls on a Saturday, which is ♥ 2015 ♥.
To be sure, this was a weak five--more like a 4.51. It's harder than the canonical four of Mt. Diablo, but mostly because of the extra distance.
More pictures from Peter M.
Milestones:
Gacheri's 1st leaf







Pages maintained by Steve Walstra, Peter Saviz, and Russell Gee.
©2022 Intrepid Northern California Hikers