668. Mission Peak to Monument Peak (05/03/09)

Hikers (17): Clive, David, Diane, Edita, Helen, Janice, Jed, Jeff, John, Karl, Linda L, Paul, Peter, Praveen, Sabine, Suzie, Walter
Distance: 11 miles
Rating: 3 difficulty, 7 beauty
Park info: Mission Peak Regional Preserve in Fremont

Write-up by Peter -- Pictures by Karl
The pending rain resulted in a few no-shows at the trailhead. I didn't want to delay the start of the hike, so the heck with these non-intrepid people -- let's go!
1, 2, 3 ... INCH!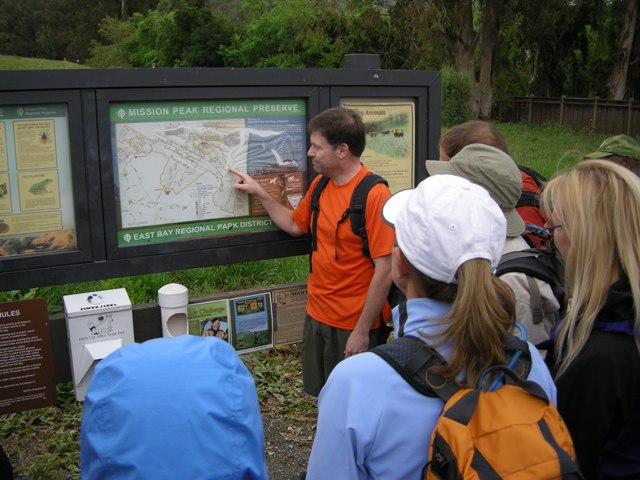 After all these years, we still need a map to go up Mission Peak
I'd been nursing a non-swine (bovine?) flu and sore back all week and felt low on energy right from the get-go, but as we continued up the hill, I started to feel much better. For some reason, I was reminded of the saying that if you eat a live frog first thing in the morning, nothing worse will happen to you the rest of the day. I'm not sure what the exact connection is, but the moral is that hiking cures all ills.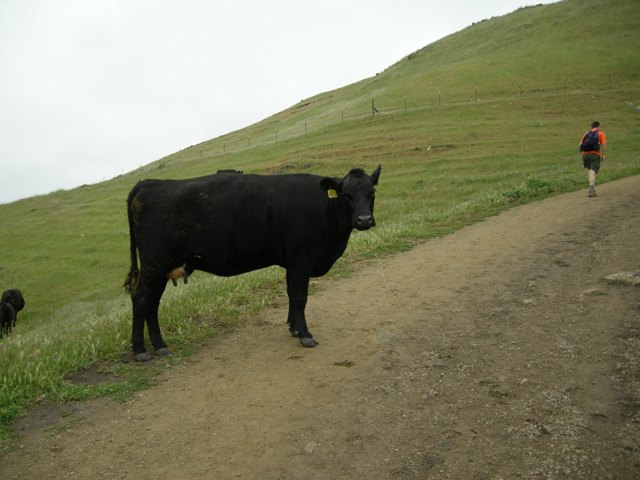 The famous killer cows of Mission Peak were looking for more victims
The clouds had been holding off and weather was pleasant most of the way up, but as we made the final right turn through the gate and up towards the top, things changed for the worse. A cold wind kicked in, and temps dropped rapidly. People were hunkering down on the side of the trail to wait it out, but the wily INCH veterans knew that this was not going to pass quickly, and kept on going.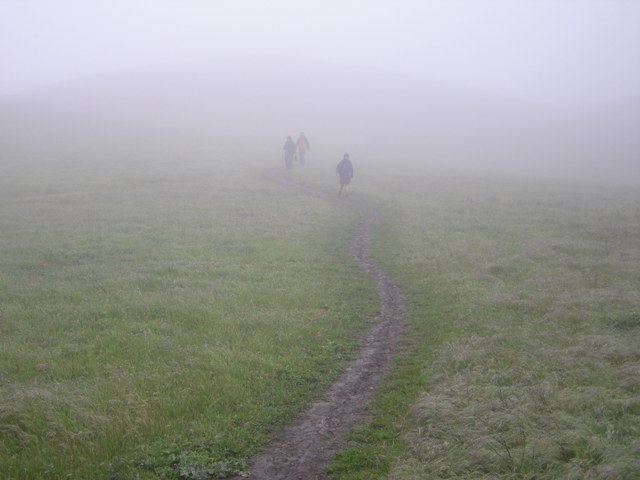 The weather took an ugly turn near the peak
I only stopped at the top briefly to take a couple of ibuprofens and headed down the other side quickly, together with David, John, Walter, Diane, Helen, Paul, Jeff, and Suzie. By the time we approached the fork with the Horse Heaven trail, the rain had picked up, so I stopped to put on my jacket. I was scrambling to get it on and holding on to it for dear life as the high winds were flapping it about and threatening to carry it off at any moment. What an ordeal! I'm not sure I was any drier, but at least the hood prevented the howling winds from piercing my ears.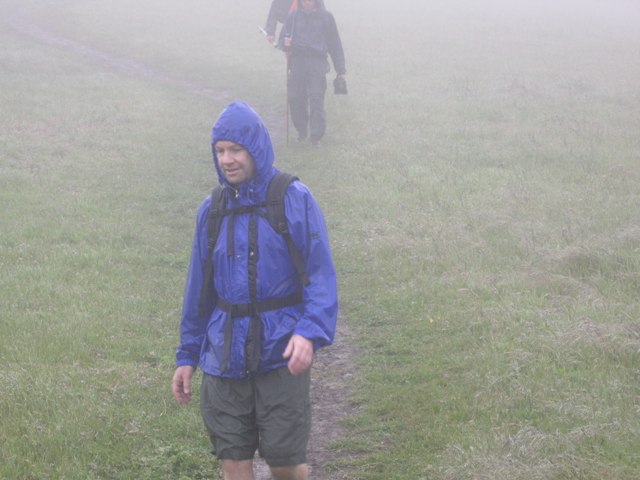 Like dinner at a good restaurant, jacket is required
Off in the distance, I thought I saw Sabine heading down the horse trail, but it was hard to tell through the clouds. Forget about calling out -- there's no way anyone could hear anything. This was turning out to be a good INCH hike after all!
The remaining crew headed off towards Monument Peak (at least that's where we thought we were headed -- it was impossible to see the antennas through the clouds). Even as we got closer, we still couldn't see the antennas, but our undying faith and a little luck (and off-trail sloshing through the swamp) eventually took us to the peak, and we found the actual marker. We seemed to have lost John and Suzie, at least temporarily. Maybe they were victims of the white cows of Monument Peak?
Once again, nobody was about to stop and rest, so we headed down right away. Shortly after coming off the peak, we saw Clive, Edita, Linda, Chief, Praveen, and Jed heading up. If I was a betting man, I would have wagered that half the people would have been completely lost by now, but I was proven wrong. Good job, guys!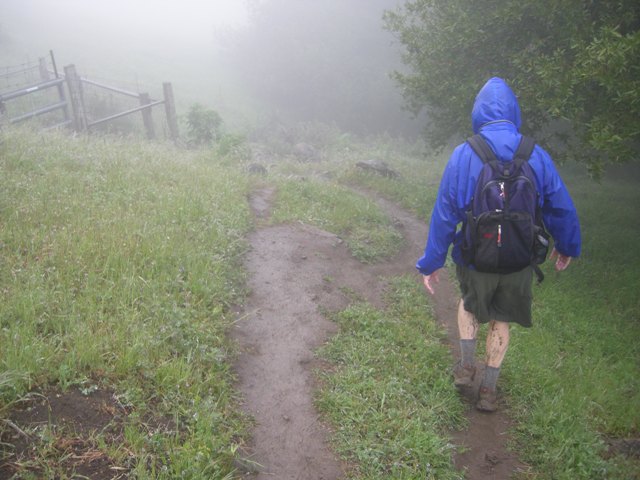 Good shiggy on the way down the horse trail
The walk down the horse trail was quite an adventure. Lots of slick mud, and slipping and sliding all over the place. By some miracle, I only went down once, and I managed to catch myself before I landed flat on my face. A couple of others were not so lucky (see notes at the end). David, Diane, and a bunch of folks who had been ahead of my group somehow took a wrong turn and ended up behind us, but all made it down to warmer climes safely. Another potential disaster averted!
Honorable mention to Christine B., Jan, and Traci who joined us on the trek up to Mission Peak (but did not go as far as Monument Peak to get a leaf).
Post-hike news:
Honorable mention also to Jeanette and John L. who showed up late, but did the hike up to Mission Peak and down the horse trail. Jeanette wrote me: "We went up to Mission Peak and over just like you noted in your email and back down on the horse trail. I fell and slipped a bunch of times on that muddy stuff; even crossing that stream was bad. If I had known about that horse trail being narrow and steep on the way back, I may have backed out of this hike. My clothes had mud all over and my hiking shoes were packed with mud on them, like having weights. Geez...what an adventure. The 10 miler was more like doing 15 miles." Yes! A good INCH hike!
And Suzie and John G. did make it out alive. Suzie wrote: "I had such a good hike today. Lots of mud and lots more mud. By the time I got off the trail, I looked like I had done a little mud wrestling. Really, it was fun. So much laughing. Hiked with Traci until we summited Mission Peak. A few of the hikers turned back at that point. I guess it was a common hike for them. It was my first so I was gung ho. We were literally walking through clouds. We couldn't see more than six feet in front of us. Once we got to the fork that takes us to Monument Peak, John and I lost every one. It was the blind leading the blind. We took out the map several times. As you may know, every time we did, we got further behind. We hung out at the staging sight for the hand gliders; surprised they would fly in such bad weather. We decided to take another fire road not on the map and no sign post, or...maybe we just couldn't see it. We went further up the Mt. That's when we found ourselves standing in front of a tower. We only came to this conclusion because there was this massive piece of cement with 3 huge cables shooting into the sky and disappearing into the fog. Was this Monument Peak? (I have a feeling we made a wrong turn). We continued on and found ourselves back at the fork traveling in the right direction to Horse Heaven Trail. At this point, it was a big challenge for me to stay on my feet. I was sliding down the hill 3 to 4 ft at some places. I went down twice. All the laughing didn't help me get up. John kept his cool and his balance. We got back at 2pm. Everyone had left by then. So we must have lost time at the top. We didn't lose any time finding a Starbucks!" Another satisfied customer!
Milestones:
Linda L's 70th leaf







Pages maintained by Steve Walstra, Peter Saviz, and Russell Gee.
©2022 Intrepid Northern California Hikers