676. Redwood Peak (06/20/09)

Hikers (31): Arlene, Carissa, Carol H, Cecilia, Chester, Chris R, David, Diane, Gacheri, Hima, Isai, Jane, Jeff, John, Karl, Kevin, Kim M, Lida, Linda L, Maria, Paul, Ross, Russ, Sarah, Stacy, Steve, Suzie, Terry H, Traci, Viviane, Walter
Distance: 10 miles
Rating: 3 difficulty, 9 beauty
Park info: Redwood Regional Park near Oakland

Write-up by Steve -- Pictures by Karl
The hike started with 33 hikers, but only 27 remained at the four mile point at Redwood Peak. No one should have been lost up to that point because we were leaving nice arrows at every intersection (and there were many intersections). I had told everyone that they had to make it to the peak to get the leaf, so waited for Arlene + 1, Carol H + 1, and Chris M + 1 (see a trend?) for a fair amount of time before leaving. Turned out that Arlene and Carol's parties did make it to the peak (picture coming, I hear), while Chris M and his daughter turned back early on.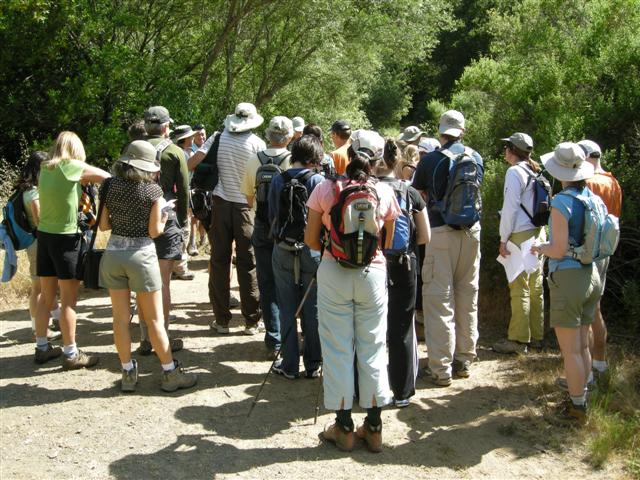 Starting mob
We had a good group hanging out at the peak, but eventually people started leaving despite dire warnings that the next bits of trail were even harder to follow. Sounded like plenty of people did overshoot a trail or two, but nothing too bad. At the end, my GPS was just under 9.5 miles, and would have been a bit higher if I'd parked in the main lot (which was full of INCHers by the time my carpool got there). Based on all the "took a wrong turn" stories, I rounded up the distance to 10 miles.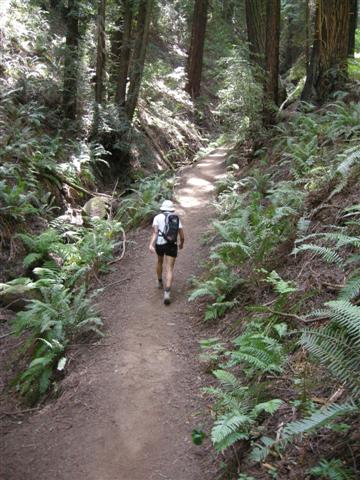 Ferns and redwoods
We waited around for a long time at the end of the hike. In addition to the "missing six", we waited for Cecilia and Paul, who had taken a wrong turn. After that, we waited for Jeff's chips and dip, which had been locked in Cecilia's car. Yum!
Iyad was the only no-show, so was not too surprised when I saw a note from him on my car. However, it was an angry note saying he had waited until 9:30am (!!), and then went and did a different hike. The INCH hike started at 10am.
Milestones:
Kim M's 20th leaf
Sarah's 70th leaf







Pages maintained by Steve Walstra, Peter Saviz, and Russell Gee.
©2022 Intrepid Northern California Hikers