690. Ohlone Wilderness Trail (09/05/09)

Hikers (14): Chinyet, David, Devin, Diane, Helen, Karl, Linda L, Paul, Peter, Ross, Rudi, Sabine, Sarah, Steve
Distance: 28 miles
Rating: 6 difficulty, 9 beauty
Park info: Ohlone Regional Wilderness from Del Valle to Mission Peak

Write-up by David -- Pictures by Helen and Karl
Peter (email excerpt, August 22, 2009): I'm taking Ohlone off the board. I just don't think I'm in good enough shape to do it these days, especially if it's hot...
Sarah (at the trailhead): Goddammit! What the hell am I doing?
Nobody at Del Valle except crazy INCHers at 6:30 AM (why is Steve wearing shades?)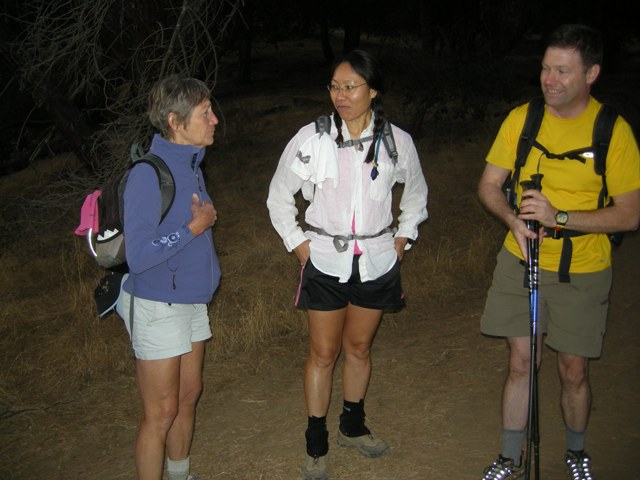 Poor Sarah just came to drop off some hikers, but Peter actually talked Sarah into doing the hike! No-one can resist the spell of the Homer Simpson watch -- "Mmmmm, burger!"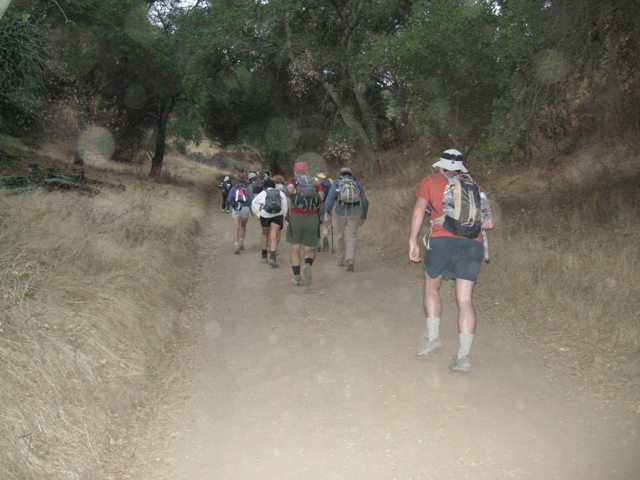 And we were off -- heading out for a day of punishment on the mighty OWT.
1, 2, 3 ... INCH!
Perfect weather conditions led to a superb day of hiking. The only issues I know of include an inadvertent excursion toward Goat Rock (the hiker still finished in well under seven hours), problems finding the Sunol Visitor Center (Eric), and losing the Canyon View Trail shortly after the McCorkle Trail junction in Sunol, for which I have no excuse after having hiked Sunol countless times. When I found myself seventy-five feet above the Visitor Center after almost 20 miles on the trail, choosing "straight down" as opposed to "straight back" was an easy call.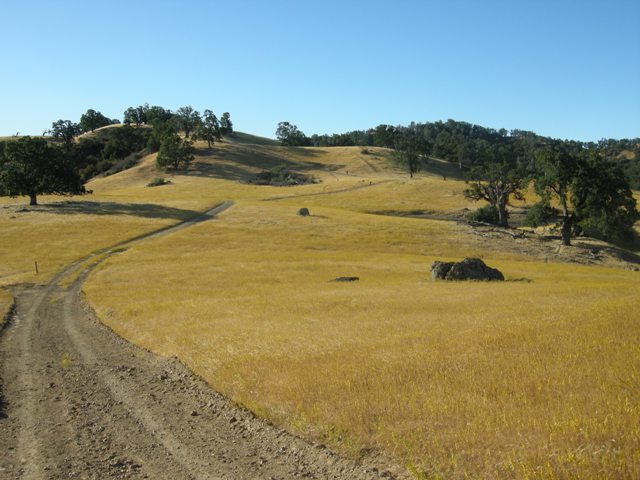 When you get to the top of the Wauhab Ridge you can finally catch your breath (Johnny's Pond is on the right)
The biggest drama concerning this hike was Peter temporarily cancelling it after Hoover Lake. Finishing the hike looking (if not smelling) fresh as a daisy, he was frisky to the point that I was concerned that he would further downgrade the hike to a Level 5. His sole lament was not scheduling Steve's proposed alternative that adds six miles and ends at Ohlone College.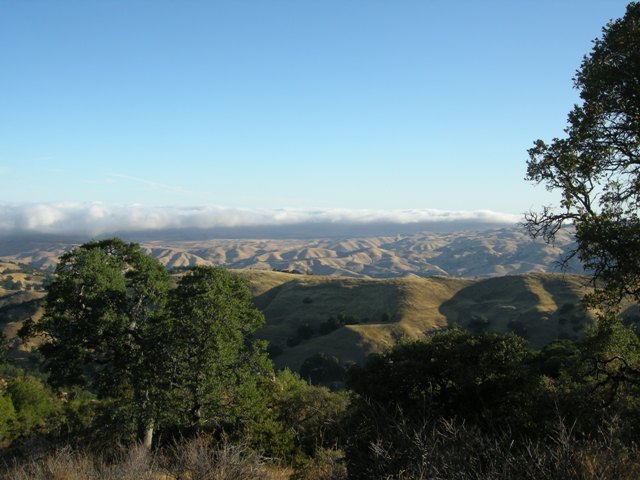 Mission Peak is off in the distance, under the clouds
My human interaction during the hike was a brief conversation with Helen shortly after starting and a discussion with Peter, as we descended into William's Gulch, about the NFL opener next weekend and the traitorous Brett Favre. I started hearing voices shortly before reaching the Rose Peak junction after which I saw Sarah, Sabine, and Helen three times between post 25 and the Sunol Park Entrance. The most unusual event of my day was finding a new blue jacket in the middle of the trail a couple of miles before Rose Peak.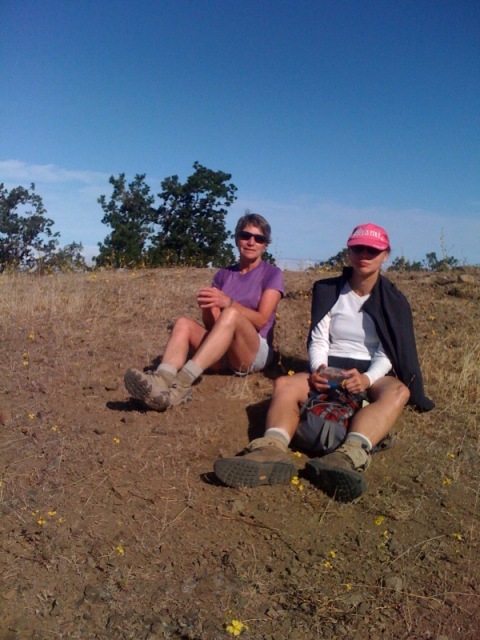 Sarah and Sabine did not even break a sweat getting to Rose Peak
Pre-hike festivities yielded more noteworthy events. Peter administered Ross's double-forest shot near the Mission Peak parking lot before the Del Valle shuttle – the pre-hike timing was a concession that few of us would see Ross at a time when the shot is normally given. My relief that there was not enough holy water for all forest holders was only heightened by my discovery that the substance was 151 instead of the tequila normally associated with forest events. It does beg the question – what is the ratio of 5:30 am shots that conclude (or continue) a hard night of partying compared to those that start a "normal" day's activity.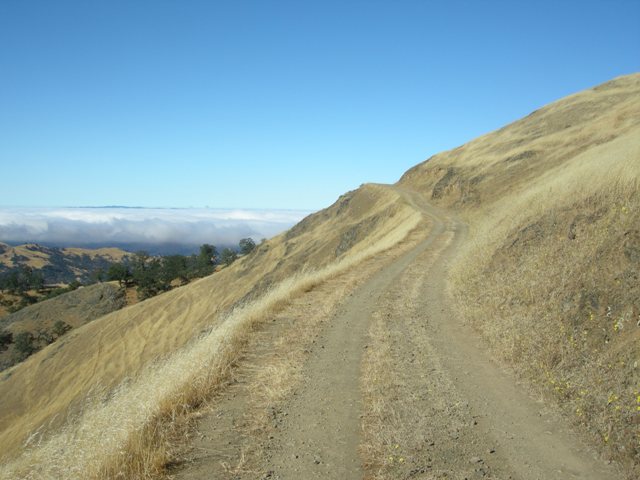 The Ohlone backcountry can be brutally hot in summer. We lucked out today.
Many thanks to Scott, Sarah, and Diane for shuttling hikers from the Mission Peak meeting place to the Del Valle trailhead, and to Devin for shuttling the shuttlers back to their vehicles after the hike. Scott's service was the most selfless unless, as Peter speculated, his primary motivation was to laugh at us as we started up the dusty trail. Sarah's original intent was to accompany us to the Murietta Falls vicinity. She was quickly seduced into the entire hike; Karl, Peter, and I sacrificed water bottles from our reservoirs while others promised food and other provisions as needed. Sarah performed remarkably – the only hitch to her day was losing her new blue jacket in the middle of the trail a couple of miles before Rose Peak. Scott was having none of similar attempts on his day. His definitive "NO!" was based on not having adequate hiking shoes.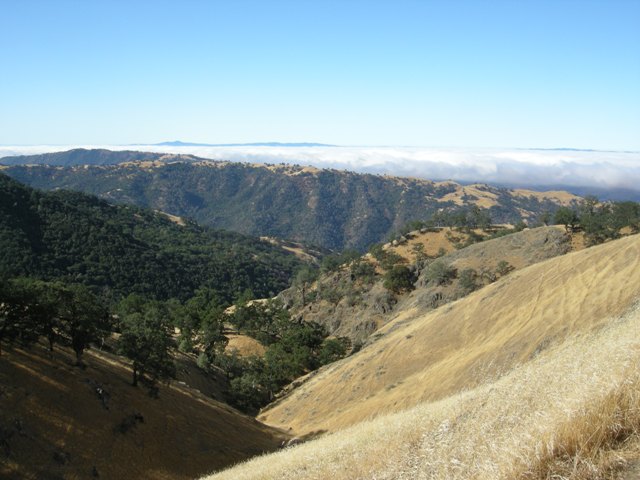 Getting closer to Mission Peak (keep telling yourself that)
Mining the database: INCH Hike 400 (6/12/04) was most similar to today's hike in terms of weather, number of participants, and availability of statistics. In lieu of interesting details about today's hike, the following analysis will have to suffice:
| | 6/12/04 | 9/5/09 |
| --- | --- | --- |
| Number of Participants | 15 | 14 |
| Average Time of Completion | 10:13 | 8:36 |
| Average Speed (28 miles) | 2.77 mph | 3.38 mph |

Number of 2009 participants whose first INCH hike was after 6/12/04: 9 (Does not include Linda, who hiked once with INCH before 6/12/04)
Average completion time improvement of those who hiked both days: 61 minutes
Average speed improvement of those who hiked both days: 0.43 mph (3.61 - 3.18)
Number of participants completing the OWT with INCH for the first time: 7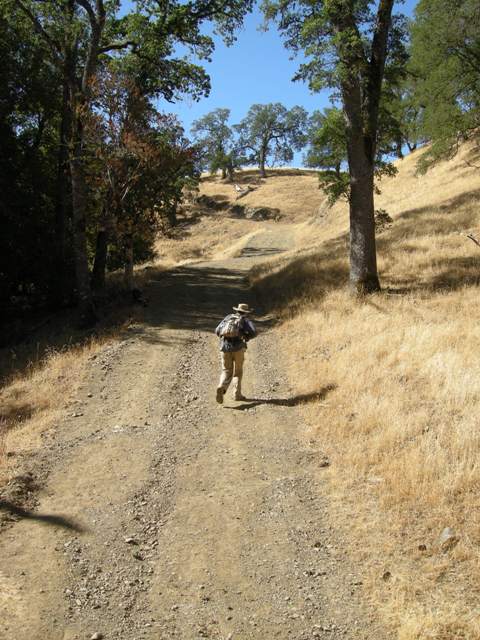 INCHers can smell the finish line!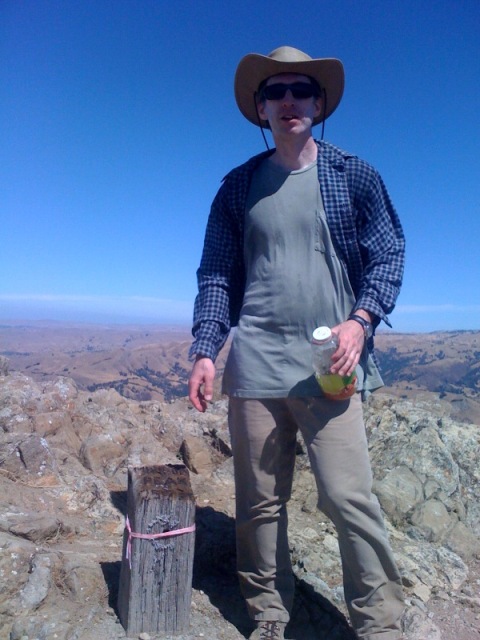 Devin does (the optional) Mission Peak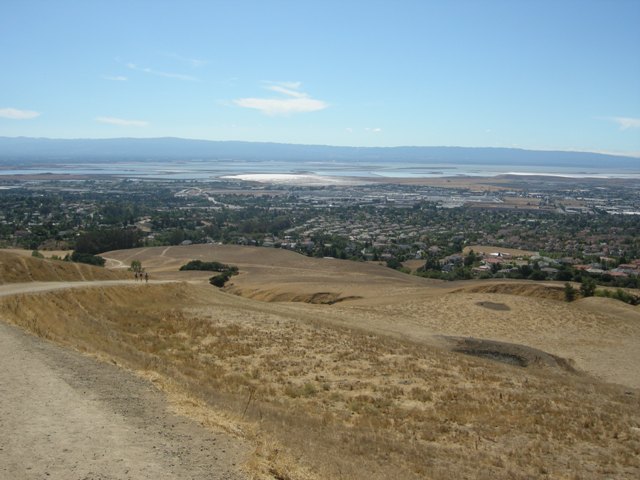 Coming down Mission Peak -- the torture is almost over!
Although I was hiking with INCH in 2004, I wasn't fit enough to attempt this hike. I remember that it seemed more like an "event" then - Steve's hike notice was written to discourage participation, comparing it to a death march over a desolate wasteland and promising pain and misery that would last well into the next day. Today - it was just another long hike that was prelude to a Berkeley football game (Karl), an unspecified San Carlos social engagement (Diane), an evening with the children after a cold beer (Peter), and other undeclared or unmentionable events.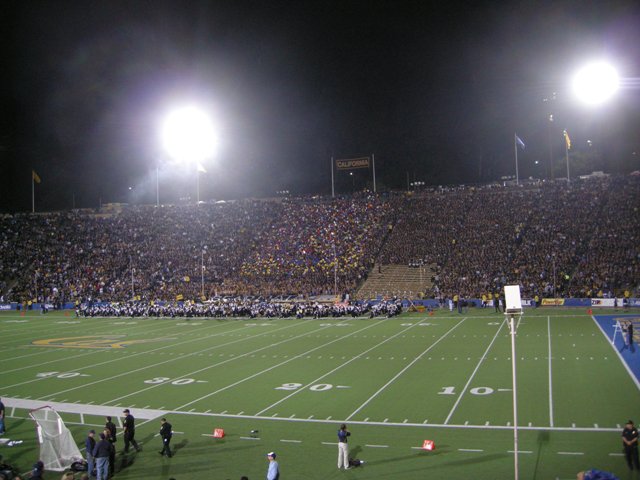 The hike was just a warm-up for Karl. He had to catch a game afterwards.
---
Notes from Steve:

The hike started at 6:38 am. The total hike times are below. The cool temperatures resulted in much better times compared to the last visit. Couldn't have asked for better weather.
Name
Hike
Time
Rose
Mission
Ross
6:40
X
X
Steve
7:22
X
X
Diane
7:51
X
X
Rudi
8:04
X
X
Eric
8:18
X
Sarah
8:18
X
Sabine
8:18
X
Karl
8:22
Helen
8:24
X
X
Devin
8:38
X
X
David
8:52
Peter
9:51
X
Linda
10:48
X
X
Paul
10:48
X
X
Milestones:
Karl's 20th leaf
Paul's 180th leaf
Ross's 2nd forest
Sarah's 80th leaf







Pages maintained by Steve Walstra, Peter Saviz, and Russell Gee.
©2022 Intrepid Northern California Hikers