696. Ramage Peak Trail (10/17/09)

Hikers (14): Bill R, Chinyet, David, Diane, George, Harvey, Karl, Kirk, Paul, Paul R, Peter, Ross, Rudi, Sarah
Distance: 22 miles
Rating: 5 difficulty, 8 beauty
Park info: East Bay Municipal Utility District near San Ramon

Write-up by Peter -- Pictures by Karl
I caved in to Sarah and Steve's incessant pressure and set the hike to start from Valle Vista Staging Area in Moraga, as opposed to our usual start from Las Trampas. My biggest reservation was that we'd end up doing a lot of walking on flat land instead of up and down hills, so I had downgraded it to a Level 4 when sending out the hike notice.
The drive there was very nice, if you like twist, windy roads. I felt like I was somewhere in the Santa Cruz Mountains. Who knew such beautiful scenery existed just minutes from downtown Oakland? The dirt parking lot was large, but it filled up quickly as there was also a big contingent of Team In Training bikers there. I noted that my weasely co-founder who had nagged me start from somewhere other than Las Trampas did not show up for the hike, claiming some mysterious sickness.
After some brief confusion in the parking lot as to where the trailhead was, Sarah guided us to the correct gate, like Moses leading his people to the promised land, and we started out.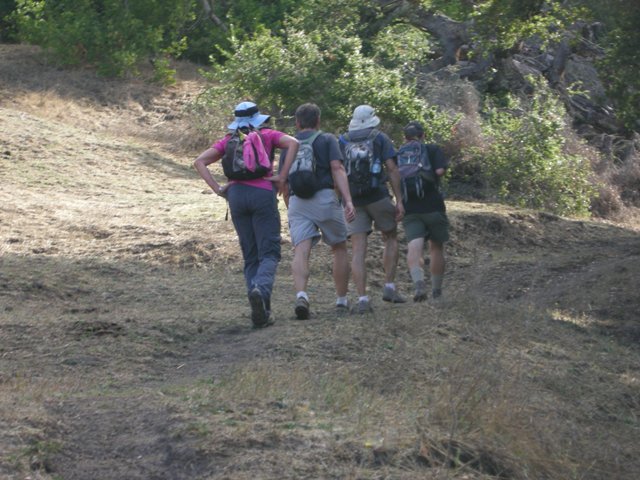 INCH conga line at the start of the hike
1, 2, 3 ... INCH!
As noted above, the first 3-4 miles of the hike were mostly flat, as we walked along the eastern bank of the Upper San Leandro Reservoir. This led to some grumbling by a few INCHers (OK, mainly Rudi and myself), but our concerns were soon put to rest as we emerged from the cool, shaded, flat trails and began to head uphill under open skies on the Rocky Ridge Trail.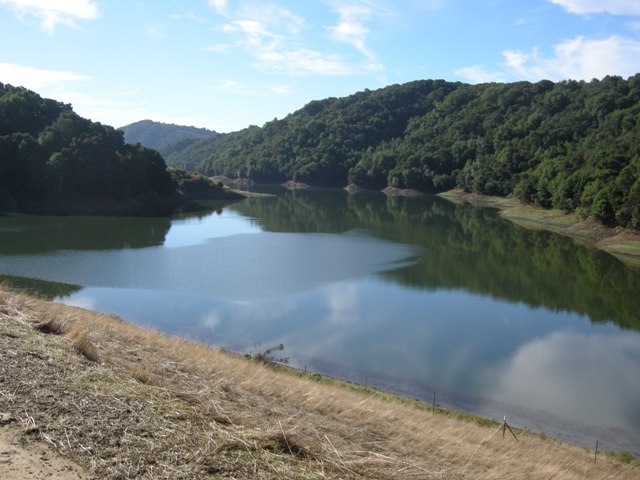 It all looked so calm and peaceful at the start ...
Sarah had told me not to write off the hike too soon, and she was right (as usual). The trail led through a nice uphill portion, then flattened out for a while, followed by another steep uphill to take us up to the top of Rocky Ridge. It was a warm and very muggy day, and I was sweating like a pig going up this freaking hill.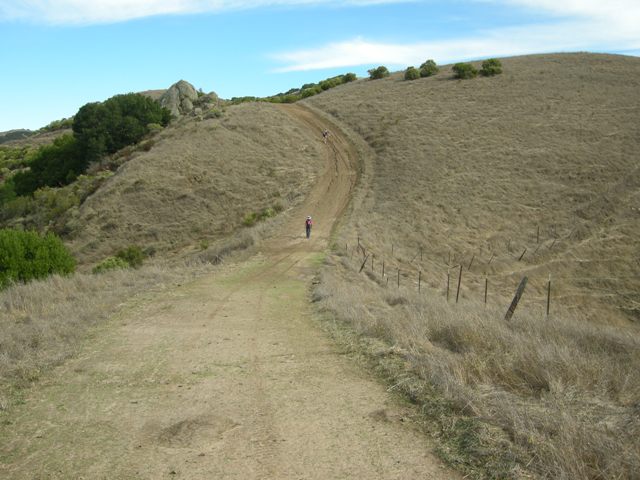 Hot and muggy, no shade, just going up and down hills all day -- Henry Coe would be proud
Ross, Eric, George, Rudi, Harvey, and Kirk had taken the early lead, followed by Sarah and David, then Karl and myself. I looked back down as we trudged up the ridge, and could see Diane and Paul down below. No sign of Linda, Tiffany, James, Bill, or Pilot Paul. I was guessing they had taken a wrong turn and would have to make up some lost ground.
Karl and I kept pressing along, exchanging fantasy football tips to pass the time and take our mind off the torture. Karl was lamenting his 0-5 start in the league he commish'ed for. Been there, done that. By the way, this hike was just a warm-up for him. He was planning to drive to the Grand Canyon at 1 A.M. the following morning and start hiking the next day. Now that's insane!
Are we at the top of this damn hill yet????
As we looked back down, we could see Diane picking up the pace. Karl and I both knew it would be only a matter of time for her to catch up to us. Sure enough, a few minutes later, there she was -- all smiles, and not even breathing hard. I was sorely tempted to throw her off the cliff, but I figured I'd better save my energy for the hike.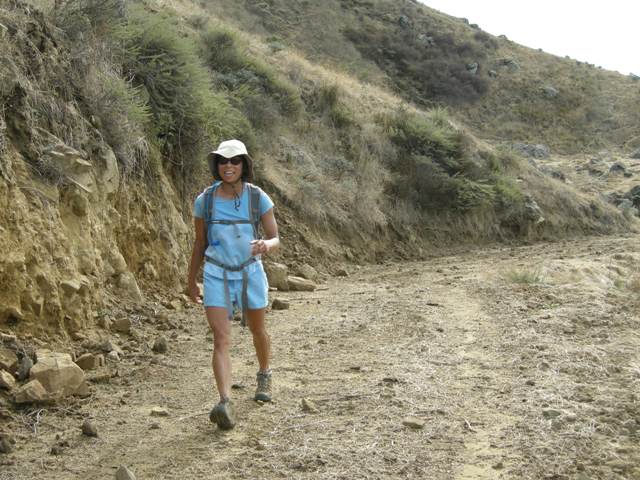 Diane makes it look easy (don't you just hate that?)
We finally caught up with the leaders at Rock 2 and took a well-deserved rest. Whew! Under 3 hours to do just under 9 miles. Not a bad pace, considering half of it was uphill. It was definitely easier to get this uphill over with at Mile 9, instead of my usual Mile 19.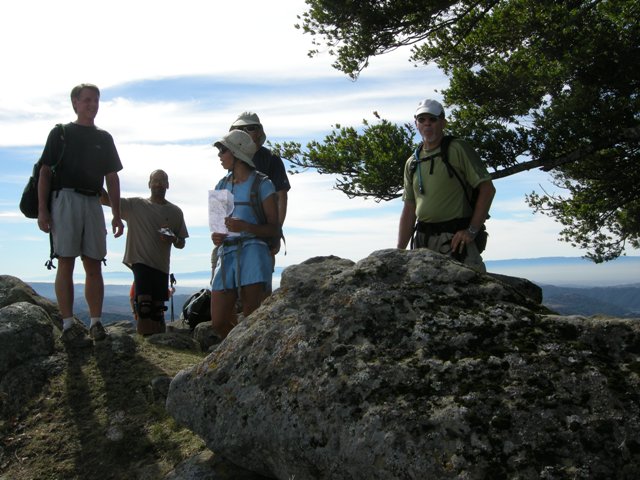 Chillin' at Rock 2
As we sat at The Rock and enjoyed the view on both sides of the ridge, we exchanged notes about the stragglers -- nobody had seen them for a while, including Paul who arrived just as most of the pack was setting out again. It was hard to believe anyone could miss seeing this huge ridge!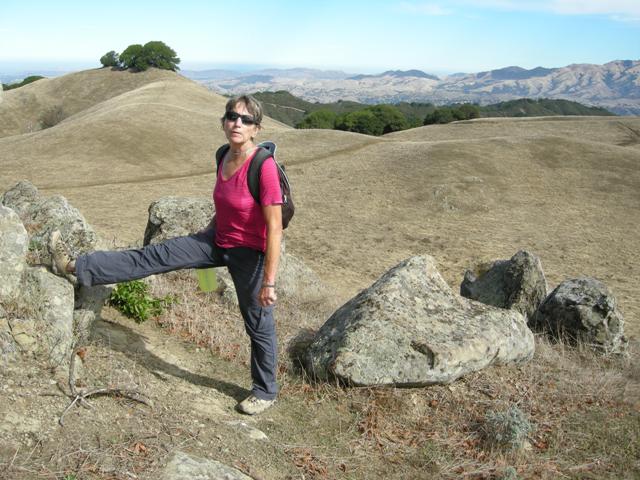 Sarah practices her ballet stretches
We headed out along the top of the ridge, looking down at Ramage Peak (yes, down -- Ramage Peak is a few hundred feet below Rock 2, but you need to drop down into a valley and back up again, so it's not a cakewalk).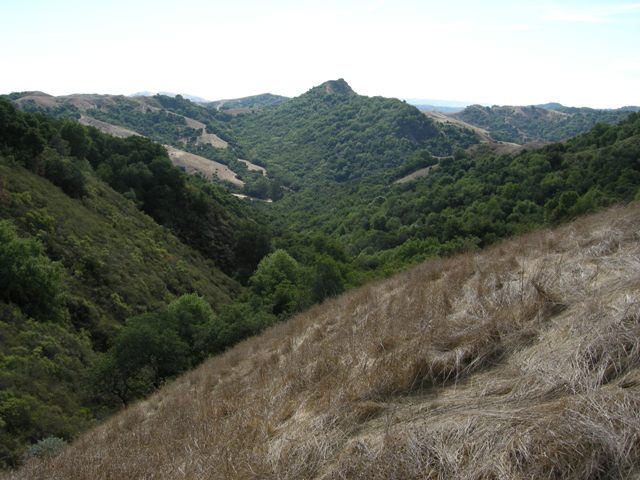 Ramage Peak beckons -- so close and yet so far
As we made the final approach to Ramage Peak, we saw Bill and Pilot Paul coming up from a different trail. WTF? It turned out they had taken a wrong turn and criss-crossed their way along the valley floor, before finally finding their way. They had done 13.5 miles so far, compared to the 12.5 the rest of us had put in, and they both agreed that they would do the reverse hike from here, i.e. go up to Rock 2 before heading back. Good attitude!
As we sat at the top, some of the INCHers said they had seen some people milling about on a road on the southern side of Ramage Peak, but they had turned back. Could it be Linda, Tiffany, and James? Nobody knew for sure. Pilot Paul said he had not seen them since early in the hike, and there was no sign of them coming up the planned trail. Hmmmmmm ....
After a short lunch break, we packed up and headed out. The route back was fairly straightforward, and we managed to not get anyone else lost, at least in a major way. I walked back with Karl and Bill, who revisited his decision to go up the ridge with Pilot Paul, but gets kudos nonetheless as his previous longest hike was 16 miles, and he beat that with flying colors on this day.
My knees were aching going along the long downhill, and could not wait to get this over with. I was so tired, I did not even see the dead pig's head that Rudi had placed in the trail for me. Who picks up a dead pig's head but Rudi? Crazy Dutchman.
Only a couple of miles to go ...... unfortunately, we took a wrong turn and ended up in some brush on a muddy hill. As I tried to scramble up the hill, I slipped and landed in the muck. Great! I used my remaining few drops of water to try and wash the mud off my hands. I was too tired to bushwack and I had just gotten over a bout of poison oak, so I decided to backtrack. Karl and Bill also decided to come with me, leaving David and Rudi to press on.
We had to go around and up yet another hill, but we were finally able to see the parking lot. Thank God! The last two miles had been the longest of my life. As I finally stumbled into the parking lot, the good ol' INCH crew greeted me with a collective middle finger (but made up for it by giving me beer). I rewarded them by upgrading the hike to a 5, which it really deserved, especially on this hot day.
"New Paul" went up to Rock 2 on the way back and came in just a few minutes after I did. Great job! This also shows how slow I was walking on the way back. "Old Paul" ended up missing the initial turn to Ramage Peak Trail from the top of Rocky Ridge, and took the Sycamore Trail down to Devil's Hole, then had to work his way back up the ridge and down again. He finally showed up around 6:15 (my thanks to David and Harvey for staying -- I was long gone to take care of family matters!).
Honorable mention to James, Linda, and Tiffany who did 21 miles by walking around in circles all day, but did not come close to either Rock 2 or Ramage Peak, and hence did less than half the required elevation on the hike. I gave them a chance to earn a post-hike leaf, but they did not take me up on my offer.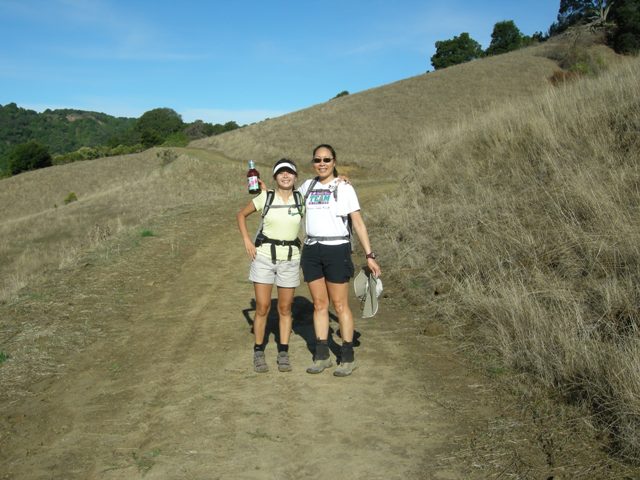 Maybe they should have taken it easy on the booze.
Milestones:
Kirk's 10th leaf
Peter's 410th leaf







Pages maintained by Steve Walstra, Peter Saviz, and Russell Gee.
©2022 Intrepid Northern California Hikers