711. Bear Mountain and Mississippi Lake (01/30/10)

Hikers (17): Amy D, David, Diane, George, Harvey, Jeff, John, Karl, Karri, Kevin D, Mark E, Paul, Peter, Ross, Sabine, Steve, Susan
Distance: 27 miles
Rating: 5 difficulty, 9 beauty
Park info: Henry Coe State Park near Morgan Hill

Write-up by Peter -- Pictures by Karl, Paul, and George
It had rained hard the night before, but the skies were now clear and there was a beautiful Wolf Moon in the sky as we wound our way up the twisting winding road to Henry Coe HQ. Woo, woo, wooooooooooo!!! This had to be some sort of omen.
We had a couple of newbies, Amy and Kevin, join us for this one. I normally don't send the notices for Level 5 hikes out to newbies, but Amy had written to me earlier in the week detailing her hiking backgound, and letting me know that she and Kevin had hiked with Ross, Sabine, and some other of our regulars. Anyone who can keep up with Ross and Sabine is OK in my book, so they got the green light. The only other person who I had not met before was Karri. She had hiked with INCH a couple of times in the last month (Rusty and Steve's hikes), and some of our members who knew her said she was in training to go to Everest Base Camp, so I figured she should be OK to go too.
1, 2, 3 ... INCH!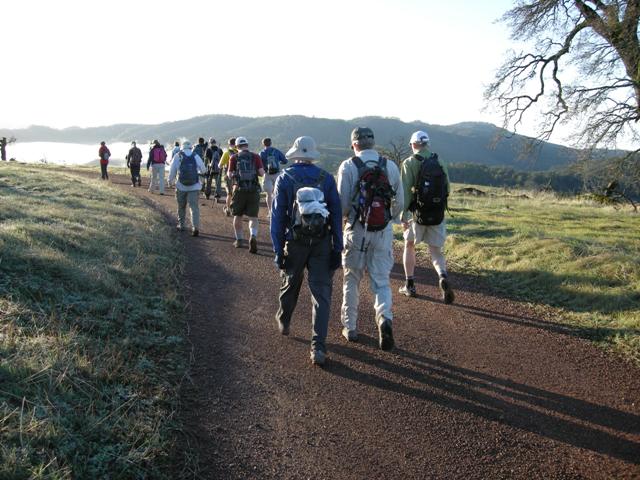 It all started out so innocently ...
Temperatures were nice and cool -- a perfect day for hiking. We set off at a brisk pace, quickly down to Poverty Flat and the first creek crossing of the day. The water level was up to mid-thigh, so the choices were to either walk through in hiking boots, change shoes, or go barefoot. Most folks who had done this before were well-prepared and had brought an extra pair of sandals for crossing the creek (where's Moses when you need him?). Karri had to go barefoot with a little assistance. James tried a fourth option, to walk across some rocks, but this turned out to be a bad decision. He slipped and got a huge gash on his shin. Luckily Mark had an entire pharmacy in his backpack and quickly administered first aid, but the damage had been done. In the true INCH way, James really wanted to continue, but Karl, Mark, and I managed to talk him out of it and sent him back up the hill to HQ and the ER thereafter. Sorry buddy, no leaf -- but you get an honorable mention and you live to come back and hike Coe another day.
First major obstacle out of the way, with only one man down, we pressed on. The next section took us up the hill out of Poverty Flat towards Miller Field (that name always reminds me of a baseball park). I was walking with Karl most of the way, talking about the upcoming Super Bowl and exchanging stories about our laser eye surgeries and our (unrelated) urge to pee frequently in cold weather, i.e. today. These are things middle-aged guys talk about on the hike. We did notice that Karri was slowing down a bit, and wondered if she would be able to make it through the hike. She assured us she was OK, and asked us not to wait for her.
The next major crossing was less at Los Cruzeros. By the time we got there, most of the crew was already heading up the other side. We changed shoes again and waded across. Damn!! The water was colder here, at least it felt that way due to the stronger current. As we sat on the other bank drying off and waiting to regain feeling in our tootsies, we saw Karri wading about halfway across and climbing up on to a rock. She was doing OK so far and could clearly see where we were heading, so we started up the long uphill to the top of Willow Ridge. As Karl reminded me, Big Henry was taking us to school and class was now in full session!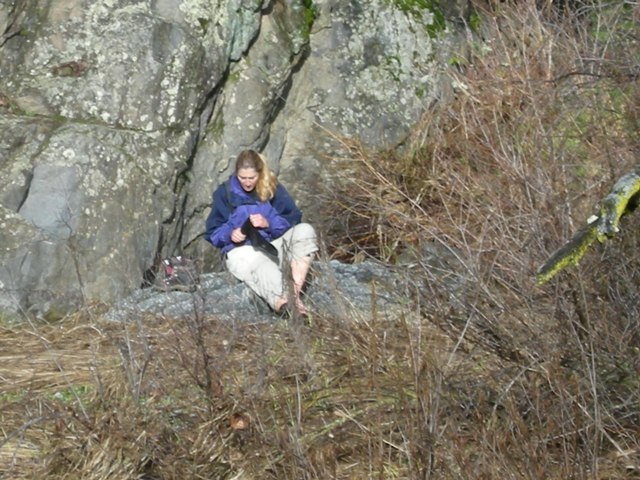 Karri contemplates life while sitting on a rock in the middle of the Narrows.
We made it to the Willow Ridge and took a quick break. Instead of our usual hike to Mississippi Lake along the Willow Ridge Road (aka Interior Route), I had decided to mix things up this time and take the group along Rat Spring Trail and Pacheco Creek instead. I think it was a good choice -- Rat Spring was vermin-free and Pacheco Creek was quite delightful.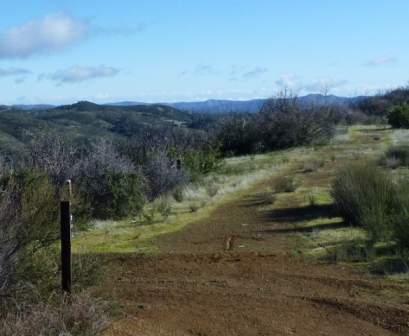 Turnoff for Rat Spring Trail (note the big INCH arrow on the ground).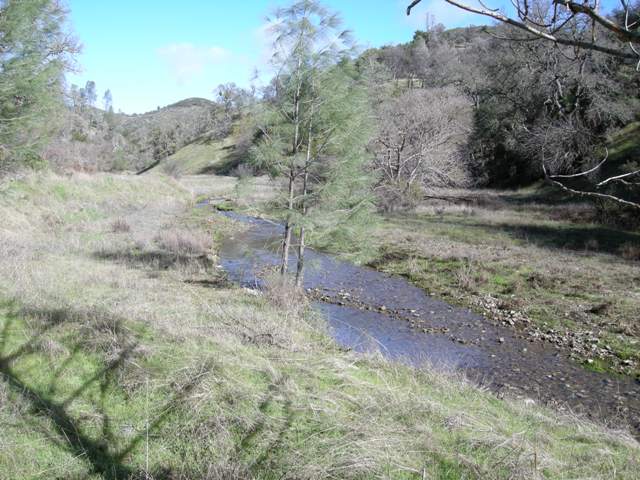 Beautiful Pacheco Creek. If only we had time to stop and enjoy it.
Other than a little quagmire at Canteen Spring which nearly cost Karl his hiking boot (don't you love that sucking sound when your boot is stuck in the mud and nearly comes off?), the footing was pretty good all the way. I particularly enjoyed the steep climb up the Canteen Trail, where we caught up with Paul briefly. I can't wait to come back and do that again in July.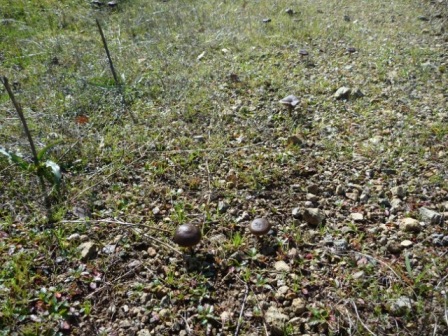 'Shrooms anyone?
We stopped at the top for another quick break. I wasn't tired, but I just wanted to eat and drink, mainly to lighten the load in my backpack. As usual, I was carrying too much stuff, and it seemed no matter how much I drank, the backpack wasn't getting any lighter. As we headed off towards Mississippi Lake, the conversation turned to the marathon-like length of the hike, and Karl told me how he had placed 125th in the Boston Marathon. Very impressive!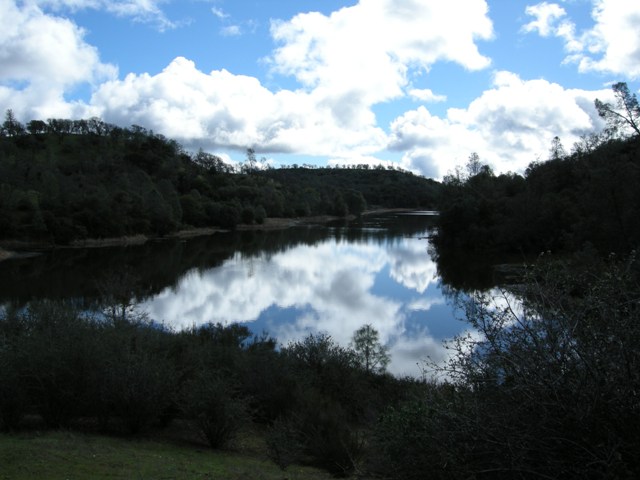 Beautiful Mississippi Lake. If only we had time to stop and enjoy it. See a pattern here?
At the far end of the lake, we caught up with Amy, Kevin, and Paul at the picnic table. Since we had recently taken a break, we didn't stop, but just waved and kept going. Bear Mountain awaits! The last time we hiked along the Bear Spring Trail, it was dry as a bone, but today there was a nice flow with a couple of nice mini-waterfalls along the way. Very nice trail! If only we had time to stop and enjoy it ...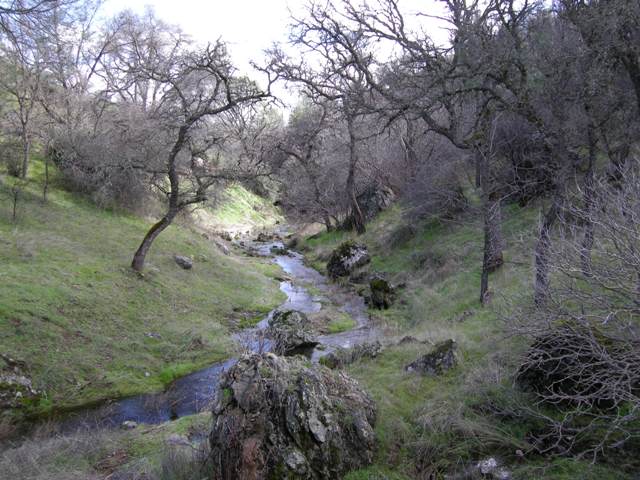 Bear Spring Creek was thankfully devoid of bears.
At the next intersection, we ran into David, Jeff, and John who were looking at the map and pointing in many different directions. They had continued up along the Spring Trail (not the trail I had designated, but one which would also get to Bear Mountain), then backtracked down. Adding to the confusion was that there are two different peaks called "Bear Mountain" and the signs are not clear.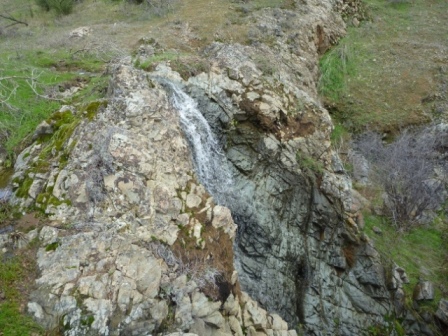 If you actually arrive at Bear Spring, you've taken the wrong trail!
As it turned out, a few other folks got confused at this point and there were at least two alternate routes beyond the designated route taken to the peak. It's all good!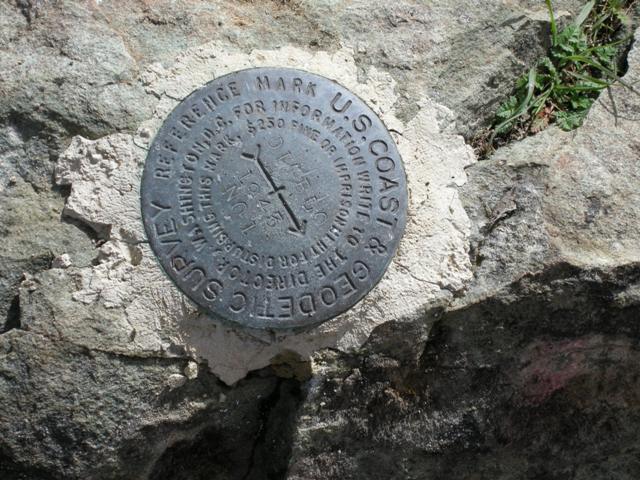 Made it to Bear Mountain!
David, Jeff, and John headed out quickly from the peak. Karl and I took a little break, during which time Amy and Kevin caught up with us and we walked back together. About half a mile down from the peak, we ran into Paul coming towards us. There's one more who took a wrong turn at Bear Spring!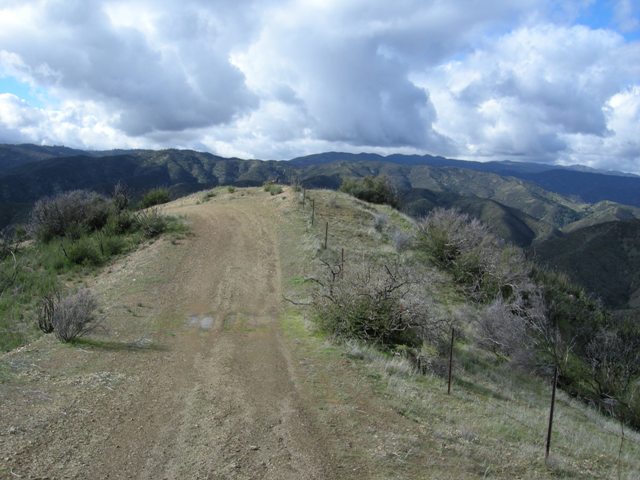 Sharp turn on the way back down from Bear Mountain. Good thing I walk slowly.
Down, down, down the long ridge road to the creek ...... it was a beautiful clear day and we had great views in all directions. Looking back towards Bear Mountain, we could see some dark clouds rolling in. Would we make it back before the rain?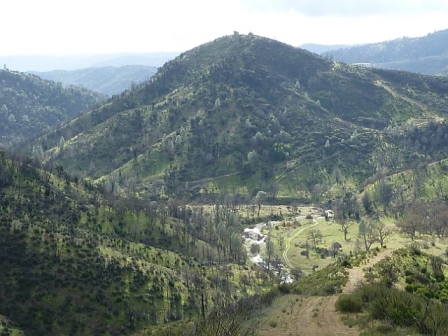 My dream is to live in the house on top of that hill.
My knees were starting to feel pretty sore at this point and I had to pop a couple of ibuprofens. I couldn't wait to get down to the creek. I was grateful that it wasn't a hot day and I would feel rejuvenated once I got my legs into the cold water.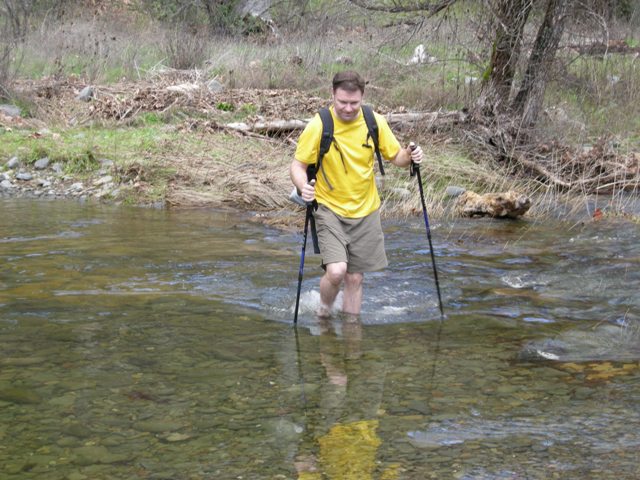 The cool water felt good on my aching feet.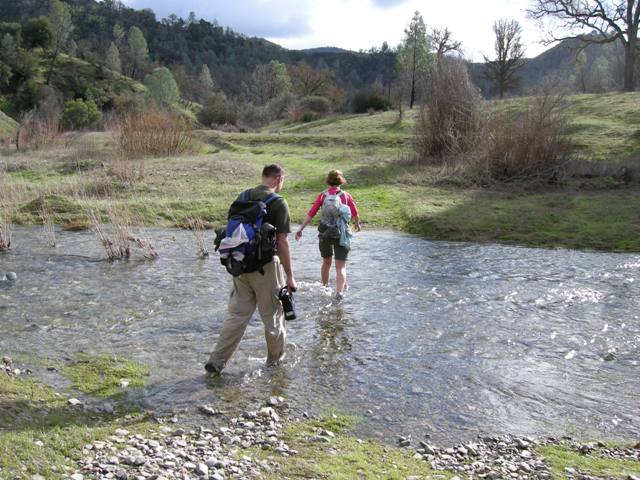 Newbies Amy and Kevin enjoy their first INCH hike.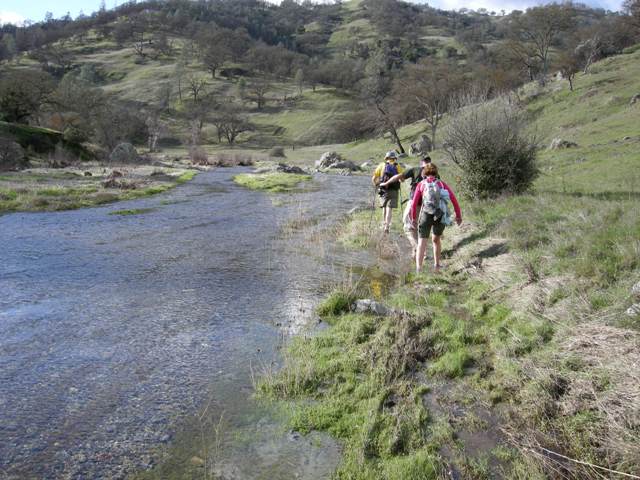 A dozen creek crossings later, we were almost at Arnold Horse Camp.
Finally out of the creek, we began the climb up towards Miller Field and then back down to Poverty Flat. It looked like the rain was holding off, but it was starting to get late and we had to keep going in order to get in before dark. I was hoping that Karri had turned back at the Narrows otherwise she may be hiking in the dark.
Back at Poverty Flat, I attempted to cross the creek at the bottom of the Cougar Trail on the stepping stones that some of us had helped put in a couple of years back. The water level was so high that I would have gotten my feet wet anyway, and since there's usually poison oak on the other side, I decided to go back and cross the creek at the usual spot, together with Amy, Kevin, Karl, and Paul.
OK -- the final torture: up the hill back to HQ. I was feeling pretty good and made good time up to the top of the ridge. The cooler temps were a godsend -- what a huge difference. I was so happy not to be on the verge of passing out at the top for a change.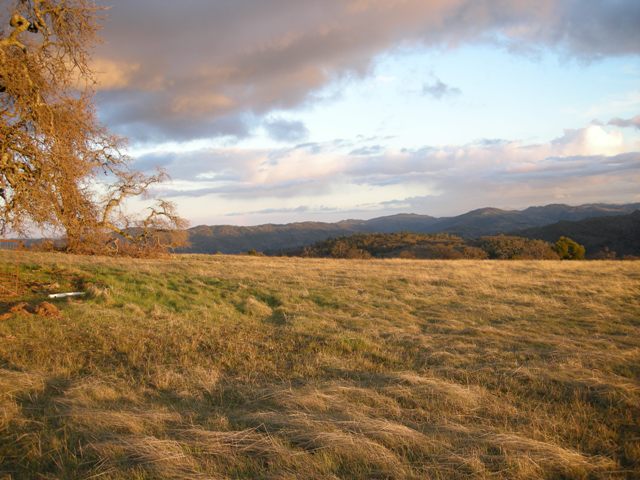 Almost done -- isn't Henry Coe beautiful at sunset?
Karl and I arrived back at HQ just before 5:40 -- almost exactly 10 hours after we left (as I had predicted for myself). David and Harvey will still hanging around the parking lot, and everyone else had taken off as temps were starting to drop quickly with darkness approaching. Amy and Kevin arrived shortly afterwards (good job on your first INCH hike!), and then Paul. Only Karri remained. Her car was still in the parking lot, so I knew she had not turned back earlier. I was starting to get worried.
We hung around a little longer ...... still no sign of Karri. Coe HQ had closed up, but Harvey saw the light was on in the ranger residence, so he suggested that we alert the ranger. I had to leave to help Taylor take care of our two sick kids at home, but knowing Ranger John was on the case, I knew everything would be OK. Harvey, Karl, and Paul stayed behind.
As soon as I got home, I started getting text messages from Karl saying that Karri was not back yet. I got on the laptop and started spreading the word to the group via email, INCH webpage, and Facebook, asking if anyone had any information that might help to locate her. In the meantime, a ranger search party went out with flashlights.
I planned to head back to Coe, but Karl suggested I stay put. I rationalized that I could be of better service by relaying information back and forth. After 27 miles, my legs would definitely not be able to carry me too far if I wanted to go searching at Coe. Midnight passed, and still no sign. I momentarily dozed off in front of my laptop, and was awoken abruptly by the sound of my own snoring. I checked in with the guys -- Karl and Paul were still there. I guessed the rangers would call off the search for the night. Karl and Paul stayed at Coe until 2 a.m., then headed home, exhausted. In the meantime, George told me that he and Rudi planned to get there first thing in the morning (which was only a couple of hours away at this point). I was hoping that Karri had hunkered down somewhere to get some protection from the elements. Luckily it was not raining, but it was pretty chilly. I knew she had a good jacket, so at least she wouldn't freeze to death. But Coe is a dangerous place, especially at night -- mountain lions, snakes, many places to fall and injure yourself. I was keeping my fingers crossed.
At the crack of dawn, I got a text from George. He and Rudi were at HQ, and Rudi was already out on the trail. Obviously, Karri had not been found yet. By this time, dozens of Search And Rescue (SAR) personnel from all over had arrived, along with their trained dogs. They pried open her car so the dogs could pick up her scent and then they hit the trail.
I headed out to Coe. By the time I arrived, more SAR people were on the scene and a full-scale operation was underway. The crew had all the information we could give them, so I just sat there with George and waited ... and waited. Some time later Jeff showed up, followed by Sabine. Mark was also on the way.
Just before 11 o'clock we got some great news -- she had been found, alive! What a relief! The SAR personnel initially told us she was alive but couldn't walk, so they sent out an all-terrain vehicle with a stretcher. Then a little later, they got some updated information and called back the ATVs and just sent out a regular ranger truck -- the news was getting better and better.
Around 1 o'clock, the ranger truck with Karri finally arrived back at HQ. They whisked her off to the back of an ambulance so the emergency personnel could examine her. We poked our heads in to see her, thinking that she would be on the verge of a coma, but she looked just fine and her first words were "I almost made it!" -- that's the INCH spirit!
It turned out she had followed the correct trail all day, but made a wrong turn at the 20-mile mark (Arnold Horse Camp) around 4 p.m. and had gone up the Rock House Ridge all the way to Hat Rock! After darkness set in, she could not get down and stayed up there all night. She did see the flashlights of the searchers and turned on her own flashlight, but it was too far away so they did not see her. So close, and yet so far. I know that feeling from the night Rusty and I got stuck in the dark at Dipsea. In the morning, she made her way back down the trail, picked up the right trail, and was on the way back when she was found by the SAR team. So glad that the story has a happy ending!
Karri's adventure made the Mercury News (you'll have to filter out the incorrect facts).
Big thanks to Harvey for notifying the rangers, Karl and Paul for staying at Coe until 2 a.m. on Saturday night, George and Rudi for getting there at the crack of dawn on Sunday to help in the search effort (Rudi hiked about 20 miles -- alas, no leaf!), and to Jeff and Sabine for joining me at Coe HQ on Sunday morning to take up space in the parking lot and wait for good news to arrive (and thanks to Jeff and George for providing the snacks -- we should do this more often, but maybe without the missing hiker part). And of course, a huge thank you to our buddy Ranger John and all the good SAR folks (and dogs) involved in the search and rescue.
After all was said and done, we hiked 27 miles and gained almost 7000 feet of elevation on the day, but I gave it a Level 5 ("high five") because of the cool temperatures which made hiking a lot easier. Here's the route we took, with an important clarification at Step 19! Come back and do this hike in summer if you want a Level 6 leaf.
Oh yeah -- congratulations to Jeff on his forest!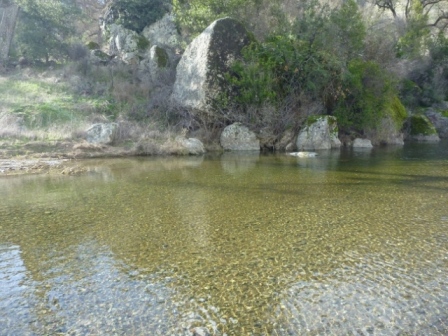 Contrary to popular belief, there really is water at Henry Coe (at least in January).
Epilog:
Email from Karri the Monday after the hike: "Still so crazy that I got lost and stuck on top of the mountain and I was so close yet so far away. Just wanted to say thanks for all your concern and support while I was 'away'. It was really nice to see you guys when I got back, I heard that some had stayed until 3 am ... Next time I go on such a steep and long hike I need to take poles so I can keep up! And not deal with taking the boots off for every stream :) ... You guys are the best! ... I'd like to send the others a note as well otherwise I will just give them a hug next time I see them ... I'll be out hiking again, it didn't scare me off. However I am only in town 2 more Saturdays before I head back to London. So I don't think I'll get to do another one of your hikes unless I get assigned out here again."
And from James the following Saturday: "I went back to Henry Coe on Friday, and hiked the route you provided us. I know I probably will not get credit for the hike, but I at least wanted you to know I completed the hike. There were a few times I thought I was not on the right trail, but I was and you were right about all the creek crossing especially around mile 18 where I just crossed with my shoes on. This was a very hard hike, and by far my longest one. I provided pictures with landmarks to prove I was there. It was foggy and low visibility and it even rained on me. Have a great day!"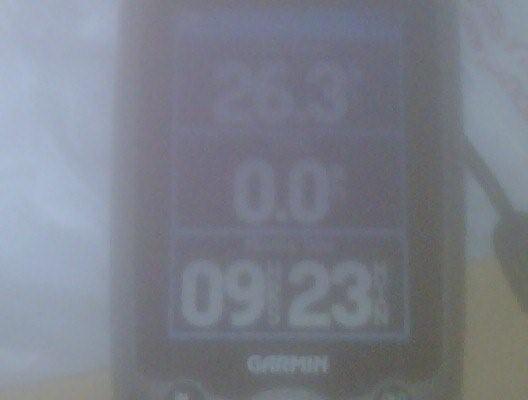 Stats don't lie
I do my best to kill them off and they keep coming back for more ...
Milestones:
Amy D's 1st leaf
Jeff's 1st forest
Kevin D's 1st leaf







Pages maintained by Steve Walstra, Peter Saviz, and Russell Gee.
©2022 Intrepid Northern California Hikers