72. Eagle & Cascade Falls (06/20/98)

Hikers (11): Beth, Eric, Eugene, Jane M, Kim, Lindy, Peter, Quinie, Russ, Steve, Taylor
Distance: 2 miles
Rating: 3 difficulty, 10 beauty

Write-up by Russ
This was second hike of the INCH Tahoe trip. After the last couple of days of partying, it remained to be seen how well everyone would do on the hike. Plus, after the previous hike to Echo Lake, there was trepidation about the quality of the trail. Nevertheless, we needed to live up to the "I" in INCH.
1, 2, 3, ...INCH!
The hike starts off pretty easy. Everyone made the short half mile hike to Eagle Falls. Fairly impressive, but I have to say that I barely noticed the falls. A couple of miles into the hike, it seemed like some of the less intrepid members were already having problems. Nonetheless, we carried on to Eagle Lake. I am not sure if we ever made it to Eagle Lake, as we eventually had to backtrack when we figured out we didn't know where we were. Not a good sign. And the snow on the ground was not a good sign either -- it was causing flashbacks to Echo Lake. At this point, several "members" decided to turn back and head to the car. Even worse, their plan was to go shopping!! Worthy of a black leaf of shame if anything deserved it (The Man, being old and soft, has let it go!!!).
The lead group (Esteban, Muffy, Jane, Eugene -- yes, Eugene -- and myself) carried on. Lagging behind were Egg, The Man, and Quinie. After having to cross a large snowdrift and a creek, the hike really got interesting. We had reached the point where it was hard tell the trail from the rest of the mountain because there was so much snow on the ground. With Esteban leading the way, we made our way up to the top of an intermediate mesa. At this point, I had had enough and was ready to go back down after enjoying the view. The rest of the gang insisted that we keep going. So we rested for a while and Esteban had a chance to push on a large boulder like Sisyphus, then it was off again.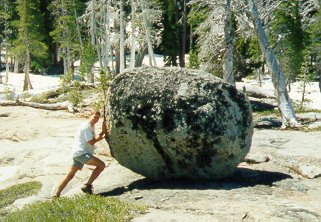 Esteban's impression of a dung beetle
After a while of going off trail, we hit some fairly steep places covered in snow. I definitely had enough at this point. My shoes were soaked again and I was feeling miserable. Muffy wasn't going to have any of that and insisted that we get to up to the top of this peak. And to prove her point, she trudged her way up the snow. To this day, I don't know what possessed her to want to get up there, but I wasn't going to let her show me up. Especially when everyone else started to follow her.
In the background, I thought I could hear the Man. I have definitely spent too much time with him. But it really was him and the rest of the INCH. I had thought that group had given up. As they got closer, I could hear that group telling us to turn around and go back. So much for inteprid hikers. I might have wanted to turn around, but there was no way that I was going to do it after they started saying that. Instead I called them a bunch of wimps and told them to follow us up. And sure enough they did. Definitely too much testosterone flowing on this hike, but what else is new? Eventually we made it to the peak and had another great view.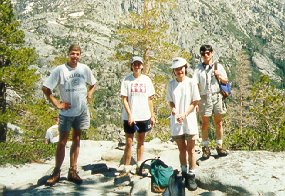 Lookin' good: Esteban, Muffy, Jane, and Eugene
The Man, Egg, and Quinie made it up soon after we did. The Man looked nervous. Egg was only too glad to tell me that it wasn't too smart of me to want to go up to where we were. That wasn't the first time that I heard that.... Oh well, time for lunch!
The way back wasn't as bad as Egg or even myself had feared. I lagged behind as always. It was quite a task to get down without slipping on my butt. I did fall down a couple of times. One good thing about falling on snow is that it doesn't hurt very much. I was glad to get to the finish of the hike.
Now it was time for Casade Falls. This was something to do since we figured that Eagle Lake would be too easy. It was only about 3 miles RT and I was feeling good, so I thought I would try to jog this hike instead of walking. As soon as Egg and Esteban figured out what I was doing, they took off after me. As I said, too much testosterone. I gave up after about half a mile, while Egg and Esteban passed me up. A bit further, the trail was getting messy and there were families and old people on the trail. I figure that is time enough to just walk the rest of the way. The falls were nice, and a lot of people were there taking in the view. We mostly hung out and chilled for a while. After we did the falls, we noticed that across the highway was Inspiration Point. A lot of us hadn't been there before, so time to be inspired. There is a very nice view of Lake Tahoe at Inspiration Point. A fitting end to the hiking part of the INCH Tahoe trip.
Milestones:
Lindy's 1st leaf







Pages maintained by Steve Walstra, Peter Saviz, and Russell Gee.
©2022 Intrepid Northern California Hikers