734. Alviso Slough (07/17/10)

Hikers (32): Barbara, Cristina, Diane, Emily, Hans, Hima, Isai, Janice, Jed, Jinglan, Judy, Karl, Keysha, Lyuba, Michelle K, Mike, Nancy, Nick S, Nik, Nina, Paul R, Peter Es, Peter M, Rich, Robert, Ross, Russ, Sandra, Steve, Sue, Susan, Walter
Distance: 9 miles
Rating: 1 difficulty, 8 beauty
Park info: South Bay marshlands near Alviso

Write-up by Steve -- Pictures by Karl, Sue and Jed
This was the first level 1 hike in three years and the first return to Alviso Slough in four years, so there was some pent up demand for this hike. On top of that, it was hike #100 in Diane's streak. We had another streaker there as well: Cristina broke her streak of 174 missed hikes (3.28 years), earning her a spot on the largest "gap" list.
1-2-3 INCH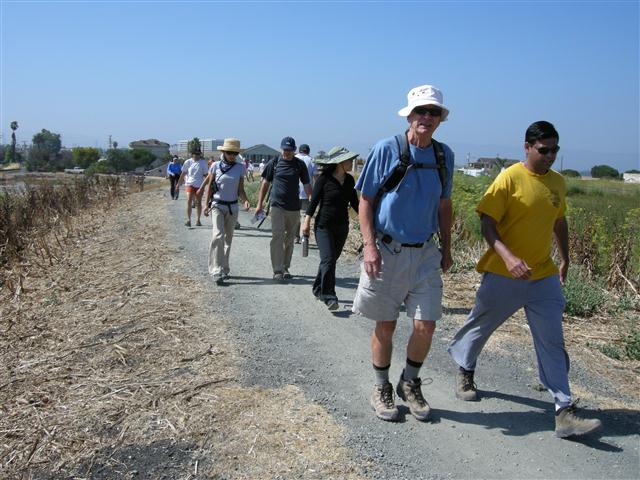 People are still close together at the start of the hike
What can you say about Alviso Slough? The weather was nice, and it smelled fine after the first quarter mile. Halfway through, we stopped to celebrate Diane's accomplishment. This turned out to be an incredibly long wait, but luckily the less patient of the participants did a shot or two while waiting, and soon everyone was just talking and having a good time. Big thanks to Mike, who brought two bottles of alcohol and plastic shot glasses.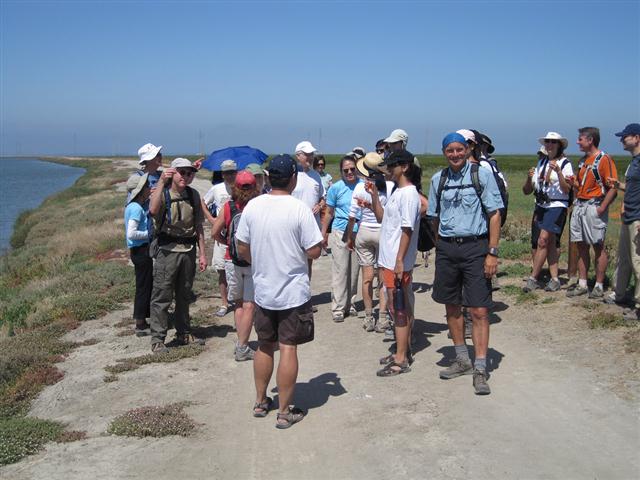 INCH takes shots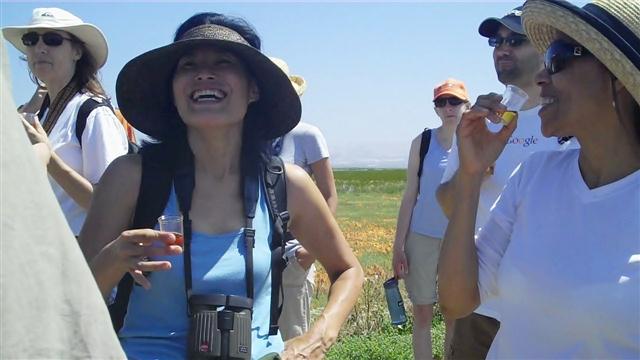 "Diane who?" says Cristina, who missed Diane's entire streak during her three year INCH sabbatical
We finished the rest of the hike and were soon back to the parking lot. I was planning to go to Vahl's, but Sue (among others) hates that place for some inconceivable reason, so we went to Maria Elena's instead. Yum!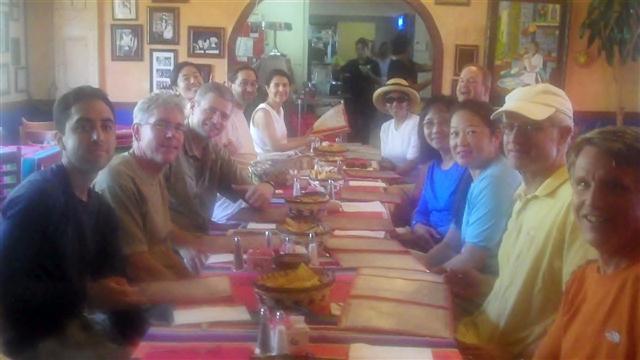 The partying continued at Maria Elena's Restaurant
Milestones:
Michelle K's 1st leaf
Paul R's 20th leaf
Ross's 230th leaf
Russ's 470th leaf







Pages maintained by Steve Walstra, Peter Saviz, and Russell Gee.
©2022 Intrepid Northern California Hikers