736. Mt. Tamalpais (07/24/10)

Hikers (28): Arlene, David, Diane, Diego, Eric F, Ernesto, Hans, J Michael, Karl, Linda L, Meghan, Michal, Mike, Nichole, Paul, Paul R, Peter M, Robert, Robin, Ross, Ryan S, Sabine, Sandra, Sarah, Shuli, Steve, Tiffany, Tiffany D
Distance: 13 miles
Rating: 4 difficulty, 10 beauty
Park info: Marin Municipal Water District near Mill Valley

Write-up by Steve -- Pictures by Karl
We had a mob of people at the start of the hike, so I just said "Orange up and pink down" and started off. Just as I was heading up the stairs, Tiffany (T) pointed out that we hadn't done the cheer! She saved everyone a leaf, because we would have had to invalidate the hike otherwise.
1-2-3 INCH!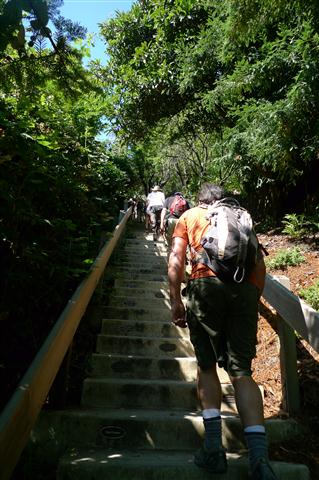 Dipsea Trail
It was hot, hot, hot on the exposed Temelpa Trail up to Mt. Tam--must have been in the upper 90s based on the magnitude of unhappiness I was feeling. Luckily it was over sooner than expected. Ross made a similar comment. . .as he was eating an ice cream cone purchased at the concession stand near the parking lot. After visiting the peak, the front runners (Ross, Diane, me and not much later Shuli) staked out key shaded spots on the steps in front of the fire lookout structure on the peak. After a while, it was packed with INCHers. Still, after waiting 40 minutes at the peak (for a two hour summit), several people were still missing. Did they miss/skip the peak? Did they get lost? Well, no use waiting all day--there was still beer to come!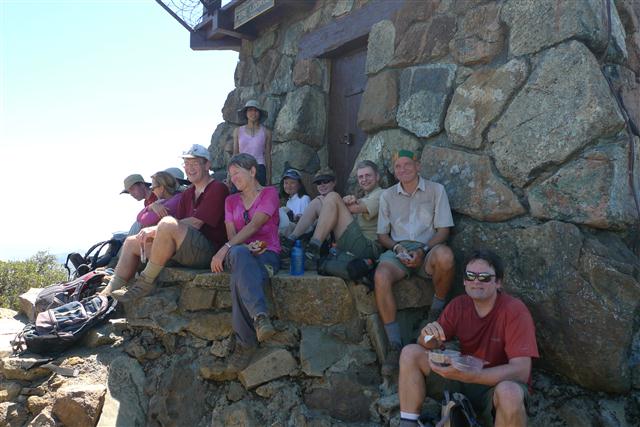 INCH chillin' at the summit
We all touched the East Peak benchmark and set off. Peter M was coming up just as the whole group headed down. He wasn't pleased with the heat, wondering why we didn't take the shadier reverse route. "Because we like to suffer!" Not too much later, we ran into Arlene, who had been a no-show at the parking lot. She had taken sort of the opposite route, so she continued on to the top to complete the rest in reverse (after seeing the map). She had looked for an extra map at the start, but there were none because we had a couple people sign up late.
We enjoyed a beer stop at the Mountain Inn. Ross had complained ahead of time that the place only stocked local beer which was not so good. Apparently his prior complaints worked, as they had swapped out the "crappy" Marin beer with a variety of tastier choices. Soon we had taken up half the inside seating with sweaty INCH drinkers. Fun! Some of the teetotalers skipped out entirely, but we had a few who went two rounds before setting off. That's the spirit!
The Dipsea Trail is still closed due to a landslide over a section between Mill Valley and Muir Woods (closer to Muir Woods), and like usual, we hiked it like everyone else. It has gotten less and less treacherous over the years as the use trail improves. Soon we were up and over the ridge, coming back down the many steps in the residential area of Dipsea. A cool marine layer rolled in about this time, several hours too late. . .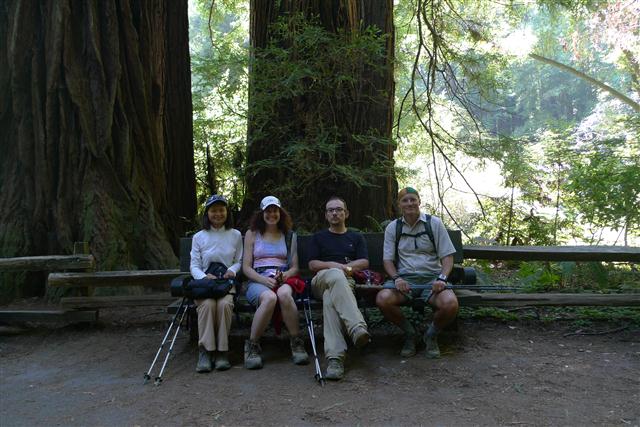 Taking a break in Muir Woods
Back at the cars, we still weren't sure if the new couple (J Michael and Michal) had made it back since we never saw them at the peak. We did know that Hans and Linda L (also AWOL at the summit) were still out because we recognized their cars. Presumably Hans and Linda soldiered up to the summit and were, by that time, enjoying a beer at Mountain Inn. Well, Hans, at least!
Milestones:
Highest point in Marin county
J Michael's 1st leaf
Mike's 40th leaf
Nichole's 1st leaf







Pages maintained by Steve Walstra, Peter Saviz, and Russell Gee.
©2022 Intrepid Northern California Hikers