748. Diablo Trail (10/23/10)

Hikers (14): Chinyet, David, Devin, Diane, George, Helen, Jeff, John, Robert, Ross, Sarah, Steve, Tiffany, Yongbin
Distance: 32 miles
Rating: 5 difficulty, 8 beauty
Park info: Mt. Diablo State Park near Brentwood

Write-up by Steve -- Pictures by Yongbin and Helen
The Diablo Trail starts in Round Valley Regional Preserve, cuts briefly through Los Vasqueros Reservoir, heads across Morgan Territory Regional Preserve, traverses the southern side of Mt. Diablo, enters Diablo Foothills Regional Preserve, and ends at the far west end of Shell Ridge. It's ~30 miles long, so added 1.5 miles right at the start to make sure we would exceed 30 miles.
Huge thanks to Clive, Paul, and Mike, who met us at 5am for the shuttle to Round Valley. Sabine had kindly lent us her van, so along with Ross's van and Clive's SUV, we were able to get everyone into three vehicles, thus requiring no one to have to drive 44 miles round trip at the end of the hike. Actually, it didn't work out that way, but that's another story.
This was a long hike that started in the dark and ended in a light rain. In between, it was great, with cool temperatures that made the hike quite reasonable. This would be a "level 6" hike in hotter times. Despite sources suggesting 8k+ ft elevation gain, our own data showed closer to 6500 ft.
It's worth noting that the highest points along the hike are in Morgan Territory rather than Mt. Diablo, so the bulk of the uphill is over in the first 11 miles. Best trail was Oyster Point Trail, which featured an optional trail up to Oyster Point. Had I known that trail were there, it would have been required. Next time! With the exception of a group of campers, we didn't see anyone for over 20 miles (until Curry Point). Since the trails seemed well traveled, it must have been due to the potentially inclement weather.
Ross had made it back before the rain started, but the key to his van was locked in Sabine's van, so he had to wait for me. Eric and I showed up just a little after the rain started. The three of us (and later Robert) spent some quality drinking and eating time in the shelter of Sabine's van while the rain poured on everyone else. Fun! Eventually all the wet, muddy souls were accounted for and we had another epic hike in the books. Definitely a nice hike, and worthy of another visit.
Epilogue: Jeff, who had not shown up at the carpool, showed up at the end of the hike--on foot. Turns out he showed up late, so drove to Round Valley himself. 32 miles later, with everyone tired and ready to go home, there he is, begging for a ride back to his truck 22 miles away in the wrong direction after everything had been worked out so perfectly. Sometimes, running a hiking group sucks!
Yongbin's pictures.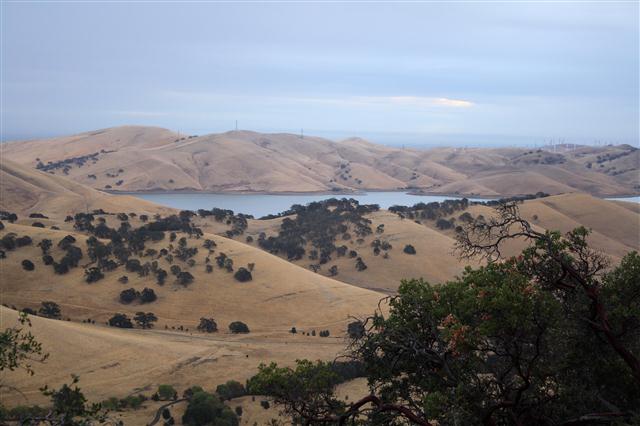 Los Vasqueros Reservoir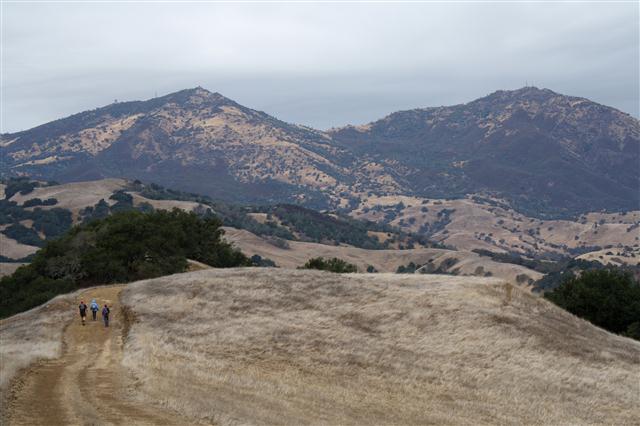 Mt. Diablo and North Peak. . .far, far away
The un-Diablo-like Oyster Point Trail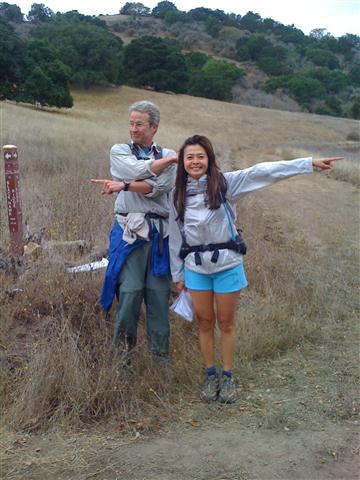 I knew I should have taken that left turn at Albuquerque!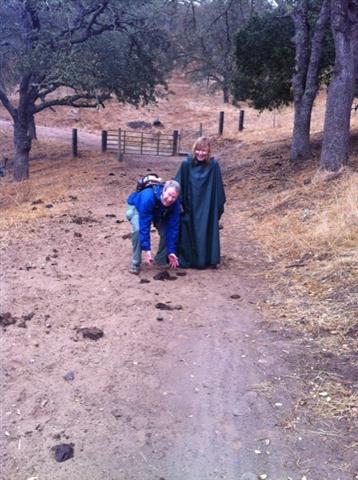 Halloween comes early: The Hunchback of Diablo and the Wicked Witch of the East Bay?
Everyone but Jeff started at 5:57am.
Hiker
Time (hr)
Ross
8:18
Steve
9:00
Eric L
9:00
Robert
9:19
Diane
9:41
David
9:41
Devin
9:55
George
9:55
Sarah
9:55
Yongbin
9:58
Jeff
10:41
John
12:18
Helen
12:18
Tiffany
12:18






Pages maintained by Steve Walstra, Peter Saviz, and Russell Gee.
©2022 Intrepid Northern California Hikers