750. Willow Ridge (11/06/10)

Hikers (32): Amy D, Carissa, Chester, Chinyet, David, Diane, George, Hans, Helen, Heyning, Hima, Janice, Jeff, John, JP, Karl, Kevin D, Linda L, Mike, Paul, Peter, Peter E, Robert, Ross, Russ, Shuli, Stacy, Steve, Susan, Suzie, Tony, Wan
Distance: 16 miles
Rating: 4 difficulty, 8 beauty
Park info: Henry Coe State Park near Morgan Hill

Write-up by Peter -- Pictures by Karl, Chester, Kevin D, and Steve
The big 750th hike was supposed to be at Mt. Sizer, as commemorated by the artist's rendition beautifully captured on our bright new yellow T-shirts. It was not meant to be. There was a controlled burn around the Middle Ridge, so Sizer was off-limits on this day.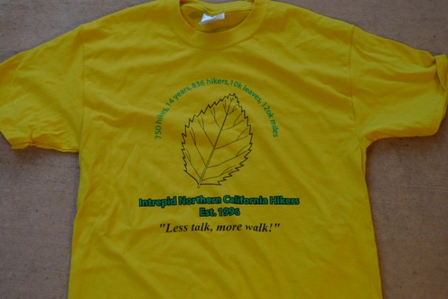 The front, chock full of typos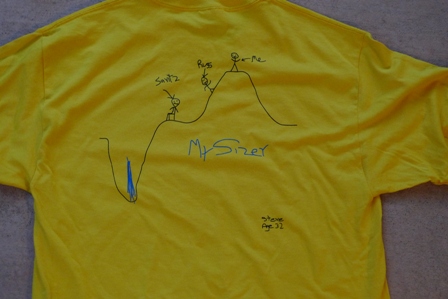 The back, mocking our plans to go to Sizer for the anniversary
We settled for an out-and-back trip to Willow Ridge instead, with an optional trip to Hoover Lake for the front-runners.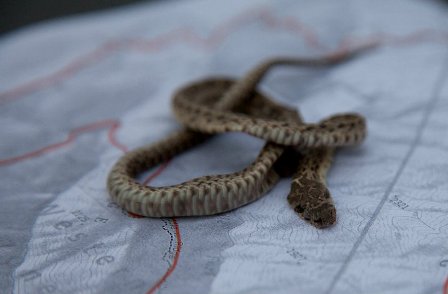 We needed some help to figure out the route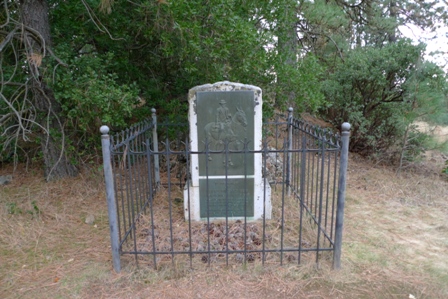 As always, we started out by paying respect to The Punisher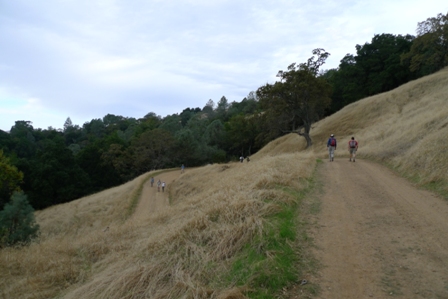 Let the fun begin! Heading down Hobbs Road ...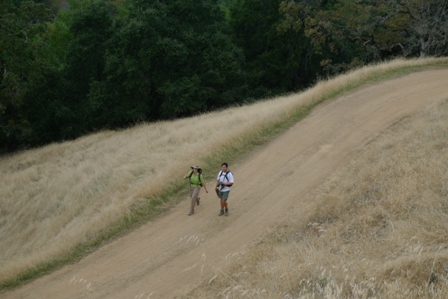 The Chief and The Man engrossed in animated conversation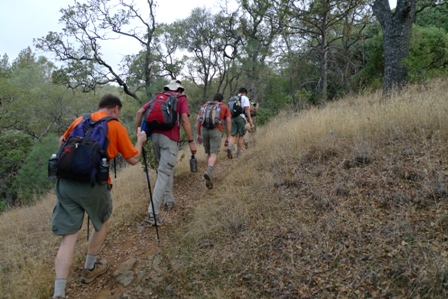 First uphill of the day -- heading up the Middle Ridge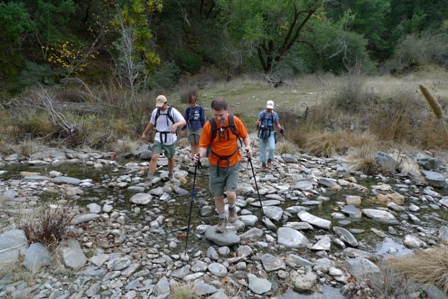 Crossing Poverty Flat is easy in the fall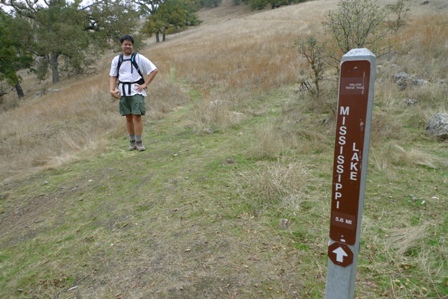 The Man is thinking about it!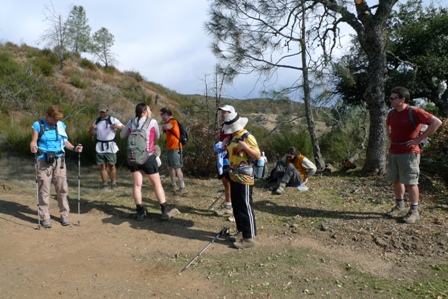 Deciding whether or not to go to Hoover Lake after lunch at Willow Ridge (answer: no!)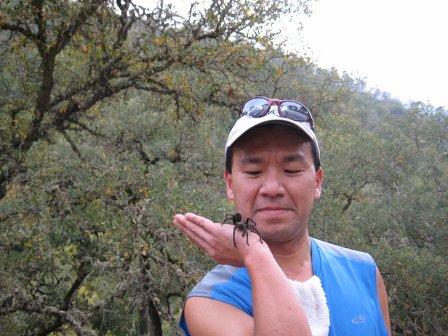 Chester made a new friend
View of the controlled burn from the Willow Ridge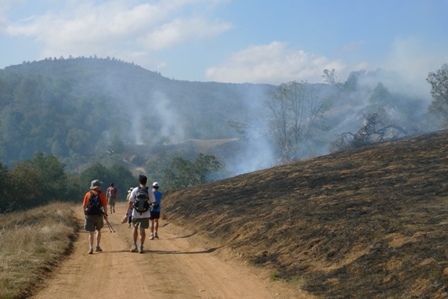 Mmmmmmm, smells like BBQ!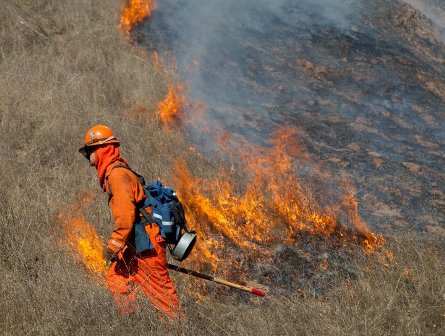 We should give him a crispy leaf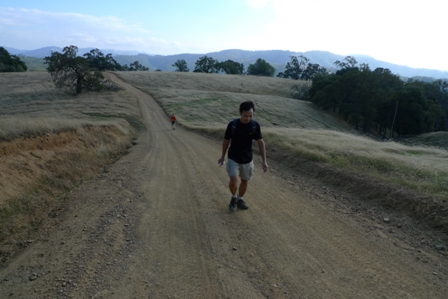 Almost back at headquarters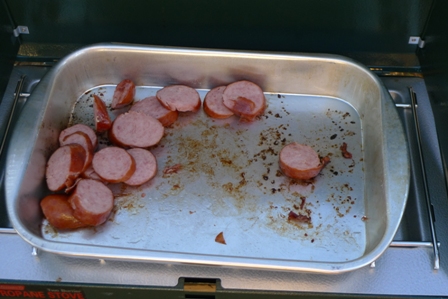 Mmmmmm, kielbasa!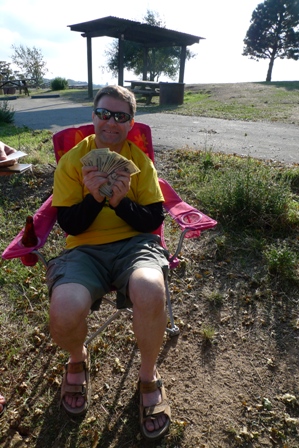 Pimp Daddy sez: "These saps pay me to torture them!"
Big Henry once again got the last laugh, but a good time was still had by all, especially at the post-hike party. Honorable mention to Sabine and Sandra for showing up to the party with the anniversary cake!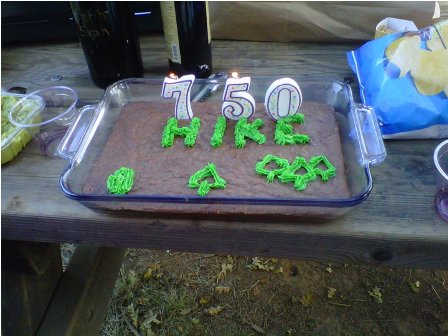 Happy 750th, INCH!
Also check out Tony and Janice's great pix of the hike.
From Steve: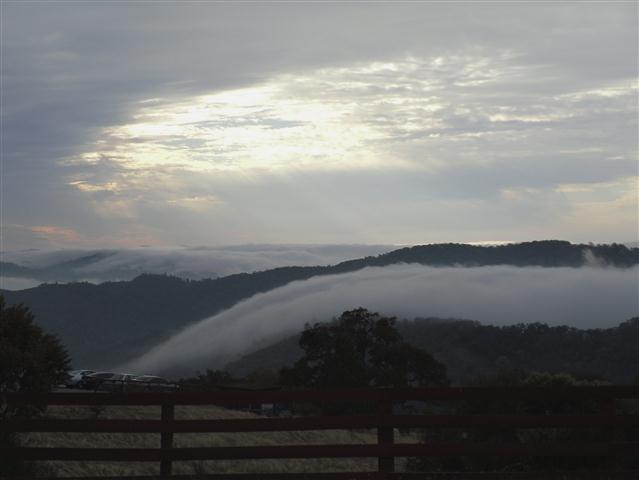 Just before the start of the hike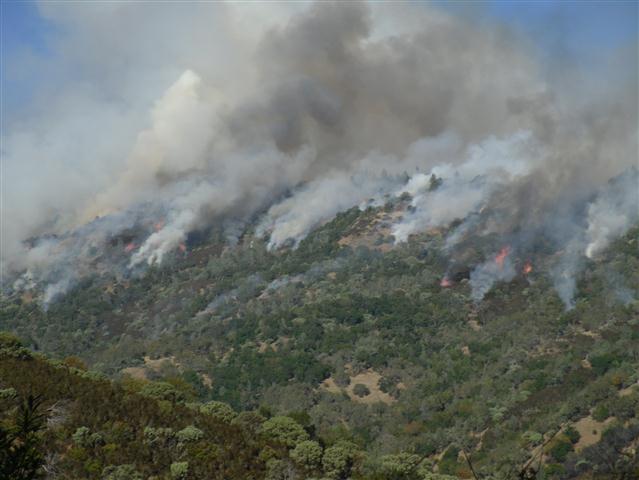 "The park, the park, the park is on fire. . ."
Milestones:
Heyning's 1st leaf
Peter E's 1st leaf
Russ's 480th leaf
Wan's 1st leaf







Pages maintained by Steve Walstra, Peter Saviz, and Russell Gee.
©2022 Intrepid Northern California Hikers