76. Half Dome (07/11/98)

Hikers (10): Beth, Cap'n Dave, Eugene, Giri, Jamie, Peter, Russ, Steve, Taylor, Wendell
Distance: 16 miles
Rating: 5 difficulty, 10 beauty
Park info: Yosemite National Park

Write-up by Beth -- Pictures by Steve
Well, I know I've slacked on this hike write-up. It's been more than six months since our trip to Yosemite so I hope I can drudge up enough memories to do the hike justice. Unfortunately, my strongest memories of Yosemite are of bears, Taylor and the bears, the tents, and the tents and the bears. Did I mention there were bears at Yosemite?
After a rough night's sleep on creaky cots, we rose for an early start. I think there was a fiasco with everyone getting breakfast and a shower, but I just can't remember. Anyhow, the ten of us hopped on the Yosemite Valley trolley around 8 am to get to the trailhead.
1, 2, 3, ... INCH!
We hiked the first mile to get to the waterfall mostly as a group. At the very pretty waterfall, which is also the main destination for many hikers (er, I mean walkers), we had two choices. We could go up the side of the waterfall or we could take the much drier and less steep path in another direction. The two paths meet up a third of the way to Half Dome.
The majority chose to take the waterfall route. It was steep and tough, but I believe all the men enjoyed it tremendously. You see, there is so much spray from the waterfall, that as you're climbing you're becoming drenched with water. Now, since it was a beautiful and warm day nobody had rain gear. Especially all the women with white T-shirts. You get the picture.
After the waterfall, the trail wound up and down and all around. I hiked with Esty and Rusty, who were both kind enough to wait at the top of the hills for me. I remember we got to a lengthy uphill that ended in a big rock or rocks (not the dome). The guys were way ahead of me and I was trudging along. That was when Taylor found me, yea! Unfortunately, I was too pooped to don my fashion police badge, boo! Well, I figured I would just save it for another day and we hiked onward. At the top of that hill we came upon Esty, Rusty, and Peter (I think) hanging out on the rocks.
From that point, I went ahead with Esty and Rusty again. The switchbacks were drawing near and they were acting like scared little children. Ha ha, okay that was me whining about the big steep zig-zags, not them. But we made it up what seemed like miles of really steep trail. There was a batch of switchbacks which consisted of rocks. The path was only wide enough for a single-file line of hikers, and only one direction of them. So there was a lot of waiting and getting stuck behind people involved in this portion of trail. However, at the end we were rewarded. We had finally made it to the plateau at the bottom of Half Dome!
Climbing the side of Half Dome was quite an experience. It was very steep and you use these cables drilled into the rock to pull yourself up. But there were so many people trying to make it up, that after one step you're stuck on the rock waiting for the line to move! It made it harder because you had to hold yourself up on the rock, and easier because you never really got out of breath.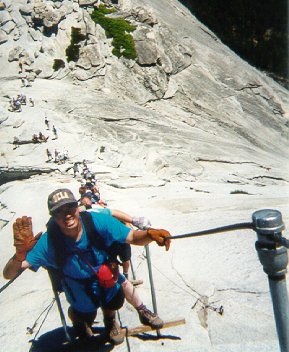 Walk in the park: Rusty is all smiles as he cruises up the cables
Eventually we did make it to the top, followed soon after by Eugene and Cap'n Dave. The five of us ate our lunch and then sunbathed on the top for a while. After a while, we didn't see any other INCHers so we decided to make our way down. INCHing our way down Half Dome, we came across Wendell and Giri on their way up. It was very exciting.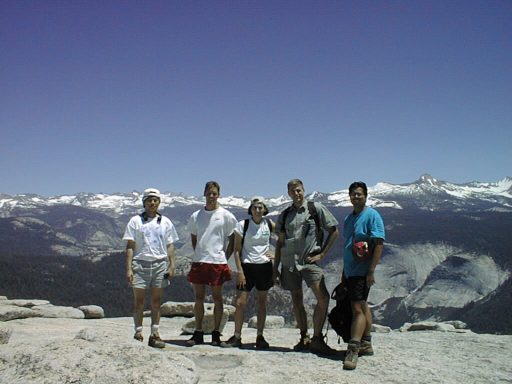 Eugene, Cap'n Dave, Beth, Steve, Russ
The hike back to camp felt like a breeze after making it up all those switchbacks. It was very long though and we were anxious to get back and shower. There were still three hikers unaccounted for, but we soon got word they were okay. Esty and I passed Jamie on our way back. She wasn't feeling well and had big nasty blisters on her feet. Yuck! She got a bit dizzy going up the cables and figured going all the way up the steep rock probably wasn't the wisest move. Jamie then told us Peter and Taylor had rested on the plateau and turned around, so they were already heading back. Unless my math really sucks, that accounts for all ten hikers!
It was a long, hard, and very crowded hike, but a lot of fun! The view from Glacier Point was better than the view from Half Dome, but Half Dome was pretty nonetheless. I liked it because the trail really varied. We went from woods to a flat meadow to a steep hill. And the fact that there were lots of people was kind of good. With so many other hikers, there were some even I could pass!
Until next time, Half Dome!






Pages maintained by Steve Walstra, Peter Saviz, and Russell Gee.
©2022 Intrepid Northern California Hikers