77. Upper Yosemite Falls (07/12/98)

Hikers (3): Peter, Russ, Steve
Distance: 7 miles
Rating: 4 difficulty, 10 beauty
Park info: Yosemite National Park

Write-up by Steve -- Pictures by Russ and Steve
Originally, we had planned to hike Half Dome and El Capitan on our Yosemite adventure. Later, The Gimp got soft and changed the plans to Glacier Point and Half Dome. After some complaints from Cron and your humble author, however, Peter added El Capitan to the list. Joy!
The best laid plans, though, rarely work out. After the second hike we discovered that the only people who wanted to do the final hike were Peter, Russell, and myself. Since we only had two rental cars, it was clear that we needed to recruit two more people in order to stay (otherwise, I'd just have to hide the car keys and force people to stay). Surprisingly, Muffy and Jamie were kind enough to volunteer to screw around in Yosemite Valley while we hiked. One stipulation, though: we had to leave by 3pm! This made El Capitan impossible. Good-bye El Capitan -- we will get you another day.
Peter looked in the trusty hike book and found a "quick" level 4 hike to the top of Yosemite Falls. Some guy sweet-talking Muffy on top of Half Dome had informed us that the Yosemite Falls hike was quite difficult. We figured he was just a wimp and didn't believe in The Book. After a not-so-hardy breakfast, followed by Peter telling Russ and I not to pack a lunch, and a final farewell to the loser party (those leaving without hiking), we bid adieu to Muffy and Jamie and caught the tram to Yosemite Lodge (the nearest stop to the trail head).
1, 2, 3, ... INCH!
A little premature, as it turned out -- we had to walk a nice, flat path to Sunnyside Camp and then took the trail to Yosemite Falls. Everyone noticed that it was getting hot quickly and the air was 'thick'. It took me a while to realize the culprit -- falls-induced humidity. Standard in Florida, rare in California.
The typical hiker spread quickly developed as we headed up the switchbacks, and soon I was out ahead of Russ, who was out ahead of Peter. After a rather laborious, though largely shaded, climb (with lots of sandy parts), I met up with some people who seemed quite perplexed. "Are you going to Yosemite Falls?" they asked. "Yep!" "Well, the next section of the path is going down!?" All I could say was "Well, it's going toward Yosemite Falls, and, well, where else can we go?"
As it turns out, about a half mile later one finds himself at the bottom of Upper Yosemite falls. I followed the trail and and ended up in an area which appeared to be under-used. I figured this must be the end of the trail, and took one of several lightly-trodden paths down to the base of the falls. The view was fantastic, and a refreshingly cool mist was in the air. I climbed out onto a high rock and looked upward at the falls: very impressive, and loud, too.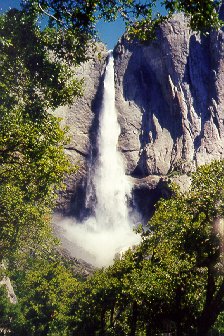 Looking up at the falls
For fifteen minutes I watched the water spill over the falls and separate into sheets (and drank some of my own tasty water -- it wasn't a trivial hike). I didn't see anyone, so I decided to leave (since I was starting to get cold and wet from the mist). As I emerged from the brush, I ran into a rather lost-looking Peter. The Gimp asked me where Canteen Boy was, and I told him I hadn't seen anyone else. We went back down to look at the falls (which The Man could not look up at without cowering in acrophobic fear) before going back to find the continuation of the trail we had both apparently missed (the only other option being to assume the missing Russ had been abducted by aliens). As I enjoyed some water from my trusty O.J. bottle, I managed to knock the lid in between some rocks ... never to be found again. I drank as much water as possible and then put my bottle upright in my pack, knowing that it would be sloshing around all over the place.
When Peter and I emerged from the base of the falls, we were miraculously on the correct trail again, heading upward toward the top of the falls. Never one to disappoint, I concluded that I had better high-tail it in order to get to the top and back to satisfy Muffy's bizarre need to leave early. I quickly lost The Gimp and entered Loner Hiker mode, slogging up another long section of rocky switchbacks which, unlike the previous set, was almost totally exposed to the sun at all times. One bonus though -- my hindquarters were kept quite cool by the water leaking from my uncovered water bottle. The people I passed on the trail probably though I needed a pair of Depends. After what seemed like hours, I caught sight of Russ near the very top of the trail. I was especially happy to see him, as I was almost out of water! Plus, we could laugh together, as it was about 11:45am, and we were pretty sure that The Man would be forced to turn around in shame (as it turned out, he had shamelessly turned back much earlier, and hadn't packed enough water in the first place, and did I mention it was really high up there causing him to freak?). Russ and I were surprised to see a sign saying "Yosemite Falls Overlook 0.2 miles" at the top of the trail. Turns out one has to go back down the mountain to the actual overlook, which includes some very narrow parts (with rails) near the end. When we finally arrived at the top of Yosemite Falls, there was a railed section where one could see the fall shooting over the top and pouring to the valley below.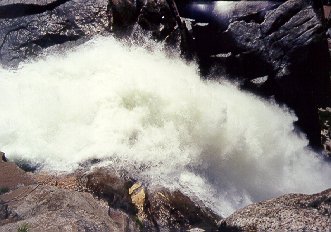 The top of the falls






Although it afforded a fantastic view of Yosemite Valley, the view of the Yosemite Falls was non-optimal view (to say the least), so Russ and I climbed over the railing and got the hanging-over-the-edge view (which included me nearly dropping his camera a couple thousand feet).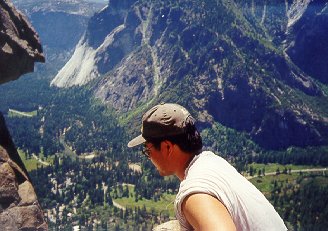 Russ looking down into the valley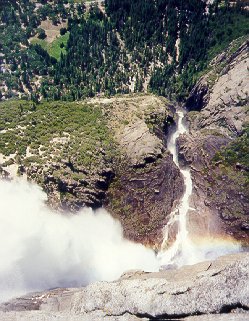 View of the Lower Falls from the top






The trip back was hot, hot, hot. Fortunately, Russ gave me some water before we parted, and about two hours later we were back at Curry Village (tired, hungry, and somewhat irate after talking to some goofball on the tram about the medicinal value of herbs). All I could think about was taking a cool shower to rid myself of seven miles of funk. But what do I get? Two girls covered in bug tattoos who let Peter take the car keys with him to the shower (and why in the hell did he need a shower? He skipped the hard part!). So I sulked around waiting for the key and eventually got my shower. The shower, along with Muffy's forbidden apple and Jamie's forbidden banana, perked me up as we (OK, it was me) decided to skip eating in Yosemite and instead go somewhere along the way.

After a twisty trip back, in which Jamie turned from her typical shades of red to new and exciting shades of green, we finally found a place in Oakdale tantalizingly close to the historic House Of Beef, where we all enjoyed massive quantities of food and drink. A truly INCH end to a good hike.






Pages maintained by Steve Walstra, Peter Saviz, and Russell Gee.
©2022 Intrepid Northern California Hikers