809. Rose Peak (12/17/11)

Hikers (24): Alan, Ann R, Caitlin, David, George, Giulia, Gloria, Harvey, Helen, Iris, Jeff, John, Karl, Kirk, Linda L, Mike, Paul, Peter, Sarah, Shuli, Sophie, Stacy, Steve, Tiffany
Distance: 20 miles
Rating: 5 difficulty, 8 beauty
Park info: Ohlone Regional Wilderness near Sunol

Write-up by Sarah -- Pictures by Karl, Giulia, Helen, Alan W, and Iris
Note from Peter: When we got to Rose Peak, Sarah asked me why I had not been doing many write-ups lately. As a good manager, I have learned to delegate! Hence, here's Sarah's lovely recollection of the facts of the day:
In the words of our infamous philosopher David, INCH write-ups shouldn't "let truth get in the way of a good story." So while opinions and/or memories may vary, we can agree that on this particular Mount Rose assault the sunny calm weather could not have been better – despite the 33 degree reading on George's car thermometer. Just what did or should constitute a leaf worthy hike, however, turned into quite a lively debate and a jumble of bizarre but happy tales. (And as the many quotations below imply, there were many voices that contributed to this accounting of Hike #809).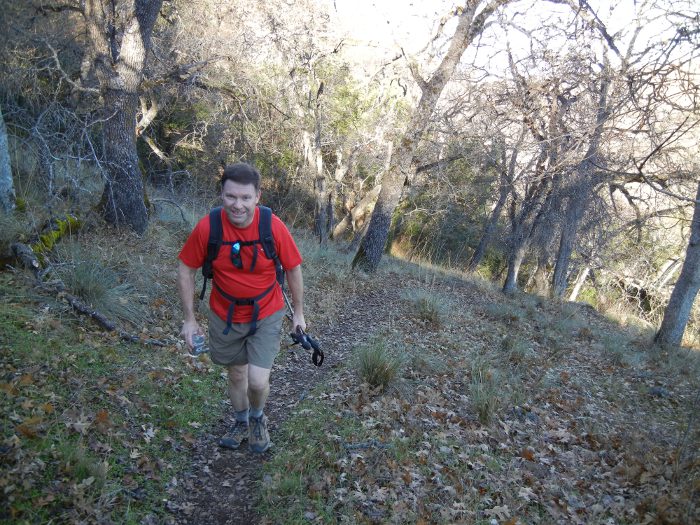 Getting roasted on the Big Burn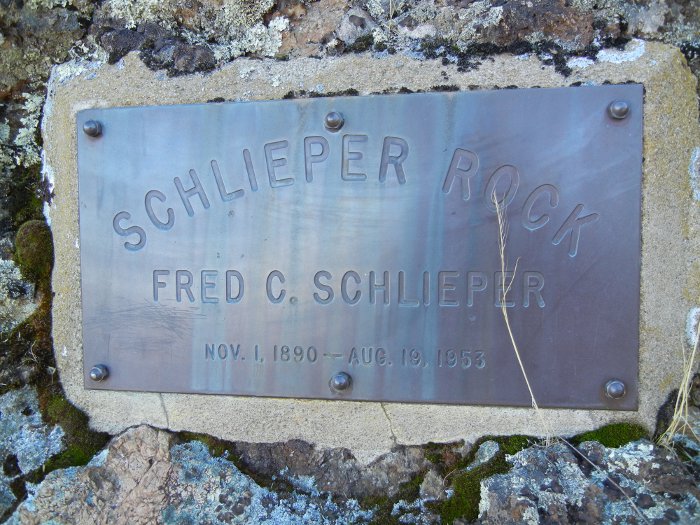 Getting to Schlieper Rock is a good excuse to rest for a second
Many of us hiked the prescribed 19.2 miles and 6050 feet (according to Sophie's calculations) while Harvey, Kirk and sundry others wanted "an additional work out" (Kirk's phrase) and added Murietta Falls and Maggie's Half Acre to increase their totals to 20.5 miles and 6500 feet.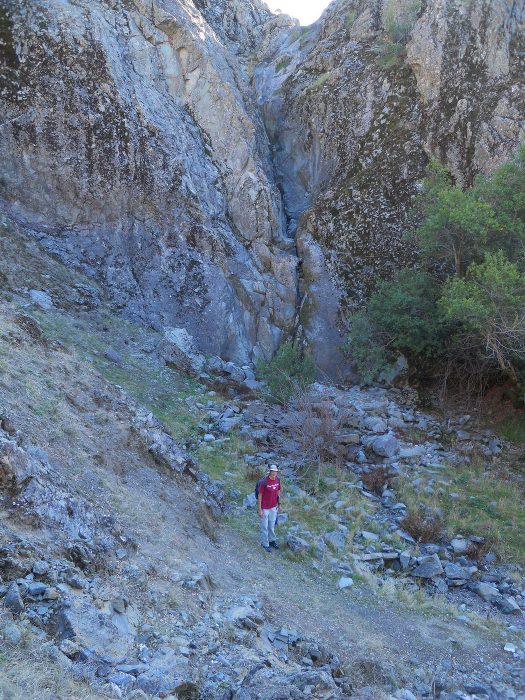 Giulia and Jeff made a side trip to dry Murietta Falls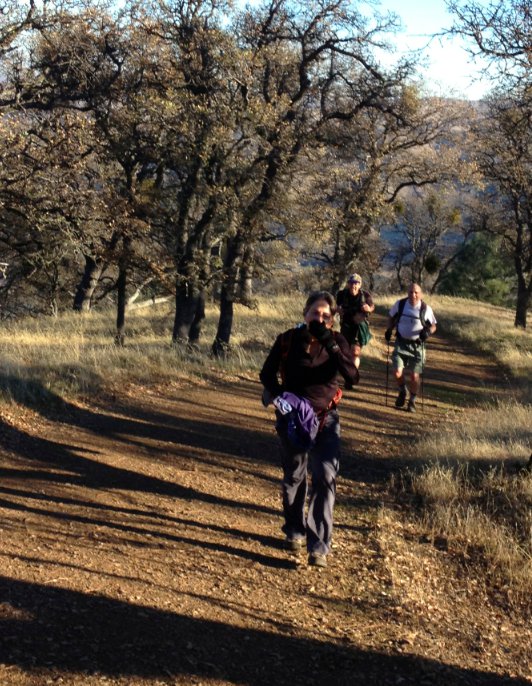 Our author leads the charge up to Rose Peak
No controversy about the stolid regulars meriting their leaf or about the hearty "extra milers" proving their ability to suffer. Some doubt surrounds the cases of Ann and Caitlin and of two of our (not to give away the plot) superb cooks, Iris and Tiffany.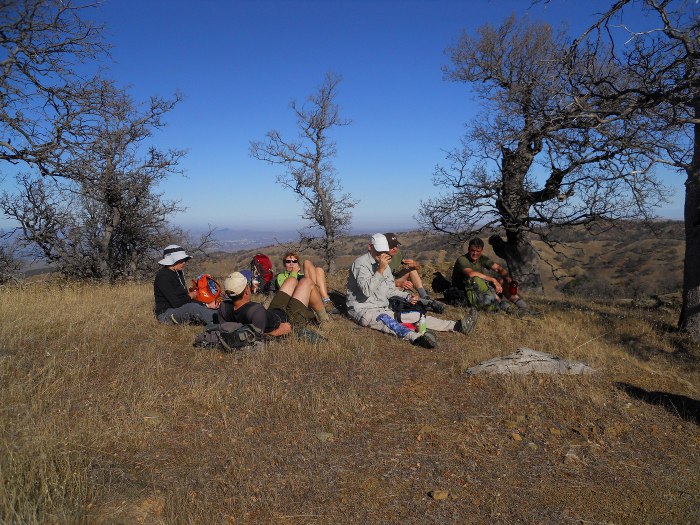 Enjoying the sun at the peak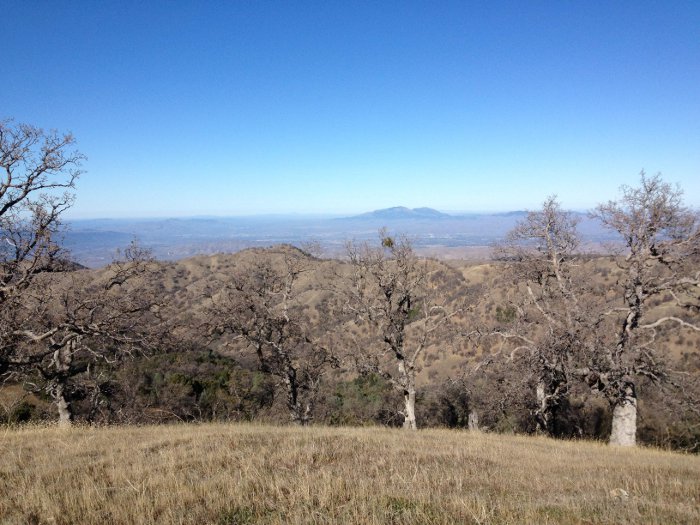 Hmmm ... Rose Peak to Diablo?
Ann and Caitlin's story goes somewhat like this. Being sensible young women and having been duly frightened by the Level Five warnings ascribed to Mount Rose from De Valle, Ann and Caitlin start up the trail before the rest of us had yet to arrive in the parking lot. So they missed the ritual of reluctantly climbing out of our warm cars as well as our huddling and cheering. For their rule breaking the validity of their 19 miles of hiking became an issue to the luncheon committee assembled near the apex of Mount Rose. Peter, the ultimate soft hearted and sensual arbitrator, came up with a compromise. If the ladies would give him a hug, they would be absolved of the sinful pre-hike oversight. "What!" cried Helen. "How unfair! When I was a newbie, Peter never performed the initiation rituals. I never got a helpful hand across the stream, I never got a hug, and I never even got mooned!" Oh, Helen, why did you bring up the mooning ritual? Peter obviously couldn't resist the suggestion. All of us have now been blessed. Too bad none of us was fast enough with a camera to immortalize the event, but Alan did document Peter's relishing his hugs. Be the way, Peter proclaimed, "Both ladies assured me that they didn't mind giving me the hugs because they like me." The fast on the draw Stacey quickly countered, "That's because they don't know you, Peter. They have only hiked with you once."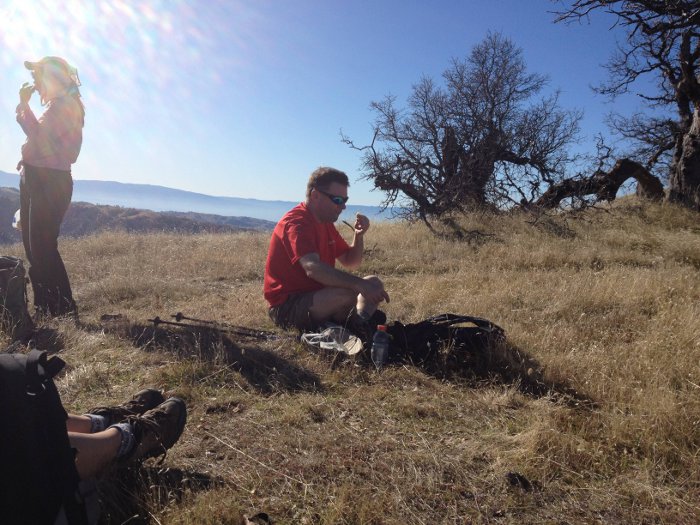 Peter admires his big pickle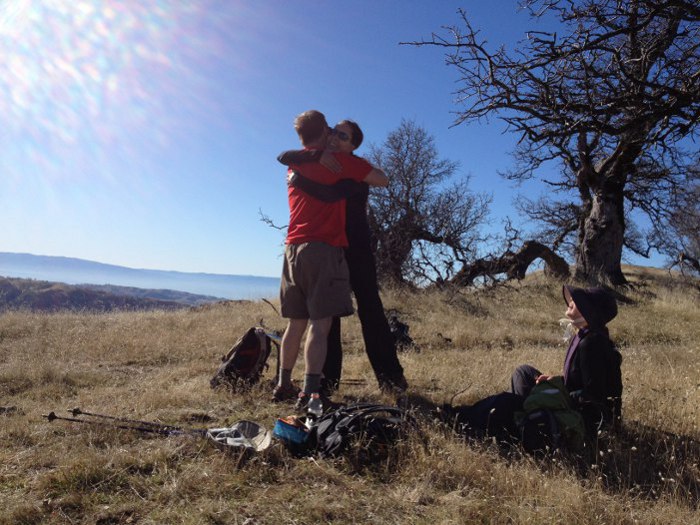 The ladies earn their leaf the hard way
Iris and Tiffany's stories wander hither and thither along and off the Ohlone Trail. Iris claims Tiffany led her astray. Be that as it may, it seems they thought they were following Karl whom they "saw" turn left at marker #34 – the location of which, if you are good INCHers according the Steve, you would instantly check on your own map. Iris and Tiffany strode merrily up to the next junction, turned right and marched far enough to sense they were getting lost, reversed and tried the left hand turn and but to no avail. They confronted a closed gate and marched back at last the marker #34, by which time Tiffany was exhausted. She plopped down at the trail's edge and wrapped herself in her green parka. Muttering to herself, "The only time I get to have REAL sleep in on an INCH hike," she promptly fell asleep in the sunshine and weeds. Meanwhile, Iris found her bearings and sallied forth. Not many tenths of a mile later, she began bumping into returning INCHers. Proudly referring to her new and hefty Garmin calculator, she explained that she had decided to walk on until she met Peter and then to chance an appeal to Peter's gentler nature. She would argue that while she wouldn't reach Mount Rose's summit, she would complete the equivalent mileage.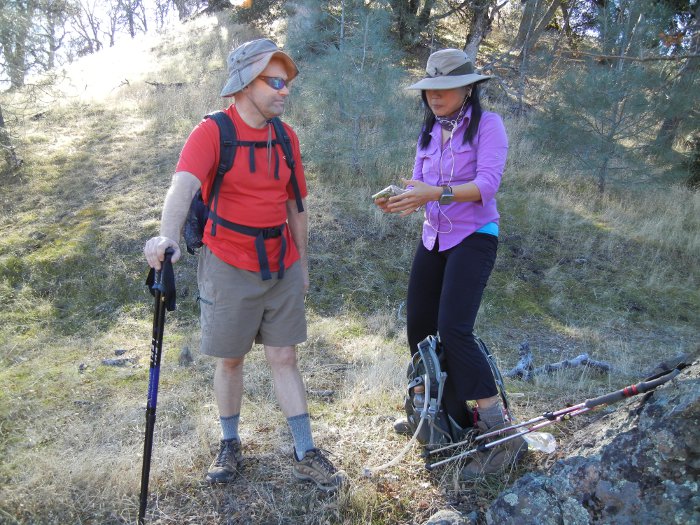 "But officer, I wasn't speeding!"
Would the napping Sleeping Beauty be spotted and awaken? The number of INCHers who passed by Tiffany and somehow missed her or dismissed her sleeping body is not clear, nor is the verity of the explanations of the oversights. As for George's excuse for not spotting her, Helen, Sophie, Giulia and I can attest. The impish part of George's personality had planned from the outward bound hike to cut off the corner of the trail at marker #34 on the homeward bound leg of the hike. By doing the long side of the triangle, he (and I) not only neatly slipped in front of the chatting Helen/Sophie/Giulia threesome but also completely missed Tiffany. Now truth be told, are George and my leaves in jeopardy?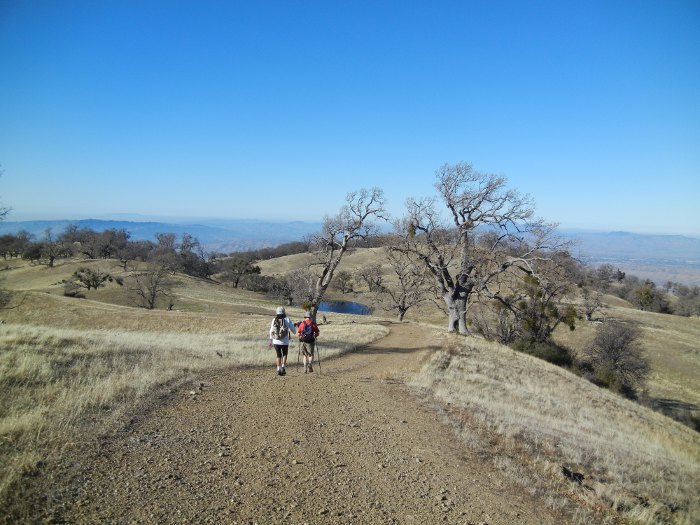 Back to Johnny's Pond ...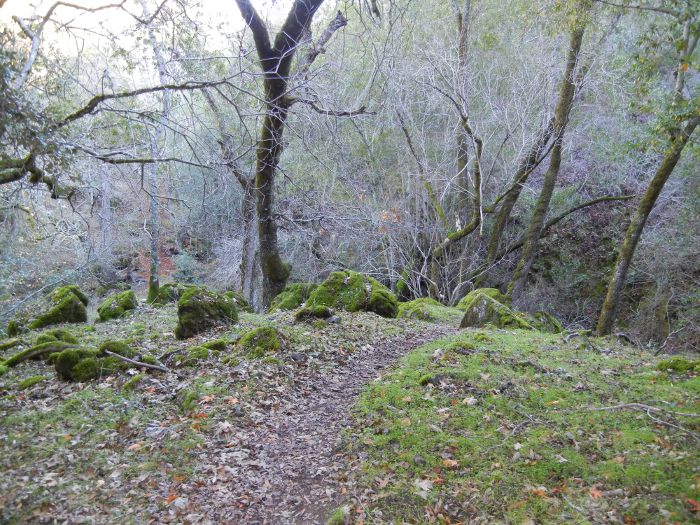 ... and the dreaded Williams Gulch
Ah, the feast at the picnic table and the answer to the burning issue of the leaves. Already the table was groaning with Helen and Stacey's scrumptious homemade cookies and Paul's fabulous walnut and olive whole wheat bread as well as chips and beer and tea. But Tiffany, who had wandered back from her Rip Van Winkle impersonation, and Linda were busy boiling two big pots of water. Into the cauldron they dropped Napa cabbage, lamb, fried tofu, mushrooms, spinach, shrimp, oysters, mussels, salmon, fish balls, clear bean thread, various dumplings and noodles. Just as the seething Hot Pot began to tantalize the rest of us, Iris bounced down the little hill from parking lot and to the picnic table to exclaim that she had successfully "negotiated" for her leaf: she too had to give Peter a hug. Grinning, she bounded back up the hill to her car to fetch all the needed plates and spoons as well as special sauces and even more ingredients for the Hot Pot. The tradition of post hike hot soup that Iris started on the first Garland Ranch hike has evolved in to a first rate culinary experience. Hurrah for our trio: Tiffany and Linda and Iris.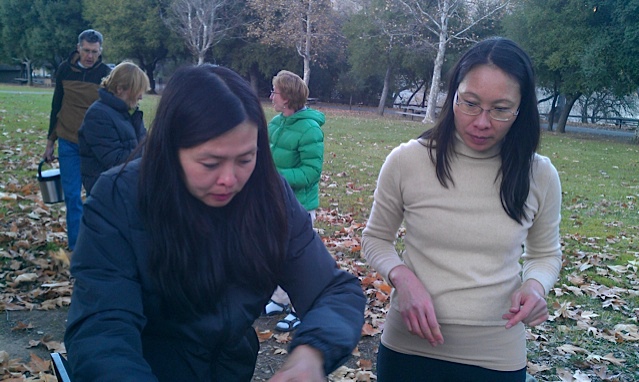 The master chefs get ready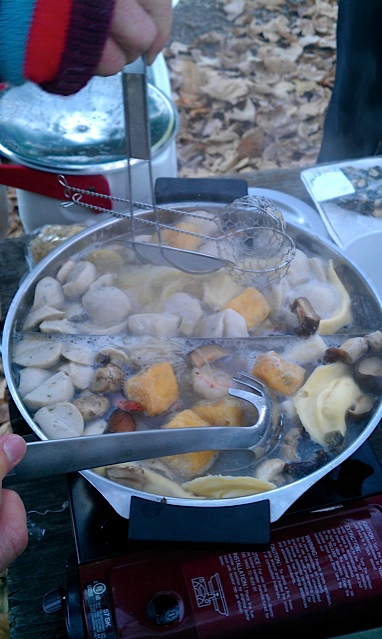 The feast in the hot pot!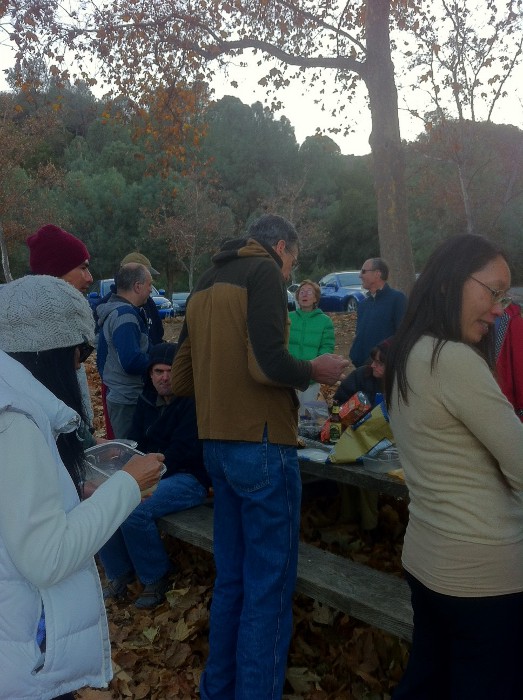 Bony-ass INCHers lining up for the feast
Peter was delighted. He was, to use a trite yet apt phrase, smiling from ear to ear. Now he found himself entangled in a quandary. If hugs or extra miles resulting from being lost could be substituted for a proper completion of the designated hike, what about Hot Pot cooking? Did Tiffany deserve a leaf? In sooth, yes.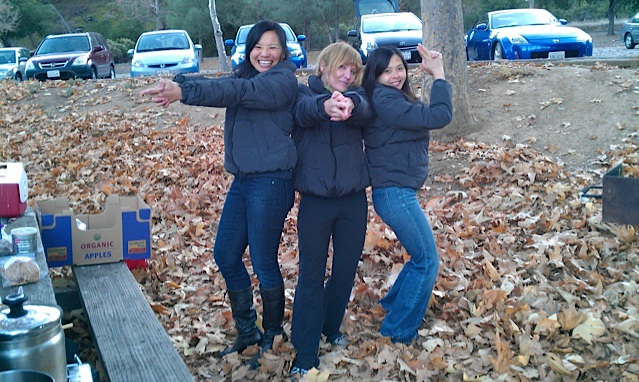 "Once upon a time there were three beautiful girls who went to the Police Academy, and they were each assigned very hazardous duties.
But I took them away from all that and now they work for me. My name is Charlie Peter."
Milestones:
George's 280th leaf







Pages maintained by Steve Walstra, Peter Saviz, and Russell Gee.
©2022 Intrepid Northern California Hikers