815. Kelly Lake Loop (01/28/12)

Hikers (21): Alan, Amy D, Clive, David, George, Hailong, Harvey, Helen, Iris, Jeff, Karl, Kirk, Linda L, Peter, Robert, Rudi, Sabine, Shuli, Sophie, Stacy, Steve
Distance: 22 miles
Rating: 5 difficulty, 8 beauty
Park info: Henry Coe State Park east of Morgan Hill

Write-up by George and Peter -- Pictures by Karl, Alan W, and Harvey
A nice brisk 30 degrees at the outset ... don't worry, you'll warm up real fast!
1, 2, 3 ... INCH!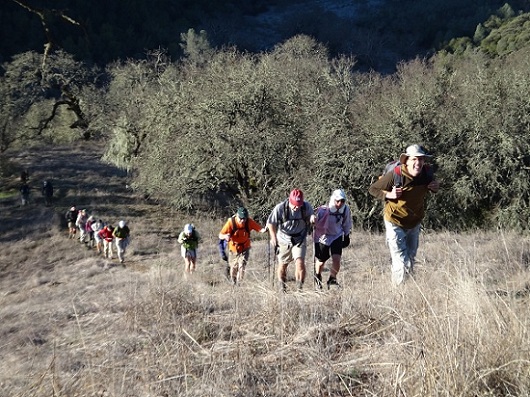 Happy Birthday Jeff! I hope you enjoyed Big Henry's gift.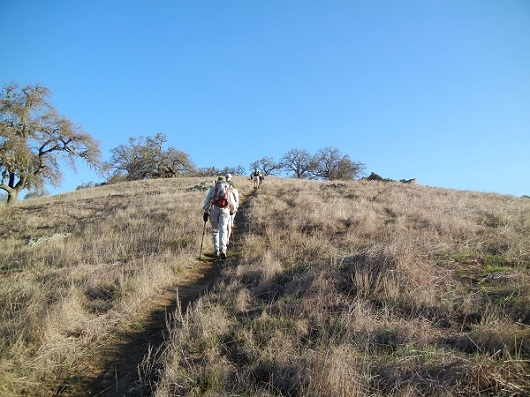 The Steer Ridge starts out steep, and then gets steeper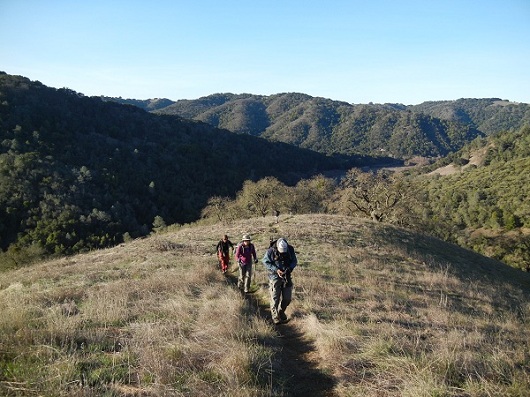 Is everyone awake yet?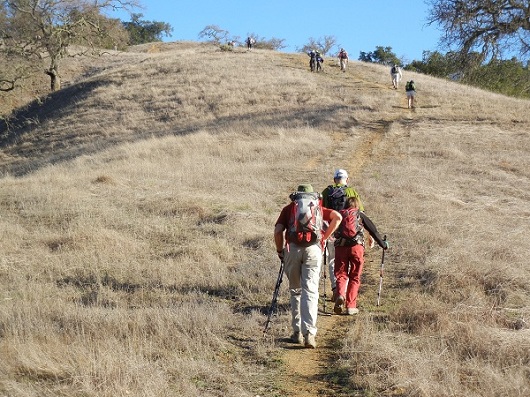 Big Henry was just getting warmed up
George's notes: Despite working late and not getting a lot of sleep, I really enjoyed the hike. Not only was the weather perfect, but we hit a number of new trails, at least for me anyway. A few highlights:
After missing both entrances to the Kelly Cabin Creek Trail, I ended up climbing that dang ridge above Coit Lake you went up the previous time we did this hike. Uggg, what a drag. More distance, more climbing. But the good news is that when the group of five I was with (Helen, Stacy, Alan, Linda, Sophie) arrived at Kelly Lake, there was Karl, Iris and one more person sitting there with big grins on their faces. Linda starts yelling "No Way! No F***ing Way !". These 3 folks were behind us before the climb, but found the route up the creek and therefore arrived at Kelly Lake ahead of us, and that despite Linda leading a furious charge uphill on the big climb.
A great number of views - on the Tower Trail you could see Coe HQ campground and parking lot on Pine Ridge and the Mt Hamilton Observatories. On Willow Road (after missing the creek trail) I was looking down at Coit Lake but lifted my gaze up to the horizon to the east and I could see a bit of the Sierras with snow on the peaks. After climbing out from Kelly Lake when I got to Wasno Road I could see the Monterey Peninsula and the Pacific Ocean shimmering like a jewel. And a short while later, also from Wasno Road, I could see the peaks down around Dowdy Ranch and on the other side of Hwy 152. How many hikes can you go on and see from the ocean to the Sierras, and Mt Hamilton to the peaks south of Hwy 152. Coe rocks!
General agreement was that after passing the Dexter Trail the trail signs deteriorated to useless until we got back to Coit Road. One of my favorites was the intersection of Grizzly Gulch and Tower Trail - the sign pointing up the Tower Trail was labeled "Jackson Field". And of course the infamous Tower Trail and Rock Spring Trail which had no signpost at all. Looking at the map I can see some of our confusion was due to the fact that we thought we were on the Spring Trail, but it is in fact the Rock Spring Trail which converts from a dashed road to a dotted line on the map. It also did not help that the last bit of the Tower Trail felt more like a dotted line than the dashed road shown on the map. I also missed the Coit Springs Trail intersection with Grapevine, and started hiking down Grapevine, then had to turn around and come back uphill. Ugggg. The signpost at that intersection had a white piece of paper with a trail name, no arrows, and no indication of what the other trail was. Great fun in Coe!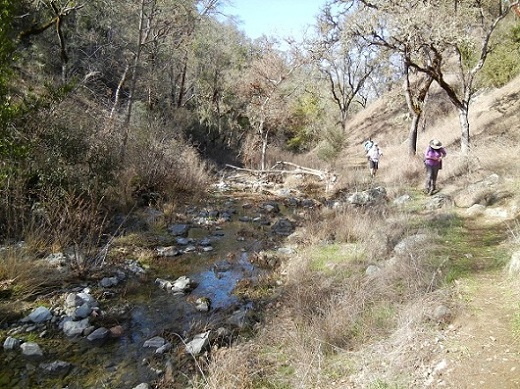 Navigating the creek heading towards Kelly Cabin Trail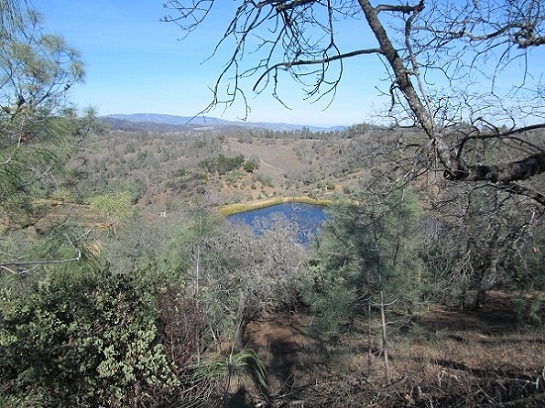 Some of us got to see Coit Lake too!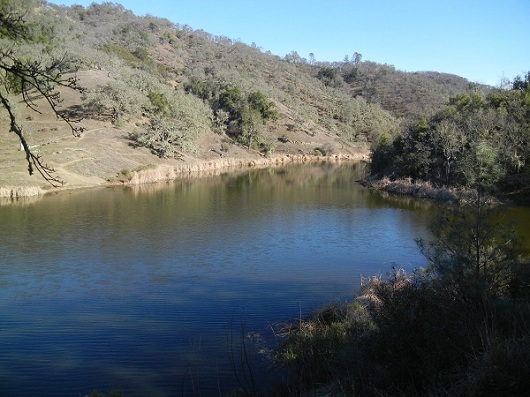 Beautiful Kelly Lake!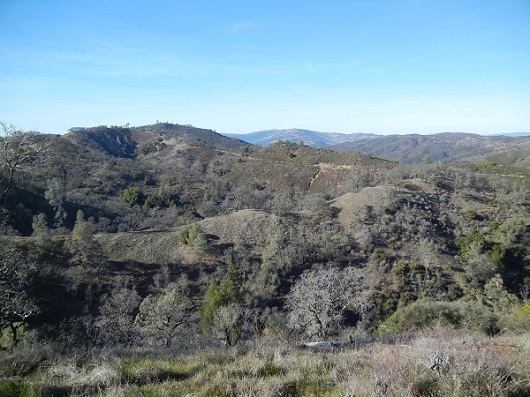 There's still a long way to go!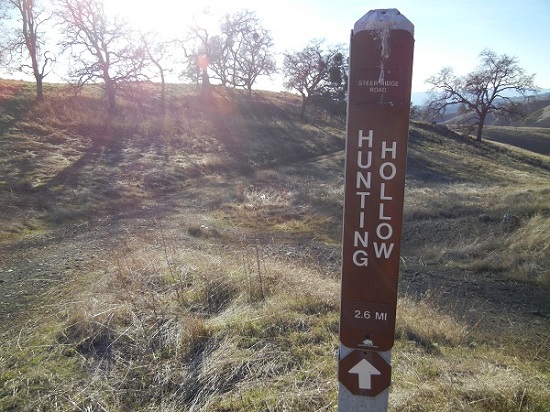 Finally! It's all downhill from here (but still painful) ...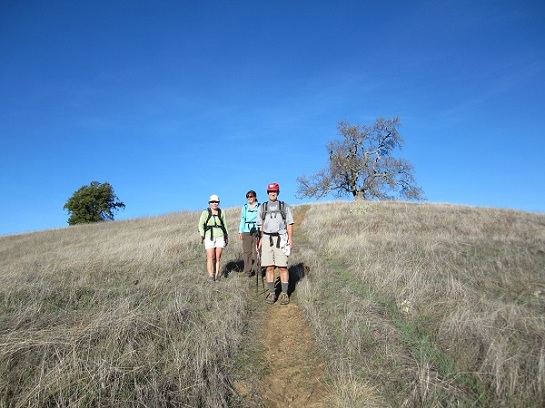 All smiles as they know they are near the end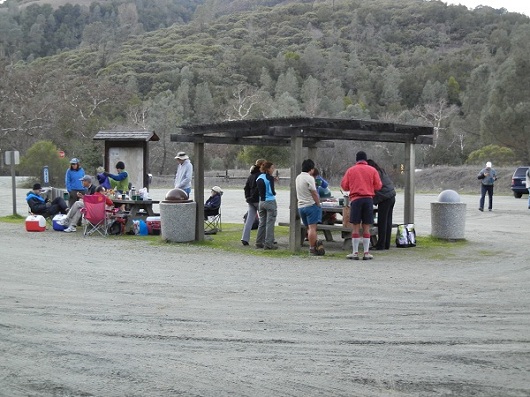 The party at the end makes it all worthwhile
Peter's notes: I pretty much did the same trail as George described above -- a lot of wrong turns and backtracking along Grapevine, Cross Canyon overlooking Coit Lake, etc. Man, what a day! Karl had 22 miles and 6400 feet on his GPS, so I think I must have done 24 miles and over 7000 feet. I ran out of food and water around mile 17. My back was killing me and I had forgotten to bring my Ibuprofen, so I had to keep stopping to lie down every mile or so. What a friggin' disaster! I was praying for Big Henry to just kill me and get it over with, but, of course, the Master Sadist would not oblige.
I finally got back to HH a little before 6pm as darkness was falling. I felt a little rejuvenated by then as the temps had cooled and I had walked through the water crossings for the last half mile to give some relief to my aching feet. I was ready to give it a Level 6, but most people had had an easier time than me, so I "downgraded" it to a high 5! Of course, Steve said it was "easy". I guess after 650 hikes, everything's easy. Congrats, old man!
Milestones:
Steve's 650th leaf







Pages maintained by Steve Walstra, Peter Saviz, and Russell Gee.
©2022 Intrepid Northern California Hikers