848. Santa Rosalia (09/22/12)

Hikers (14): Carissa, Chinyet, David A, Hailong, Harvey, Helen, Heyning, Iris, Jane, Sabine, Sarah, Shuli, Sophie, Steve
Distance: 27 miles
Rating: 4 difficulty, 9 beauty
Park info: Forest of Nisene Marks State Park near Aptos

Write-up by Steve -- Pictures by Iris and Steve
We met in front of the Aptos Coffee House, where several people pointed out that there was a three-hour parking limit for our nine hour hike. Whoops! While I didn't think it would be enforced, most people didn't want to risk it, so we delayed the start a bit while everyone found street parking (which was plentiful).
One person didn't move his car: Eric L. He managed to lock his keys in his trunk, along with his backpack. Common sense would dictate (1) calling someone to extract the keys from the car and subsequently (2) doing a shorter hike. . .but this is Eric. Despite substantial discouragement, he decided to do the hike. I learned later that Sabine even offered him some $$$ to go buy water/food at Safeway, and he didn't do that either. Instead, he mooched his way to the summit and back. But I mostly blame the soft-hearted individuals who aided and abetted early on. As it turned out, everyone survived, so Eric gets two different colored leaves for his knuckle-headed effort.
1-2-3 INCH
The beginning of the hike is hard to navigate, but easy to keep a fast pace. I had waypoints for all the intersections, so it worked out fine. Shuli overshot a junction (Terrace Trail) and several people followed her, so that provided an opportunity to regroup while until everyone filed back. Surprisingly, we had already lost Iris, along with less surprising Thomas and Angelika. That was less than 1.5 miles into the hike.
When we made our way out of the maze and landed at George's picnic area, we had additionally lost Carissa at 2.4 miles. I waited a little bit, but eventually gave up. At this attrition rate, I figured it'd be lonely at the "summit".
The trail is easy to follow after the picnic area, so I snagged a few caches on the way to Sand Point (which has a nice overlook). A few front-runners stopped here for a quick lunch, but I kept going because I had two more caches to find and a potentially bad unmarked trail. That unmarked trail (unofficially called "Bacon") was a treat, mostly paralleling Aptos Creek Fire Road, but having more elevation gain. It is also single track instead of a road--it will be on the "to do" list the next time we go.
Ran into several INCHers where the trail meets the Santa Rosalia ridge, which is almost the half-way point. We walked mostly down to the gate just around and then past the Santa Rosalia summit, where we hung out in the shade.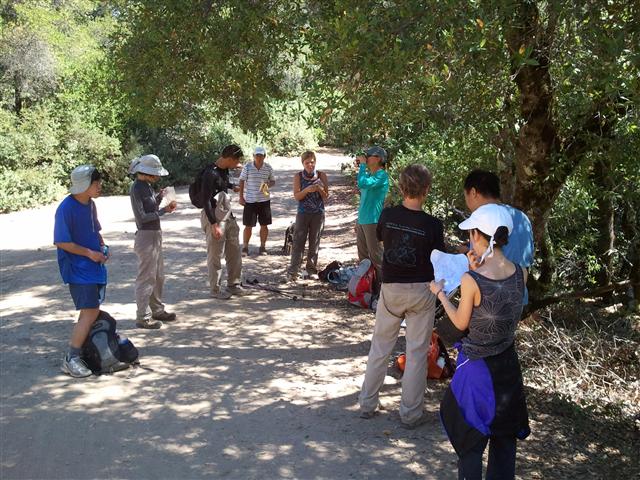 Ten INCHers (including photographer) at the half-way point
After waiting a while, we were only missing Carissa, Iris, and David A (along with Thomas and Angelika). David and I had parted ways when I took the Bacon Trail, so I knew he either overshot the gate or had decided to seek out the official summit. It turned out to be the former, and he showed up later, none the worse for wear. On the way down we ran into Iris and Carissa--Iris had taken a wrong turn but the two of them found each other after some hiker-based social networking by Carissa, so everything worked out.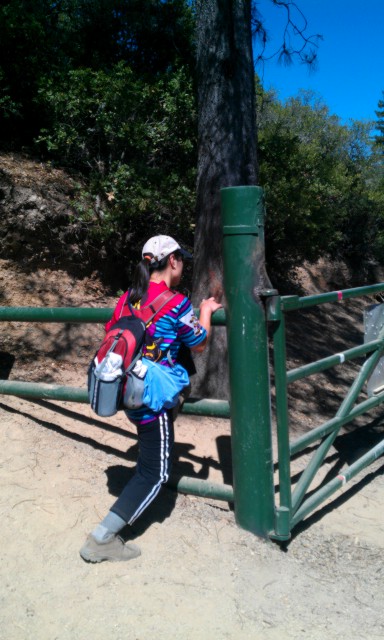 Two more make it (including photographer)
I took the road back down. Several people took the Bacon trail back (since it turned out to be perfectly navigable without a map). Ran into Thomas coming up. "Good job!" I recanted later upon discovering he and Angelika had started 3.5 miles into the park and likely took Aptos Creek the whole way! Well, at least they got a nice hike in, regardless of leaves. Thomas mentioned Angelika had turned back, so now everyone was accounted for.
Caught up to several people at the start of the unmarked Pig Trail (yes, there is a theme in the names). I took this trail as well, but suggested everyone else take the official route because I knew it had a few forks in it (unlike Bacon). Not sure if anyone else took it, but that was actually good advice. If I hadn't had the coordinates for the major off-shoots, I would have missed the crucial one that went to White's Lagoon and ended up pretty much back on the standard route. The "right" route shaved off 1.4 miles and took me right by the scenic White's Lagoon.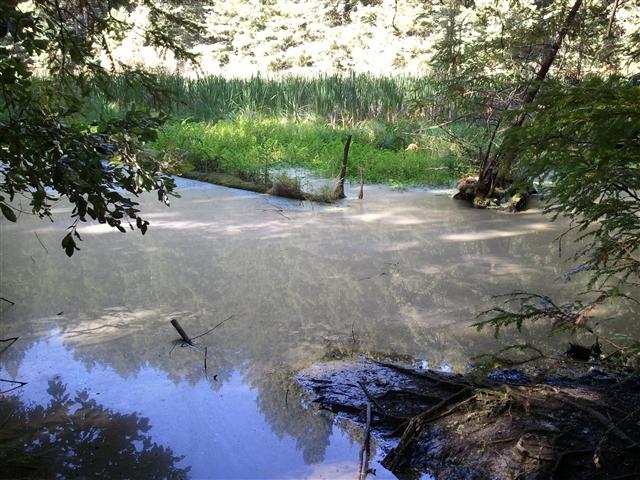 White's Lagoon
I was now in front of everyone again, so left plenty of arrows, including a giant one at the intersection of Big Slide and the exit of the unmarked Pig Trail. Two years prior, I accidentally took the Pig Trail thinking it was the Big Slide trail.
A bit down Big Slide was a sign saying "No Exit". I knew this wasn't the case, but was worried others might get antsy. I left a tiny note saying "There's an exit!", but I don't think anyone noticed the sign in the first place. I heard there was a bigger sign at the start of the trail (which I bypassed), which didn't stop anyone.
The reason for all those signs was a landslide several years ago which took out a section of the Aptos Creek Trail. Soon after, there was a serviceable bypass route, but it took years to officially open the trail. Was surprised to see it was not only cleared, but they made an awesome single-log bridge with a nice drop on one side. I could only think "I wish Peter were here to cross this!" Next time.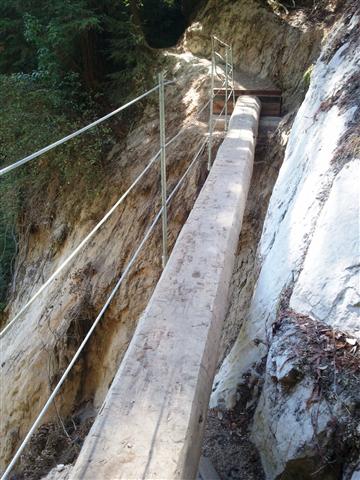 The fun new bridge along Aptos Creek
Near the end of the hike, I was with Hailong, Sophie, David A. We wanted to make sure we ended up on Aptos Ranch Road (closer to where our cars were parked). At one point, I knew we were less than 0.05 miles from our previous route (coming in), but was convinced (from the map) that Aptos Ranch Road naturally went across the creek. It does--it was that trail we were standing at discussing it. The result was that we ended up coming out of the entrance (as many did), adding another 0.6 miles compared to going the right way. Sorry guys!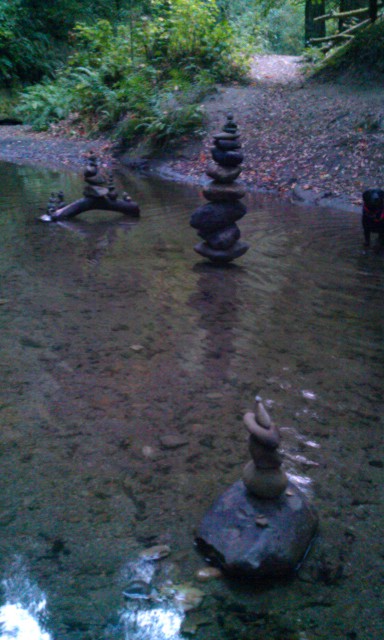 Cool art in the creek
Carissa and Iris were the last two in, by which time the rest of us had already gone home or--in the case of Harvey, Sabine, Sophie, Helen, Eric L (post car opening), and myself--met up at the Britannia Arms. The two of them made it just around sunset, but they did correctly take Aptos Ranch Road back and got to see the above cool rock stacking demonstration. Very zen.
While it was long hike (some people logged nearly 30 miles), it was really quite easy, with a fairly mild temperature and plenty of shade. It was hard to give it only a 4, but it definitely wasn't a 5. Writing it up two days later, I can still feel the hike in my legs--the long hikes definitely cause a different sort of damage. And that ache reminds me that we shouldn't wait another two years to visit again.
Milestones:
David A's 10th leaf







Pages maintained by Steve Walstra, Peter Saviz, and Russell Gee.
©2022 Intrepid Northern California Hikers