885. Bear Mountain and Mississippi Lake (06/15/13)

Hikers (22): Alan, Brad, Chinyet, Christina, David, George, Giulia, Hailong, Helen, James W, Jane, Jeff, Karl, Kirk, Nick, Peter, Ramesh, Robert, Ross, Rufina, Shuli, Steve
Distance: 26 miles
Rating: 5 difficulty, 8 beauty
Park info: Henry Coe State Park near Morgan Hill

Write-up by Peter, Robert and Ramesh -- Pictures by Karl, Giulia, and Robert
With cooler temperatures predicted for hike day, the trash-talking began early in the week ... "We should downgrade it to Level 4" ... "Throw in an extra hill" ... But as usual, Big Henry had the last laugh.
At Poverty Flat, I was begging to die so that I wouldn't have to drag myself up the long hill, but the bastard wanted me to keep suffering. Big Henry is a cruel god. But at least I was not alone. There was plenty of dehydration, cramping, throwing up, fatigue, and general misery to go around. Ross said it was the toughest hike he's ever done, Helen had a tough day, Ramesh finally got in at the 12-hour mark (see his notes below), and we had one ranger rescue for James. It all added up to another INCH classic. And that's not even counting the naked camper sitting on the table at Mississippi Lake, or Uncle George telling us all to bring plates and silverware for the post-hike feast, only to find out there were no campfires allowed (I'm sure it's not the first time people have deen disappointed by his lack of meat). Big Henry always gets the last laugh.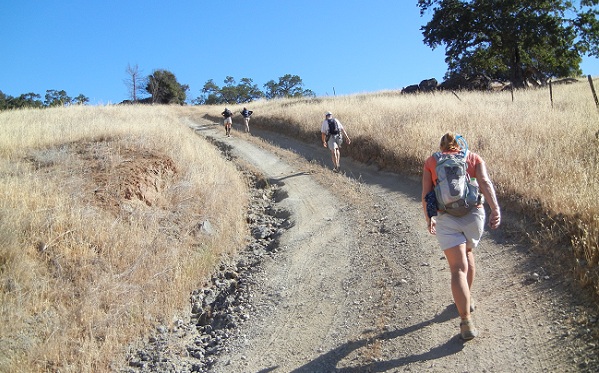 The pack started out fast -- usually not a smart move, especially at Coe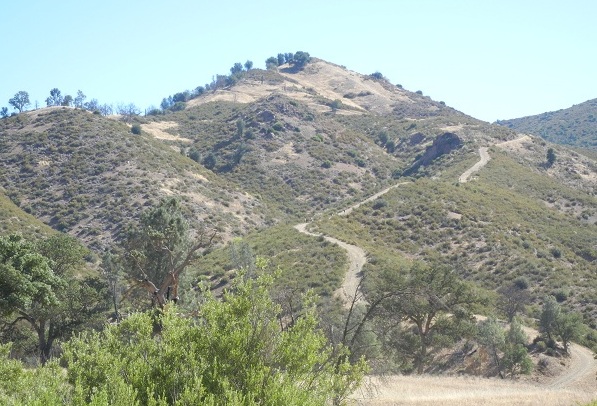 First view of Bear Mountain Road, aka "Oh Shit!"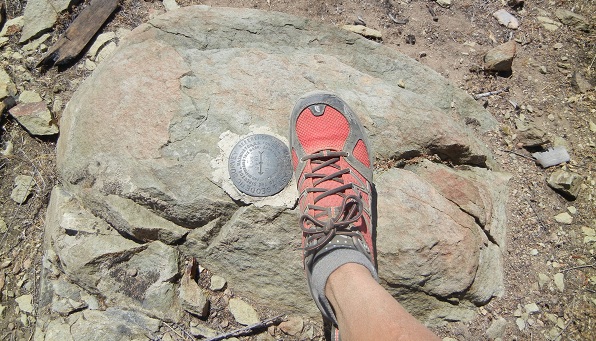 Proof that Karl made it in case he got killed by The Bear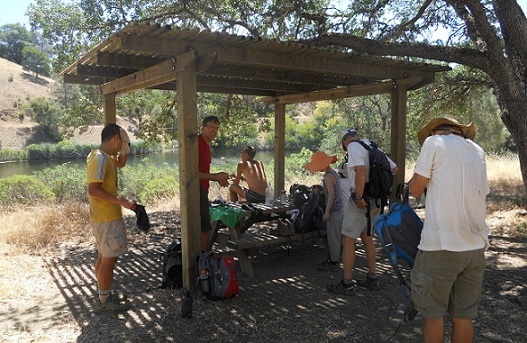 The front-runners got to party with The Naked Camper at The Lake.
Sometimes it's better to be slow.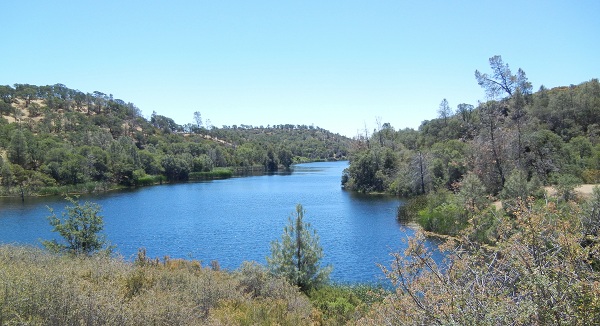 The slower folks got a much nicer view
Here is Robert's writeup:
My least favorite part of any Henry Coe hike, including this one, is the climb up and over Jackass Pass (from any direction), so when Peter announced that we could "take any way we want" to the Bear Mountain and Mississippi Lake my mind was instantly set on taking the tried and proven shortcut which bypasses all of Poverty Flat Road, Jackass Pass, and "Karri Junction" by connecting Manzanita Point with China Hole with the Narrows with Los Cruzeros with Schafer Corral. It didn't work out.
I must have been busy with talking or something when I missed my prescribed turn early on and followed everyone on their jog down to Poverty Flat, and, being hopelessly out of shape after a 10 month break from any serious hiking, soon fell behind almost everybody else.
After following David and Peter for a while and an additional 4 hours of solitude, I was quite surprised to catch up with a larger group of INCHers who were just beginning to break for lunch at the Mississippi lake picnic table. Turns out, led by Karl, they missed the Bear Springs trail junction right after Bear Mountain summit and continued down County Line Road for an additional 0.5 mile or so on one of Henry Coe's most scenic routes.
At the table, for no obvious reason (Helen suspects marital problems as the reason for Peter's bad mood), Peter explicitly banned Helen and me (but not anybody else) from taking the shortcut through The Narrows on the way back.
The water from the lake had a very 'earthy' taste even after filtering, but with only 1 liters of water/Gatorade used up to this point and with 2.7 liters left I thought I'd be good with just an additional 0.5 liters of tasty lake water, so, after filtering , Helen and I set off down the cool, shaded Willow Ridge debating the best way to trick Peter and still take the Narrows without anybody noticing.
When I finally caught up with a bunch of people resting at the Willow Ridge Trail junction, I knew I was screwed: Peter was there, suffering in the shade but still crushing my hopes for being able to take the shortcut. An unwise move followed: Lending Peter, who was by then completely out and in desperate need of water, but still refusing to negotiate any shortcut, my filter to pump from the nasty Willow Springs cesspool. Lesson learned: Next time, let Peter die even if it costs me a leaf! Revenge will be sweet.
Halfway up Mahoney Meadows Road Helen began cramping up and quickly faded away. I decided to ditch her: She'll be fine. Besides, there were 3 more people behind us and a friendly Ranger to rescue if needed at the park HQ, which I reached completely out of water in just under 10 hours after the hike began, just in time to find out that we won't be having any grilled post-hike Salmon due to campfire ban.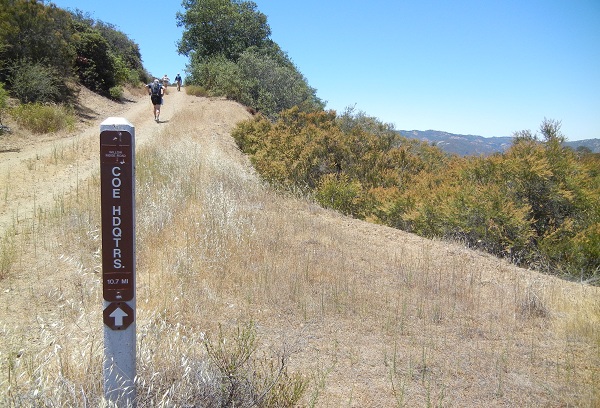 Starting the long road back ...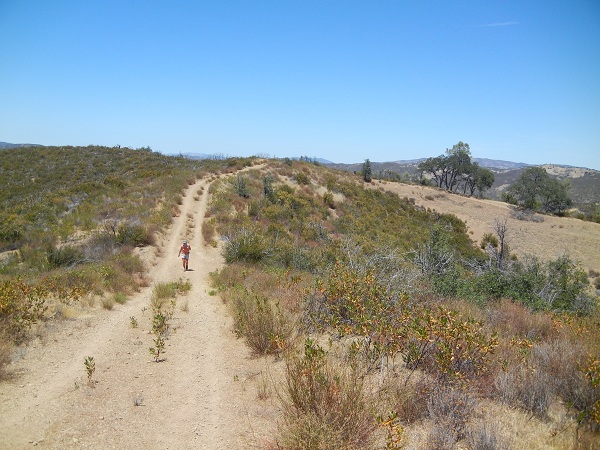 Helen was just loving the "cool, shaded" Interior Route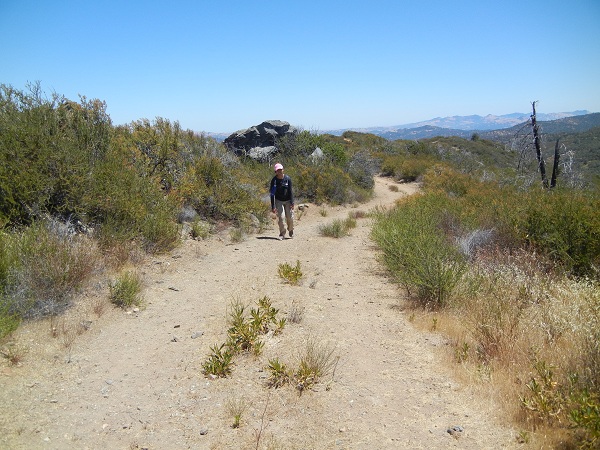 "I'm supposed to run a marathon tomorrow morning?"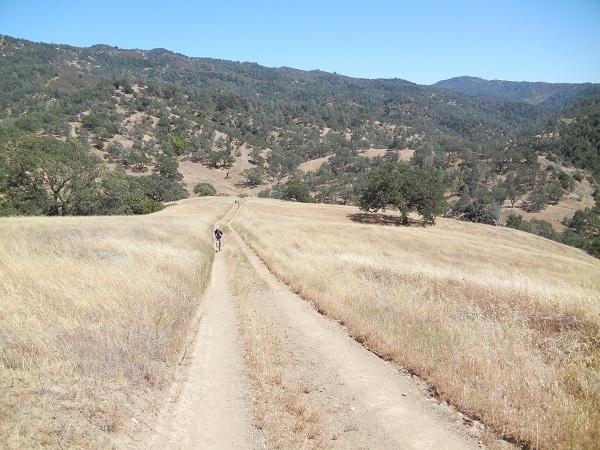 Slogging up from Los Cruzeros on the hated Mahoney Meadows Trail
(Rufina in the foreground; those two dots in the distance are Peter and Robert;
Helen was dying somewhere in the bushes off to the side)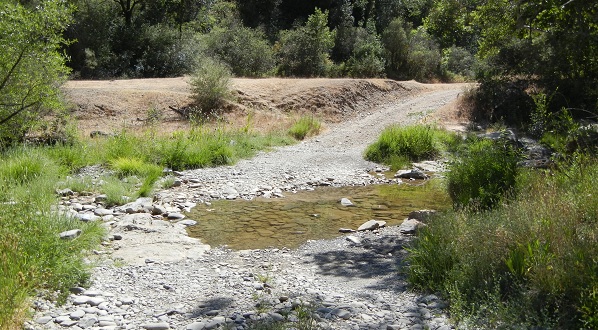 Life-saving puddle at Poverty Flat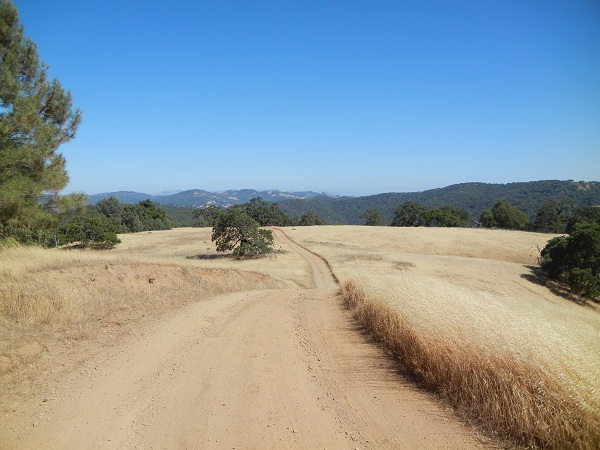 When you get to the top of the ridge, you're greeted by the never-ending road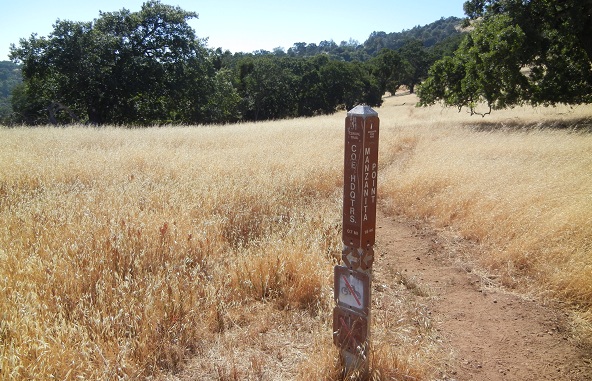 Last junction before HQ!!!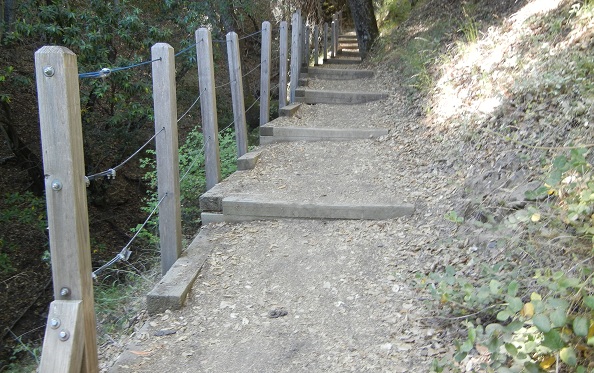 The blue ropes!!!!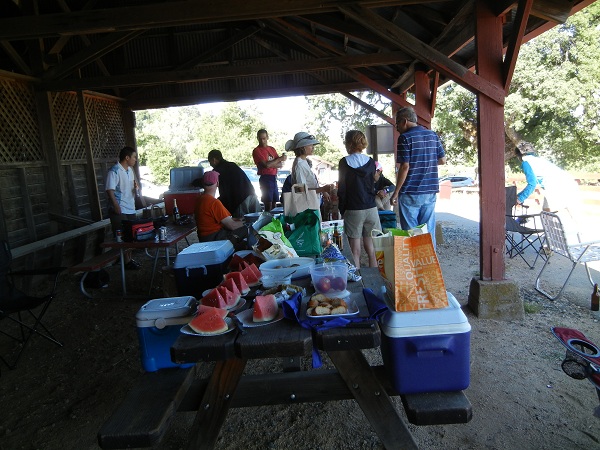 We earned that watermelon the hard way!

And here is Ramesh's writeup:

This was going to be my longest hike after I came back from 5 year INCH lay-off. So I repeatedly checked the weather forecast last week and I eventually thought 80F should be comfortable enough, so I signed up at the last moment. I packed 5 liters of water + 1 Gatorade + 1 bottle of juice + food and got ready for the hike. Hike start was fun until we reach the Bear Mountain climb. At that time I was yapping with Peter and suddenly the Bear Mountain fire trail appears and I go "My god, What the hell? That is scary shit!". Peter smiles like "Yeah, Welcome to my torture world, muhahaha!". We start the climb and Peter takes off fast. I took it really slow thinking that there is only one leg of climb. But the climb never stopped, it went on forever. I looked back and it looked like I was climbing Mt. Everest.

When was around the top I saw a trail named "Bear Spring Trail" and in the write up it said turn right on the Bear Spring Trail. So I took the trail, it was a over grown trail and it didn't look like the right trail. I kept looking for any INCH sign on the trail, like foot marks or some junk. I found nothing and the trail went up and down like hell. After 30 min or so I stopped and sat down and had a drink and looked around I saw no sign of any fire trail and the trail itself almost disappeared. It really looked scary there! Then I checked the map again and I knew I should have taken then second Bear Spring Trail. But then this trail itself was supposed to go to Bear Spring Road anyway, so I thought of continuing on it. I tried for another 5 min, I down the hill and I saw nothing there. At that point I was not sure which direction I should be heading. One side was going steep down into a valley and other side and step climb and there was no sign of any trail. Well, I can lose about an hour if I go back, but at least I will know how to get back. If I continued I could be totally lost and dead in these mountains. So I turned back.

Got back to the Bear Mountain Road and got to Bear Mountain quickly. I even went off the trail to touch the marker though I was running late, is it hardcore or lunacy?

[Peter: It's the true INCH spirit -- hardcore AND lunacy!] Few steps down the road I reached the intersection but I saw only 3 roads and there was no sign of trial on the right. So continued for another 5 min on the fire trail and I find nothing. I was wondering what "few steps" meant. 20-30 steps or 100-200 steps? Well I didn't want to make another mistake, so turned back and reached the intersection again and turned left and walked into the bushes to see if there was any trail. Yes, there was, but there was no sign post for the Bear Spring Trail, dammit! Then I continued on the trail. It says 1.1 mile on this trial but it felt like 5 miles to me. Finally reached the Bear Spring Road and eventually the Miss Lake. I knew there wont be anyone there but I heard some voices. Later realized it was from a tent and I didn't want to stop there. So I continued to the other end of the Lake. It was 2:00pm when reached the other end. I sat down under a tree and ate my sandwich. It was hot, time was 2:00pm and I wondered what time I would make it back. I looked at the Peter's writeup to see where I was. It said "Head out on the cool, shaded Willow Ridge Road". I remembered from the past there was no such thing as "shaded" once you head out from the Lake. So I thought he was referring to the walk along the Lake. But then the mileage didn't match. Well, at least I know how to get back from here and I continued on the Willow Ridge Road. This also went on and on forever. After an hour I found a rare object in this part of the town called "tree" and I lied down again there. I checked my map again 3 times to see where this "Cool, Shaded Willow Road" was. Maybe I made another mistake at the Lake? Peter planned a different route where there is shade? What the hell, shade or no shade I gotta get back to the trail head and I knew the usual route. When I was walking down on the Willow Road it finally occurred to me it was Peter's sense of humor. Even though I was too tired, I smiled inside at his sense of humor. Yup! that is Peter. :)

I continued for a bit and then I noticed some guy was laying down on the road, maybe taking a nap. When I was about to pass him he didn't even open his eyes to look. I thought he might be a backpacker. I asked him if he was with INCH and he said "yes". At that point I was happy to see a human being after 5 hours of walking in the heat like a zombie. We introduced ourselves. He is James. We both slowly got to the Willow Ridge Trail and on this trail James spotted a little water tank and he helped me to filter 1 liter of water. Thanks to him. We had 5 more miles to go and I knew the exact torture that was waiting for us at the bottom of Willow Ridge Trail. I was in good spirits still. I was drinking water continuously and was even taking nature breaks, so I was hydrated all the time. This is exactly the same spot where I collapsed the ground with a massive cramp long time ago. I knew how bad it can be so I was pacing myself according to my energy levels. My only worry was the worried people at the trailhead. I knew I would get a text from George at some point. There was no signal at that point though.

Then we both reached the bottom of Willow Ridge and James wanted to take a break and I continued to the top of Mahoney Meadows Trail. How can they give such a beautiful name for such a horrible draconian trial? When I reached top, I took a break under a tree. Soon I realized I had an ant attack. 100s of ants climbed onto my pants, damn! I jumped out and swatted off all the ants and went to the other side of the road but I was too lazy to retrieve my backpack. James comes up and goes to the same side (good shade on that side) and warned him of ants and he comes to the other side. Eventually I decide to leave and when I retrieve my backpack I found 100s of of big red ants climbed by backpack. I spent 10 minutes to clean my bag. Last thing I wanted at that point was bitten by a red ant. James contemplated giving his car keys to me as Rufina, his carpool mate, was waiting on the otherside. I said I don't think I can make it before him as I would be taking it really slow and he would pass me again. I took off first, and he joined me on the Poverty Flat. When we reached the creek, James decides to take a long break and he gives me his keys. I promised that I will ask for rescue help as soon as I make my first contact with our buddies. He was not doing well at the time and lies down on the rocks.

I continued. How bad this can be? Nicely shaded. Wait, how long is Mission Peak climb again? So after 22 miles of torture, I am going to do the Mission Peak all over. Welcome to torture paradise!! I kept climbing forever. Was it 3 miles or 30 miles??? I see the sun at the end of trail and I think wow that is the top. I reach there and there is more. This went on. Then I received George's text. I wanted to reply but there was no signal, I type "I am almost done with Poverty Flat climb" but the message doesn't go through. Then I run into the ranger and I knew what he was up to. I flagged him down and told him about James. I told him I was the other guy he was looking for. He made sure I was doing ok and offered me water. I had enough at that time, I thanked him and I continued. He seemed like a very nice guy. When I reached the top, got the signal and I edited my message to remove "almost" from my previously typed message and resent the message George. Also, updated him with James's situation.

I knew bunch of people were waiting for both of us at the trailhead and if I refused the ranger's ride on his way back, I may look like an ass making people wait for even longer. So I started walking fast to avoid the ranger passing me on the fire trail. Is there any end to this madness? :) I got to the Corral Trail and I was barely 100 yards into it and I heard the ranger pass by. I was happy that I avoided the ranger rescue attempt. I reached the trail head and I was greeted and cheered by many people and I was very happy to make it to the end without any trouble. Thank you all for waiting for me. Sorry to make you all waiting, next time I will read the map more carefully. Thanks to Rufina for the water melon, it felt really good after eating that yummy juicy thing. Someone forward this write up to Rufina who is absurdly crazy to do a Marathon run the day after 26 mile INCH hike. For those who are not on this hike, I took 12 hours to finish this hike..hehe!

My Lesson: When you take a 5 year break from INCH you start your INCH career all over again :)

Btw, on my way back I felt very sleepy and I took an exit as soon as I was on 880 and parked my car in a Carl's Jr. parking lot and slept in the car. Thought of sleeping for an hour but ended up sleeping for 3 hours. Woke up and 11:30pm and got home at midnight.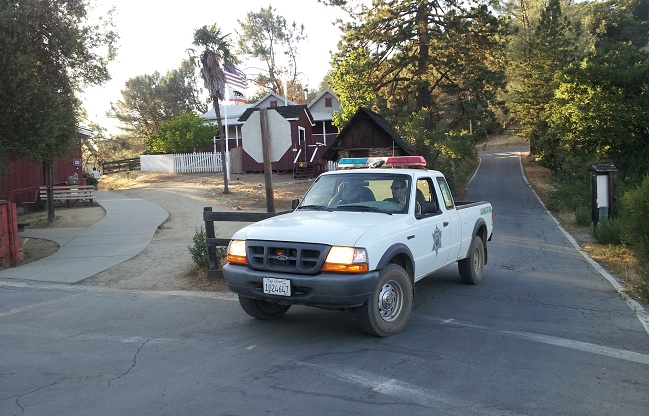 No paparazzi!!! James takes the Ride of Shame back to HQ ...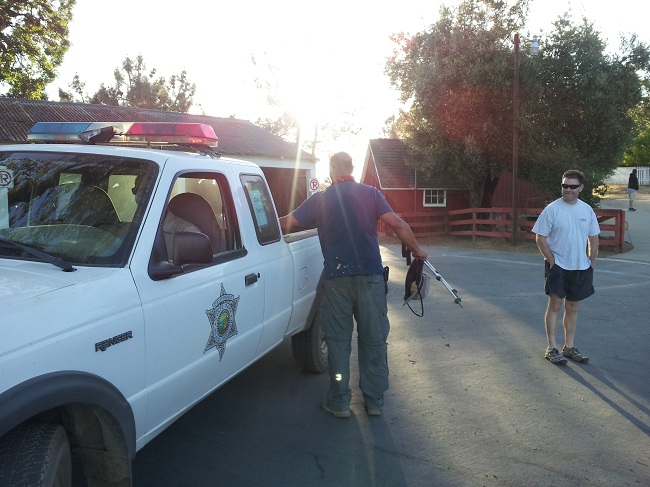 ... where I reassured him that no-one would ever know about it.
We had five good climbs on the day (Poverty Flat up to Blue Ridge, Bear Mountain, Miss Lake up to Willow Ridge, Los Cruzeros up to Blue Ridge, Poverty Flat up to Pine Ridge); total elevation data ranged from 5600' to 6900' depending on the source. Either way, we hit the Mile High Club. And in 3 weeks, we'll go back to do another death march.
Honorable mention to Angelika and Thomas who did a portion of the hike, and, more importantly, were there for the post-hike party (with bear spray). And a special shout-out to Rufina, who breezed through this hike and then ran the San Francisco Marathon the next morning!!! That's intrepid.






Pages maintained by Steve Walstra, Peter Saviz, and Russell Gee.
©2022 Intrepid Northern California Hikers