888. Kelly Lake (07/06/13)

Hikers (10): Brad, Christina, David, Giulia, Hailong, Kirk, Peter, Rufina, Sarah, Sophie
Distance: 22 miles
Rating: 5 difficulty, 8 beauty
Park info: Henry Coe State Park near Gilroy

Write-up by Peter and Sophie -- Pictures by Giulia, Hailong, and Rufina
The morning started out nice and cool, as we headed up the Steer Ridge under cloud cover, but I knew it wouldn't last ...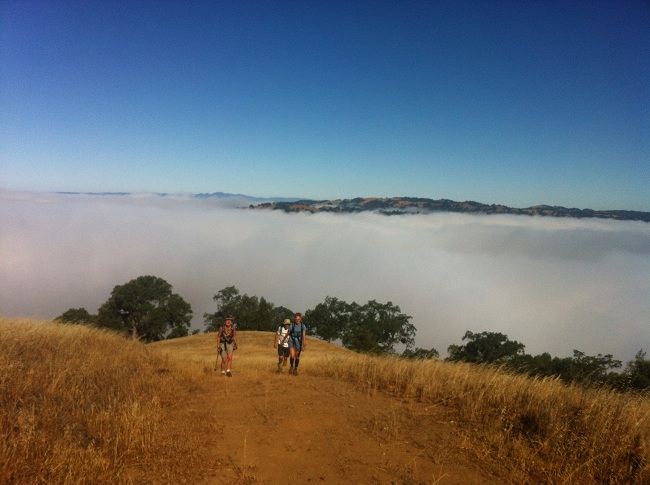 Giulia, Kirk, and Christina rise above the clouds on the way up Steer Ridge
(check out that gorgeous sky!)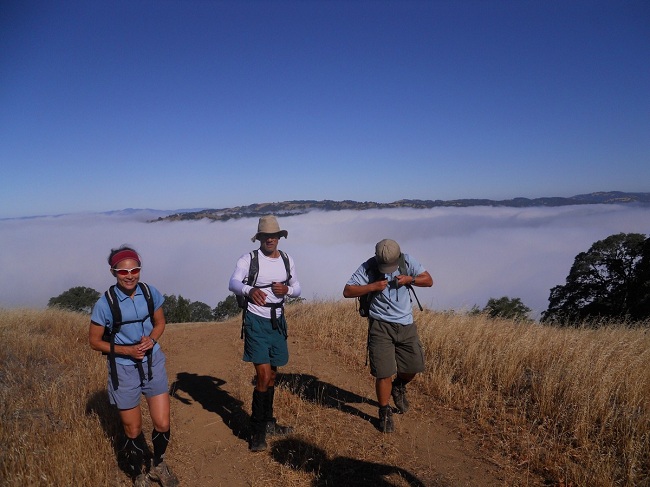 Christina, Captain Kirk, and Hailong strike a pose on the trail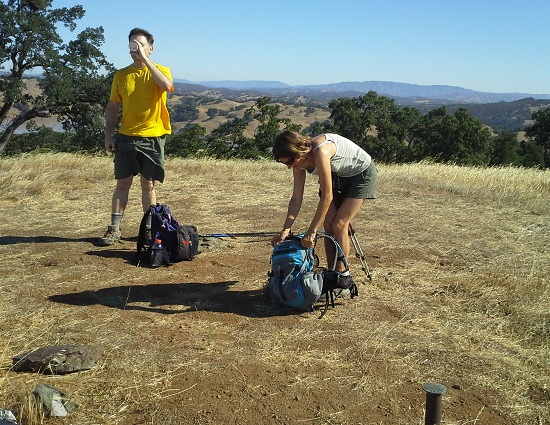 Made it to the top!
After the peak, things started to heat up. By the time we finished with Grizzly Gulch and were heading up Rock Tower, I was sweating like a pig. Big Henry was starting to turn up the heat!
I hiked with David and Rufina most of the way, figuring we would never see any of the front-runners again until the end of the hike. We successfully navigated our way through the Domino Maze and down the Cross Canyon Trail to the creek, where I bid my friends adieu and decided to stop for lunch.
As I was finishing up lunch and getting ready to head out, who should show up but Sophie. Looks like someone had taken a wrong turn, or maybe two! We headed out along the creek bed and came to the famous fork where many a hiker, including yours truly, had previously taken the wrong trail ended up on top of the other side of the ridge. We investigated a little bit and decided to intrepidly press on ahead through the creek bed.
We began scrambling over boulders, through tons of posion oak and bug nests, more boulders ..... no sign of trail anywhere, but we were past the point of no return and I knew all we had to do was follow the creek and we would eventually end up at the lake. The trail finally opened up and we continued on, picking burrs and assorted bits of vegetation out of our clothes as we made our way along the bank of the dry creek. This part seemed to take forever, but we finally emerged on Coit Road and then headed over to Kelly Lake, where lo and behold, we saw David and Rufina coming over from the other bank.
They, along with most of the rest of the group took the wrong turn up from the Kelly Cabin Creek, and got 500-600 feet of additional elevation and about an extra mile of distance on the day. I think Kirk was the only one who found the correct trail (or so he claims) -- I never doubt the Captain.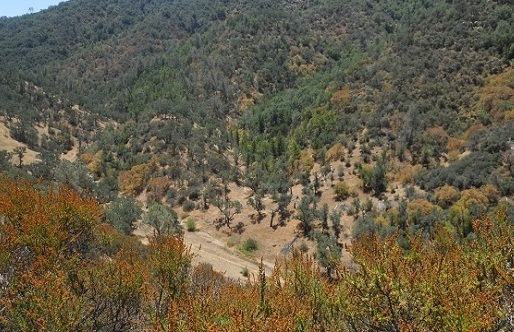 "Oh, Sh*t! We're supposed to be down there???"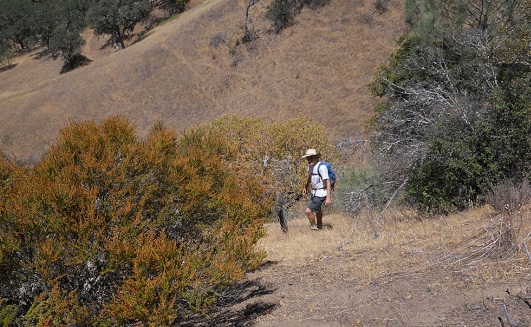 Brad managed to find a way to get down to the creek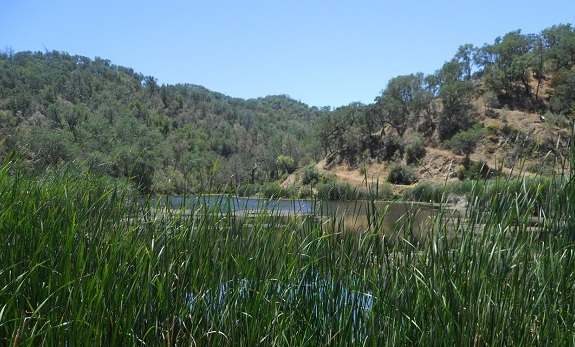 The elusive and beautiful Kelly Lake is worth the trip
Sophie's notes:
Among all the hikes at Henry Coe, Kelly Lake from Hunting Hollow is one of my favorite, as we go through a lot of small very scenic trails that are not often visited by people.
It started with the usual Steer Ridge Trail, very steep with no warm up. We climbed through the fog making the task somewhat easier. Two third of the way up, the sun was there to greet us; now, this is the real Henry Coe. By the time Peter, David, Rufina and I got to the top of Wilson Peak, the six others were already gone. Warmed up, I went on, down the Wilson Peak trail and left on Grizzly Gulch Trail. By the time I reached the Rock Tower Trail, I was just behind Sarah. I went up the trail and quickly lost sight of her. About a quarter of a mile after crossing Jackson Road, I "lost" the trail. Instead of going back to find where I had lost it, I looked around and saw a trail a little further and I simply followed it. I did not realize this was actually the Spring Trail. Since there were no trail names for a while and the mileage seemed to coincide reasonably well with that on the worksheet, it is only at Wasno Road that I realized my mistake. By that time, I had added an extra mile and I was behind everybody. I decided to take Wasno Road and Coit Road to Cross Canyon Trail, minimizing the risk of another detour.
About 1.5 miles into Cross Canyon Trail, I saw Peter by the Creek. He had just finished lunch and had put on a pair of gloves. Apparently, it was for some rock climbing we would be doing later on. We were both determined not to miss the Kelly Cabin Canyon Trail, which was supposed to be 3.0 miles from Coit Road. At 2.6 miles, the trail started to go up and away from the creek. We went up a little, but did not find the trail. Peter decided that it was safer to follow the creek ahead of time. As we followed the river bed, the path got narrower and the boulders got bigger and bigger, but Peter was a gentleman and pulled me up a couple of times. The rocks were covered with moss; we had to make our way through dense bushes of green poison oak and clouds of bugs in a very hot and humid environment. Following my GPS, we walked 0.6 miles at 1.1 miles per hour. Of course, this type of adventure is what makes our hikes memorable. At some point, the canyon widened and we eventually found the trail along the river bed.
At Kelly Lake, I left Peter, David and Rufina and went on with no further event. On top of Wilson Peak, I met a biker who was looking for sunscreen, as he had forgotten his helmet and was totally bold. He held my leg for at least 10 minutes (French expression), telling me about the plane accident at SFO, the television channels he was watching and how many languages he was speaking. Then he started blabbering in French. In the mean time, I was dying for a beer ...
At the parking lot, I found Christina, Brad and Kirk waiting for us with food and refreshments and the party went on.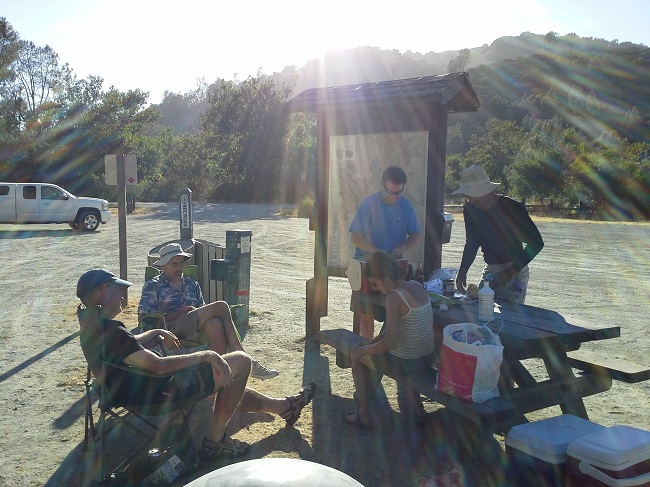 Hearing all the war stories at the post-hike party makes it all worthwhile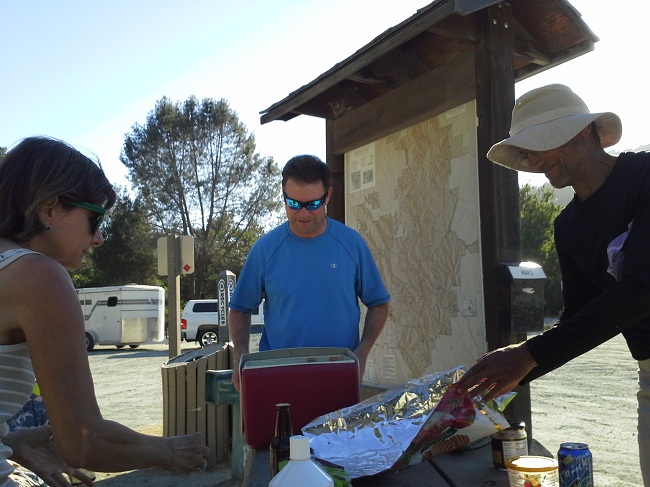 I left there with more beer than I arrived with (thanks Rufina!)
Mystery of the Kelly Cabin Canyon Trail
Puzzled by the Kelly Cabin Canyon Trail we keep missing, I zoomed in the map of the area and found some clues.
From the crossing with Coit Road, there is about 2.6 miles on Cross Canyon Trail to the point where Peter and I started to follow the creek (shown as 1 on the figure). At that point, the trail starts to go up and away from the river. The crossing with George Milias Trail is 3.0 miles from Coit Road and corresponds to 2 in the Figure. The Kelly Cabin Canyon Trail is actually 3.3 miles from Coit Road and is at least 150 ft higher than the Creek (shown as 3 in Figure). Following Captain Kirk, the trail is a small fire road with overgrown vegetation. For those of us who have GPS, it should not be so hard to find. I can't wait for the next opportunity!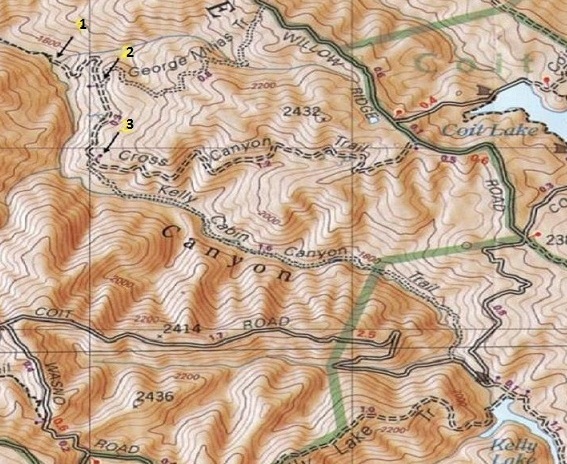 It's more fun getting lost!
Confessions of someone who missed the turn (the names have been omitted to protect the guilty):
I hope you had as much delight as I. I really liked the inclusion of interior trails that were new to me as well as pretty. Somehow I ended up never catching the rabbits and never dithering enough to meld back with you and your rational group. So I marched the whole hike -- minus a mile scurrying after Kirk -- all by myself. After so many lonesome hours, I resorted to singing show tunes and Simon and Garfunkel songs. While scratching my head and trying to remember the words to "Sound of Silence", I sauntered right past the turn off / keep straight in the stream bed for the Kelly Cabin trail and heaved myself up to the top of the ridge overlooking Kelly Lake. The thought of descending to the lake and then struggling up to Wasno Ridge/Road, whose elevation I was then on a par, didn't agree with me. Also I knew there was more climbing if I were to take the Crest Trail and circle clockwise to meet Wagon and then Tule. So that's what I did: mea culpa. Of course there is no one to verify that I didn't actually go to the shore of Kelly Lake. Maybe I did. And "no one cares".
Milestones:
Rufina's 20th leaf







Pages maintained by Steve Walstra, Peter Saviz, and Russell Gee.
©2022 Intrepid Northern California Hikers