922. Upper San Leandro Reservoir (03/29/14)

Hikers (12): Adam, Brad, George, Hailong, Hima, Jane, Jason F, Nick, Sarah, Sarah Z, Steve, Yvon
Distance: 28 miles
Rating: 5 difficulty, 8 beauty
Park info: East Bay Municipal Utility District near Castro Valley

Write-up by Steve -- Pictures by Everyone
For the nominal price of an EMBUD permit, you get poorly marked trails and the worst maps in the Bay Area. Should you decide to take one of the less popular trails on their property, you are pretty much on your own. Add some rain to the equation, and you have a recipe for disaster. Such was this hike. Before the hike, I sent out maps and GPS waypoints for all the major intersections to try to help mitigate the risks, but it turned out that not many people have discovered the benefits of a GPS on unmarked trails. . .or even the benefits of a plastic bag for keeping a map dry.
1, 2, 3 INCH!
Was glad to see 12 intrepid hikers show up for this rainy hike. Before we even got to the gate at the top of Ramage Peak Trail, we had lost Jane O and Nick. Hima was also MIA, but didn't know if she was lost or just taking it slow. The rain started soon after most of us took our pictures at the gate.
By the time we got to the Upper San Leandro Reservoir, we had additionally lost George, Brad, and Hailong. I had seen them less than a quarter mile ahead and realized they had overshot a tricky junction when their muddy tracks disappeared. I was not too worried since George had mentioned he had the coordinates in his GPS. I left an arrow there (and many places previously) to help out the people still coming from behind.
Wet arrow
The second photo stop was a small hill along the reservoir. After I had snapped mine, under shelter of an umbrella, I started looking (fruitlessly) for a geocache. I saw Adam C, Jason F, Sarah, Yvon, and Sarah Z come up the hill, look around a little, and turn back. I pointed out that this was the photo stop, and rustled them up for some wet pictures (see far below).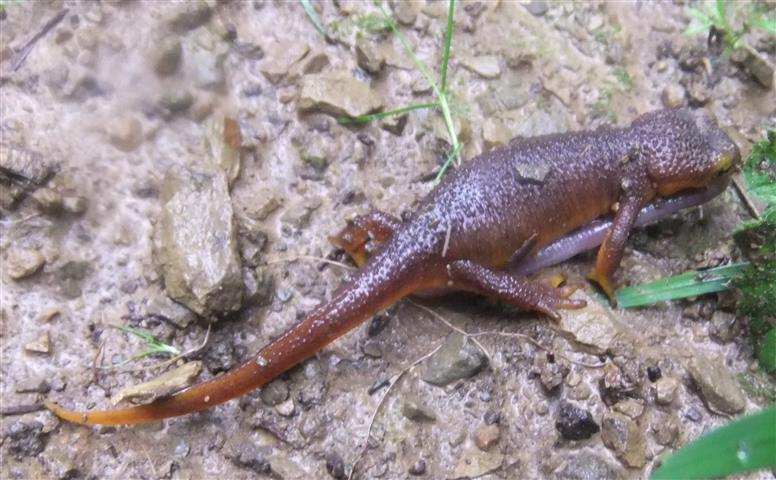 Earthworms and newts come out when the ground is wet. . .newts eat earthworms
The good news about the reservoir was that it was straightforward to complete the rest of hike in the well-marked East Bay Regional Parks. I sat down at a bench in Valle Vista to remove some rocks from my boot. . .and wrung a cup of water out of each sock. Just after this, there was a short, steep hill up Redwood Trail. It was steep enough that, in the mud and rain, it was tough to keep forward progress. I was sorry to have missed the front group doing this route, as I suspect it was something best enjoyed in company.
The segment of Redwood Trail after crossing Pinehurst Road is where the trail gets its name. It was definitely the scenic highlight of the route. While walking along East Ridge, I caught up to the front group about the same time Brad, Hailong, and George caught up with us. After trading notes, we concluded that Jane and Nick were definitely "very" lost, and Hima was still indeterminate. I was mildly worried that this would be my first "lost hiker" hike.
The rest of the route went by without much drama. In Chabot, I took Brandon Trail instead of Grass Valley to get a new trail (much to Sarah's chagrin!). In fact, the entire route was more than 50% new trail to me, and ~33% new trail to INCH.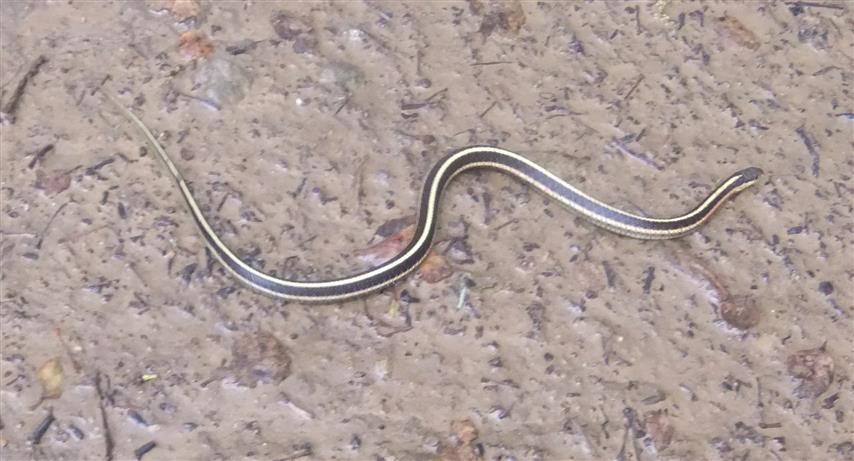 Wet snake in Chabot
At the end of the hike, many people hung out in the rain for a while. There was much eating, drinking, and guessing what befell the missing hikers. Not long after I got back, Russ texted that Hima was 8 miles out, so we knew she'd make it. Jane showed up not long before Hima, so once Hima appeared we were only missing Nick. The police had already come by twice in the span of two hours (they seemed mostly surprised we had so many cars/people), so decided to call it a night. Wrote Nick to make sure he survived--he made it in before dark, so everything worked out perfectly.
And now, pictures of wet people and wet scenes.
Hiker
Gate
Reservoir
Bridge
George
Hailong
Jane
Hima
Adam C
Jason F
Sarah
Yvon
Sarah Z
Brad
Nick H
Steve
Milestones:
Jason F's 1st leaf







Pages maintained by Steve Walstra, Peter Saviz, and Russell Gee.
©2022 Intrepid Northern California Hikers