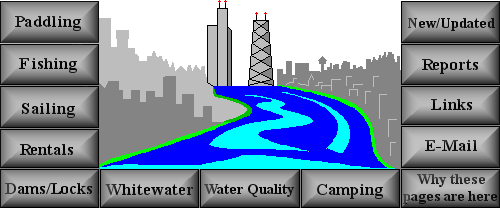 Iroquois River
(Kankakee, Iroquois, and Ford Counties, Illinois, U.S.A.)
We are not responsible for errors or omissions.
When boating, regardless of water depth, wear a PFD!
A little more is known about life on the Iroquois River than some rivers in our area. Gurdon Hubbard, after completing his apprenticeship with the American Fur Trading Company was assigned to the area near Watseka for many years competing with an independent fur trader named Bourbonnais. Gurdon Hubbard's autobiography is available for under $10 from amazon.com (Gurdon S. Hubbard, Fur Trader & Chicago Pioneer ISBN-0-912382-29-5)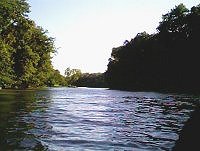 The Iroquois River is a slow-moving, waist-deep river for most of its length.
One notable exception is near its mouth at the Kankakee. This area is frequented by powerboats and jetskis. River left had sand bars and strainers and became the side I used for my second trip thru the mouth to put more distance between my kayak and a jetskier in a yellow jetski who had decided it would be fun to do circles around me. Eventually he headed up river and about 15 minutes later a boat labeled "Rescue Squad" (with police lights) went screaming past me upriver and I never saw either vessel again.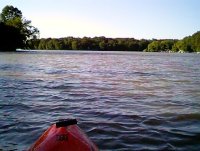 (The Kankakee looms ahead. There are sandbars and fallen trees on river left making it a good place to hide from jetskis.)
The Iroquois River has limited access. Most of the property around it is farmland and private. You should only enter/exit the riverfront at areas marked for public access.
Private boats permitted.
There are no dams on the Iroquois River that we have encountered.
Fish in this river include:
Camping (Both Family and Youth Group Areas)
---