Boating information:
Private boats permitted.
(must have gas motor as main propulsion)
Fish in this lake include:
Striped Bass
Hybrid Striped Bass
Largemouth Bass
Freshwater Drum
Goldfish
Minnows
Suckers
Threadfin Shad
Other information: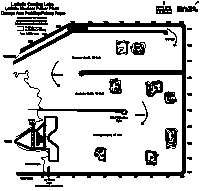 Get detailed map, (34k) (including depths).
LaSalle Lake State Fish and Wildlife Area is located south of I-80 and west of Illinois Route 170 (Near Seneca)
This is a perched lake which is used as cooling for the LaSalle Nuclear Power Plant. It is set in such a way to maximize wind in the Illinois River Valley, which makes it unsafe for non-powered boats.
For more information, you can contact the State Park at 1-815-357-1608.