Boating information:
Private canoes, rowboats allowed.
Gas-powered motors prohibited.
1 ramp with concrete to water level,
gravel base under water at edge of ramp.
Fish in this lake include:
Other information:
Part of the Palos Division of the Cook County Forest Preserve District. (Note: the map on the link above is not very accurate!)
Toilets (Pit)


Get detailed map, (79k) (including depths).

One of the great outlet rivers during the Ice Age, Saganashkee Slough is now shallow lake that is good for kayaking, canoeing, and fishing. Located on 107th Street between 104th Avenue and Rt 83, this area is closed to boating from October 1st, through May 15th for waterfowl migration. There are two entrances to the preserve, the entrance nearest Rt 83 has a trailerable boat ramp. The other entrance has several muddy shores that are fine for launching carry-in boats. There is a fishing wall just off 104th Ave for handicapped fishing access at the dam. (Overflow empties into the Cal-Sag channel, which is less than 100 feet away.)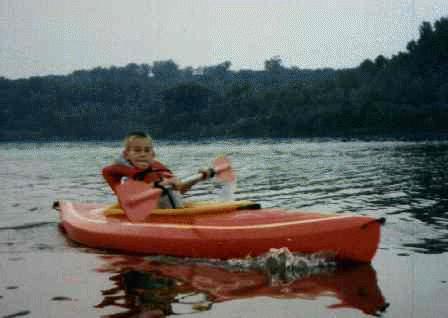 My son Andy paddling hard on Saganashkee Slough.