1153. Charleston Peak (10/13/18)

Hikers (9): Brad, Giulia, Jim, Karl, Mihail, Peter, Shuli, Susan CF, Yipeng
Distance: 18 miles
Rating: 5 difficulty, 10 beauty

Peter owes a writeup! -- Pictures by Karl, Giulia, Shuli, and Yipeng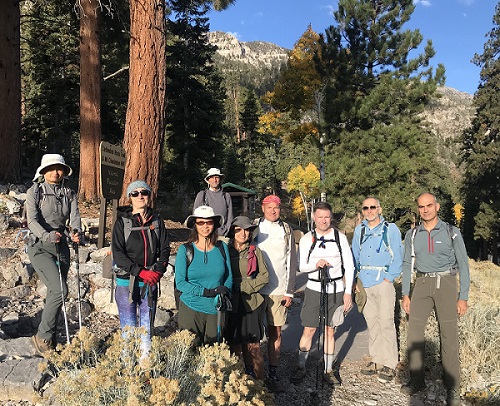 All smiles before the big hike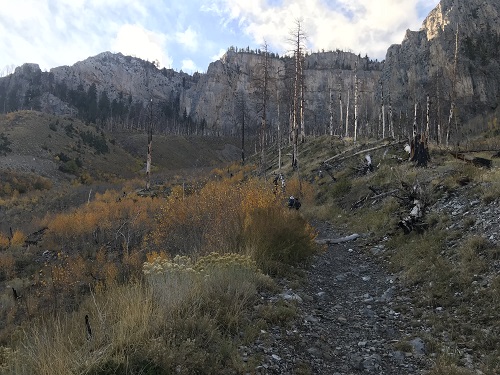 Heading up the South Trail in the early morning
(the trailhead was at 7500 feet and I could already feel the altitude)
Karl's not letting the altitude slow him down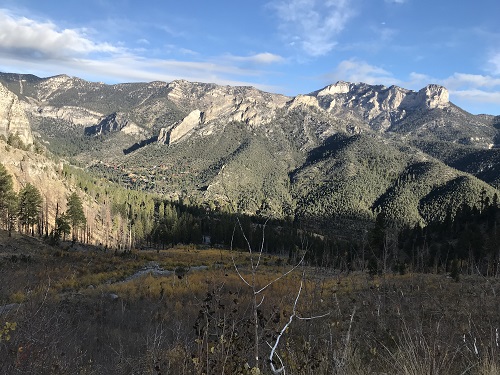 Nice views looking back as we start to climb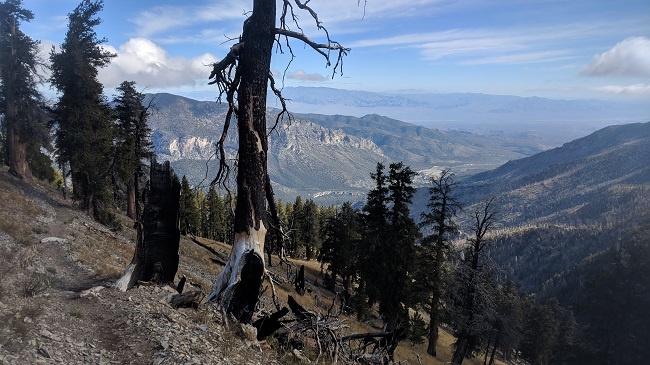 Burned trees from 2013 Charleston fire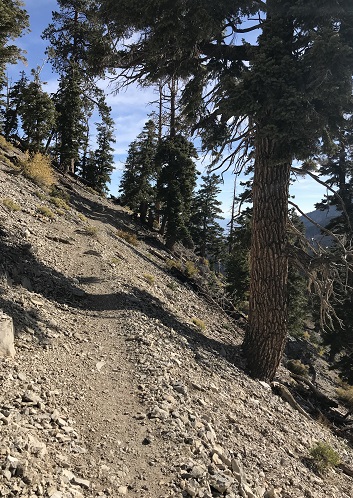 My heart was pounding during some of the steeper sections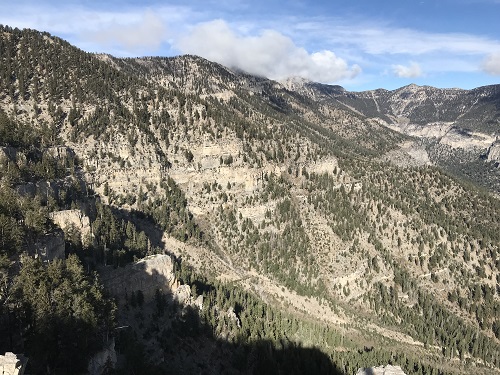 There had been warnings of rain and snow all week, but the weather was looking good as we got closer to the top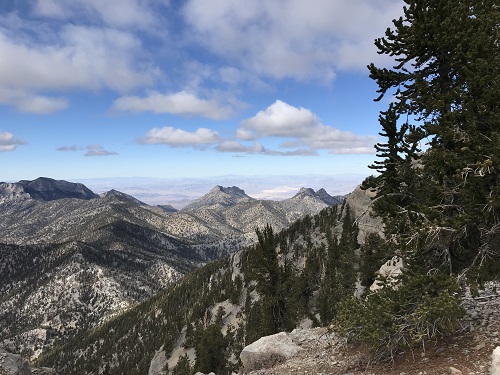 Gorgeous views in all directions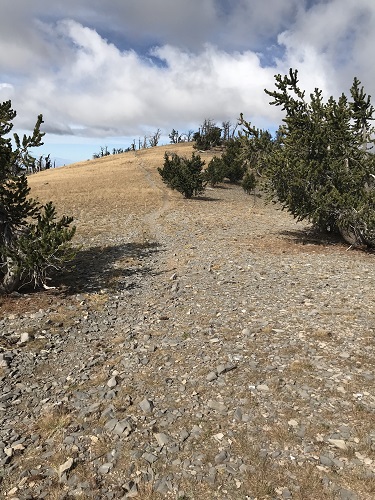 Traversing the big saddle near the top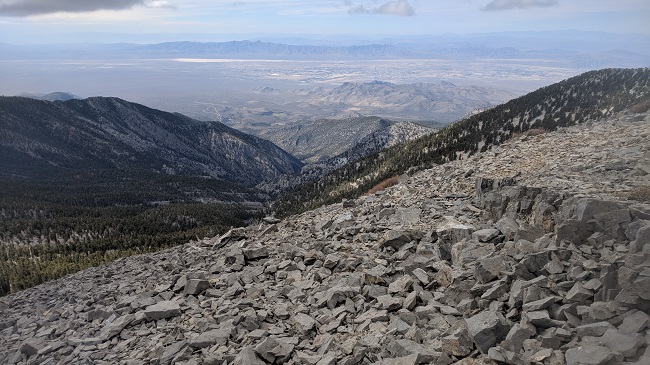 About 3/4 mile from the top, Shuli and Jim took a steeper route -- check out the scree!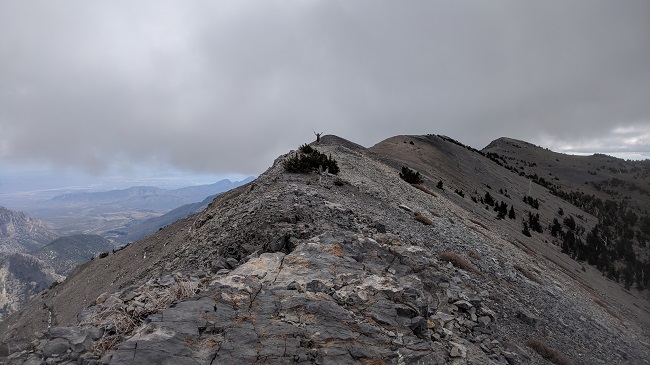 Shuli on the ridge line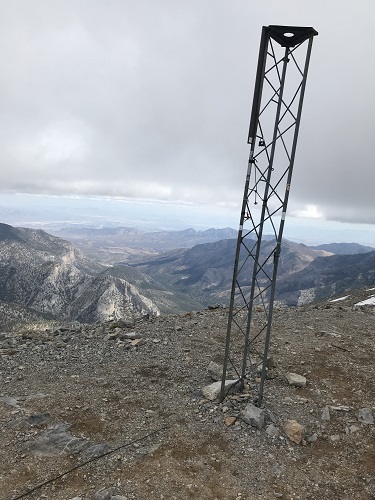 Top of the mountain -- 11,916 feet!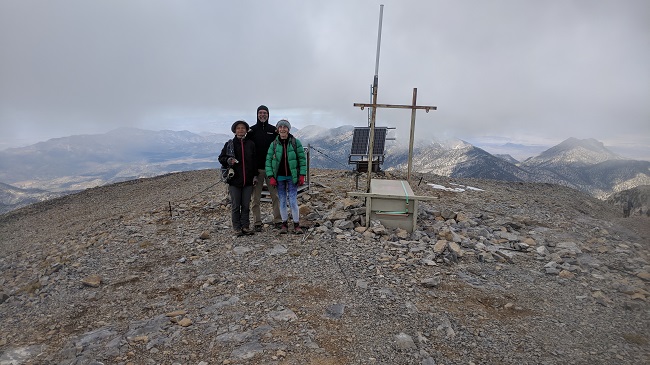 Giulia, Shuli, and Jim at the cold peak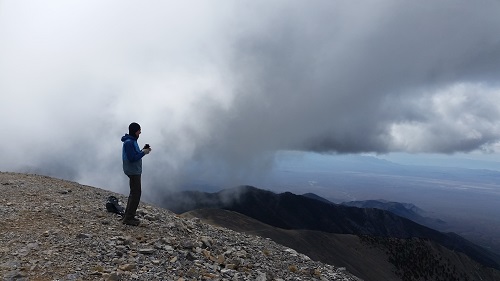 Mihail enjoys the view as the clouds move in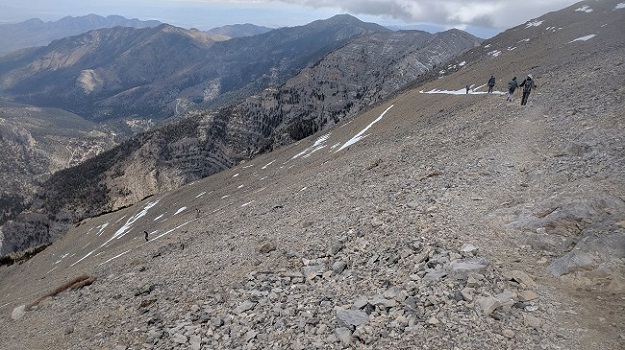 Front-runners start heading back down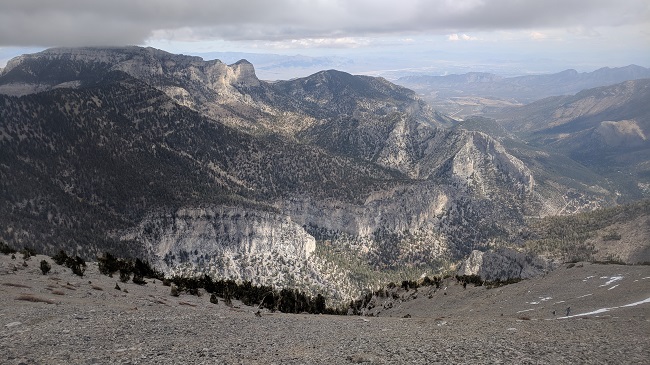 Mihail and Brad in the lower right corner. Mummy Mountain (11,529', the second highest peak of the Spring Mountains) is in the upper left. Fletcher Peak (10,319') is the one to the right of Mummy.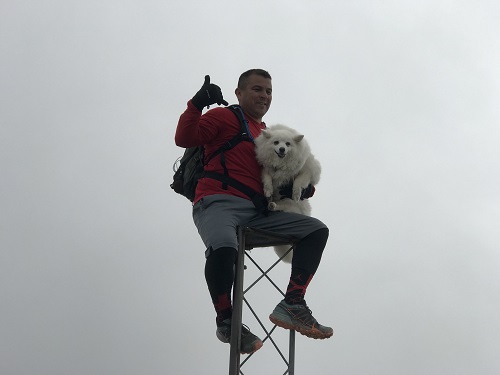 This guy brought his fluffy white dog -- Maggie did great!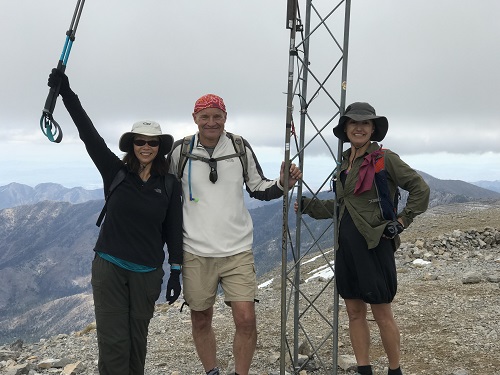 Party time!!!!!!!!!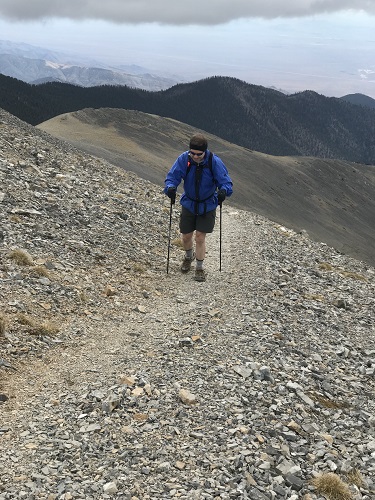 The slowest hiker chugging up the final approach in slow motion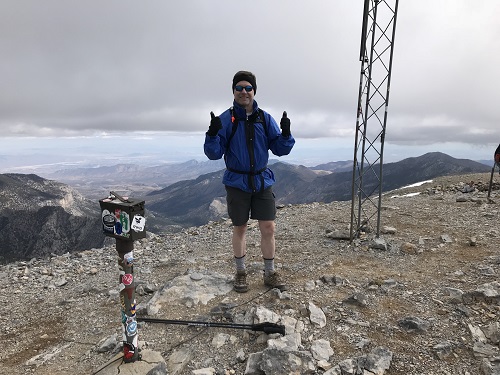 Made it!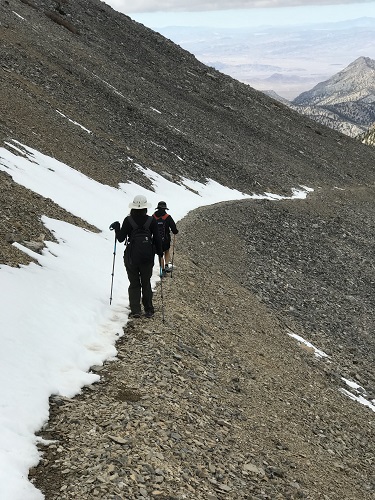 It was cold at the top so we made a bee-line down the North Trail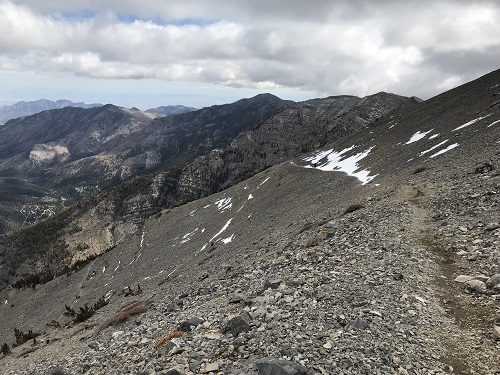 The switchbacks dropped us down to 10,000 feet pretty quickly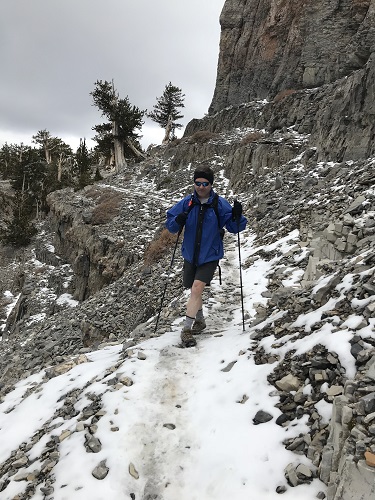 This would not be a good place to slip!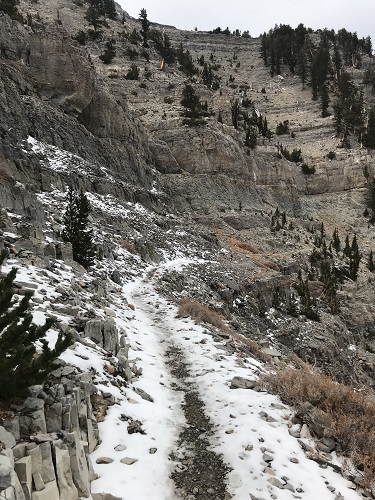 "Don't look down, don't look down, don't look down ..."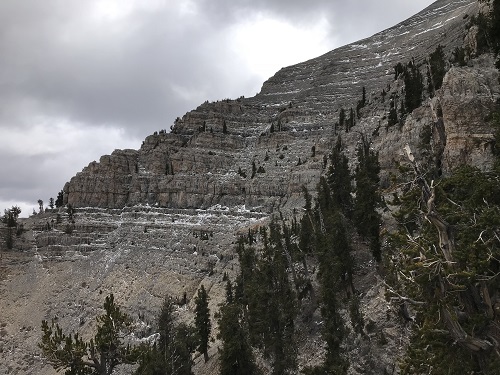 I was so glad to finally get past that section!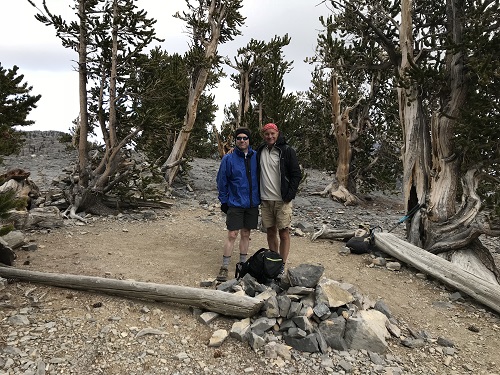 Finally back under the tree line, we stopped for lunch and to catch our breath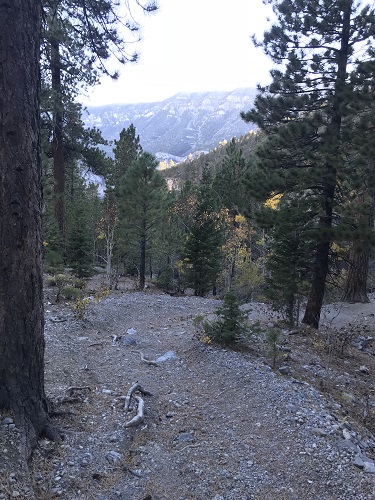 Heading down the Canyon Trail -- the last trail of the day -- very pretty and well-maintained trail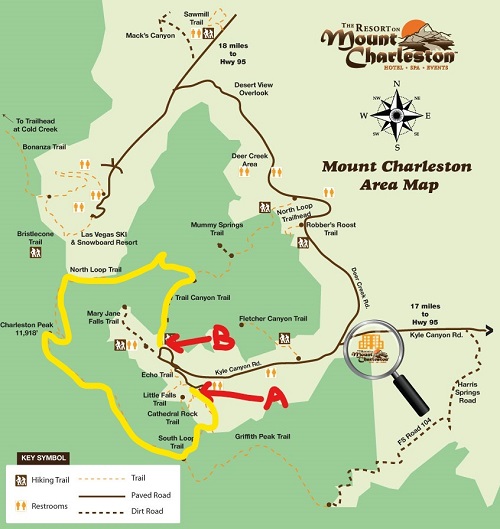 Route map -- a great place to hike!
Bonus points to Sue and Yipeng for doing the optional side trip to Griffith Peak -- hiking animals!
Milestones:
Highest point in Clark, NV county
Mihail's 130th leaf







Pages maintained by Steve Walstra, Peter Saviz, and Russell Gee.
©2022 Intrepid Northern California Hikers