1154. Pole Mountain (10/20/18)

Hikers (30): Arlene, Carol, Chinyet, Christina, Craig A, Dan, Dan L, Ellen, Giulia, Helen, Hong, Iris, Karl, Kathryn, Maurice, Mihail, Nagendra, Peter E, Peter M, Rainer, Sandy F, Sarah, Sarbinder, Sophie, Steve, Susan S, Vicki, Yannick, Yenya, Yipeng
Distance: 17 miles
Rating: 3 difficulty, 9 beauty
Park info: Jenner Headlands Preserve near Jenner

Write-up by Steve -- Pictures by Karl, Sophie, Sarbinder, Iris and Chinyet
Pole Mountain shows up on an old list of 302 California Coastal Peaks. Because of that, it's been on my "To Do" list for a long time. Every once in a while I'd notice it on a map, look for a route, and then forget about it again. Was recently planning it again and discovered a completely legal, and recently opened, route to the summit. Hooray! Perfect hike for INCH, although a bit far. . .
But not far enough, it seems, as 30 people showed up for the foggy start. Actually, 28 people showed up, but it was 30 at the end.
1-2-3 INCH!
We started nearly on time. I'd gotten a very late start, and was fretting I'd be late for the hike, but smooth traffic the whole way resulted in a 15 minute early arrival. It was supposed to be a warm, but we got a chilly start in the fog. Soon we heated up on a steep uphill.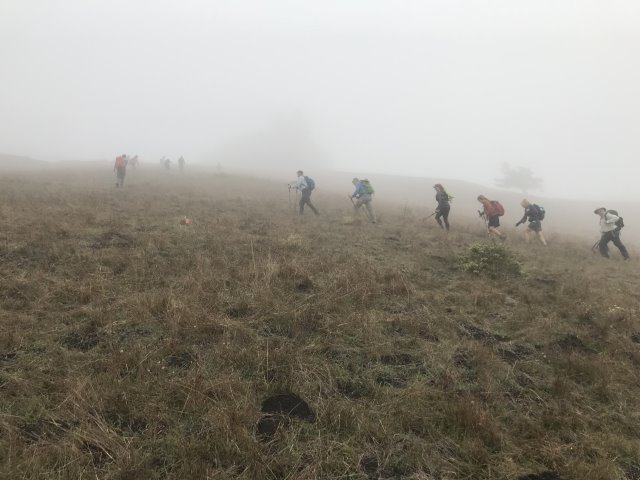 Foggy Start
Rather than taking the Sea to Sky trail, we headed off to the Raptor Trail at the start (to make it more of a loop). This trail ends up near the ranger's quarters, which are quite nice.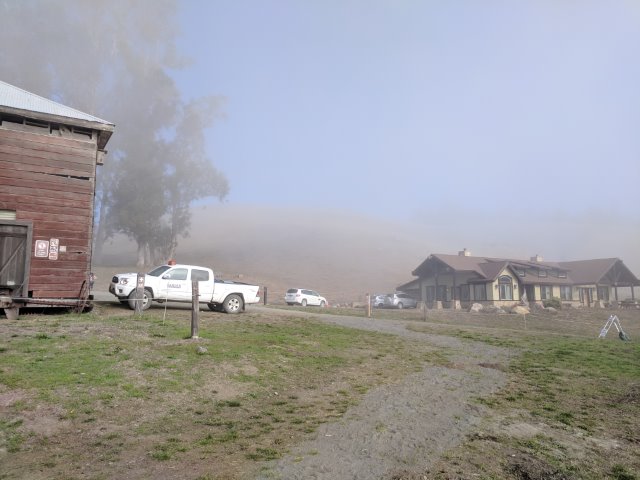 Nice digs
Soon we were heading back downhill, which is when it became clear that this hike would indeed have plenty of elevation gain. . .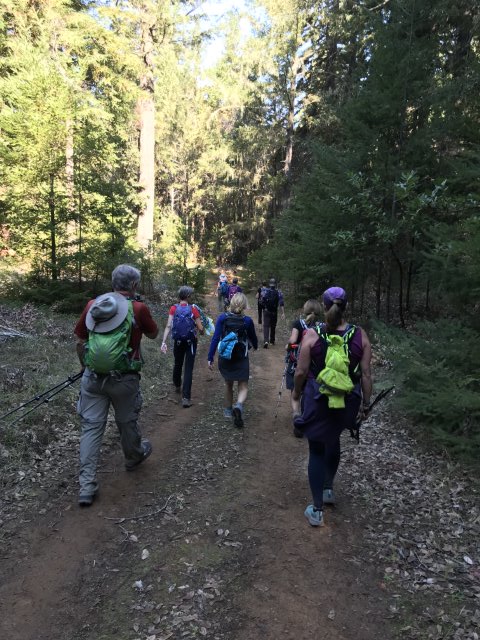 Down, down, down we go
The trail goes all the way down to the east branch of Russian Gulch Creek, which is around 400ft. A sign there warns that it's 1800 ft of elevation gain to Pole Mountain. We laughed at the warning--we're INCH!
And not much later, we were passing the happy sign below at the edge of the Pole Mountain property (which is separate from Jenner Headlands).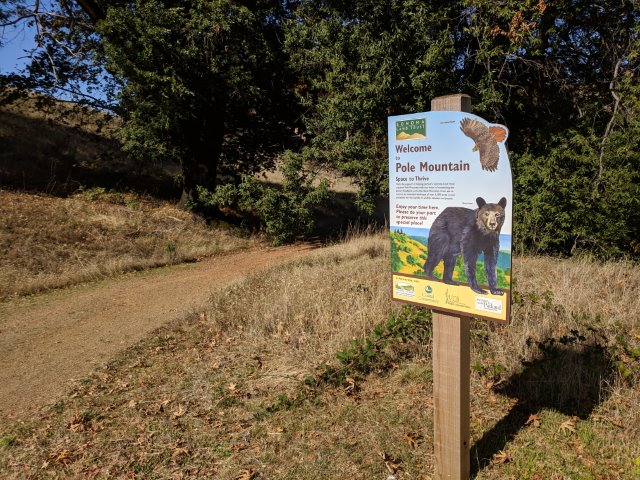 Almost there!
The summit of Pole Mountain has an old fire lookout guarded by an impenetrable fence (although Dan L noted I was able to use the trash can within the fence border by reaching over the top). The fence doesn't matter, fortunately, because the land outside the tower is the same height ("high pointers" care about these things).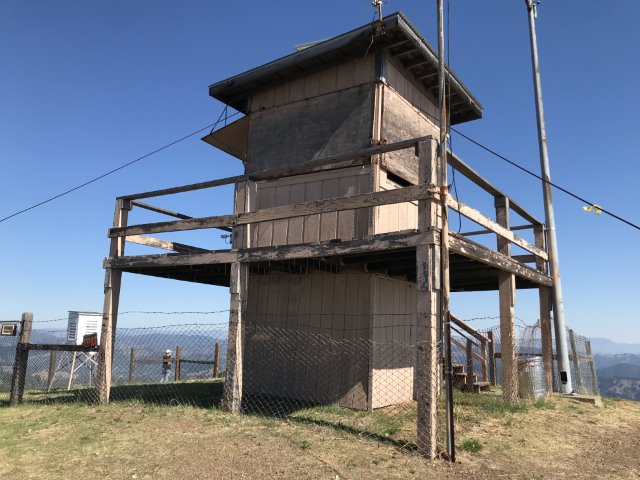 Summit Tower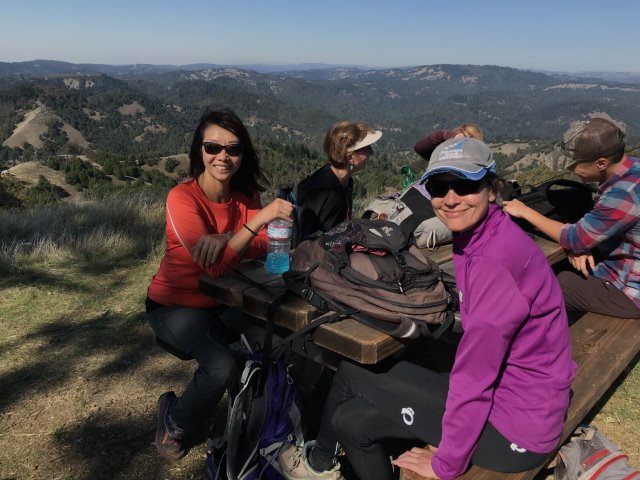 INCHers enjoy the views
We hung out for a while, but I couldn't keep the masses from leaving. On the way down we ran into the last few INCHers coming up: Chinyet, Yenya, Iris, Peter M, Arelene + Negendra (who'd started late, so this was the first time some of us had seen them), and Sandy F. No one looked too beat.
Now it was just back down to the start. But we wouldn't take Sea-to-Sky here either. Instead, we headed off to Russian Gulch to get our long-drive's worth. . .and make it a better loop.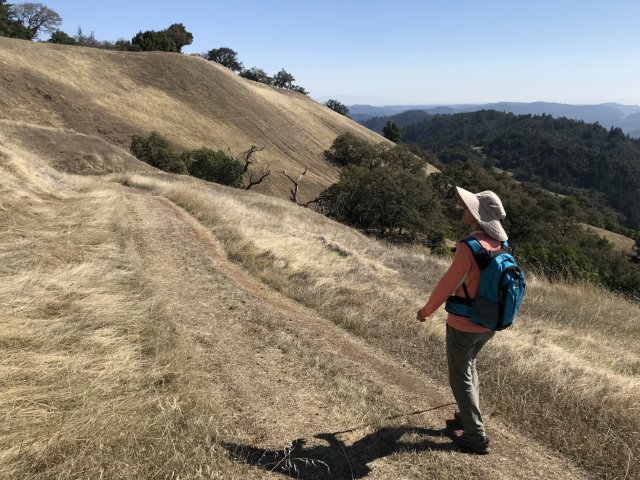 Heading down Sea-to-Sky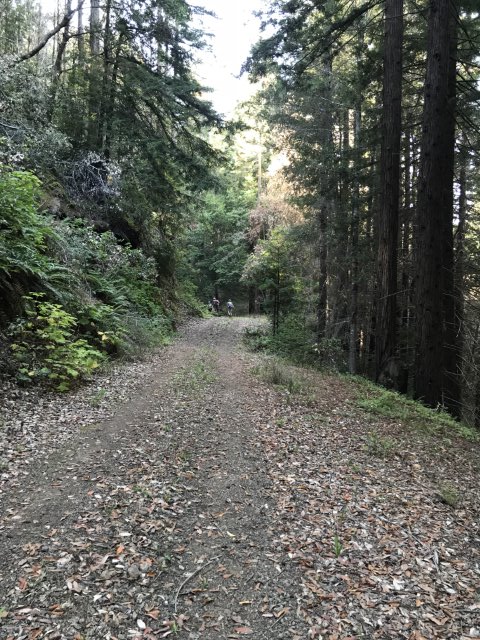 A section of Russian Gulch Trail
I thought this route would actually reduce the elevation gain a tad, but turned out to go pretty low before finally turning back up to head over a ridge to re-connect to the Sea-to-Sky Trail. So it's a little longer, but considerably shadier and definitely loopier, which was the goal.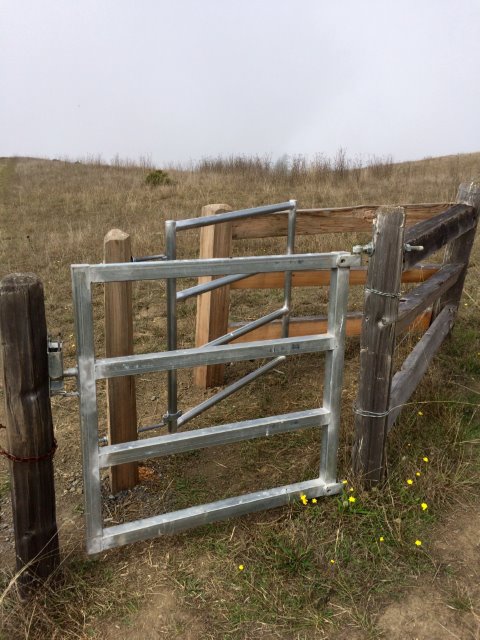 Complex gates were an interesting twist
In both directions, we ran into the gates such as the above. The entertaining aspect of them is that if you are hiking with someone else, you'll find yourselves in a bind while trying to go through back-to-back. Hard to explain, but you'll understand when you're there. No big deal, but novel.
Since Mihail was with me, he got to visit a few superfluous "peaks" on the way back. The first time was a mistake, while the second time was a marked overlook (on the map). But there wasn't much to "look over", because it was still foggy over the ocean. There was a little telescope nearby to view things in better weather.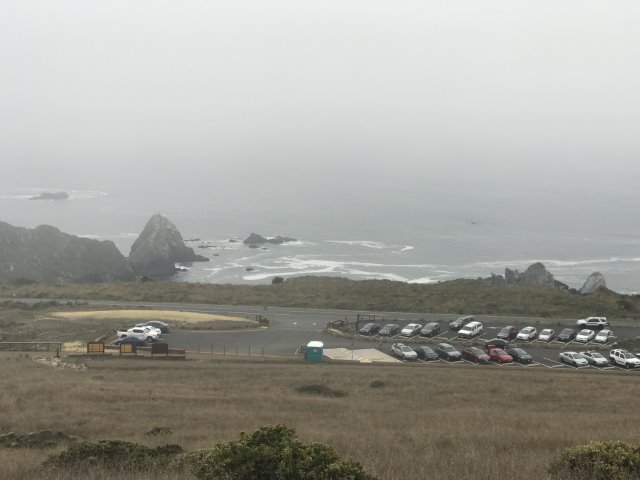 Back to the cars (and finally an ocean view)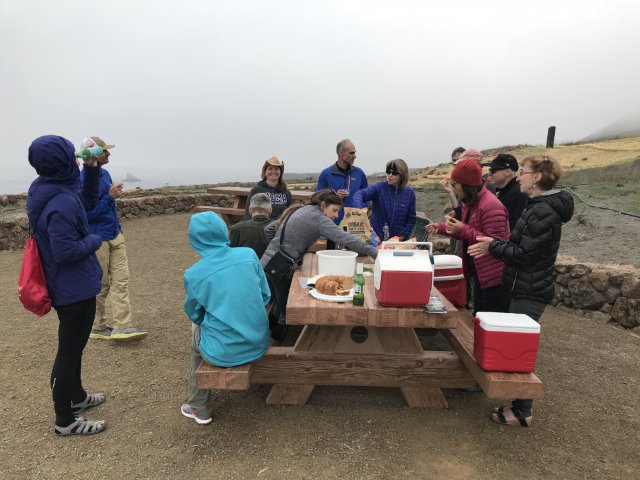 Post Party
Carol had warned us that there was no where to party in the parking lot after the hike. The only picnic table was a 0.1 mile walk back up the trail. That didn't deter anyone, and we had plenty of INCHers hanging out for quite a while waiting for the tail end of hikers. We had also been warned that it might be chilly/windy, and most everyone took that into account.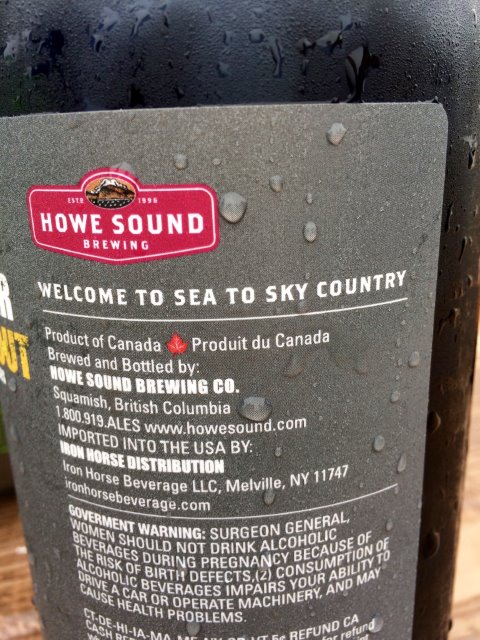 A BC beer welcomes us to "Sea to Sky" Country. This wasn't planned--what are the odds!?
But we weren't quite done. Once everyone returned, many of us headed off to The Blue Heron. This was the top suggestion from Carol, who lives nearby. We took up several joined tables. Since it's right on the Russian River, you can be sure they had plenty of Pliny on tap.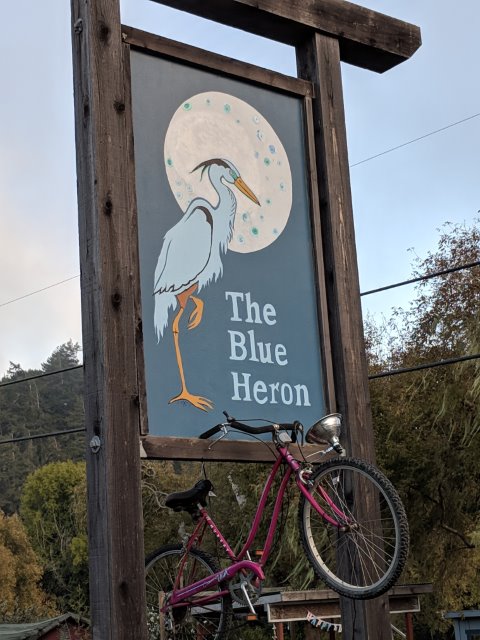 Post-post party in Duncan Mills, CA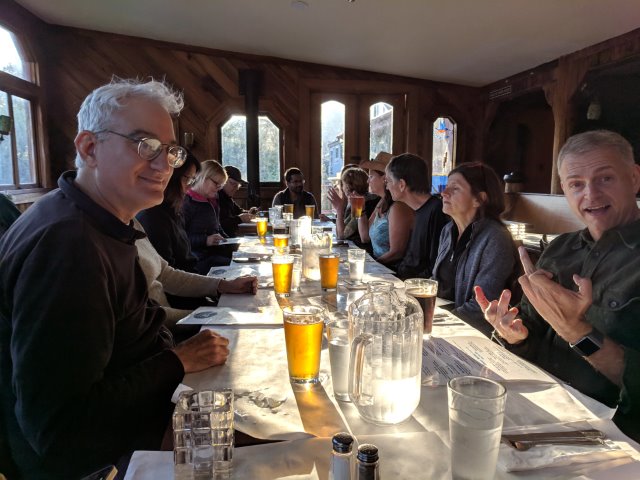 INCH is #1 twice
Yannick's video.
Milestones:
Ellen's 40th leaf
Sarbinder's 190th leaf







Pages maintained by Steve Walstra, Peter Saviz, and Russell Gee.
©2022 Intrepid Northern California Hikers