1269. Cactus to Tram (10/23/21)

Hikers (6): Alan, George, Jim, Peter, Rudi, Shuli
Distance: 9 miles
Rating: 5 difficulty, 9 beauty
Park info: Mt. San Jacinto State Park near Palm Springs

Write-up by George -- Pictures by Alan, George, Jim, Rudi, Shuli, and Peter
It was a MASSACRE! Only 50% of INCH hikers made it to the summit! But let me digress a bit... Alan, Jim and Rudi made it the whole way.
Rudi and I had a nice drive down taking the scenic route - 101, 46, 33, 5, 138, 14, 138, 215, 10. It was very windy in North Palm Springs the whole weekend, but anytime we went downtown there was no wind. Must be a big mountain somewhere nearby.
We were gonna meet up with Alan and Peter at 5pm at Dillon's Burgers and Beer, but Peter's flight was delayed and we figured we'd go eat sooner rather than later. We drove by Dillon's and it looked like a dingy biker-bar so we skipped it and went burrito hunting. After a few false starts looking for burritos, Peter texted they were 10 minutes from Dillon's so we doubled back. What could go wrong?
Found Alan and Peter in the dirt back parking lot. The parking was packed. We were going in the back entrance with feelings of maybe getting beaten up and stomped on by some local biker gang members. The karaoke was going full blast and most of the people in there were old. I mean canes, walkers and oxygen-tanks old ! (well, maybe a little bit of an exaggeration, but one guy was dancing while using a cane!). No bikers, just really bad singers. I would have preferred bikers because I was afraid Peter would get hold of the mic and start singing like mating cats. A few beers and good food made up for all.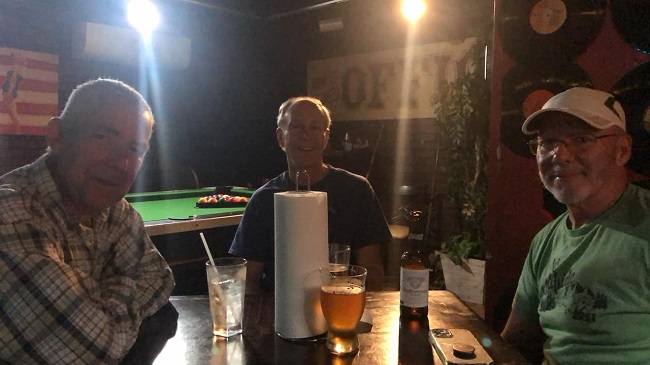 Keep the mic away from these guys!
4am - Peter shows up in the morning in his traditional hiking gear - tank top and thong, no I mean, shorts and t-shirt (I think that was a dream the night before). I'd been warning him for weeks about how it was going to be freezing and windy up top. It was a little bit warm at the start, perhaps 70. Jim and Shuli were planning a 5am start so it was the four of us. Peter: I wore exactly the same gear as last time for good luck. It didn't help.
We saw some people in the parking garage who were obviously hikers. We also saw several groups walking to the start. When we started the hike we could look up and see headlamps going quite a ways up. There were a lot of people on the trail that day. I bet at least 50 if not 100.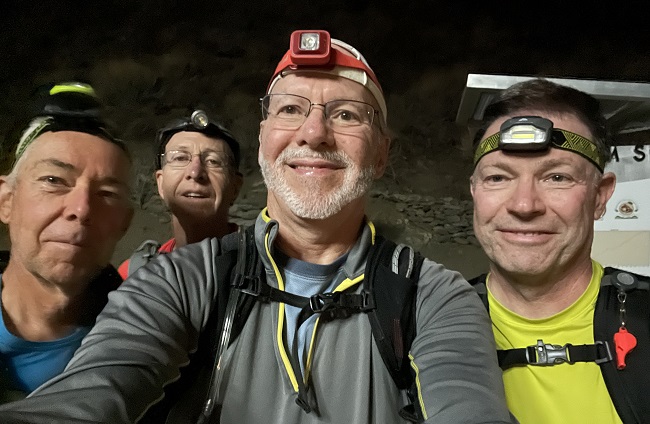 All smiles at 4am -- fools!
1-2-3 INCH!
Alan started off with a bang, and Peter with him, Rudi and I settled into an easy pace according to plan. Pretty soon we had some nice views of downtown.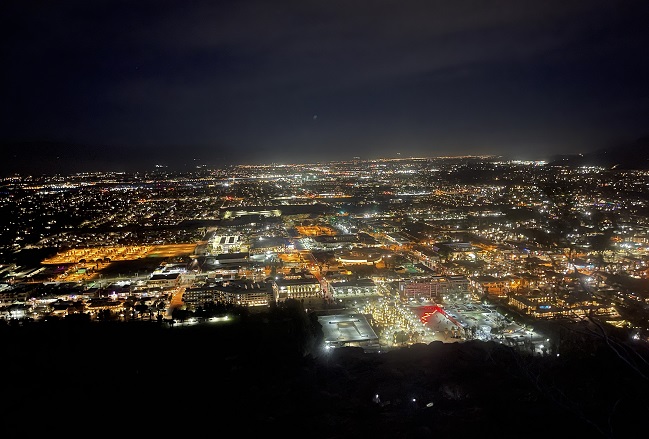 Palm Springs at night (see headlamps coming up the trail)
At a trail junction a couple of miles later we saw someone coming towards us from a side trail from a different trailhead. A short while later I hear Peter talking to Rudi - it was Peter who had taken a side hike down the wrong trail. Peter: Just what I needed -- some extra mileage. At least I managed to figure out before too long that I was on the wrong trail. All the headlamps up ahead of me had disappeared. It was pitch black, expect for many creepy pairs of eyes of desert creatures watching me. Halloween arrived early!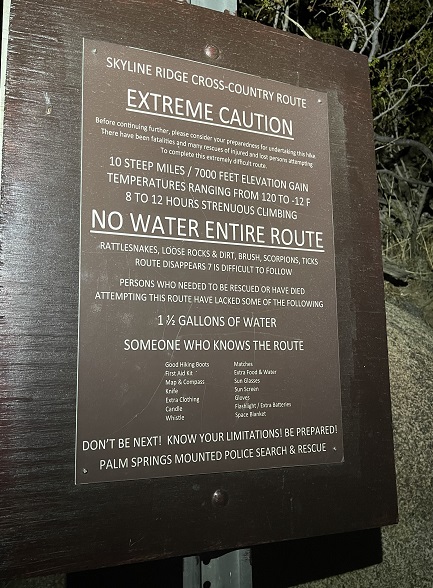 If it has a caution sign, Peter wants to do it!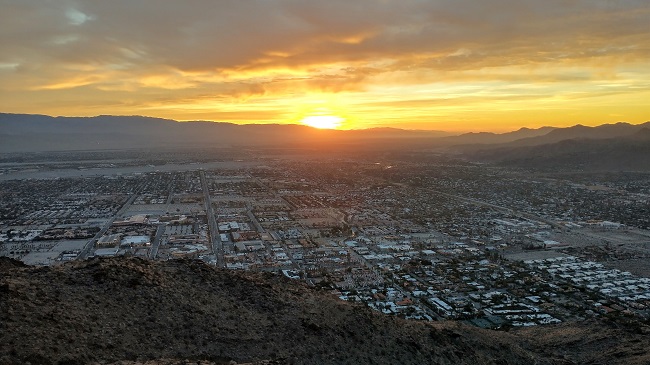 The sun was starting to come up ...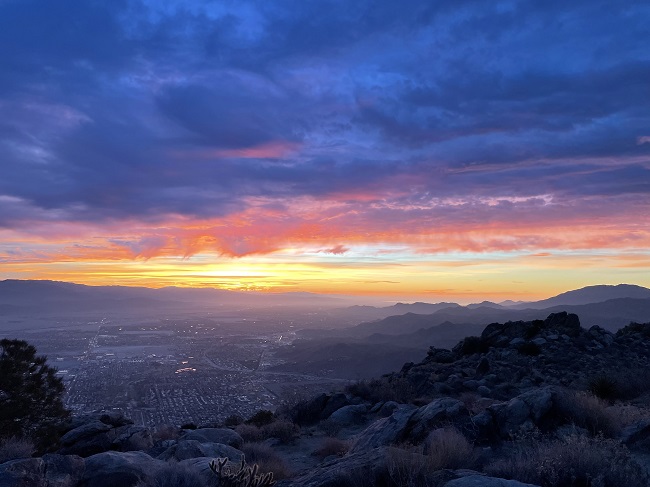 Look at those colors!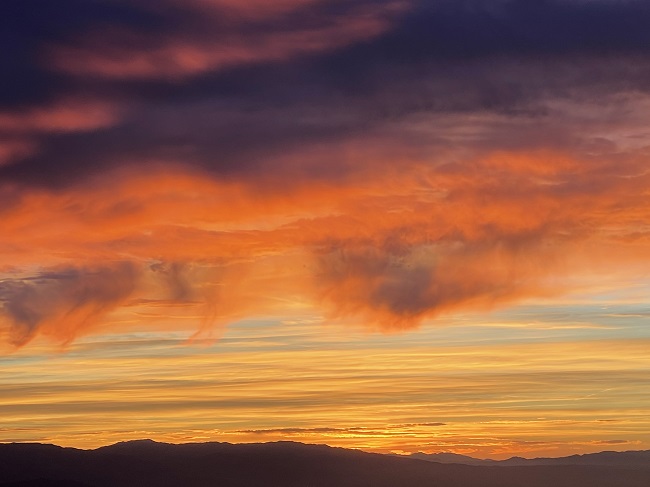 Gorgeous sunrise!
The three (Stooges) of us pretty much stayed together until we got to 8400 at the Tram. 8000 feet of gain but only half the mileage and about 2500 feet more gain. Easy peasy! The tough part was over! What could go wrong?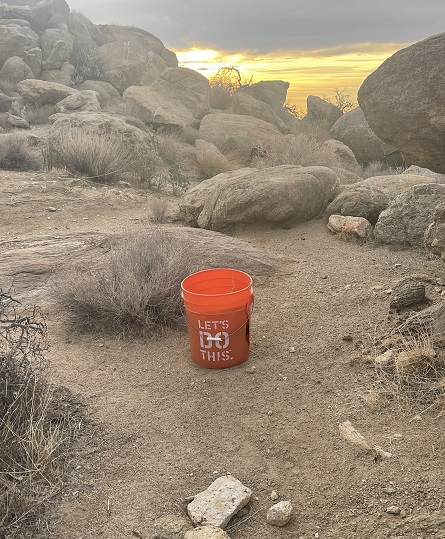 Early encouragement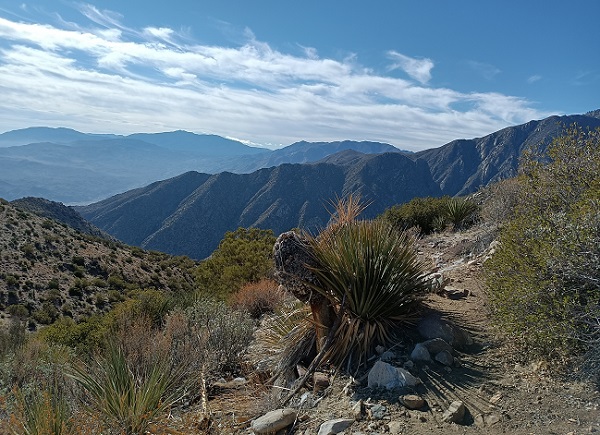 Nice views along the way (and many opportunities to get stabbed)
After the half-way point Peter started asking me for stats. How far had we gone, how far to go, how much more climbing to the top. I kept giving him info and he kept claiming I was telling him the same info about the amount of climbing. It seemed like we always had 2000 feet to go, and yet he sees the top just above us, he could almost reach out and touch it. He was getting crabby - little did I know his back was killing him and he figured it was the steepness of the trail. At one point he asked for stats and I said 4000 feet and 10 miles and he yelled back "FU"!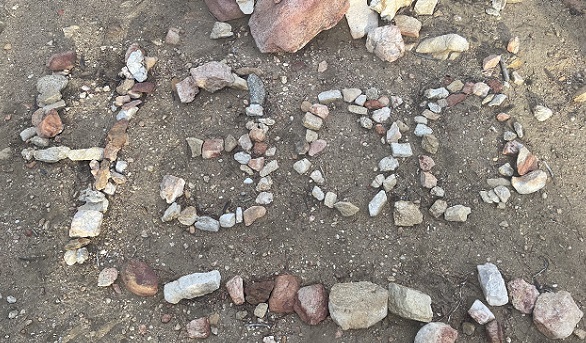 Halfway up!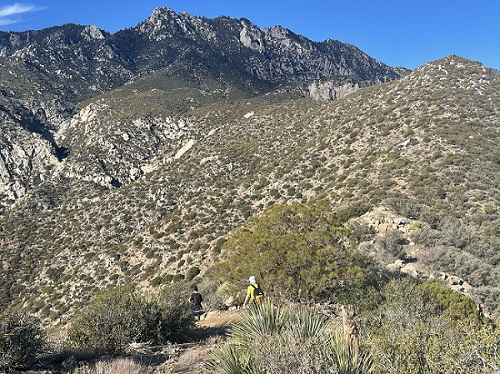 The only portion of downhill on the whole freaking hike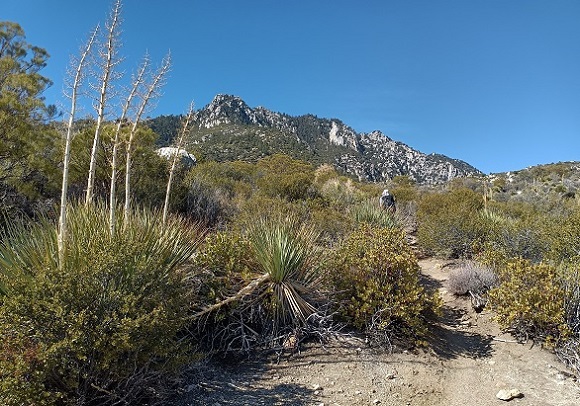 Shuli sees the tram station is so near but yet so far
At about the 3/4 point of the big climb the trail was blocked by a young lady who had zoomed past us but was stopped because some old dude was talking her ears off. She escaped and I was worried we were next, and sure enough he starts with "You see that tree back there? We call that the Jesus Tree because when you see it people say 'Jesus, we finally got to this point!'". It turned out this was his 60th time doing this climb! Okay, now we were interested, especially Peter. He likes knowing about people doing epic hikes. His name is Michael, he started hiking 6 years ago, and is now SEVENTY-FIVE! Very impressive. That is 60 times doing the C2T, but he has done the C2C a number of times as well. The people who work in the tram station know him by name.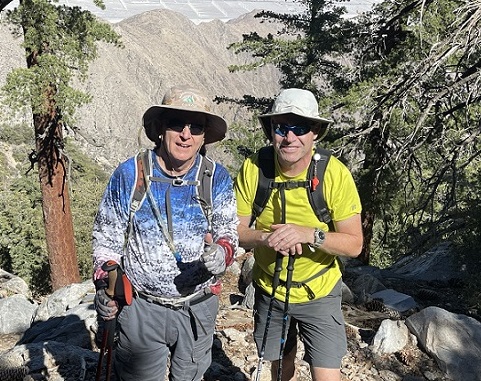 This is Michael -- legendary 75-year old C2T hiker, doing his 60th climb up to the tram!
The weather was quite nice, mild breeze, pleasant temps. Peter was giving me grief about all the clothing he was carrying. At one point I overheard him complaining to Rudi about my forecasting abilities and I made a comment back and Peter said "Oh, so you heard me?" Yup. He was whining more than I usually whine! But he was correct, I never needed my 2 pairs of gloves, wind/rain jacket with hood, down jacket, or warm neck buff. Just the stuff I need on pretty much any INCH hike.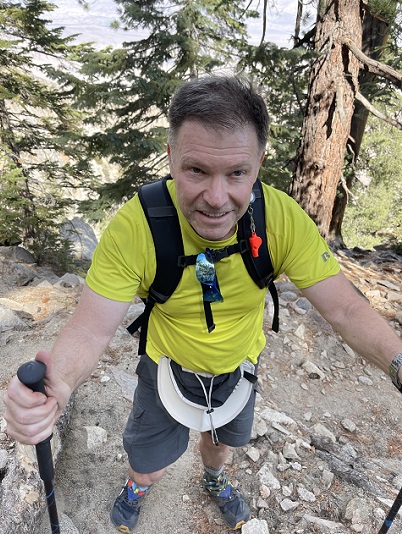 "If I can catch you, I'm gonna murder you, UG!"
A short while later we spotted Grubb's Point and felt like we were getting close. There was a tiny bit of snow on the trail just before this.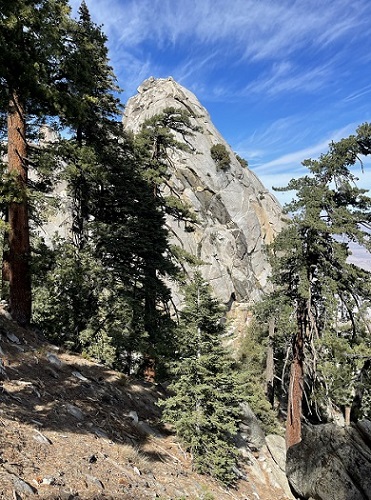 "How much more climbing, UG?"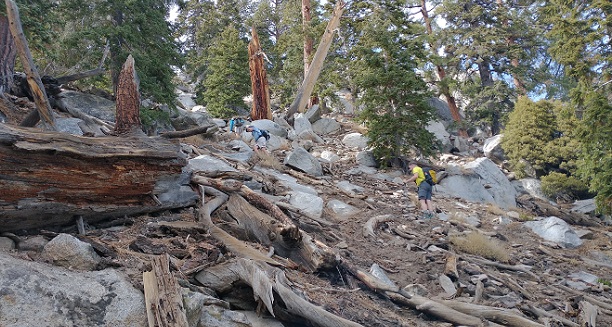 Steep trail through rough terrain near the top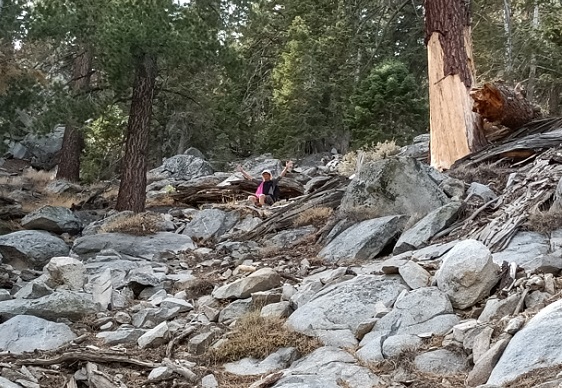 Jim taking a break during the steep section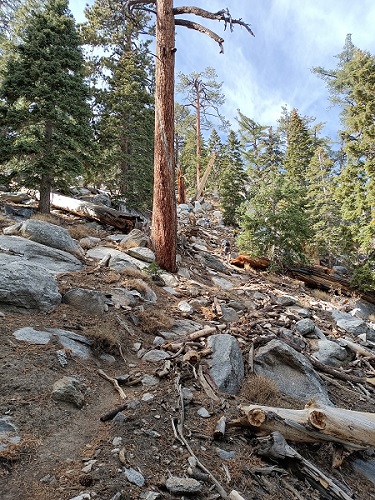 The endless vertical climb continues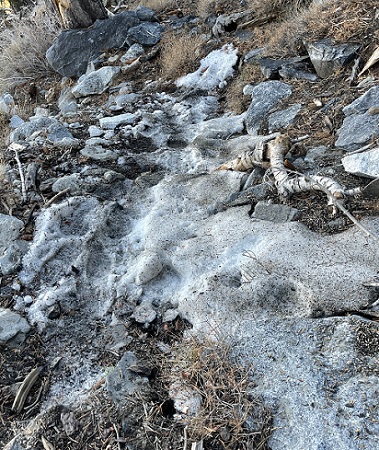 Glad we brought all that snow gear
At our planned pace, we expected to get to the Tram Station about 12. It was 1pm and we weren't quite there. Shuli and Jim started just after 6am but managed to catch up with us just before reaching 8400 feet. Good job! Everyone started going every which way when we got near the tram. Some wanted to go up and buy lunch, some stayed below to eat carried food, and some went part way up then turned back, some headed to the Ranger Station to get water. What could go wrong?
I was just finishing eating pizza all alone, when Peter finally showed up. He had been taking a bath in the downstairs bathroom and reorganizing his pack, so that added 20-30 minutes to the clock. He grabbed beer, pizza and chili beans for lunch (what could go wrong?).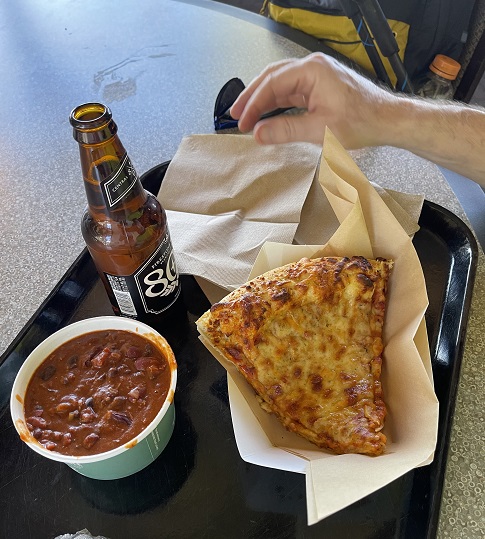 Peter's downfall
Then Jim zoomed by after picking up some pizza for Shuli - what a nice guy! By the time we got back outside and to the Ranger Station it must have been 2 or 2:30. Rudi had taken off about 20 minutes earlier after getting water and eating. The water was terrible. It had a horrible chemical taste that turned my stomach right away. I had already contaminated my hydration bladder with some of it and I knew it would upset my stomach. But you have to have water to hike 11 miles at altitude, right? What could go wrong?
Four of us got started again (Peter, me, Jim, Shuli), but Peter was making noises about calling an audible and doing the C2T instead of C2C. I figured he would start feeling better as we got moving. I mean beer, pizza and beans will make you feel better, right? But his back, knees and feet were all hurting. His back had been bothering him on the big climb. I got him to take some Ibuprofen but it wasn't working. We'd make it 1/4 mile and he wanted to stop, got him to go another 1/4 mile and he wanted to stop. He finally said let's go for it. He figured out the times in his head based on a 2 mph pace. I tracked us for a little while and we were doing 1.6, 1.8, 1.7, 1.8 and so on. When he heard that he threw his poles against a log and said "That's it, I'm done!". He knew we would be out for hours and hours in the dark and it was getting windier and windier. And I think the beers at the Tram were calling him as well. The two of us turned back. With my supply of contaminated water I was in no mood to push to the summit. Jim had zoomed ahead before the audible, and was in search of Rudi to let him know of a possible audible.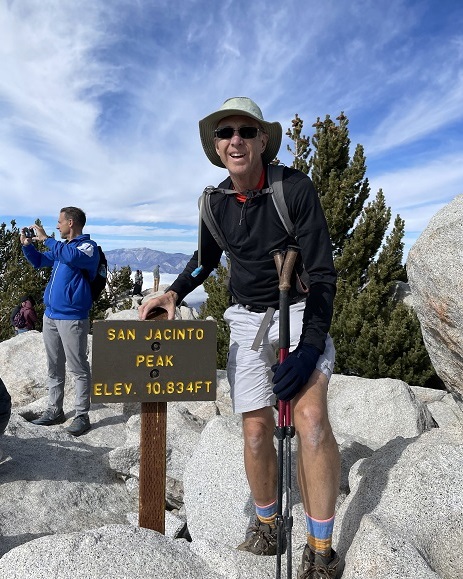 Alan was the first to the summit ...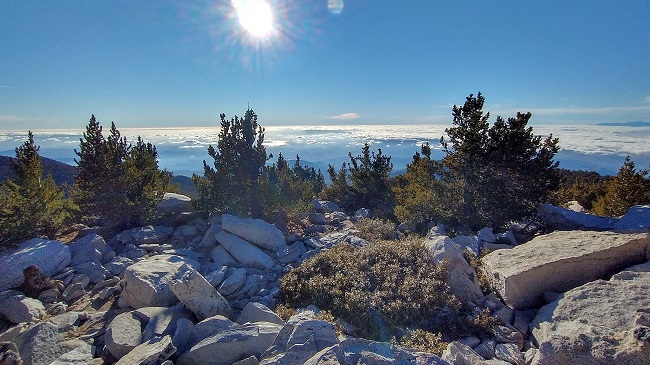 ... then Jim (not shown) ...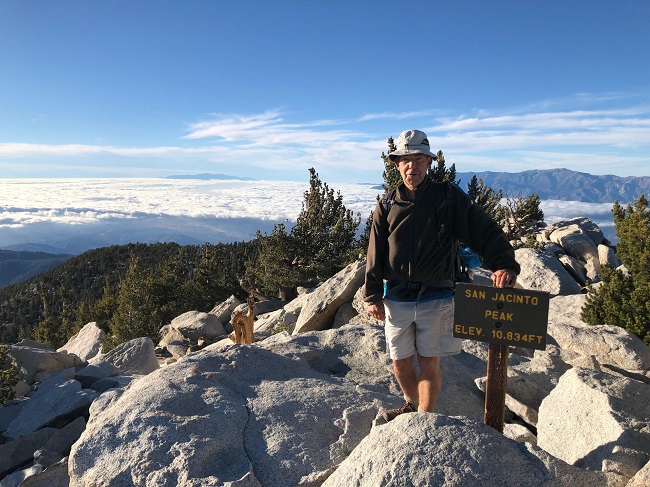 ... and Rudi. Great job, guys!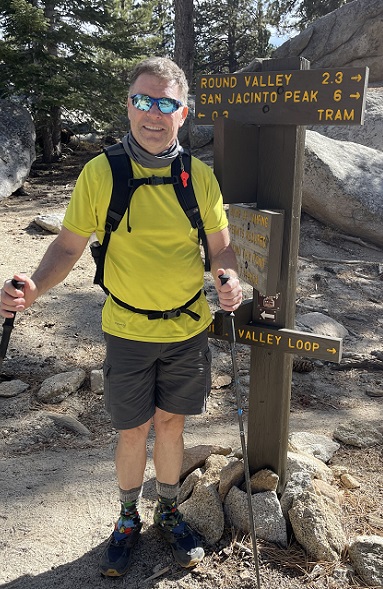 Returning to the tram for beers brings on a smile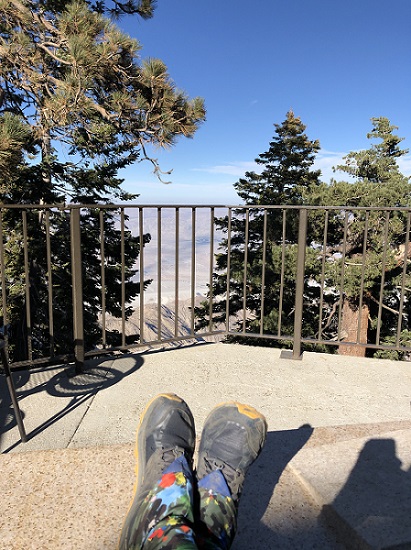 Peter starting to feel much better
Hanging out at the Tram with Peter was nice. Sitting in a chair, warm sun coming in the windows, beers. We kept wondering who was where, and when they would get back. We saw Alan first - he got back in great time, 7 hours for the big climb, and 4 more for the summit. We saw Shuli next, she had decided to turn back. Then Jim showed up and he told us he had seen Rudi, but hadn't seen Rudi until near the summit, and he was doing fine. Both made it to the summit in good shape. Jim ran back so he had daylight.
While waiting for Rudi and after some food Alan and I got in line for the Tram so we could get a Lyft back to the cars at the trailhead and we could drive back and pick up the rest. First time all day everything went according to plan!
Rudi walked back in the dark for 1.5 hours. But even on a rocky trail he is sure-footed, and he has a good sense of direction and got back about 8pm looking fresh as a daisy. Peter was very impressed by Rudi's push for the top and hike back in the dark.
Note 1: Rudi carried a 1 pound can of beans all the way to the summit and back and never got to eat them until back in the motel. But even worse, I just found 4 oatmeal raisin cookies in my pack and ate them while writing this. I would have loved to have eaten those cookies on the trail.
Note 2: Pulling out of the motel parking lot at 7:50am and someone walked by in front of us indicating they could use a light for their cigarette. Mind you it was 8am, very windy and cool, and this person was wearing a pink fluffy jacket with hood but had bare legs and some slip on sandals. After indicating I didn't have a light for her she gave me an o-darn look and kept on walking around the parking lot and over to the nearby restaurant. I think she was looking for some "business".
Note 3: We had an uneventful drive home and only started seeing rain in South San Jose and it was light. But it got stronger and windier as we drove north on 280. This morning after seeing all the accidents and wreckage in the Bay Area we realized we were lucky. Got home about 3pm. Peter got delayed 3 hours and probably ended up home about 7. Sometimes driving is the better option than flying to L.A. IMHO. Peter's note: I didn't mind sitting at the airport bar and watching football
Note 4: We stopped at the south entrance to Henry Coe - Bell Station. It is now a nice tourist stop for fruit, nuts, stuff in jars and knick-knacks. Rudi got some very nice grapes and apples and I got walnuts. All locally grown and really good, and okay prices. All the stuff in jars was incredibly expensive.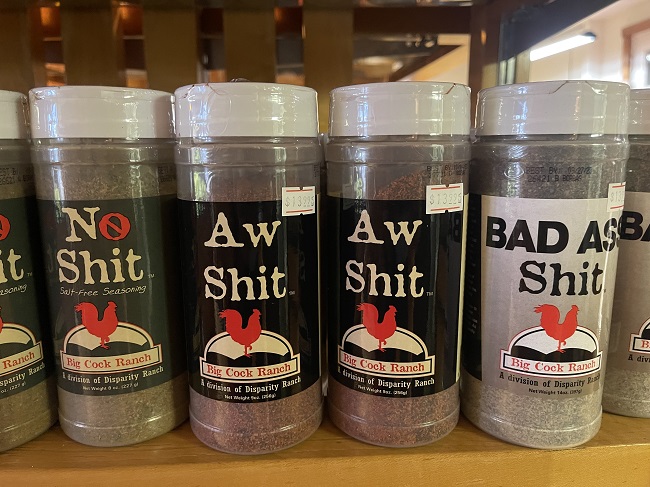 Couldn't figure out which one to get for Peter
Peter's notes: I should have stuck with my original plan to start at 2am, like last time. I got cocky with a later start, and Mother Nature bitch-slapped me and put me in my place. Two extra hours hiking in warmer-than-expected temperatures up the steepest part of the climb at noon with a heavy pack and sore legs and back did me in. The extra pounds I put on during the pandemic didn't help. Lesson learned. I'm disappointed I didn't make it to the summit, but did not want a repeat of Jolly's recent adventure. I'm glad she's OK!






Pages maintained by Steve Walstra, Peter Saviz, and Russell Gee.
©2022 Intrepid Northern California Hikers