1104. Cactus to Clouds (10/14/17)

Hikers (22): Alan, Alan B, Andres, Carissa, Chester, Chinyet, Christina, Dan Le, David, Giulia, Jane, Jeff, Jim, Karl, Kendra, Manfred, Mihail, Nadia, Peter, Sarbinder, Shuli, Sophie
Distance: 21 miles
Rating: 5 difficulty, 6 beauty
Park info: Mt. San Jacinto State Park in Palm Springs

Write-up by Peter -- Pictures by Chester, Giulia, Jeff, Karl, and Peter
I'd been looking forward to this hike for a long time: a lot uphill, not a lot of downhill, cool temperatures, and darkness so I could not see the drops. Just perfect!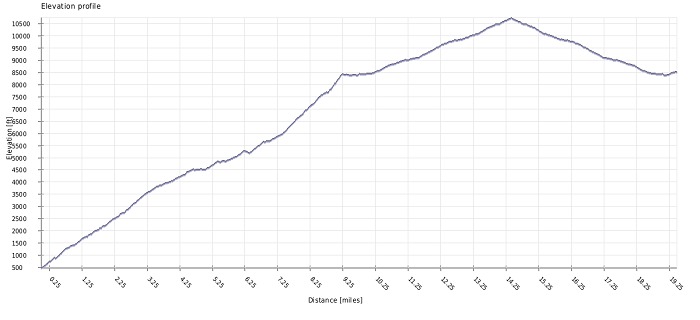 Love that profile -- the Mona Lisa of hikes!
The Hiking Guy's C2C writeup does a great job of capturing the details, so I won't repeat it here.
1, 2, 3 ... INCH!
We had a staggered start, with about half the group heading out at 2am and the other half at 5am. The early group included the slower hikers (me), but we did have a few zoomers -- Sarbi, Jane, Andres. Let's get it on!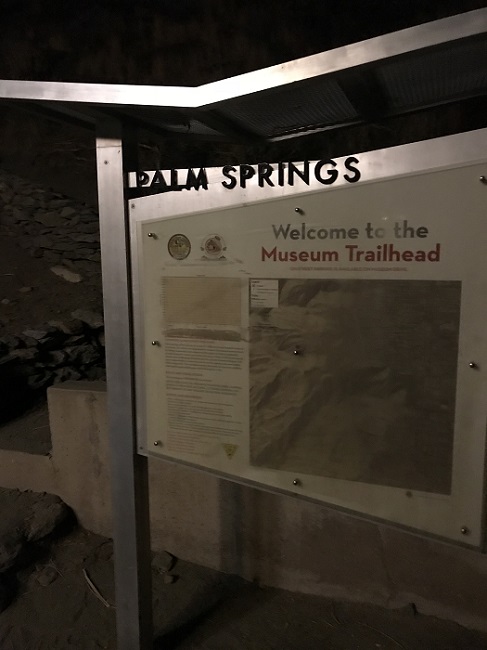 2am start ... let's get this started!
It was 71 degrees at the outset. Sweat was dripping down from my headlamp band right from the get-go. I was hoping things would get cooler as we headed up the mountain -- fortunately, it did.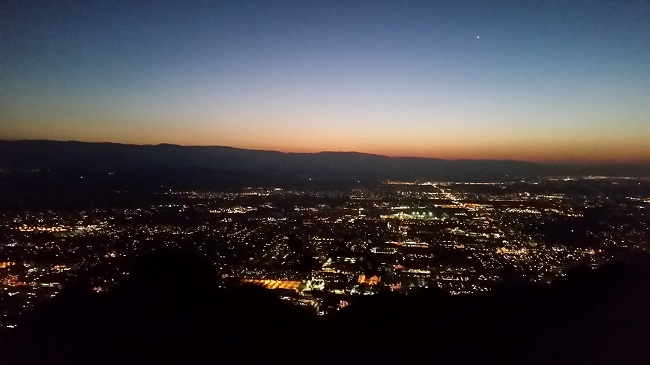 Nice view of Palm Springs at night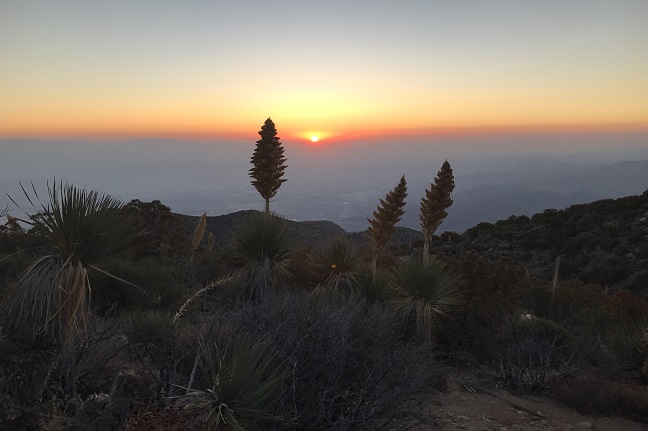 Sunrise as we headed up the hill
The first few miles were fairly smooth sailing. It was nice and cool, and we just followed the headlamps of the front-runners up the hill. There were a few wrong turns and inadvertant shortcuts here and there as it was hard to follow trail in the dark, but we found our way eventually. As the sun broke, we could see what was up ahead. Sometimes, it's better not to know!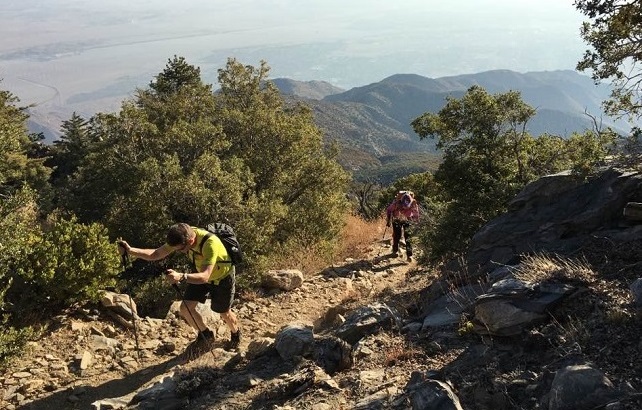 Then the steep climb began ...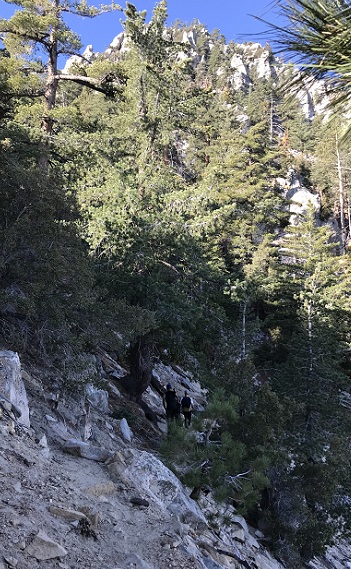 ... a lot more vertical to go
The two miles before the Long Valley Ranger Station were the worst. Steep, steep, steep with no end in sight. I was starting to feel lightheaded from a combination of altitude and hunger, but I slogged my way through, knowing it would get better soon.
I made it to Long Valley in 7 hours (hold that thought). It felt good to finally sit down. I stayed there for about 45 minutes, eating half my sandwich and just recovering. It was pretty chilly so I had to head out before my muscles got too tight. Besides, I had set a goal of getting to the summit in 10 hours.
I kept slogging up the hill. The last section was "only" 2500 feet elevation gain over 5 miles, but it felt a lot harder. With about a mile to go to the top, Manfred passed me like I was standing still. I had a 3 hour head start over him, and he just crushed me! He made it to the top in just under 7 hours (the time it took me to get to the Ranger Station) and I did it in just over 10. Sarbi, Andres, Alan, Chester, and Carissa all got there before me. I did manage to overtake Jane, but only because she wasn't feeling well because of the altitude. That's the first and last time I will ever get to the top before her.
Finally made it to the top -- whew!
I rested at the top for another 45 minutes before heading down. The second pack was starting to get to the summit ... Mihail, Chinyet (not feeling well because of altitude), Giulia, Jeff, Jim, Shuli ... and I saw others as I made my way down the hill ... Sophie, Christina, Alan B. About halfway down to the Ranger Station, I saw Karl, and, a little later, Dave and Nadia coming up the hill. I knew they had been struggling, but they did not give up. Good INCH spirit!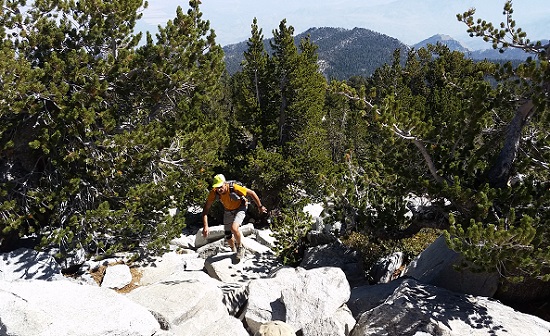 Mihail showing good form on the scramble to the top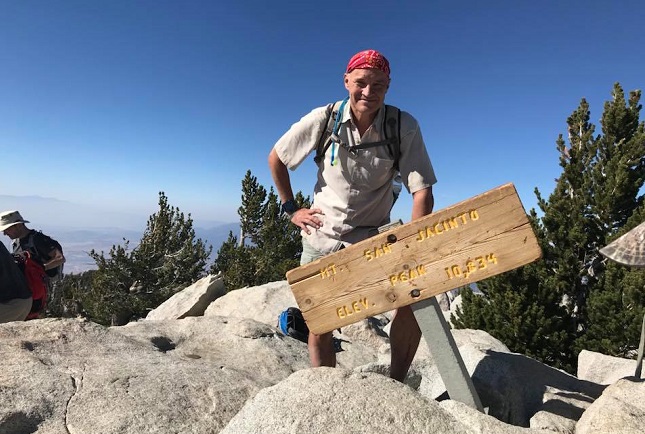 Karl was all smiles when he got to the peak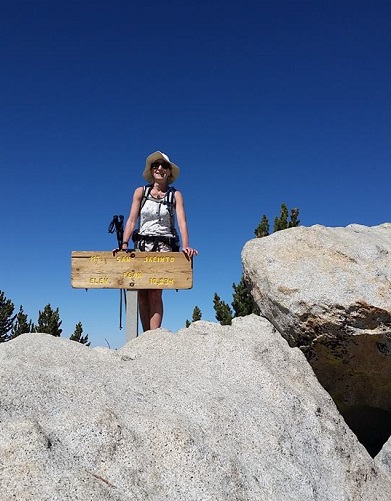 Giulia was queen of the hill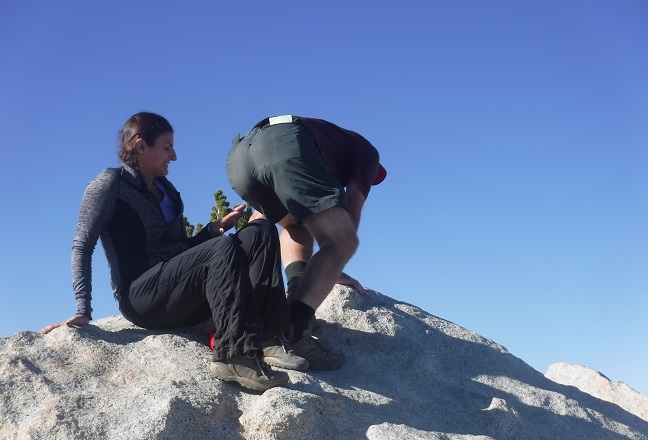 Proof that David got his ass to the top (Jeff's comment :))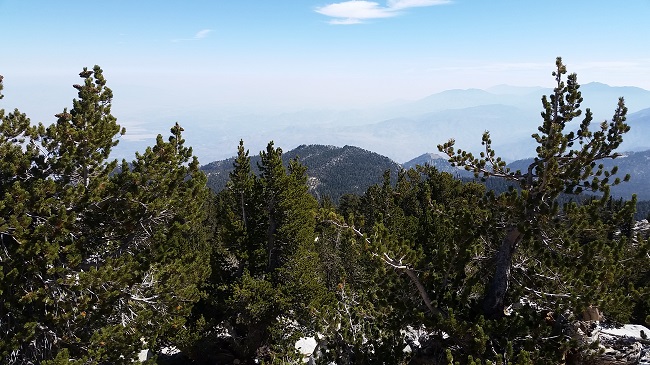 Beautiful views of SoCal from the top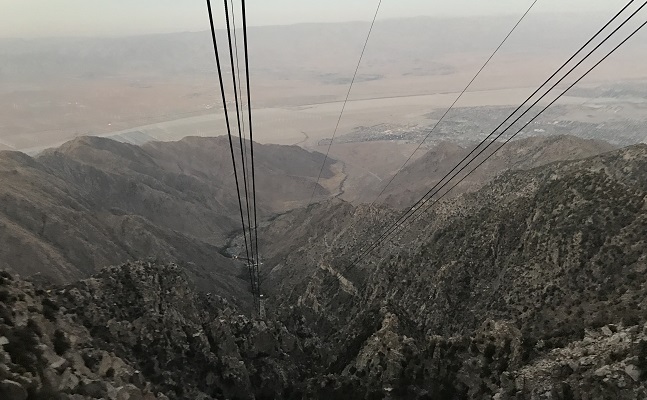 The scariest part of the hike for me was the tram ride down!
Overall, a great hike. Thanks to all of Big Henry's beatdowns, it did not seem that hard for me, but it was definitely challenging. If I had to do it again, I would take less food/water to lighten my pack and make everyone walk all the way back down (C2C2C) to avoid all the car shuttle problems at the tram station :)
Great job by Nadia on doing Cactus to Clouds for her first INCH hike, and Honorable Mention to her dad, Saeed, for doing the hardest part up to the Long Valley Ranger Station before getting sidelined with a bad knee.
Milestones:
Highest point in Riverside county
Dan Le's 1st leaf
Nadia's 1st leaf







Pages maintained by Steve Walstra, Peter Saviz, and Russell Gee.
©2022 Intrepid Northern California Hikers