1105. FiddleHole (10/21/17)

Hikers (18): Adam, Alan, Christina, David, Giulia, Jim, Kathryn, Kendra, Manfred, Mihail, Milon, Praveen, Russell, Sarah, Sarbinder, Shuli, Sophie, Steve
Distance: 17 miles
Rating: 4 difficulty, 8 beauty
Park info: Las Trampas Regional Wilderness near Danville

Write-up by Steve -- Pictures by Alan and Steve
I'd spent the previous weekend hiking 31 miles in the 7 Park Challenge while the rest of INCH was doing Cactus to Clouds. So figured it was a good time to look for a reasonably hard hike while everyone was extra fit from the prior weekend.
Las Trampas has long had a spur trail heading SE from the north park of the park. Every year or so I notice it, consider planning an out-and-back segment along the trail, and then scrap it because it would just be too silly. This time, while peering down from the heavens (as Google Earth allows one to do), I was surprised to spot a parking lot at the end of the trail. Turns out the Elworthy Staging Area officially opened July 15th, 2015. It's not very big, but considering I wouldn't have time to write up a notice until Thursday night, it was a safe bet we wouldn't get too many people.
18 people in 15 cars showed up, confirming that INCH sucks at carpooling. Then again, it also shows that this trailhead doesn't get much love besides the locals who live within walking distance, since every car there was INCH. The warning about the parking encouraged many people to show up early. In fact, if it weren't for Jim and Shuli, we could have started a few minutes early.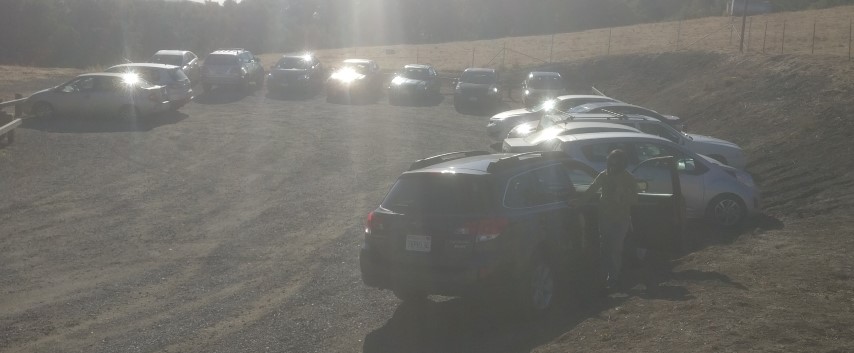 INCH takes the entire parking lot -- and it was sunny
1-2-3 INCH!
The hike started off with a steep climb up Fiddleneck Trail. Much like Steer Ridge in Henry Coe, we had a quick separation of hikers after only a mile of hiking. I had warned that any fast hikers would be "required" to do some bonus elevation if they were around when that opportunity arose. That happened a bit after mile 2 to Sarbinder, Mihail, and Manfred, who I took on a half-mile, 200ft detour. After snagging a cache near the end of that detour, I passed David, who assured me he was the last person. So that little "delay loop" worked out nicely, and provided an opportunity to see most people a second time along the hike.
From the start of the hike to its intersection with Del Amigo Trail, we had four miles of new-to-INCH trail. That's sort of surprising, considering INCH's rich history in Las Trampas, according to semi-official hike historian Peter Savitz. And it was quite a nice ridge line, with great views of Mt. Diablo (no surprise) and the interior of Las Trampas.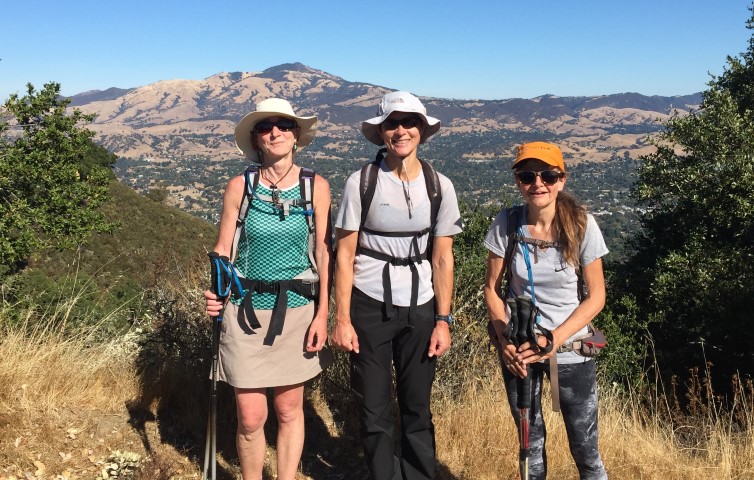 Diablo Views (also Giulia, Christina, and Sophie)
One other trail we've never taken in the park is the piece of Mahogany Trail that connects Chamise Trail to Trapline. That's because any logical routing of a hike either goes left or right toward the top of the ridge, whereas the connector enables a sort of zig zag. So today we'd do that zag, and it was actually smarter than expected, because going down Trapline would have been pretty miserable (as several people mentioned at the end of the hike). Plus Mahogany is a nice, non-trivially engineered, horse-forbidden trail.
Crossed the road to the Bollinger Creek Staging Area and started up the second climb of the day: Rocky Ridge View Trail. Was happy to see a large group of INCHers on the trail (rather than the road), as most people walk up the road oblivious to the trail until much later. This is where I learned that Sarah and Sophie had not taken Mahogany Trail and yet did not appear to be ahead of everyone at this point, which seemed odd.
Next trail was Sycamore, which heads down to Devils Hole. Since this is a trail, rather than a road, it seems to receive a lot less love from the Regional Park. The trail itself was is pretty good shape, but nature was doing a good job reclaiming it from all sides.
Sycamore deposited us on Devils Hole trail, and little higher than we normally get there (from Rocky Ridge Loop Trail in EBMUD). Devils Hole, being the midpoint of the hike, is why the hike was named "FiddleHole" (the "Fiddle" coming from the first trail of the hike). Several people mentioned they had Googled "FiddleHole" and gotten a match from the Urban Dictionary. Well, that wasn't the intention. . .but I'm not changing the name! Perhaps I should submit a different entry referring to this wholesome hike.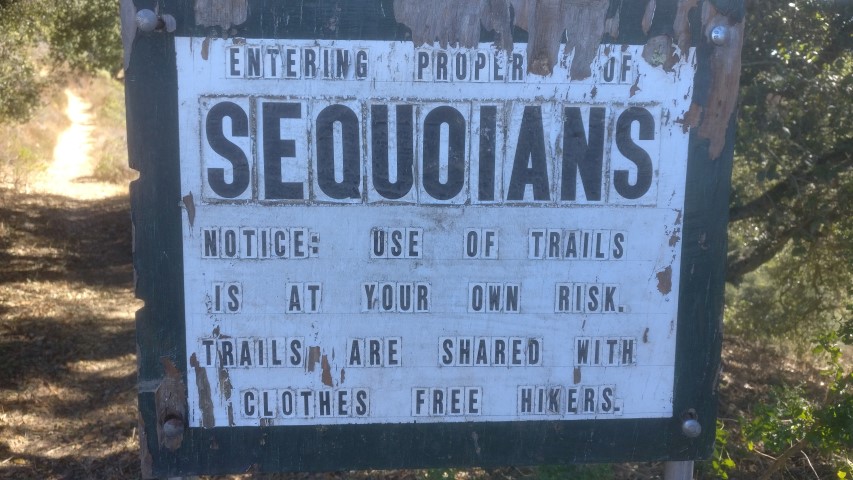 Speaking of wholesome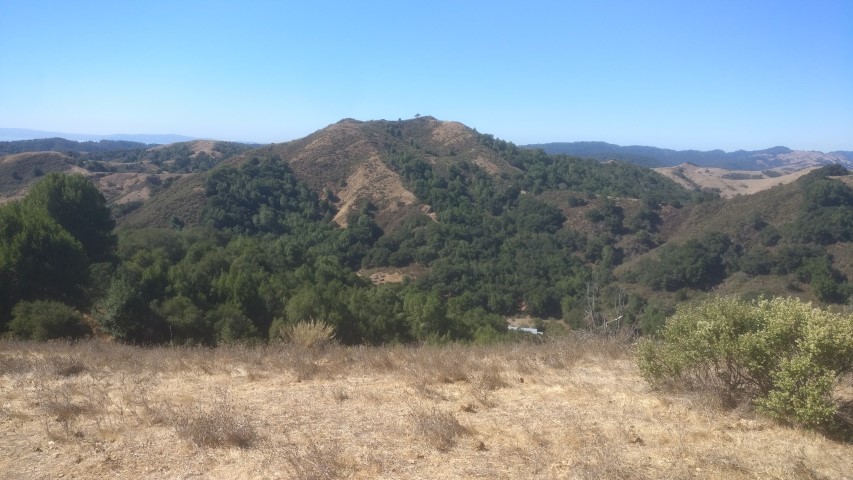 Nice angle on Ramage Peak from near Devils Hole
From Devils Hole, it's up, up, up for the third climb of the day. I took a slightly longer route to visit an adjacent trail and also take an old trail that was clearly designed for the park, but abandoned. It's a fun trail, which makes it better than the fireroad by definition, but the route to it is not easy to find until you know where it is. Ran into Kathryn and soon Praveen after coming down from that route.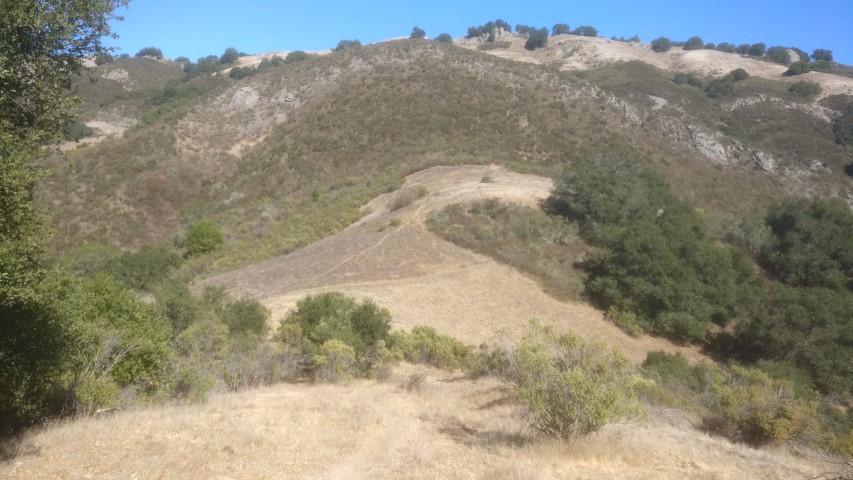 The aforementioned trail switchbacks to the right-hand spine of the chaparral-covered hill
A bit up the hill I passed Adam. He was out of water. I told him there should be water in the corral at the bottom of Elderberry Trail. He told me he'd been expecting to get water at the Bollinger entrance, but apparently it wasn't running. So maybe Elderberry wasn't a guarantee either, since they're probably on the same pipe. I assured him that, if worst came to worst, there were plenty of spring-fed horse troughs along the trail.
Finally attained Rocky Ridge, and was happy to know there was only one more big climb left for the day. Ran into Kendra a few times here, as she was running to and fro caching along the route. We both knew of a cache near the top of the Devils Hole Trail and, when eying the 0.1 mile rugged-looking off-trail distance to that cache, independently decided it wasn't worth the effort. Surprising what a few steep miles of hiking can do to your conviction.
At the bottom of Elderberry, I still had water, but it felt a bit light. Was happy to find the water was flowing, albeit slowly. Seemed like a pressure problem, as the water fountains weren't "fountaining", but the side taps worked. I heard later that Sarah had tried all the fountains in the same area except the one that worked. D'oh!
From there, I crossed the street and took the old closed Bollinger Creek trail. This 0.11 mile segment--still on the old maps--connects the end of the Elderberry Trail to the rest of the park. They closed it while building a new parking lot, and never re-opened it. Kendra wasn't going to disobey the signage, so ran into her 0.11 miles later where the old trail connects with the new parking lot. But I wouldn't see her again until the end of the hike, presumably due to caches.
Climbed up a bit of Mahogany before taking Trapline. Despite being a fairly cool day, the trail seemed steeper than remembered (which, 9 times out of 10, would have been on an energy-sapping hotter day). Eventually spotted the wooden fence marking the crest of the trail. Whew. Made an arrow pointing back to the cars. From here, it was an undulating ridge all the way back to the cars.
Ran into Sarah and Milon. Milon commented that he liked this trail because there was never a boring flat section. That's certainly a positive spin! The views were quite nice, with surprisingly large pieces of undeveloped land near the bottom, including outside the park. I can only imagine this is because the underlying ground is mostly old landslides with not enough bedrock for a housing development.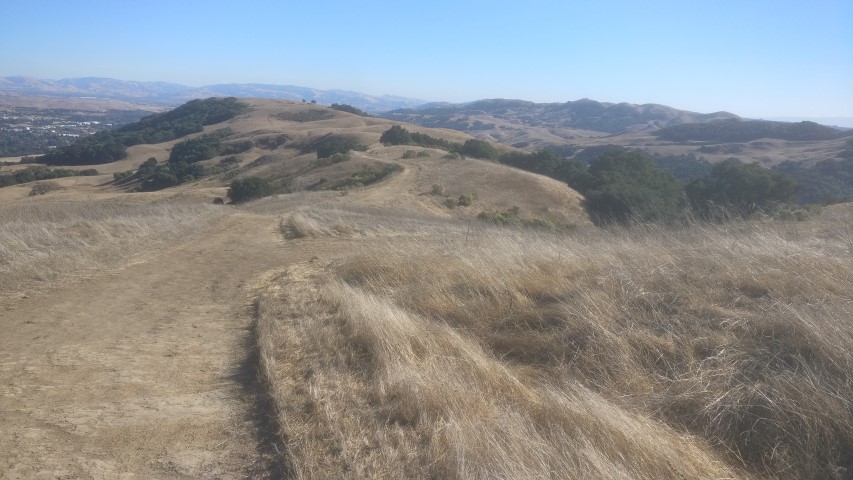 Your house here, at the edge of Las Trampas park
The final hike down the steep section was a miserable ending to a nice hike. The party had already started in the alcohol-prohibited parking lot. Iris was there, having showed up for a shorter version of the hike. Since she showed up a few minutes late, she never saw any INCHers until quite late in the day.
Based on over 5k ft of elevation gain, I was on the edge of a 4 or 5. In the end, the weather won out--the same hike on a hotter day would definitely be a 5.
Milestones:
Russell's 140th leaf







Pages maintained by Steve Walstra, Peter Saviz, and Russell Gee.
©2022 Intrepid Northern California Hikers