300. China Hole (01/11/03)

Hikers (17): Cal, Elaine, Eugene, Hoy, Judy, Kevin T, Linda, Matthew, Nanda, Oliver, Peter, Russ, Sergei, Steve, Sun, Taylor, Wayne
Distance: 11 miles
Rating: 4 difficulty, 8 beauty
Park info: Henry Coe State Park east of Morgan Hill

Write-up by Peter -- Pictures by Nanda
The 300th INCH hike! Hard to believe we've done this many hikes, but the creaking bones and sore muscles don't lie. In honor of the occasion, we had to go back to Henry Coe, the best damn place to hike in the Bay Area. Also hard to believe that 17 people showed up to hike at Henry Coe! As Steve astutely noted, there's always a big turnout when food is mentioned in the INCH hike notice.
1, 2, 3, ... INCH!
Everyone was in great spirits as we set out on the trail. Good to see the festive holiday mood had carried over a couple of weeks. Even twisting my ankle about 100 yards in on the Corral Trail did not dampen my enthusiasm. I still remember Steve's words: "The Man, that didn't look good!" Hey, it wouldn't be a Coe hike if Big Henry didn't dish out some punishment.
To make the event even more special, we took a new route (for us) and headed east on the Forest Trail. This was a beautiful hikers-only trail, much nicer than the wide fire roads that are common in this part of the park. The group was whistling the "Hi-ho, hi-ho, it's off to work we go" song from Snow White as we marched happily along.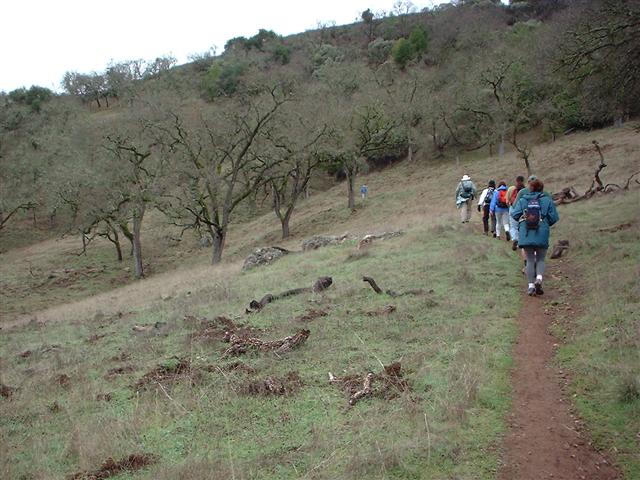 Due to a commitment later that night (with a vat of hot oil and a frozen turkey), Eugene shoots ahead on the Forest Trail
We waited at the 5-way intersection at the end of the Forest Trail for a few minutes to give the slower hikers a chance to catch up, and then headed on to Manzanita Point and then down the China Hole Trail towards the Narrows. We could hear the water roaring below as we made our way down the switchbacks towards the Hole. This part of the park is always so beautiful and green in the early months of the year, in contrast to the late summer months when the place is dry as a bone.
As we got to China Hole, we could see the water level was not as high as the El Nino years, but it was still pretty significant. There was no easy way to cross the Narrows at this point, if we had wanted to do so. We took off our backbacks and settled down for a well-deserved break. Mmmmmmmmm, roast beef sandwich! As we were sitting there, Elaine and Matthew also showed up. They had started late after driving down all the way from San Francisco, but had caught up to us pretty quickly. Good job!
After lunch, we headed back up the switchbacks to the top of the ridge. From here, Dobby insisted on shortcutting back to the car because he wanted to go fry a turkey for the GameFest to be held later that evening. I was tempted to Black Leaf him, but since he was preparing food for us, I let it go. I stayed at the trail junction to make sure nobody else did the same. In particular, I wanted to be sure Nanda took the Cougar Trail down (inside joke for those of us who work with Nanda).
As we headed down the Cougar Trail, we came across some places where trees had fallen down across the trail and we had to scramble around through the brush to make our way down. We did find some generous clusters of poison oak scattered about but skillfully managed to avoid them (in some cases, by pure dumb luck).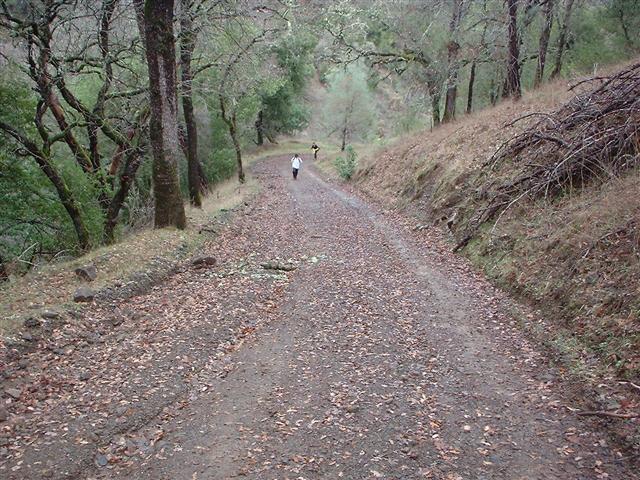 Intrepid hikers power up the Poverty Flat Road
After a brief stop to gather ourselves at the bottom of the trail, we began the trek up from Poverty Flat back to Park Headquarters. The group was pumped about the anticipated post-hike celebration, and made good time heading up the hill. I think this was another of the cases where the Temperature Factor had a lot to do with making the trail more bearable.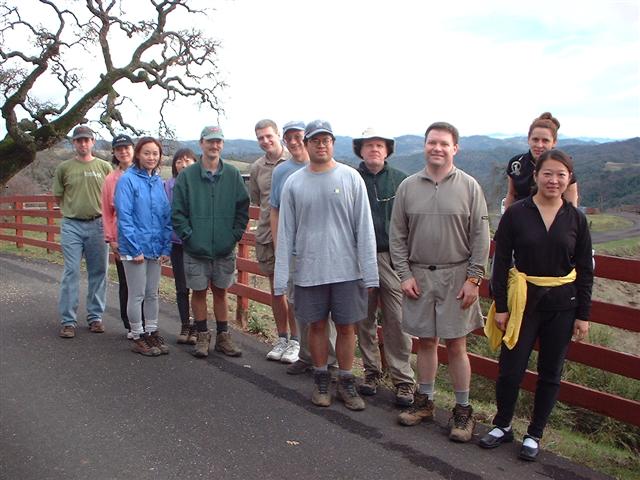 These guys look like they're ready to party, don't they?
L to R: Matthew, Elaine, Linda, Hoy (peeking over) Sergei, Steve, Cal, Russ, Oliver, Peter, Taylor, Judy
Back at Park HQ, we took over one of the large covered picnic areas (former stables) and broke out the bubbly and Cheetos -- here's to 300 great hikes!
Milestones:
Cal's 40th leaf
Kevin T's 1st leaf
Matthew's 1st leaf
Steve's 240th leaf







Pages maintained by Steve Walstra, Peter Saviz, and Russell Gee.
©2022 Intrepid Northern California Hikers