391. Alviso Slough (05/08/04)

Hikers (20): Alexandre, Bruce, Cal, Charles, Cristina, Eugene, Hussam, Isabela, Jennifer, Judy, Kathy, Lars, Michael C, Oliver, Peter, Rick, Steve, Sue, Taylor, Winnie
Distance: 8 miles
Rating: 1 difficulty, 8 beauty
Park info: South Bay marshlands near Alviso

Write-up by Steve -- Pictures by Sue G
Everyone loves The Slough! 20 people showed up to visit our favorite level 1 hike.
1, 2, 3 . . . INCH!
Signs warned us that the Alviso Slough trail was impassible, but we've seen that before. It usually means a rough section on the trail with some easily bypassed barricades. This time, though, there was some heavy moving equipment out there, actively installing (we guess) new plumbing between the evaporating pools and the Bay itself. By the time we reached this point on the trail, we were about half way through the hike. Turning around would still preserve the distance.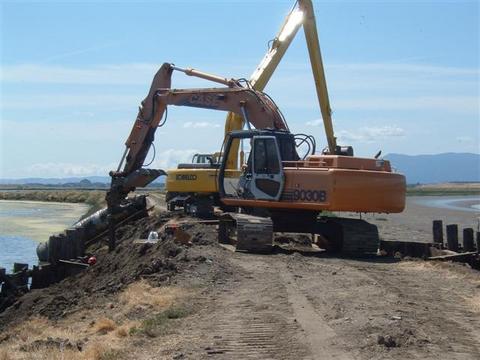 Minor obstacles

Instead of turning around, we waited for everyone to catch up. I was hoping we could ask them for a "group pass". Before the last people got there, the crane operator gestured to us to go through, pointing out (1) that the trail was closed and (2) to watch out for the jagged pipe they had ripped out. I thanked him and hurried through, which wasn't so easy because the second crane was positioned such that one had to stoop underneath part of it (probably to prevent hikers from trying to pass!). Luckily, the operator didn't start back up immediately, and stragglers Peter (!) and Eugene were also able to get through.

Other than that, the only challenging aspect of the hike involved some unpleasant smells. Alviso is like Russian Roulette in the odor department, and this time the chamber was loaded. But that didn't dampen anyone's appetite. . .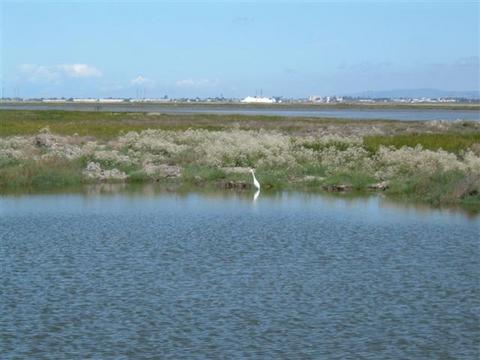 One of the many birds of Alviso
At the end of the hike, an unprecedented 12 people showed up at the famous Vahl's. Last time the place was being remodeled and we had to go to nearby Maria Elena's. In fact, Sue G was lobbying for that place again, but I wouldn't forgo Vahl's for anything! The newly remodeled Vahl's looks a lot like the old Vahl's. The pink might have been a little pinker, and some of the light fixtures had been moved around, but otherwise it looked like it did before, which is great. The many first-timers seemed to enjoy the place, especially Lars, who couldn't wait to bring his friends. Are the only people who appreciate classic Americana from other countries? Prices seemed even higher than before, but it's worth it for the living time capsule.
Milestones:
Eugene's 240th leaf
Winnie's 20th leaf







Pages maintained by Steve Walstra, Peter Saviz, and Russell Gee.
©2022 Intrepid Northern California Hikers