456. Mt. Borah (08/03/05)

Hikers (2): Haydar, Steve
Distance: 7 miles
Rating: 5 difficulty, 10 beauty
Park info: Salmon-Challis National Forest in Idaho

Write-up by Steve -- Pictures by Haydar
Your humble author was on a ten day quest to hike the highest points in Idaho, Colorado, and Utah (Nebraska, too, but that doesn't really count). Although not the highest of the three, Mt. Borah in Idaho was reputed to be the hardest. Because of this, I invited several INCHers to come along. Only Haydar, from the ancient days of double-digit hikes, was interested in the hike (and not worried about the potential climbing involved).
Haydar decided to minimize his vacation time by flying out from Oregon after work Tuesday. This got him knocking on my hotel door around 12:30am Wednesday morning, since the nearest airport was hours away in Boise. I had gone to bed at 10pm after carefully packing everything for a quick departure. . .he crashed on the floor until 4:30am, when the alarm went off to leave.
We were at the trailhead by 6am, and were able to set off just seconds before the other two groups (who had camped at the trailhead). The sign at the trailhead said the average round-trip time was 10-12 hours. For 7 miles!? We'd beat that easily!
The trail gains 5260 feet in only 3.5 miles. It was so cold outside that the steep trail was a welcome way to stay warm. We were in the shadow of the peak until after 9am, and seemed to be making pretty good time. Haydar had taken the lead after the first hour, despite the fact that I hiked the previous two days above 8k, so should have had an acclimation advantage.
Soon, we reached the famous Chicken-Out Ridge. I had misled myself about this part. From reading ahead of time, I thought it was the ridge itself that was scary, with a trail that hugged a razor edge. When I turned around, I saw we had just crossed that ridge, and all the pictures had been from Chicken Out Ridge looking back. The actual chicken-out section is a jumble of rocks that must be climbed more or less horizontally (with some vertical) and eventually ends with a well-publicized climb down to a snow-filled notch. While this climb-down is considered to be the "crux" of the traversal, it was actually getting to that point that worked my nerves. I found myself with arms and legs in funny positions, hanging on with serious trepidation. If Haydar hadn't been there to verify that the route we were taking was going to work, I would have definitely chickened out.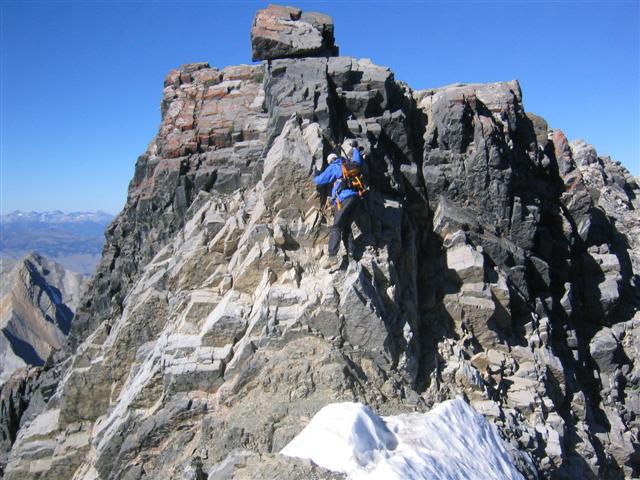 Maybe I should have taken some climbing classes?
After the climb down, I was disappointed to find that there wasn't much snow in the notch. I had lugged a pair of crampons (thanks Janice!) for nothing. From the notch there was still a long, rocky hike/scramble over and up to the summit. Sometimes a faint use trail would appear, and sometimes you just went up in the general direction. It was a long grind, but eventually ended up on top. We signed the summit log, found the Mt. Borah flag, and took some pictures. Even found a geocache near the summit while Haydar took a siesta.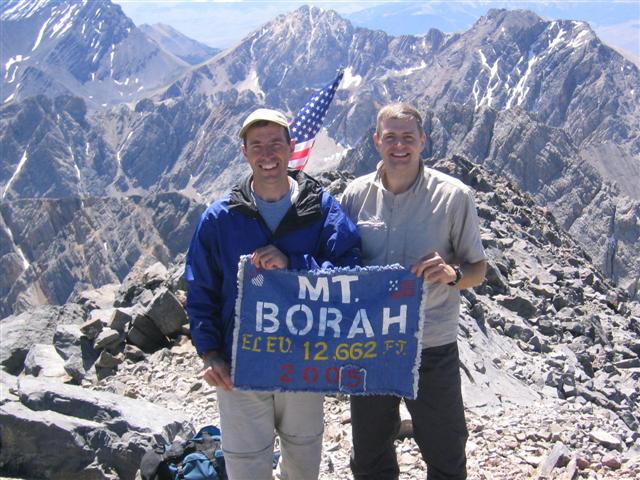 Success!
About ten minutes after getting to the top, an eleven-year-old kid came up. His father, brothers, and grandfather were all doing the hike (and made it later). Their family has a yearly contest to conquer the most peaks over 10,000 ft (from a pre-negotiated family list). That's hardcore! I couldn't believe a father would send his kid over that ridge, but learned that they took a different lower route which avoids the ridge entirely. We also learned they do Mt. Hood every year, so they get their fill of this sort of thing regularly.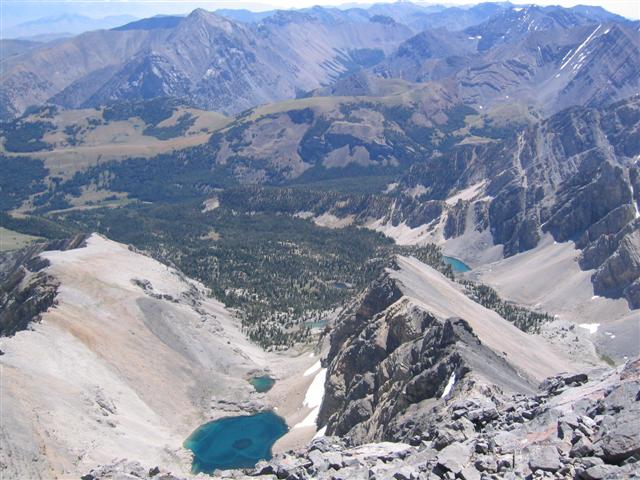 Great views from the top
As we were getting ready to leave, a late-teen guy came up from a different direction--he had been with the second morning party. They had taken the ridge approach like us, but had some slow hikers. They were glad to learn about the easy route our new friends had taken. Since we had already been there over an hour, we met the rest of those guys on the way down. At this point, I had decided to take this "easier" route back, too--my arms were tired from my poor climbing (not to mention my knees, which were bruised pretty substantially from an effort to be as close to the rocks as possible). Haydar wanted to do it the hard way, so I played the INCH card and asserted hike-leader status: I knew INCH would pay off some day.
The lower route wasn't all that easy, since it required crossing a couple icy snowfields on loose rock. The rest of the hike was terrifically pounding. We couldn't believe it was only 3.5 miles back, because it took forever (particularly for me). Haydar ditched me on the final mile and jogged back.
After talking to a guy in the parking lot who was going to hike the next day, we drove to David's ol' stomping grounds--the metropolis of Mackay (Mack-ee)--for some post-hike grub. Was desiring a big, fat steak, but had to settle with soup and a sandwich. From there, Haydar headed West toward Boise, and I went SE through Pocatello, and then Wyoming, to the next state high point (Mt. Elbert in Colorado). All in all, a long day for a short hike, and a satisfying sense of surviving.
Ten hours for seven miles!
| Time | Event |
| --- | --- |
| 6:17 am | Start |
| 11:24 am | Summit |
| 12:48 pm | Start down |
| 4:22 pm | Done |
Milestones:
Highest point in Custer, ID county







Pages maintained by Steve Walstra, Peter Saviz, and Russell Gee.
©2022 Intrepid Northern California Hikers