500. Skyline National Recreation Trail (04/22/06)

Hikers (20): George, Helen, Hima, Janice, Jeff, JP, Kate, Padraig, Paul, Peter, Ramesh, Ross, Rudi, Sabine, Scott, Sparky, Stacy, Steve, Walter, Wennie
Distance: 32 miles
Rating: 6 difficulty, 9 beauty
Park info: East Bay Regional Parks near Oakland

Write-up by Steve -- Pictures by George, Janice and JP
JP's pictures.
One great hike, three

. Vive la France!

For INCH's 500th hike, we needed something big; something intrepid; something epic. How about a whole day of hiking? 32 miles of the Skyline National Recreation Trail fit the bill. We did part of it for hike 395, and this time around we were going to do it all: from the northern tip of Wildcat Canyon near Richmond to the southern tip of Anthony Chabot near Castro Valley--hiking at its best.
After sending out the final notice, we still had an unbelievable 21 people on the list. Five kind INCHers volunteered to drive shuttles from the end of the hike (where we left our cars) to the true hike start in Wildcat Canyon. Big thanks to Sue, Clive, Blinky, Wayne E, and Gerry! This made the hike go more smoothly (and end more happily).
A twist for this hike was that everyone was asked to make their own map of the route. This had a three-fold purpose: (1) To make sure everyone knew what they were getting into; (2) to help people get a feel for the route (and not get lost); and (3) to save me from annotating 210 pages of maps. I sent out a "map pack" of 10 EBRP PDFs to make it easier for everyone. Thus, with the car pools organized, there were only three things to do: print out maps, show up at the shuttle location (at 5:30 am), and hike 32 miles.
This almost worked out perfectly, with all the hikers and shuttle drivers showing up at the carpool early except Kate and Asad. These two had both hiked their first hikes with INCH the previous week in order to qualify for this hike. One of the cars waited an extra fifteen minutes for them, and then left for Wildcat. Once we had cellphone coverage, we got hold of Kate. She said she couldn't find the shuttle spot, which was apparently due to your humble author failing to provide enough details on the staging area (the same staging area found by the other 19 people, and depicted on the Chabot map everyone was supposed to make ahead of time). . .Long story short, Kate caught up to us and followed our van to the trailhead.
That left only Asad AWOL, and that story was even better. As we would learn later, he was pulled over for speeding on I-880 en route to the hike. It took longer to handle the ticket because he had forgotten his wallet while preparing for the hike. That was an especially raw deal after getting up so early!
Many impatient hikers were waiting at the (still closed) entrance when we arrived. We geared up, thanked the shuttle drivers again, and walked down to the trailhead.
1-2-3 INCH!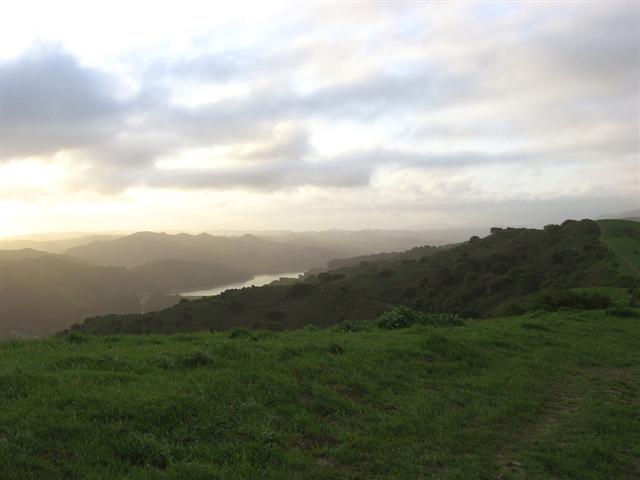 Here comes the sun
The sun was still rising as we went up Wildcat Canyon. The pace was quick since we had a long day ahead of us. After one steep incline to reach the ridge, the rest of Wildcat and Tilden parks was gentle rolling hills. The sky was cloudy, providing the perfect conditions for hiking. The forecast called for 30% chance of rain most of the day, so most people were carrying light rain gear. Several joggers passed us once we reached the paved section halfway through Wildcat. They were probably wondering why we were so heavily geared-up for a flat jogging track.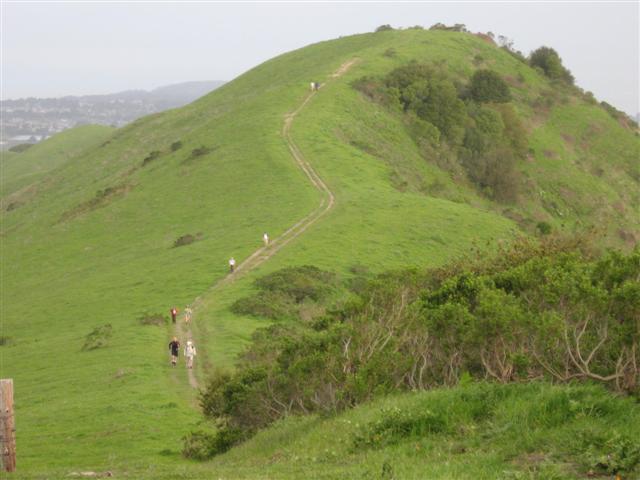 Along the Wildcat Canyon ridgeline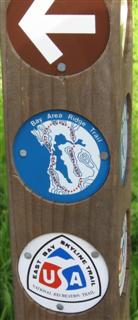 When I reached the end of Tilden, I pulled out the GPS receiver. This is where we got lost last time, and I had gone to great lengths to make sure it wasn't going to happen a second time. Based on Google Earth maps, Stacy's map of the Sibley connector trail from an East Bay hiking book, and topographical software, I had logged several GPS coordinates for this section of the route. But it turned out to be unnecessary, as the trail is very well marked. Just walk to the end of the Sibley parking lot and look for the obvious Skyline National Trail marker. Much ado about nothing. . .or was it?
The connector trail between Tilden and Sibley goes through East Bay Municipal Utility District land, and it went smoothly until reaching a big sign for De La Veaga trail on the left. The sign clearly states "Permits Required", and yet the trail is enticing because it is the more trodden path compared to the correct route (and it goes downhill). I left an arrow pointing to the correct trail for those who might not read the sign closely. Later, Helen, Sabine, and Kate would take that wrong trail and go down to HWY 24, just like we did last time. Hooray, that makes it an INCH hike!
After passing over the Caldecott tunnel, the trail heads into Sibley, and people (and many dogs) started populating the trails again. My grand plan was to visit Round Top peak, but I somehow ended up in front of a water tower below the peak. That was enough for me, so I turned around and took the connector trail into Huckleberry Preserve. This was a nice, lush area with soft trails. Again, the Skyline Trail markers were perfectly placed, making all the detailed map planning irrelevant (although it was still useful to gauge progress).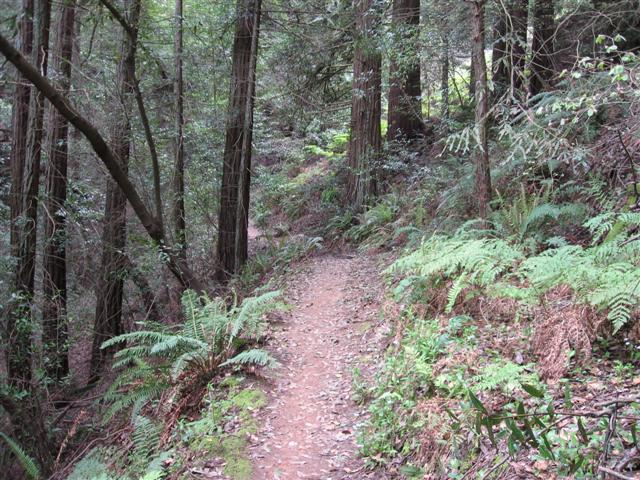 Everyone loves Huckleberry!
I crossed Pinehurst Road at 10:41am, which precedes Redwood Park. This was exciting--only two parks left! But it was only a bit over four hours into the hike. That's when it dawned on me that, even at an unlikely pace of 4 mph, I couldn't be more than halfway done (turned out that this location really is the halfway point). The wind quickly left my sails at the thought of so much hiking left to do. Near the Redwood parking lot, which is also the last source of water, I heard the last radio chatter of the day. Janice was calling Padraig, and Ross was replying "Are you talking to me?". The radios are good for emergencies, but aren't so great once you are stretched out.
Not too much later, I left an arrow pointing to the French Trail. I had already reminded everyone (twice--in boldface red!) to take the French Trail, as it is the best part of the hike. I failed to point out that it was a mile longer and considerably tougher, but Stacy had already deduced that from her hiking book. Wennie and Hima also knew the French trail was longer. The traitorous three thus skipped the French Trail simply because it was harder--one can scarcely think of anything more shameful--so they were awarded

Black Leaves of Shame

. The rest of the hikers enjoyed the best scenery on the hike. Peter loved the area so much that he added an extra mile by visiting Redwood Peak. Good job!
The end of Redwood was a bit of a twist as well. The Golden Spike trail didn't just go down to the road as expected, but rather turned back uphill for a little bonus altitude to keep us entertained. Crossing into the final park felt good, but it's still a very long traversal to the other side.
First there was MacDonald. . .then Grass Valley. . .which ends on the final trail of the day: Brandon (some people reported getting turned around a bit at the Stone Bridge near the Brandon intersection). The Brandon trail goes through nice stands of non-native Eucalyptus trees. Stand after stand of them. Three miles of them, in fact.
After all those trees, one crosses over a road, which was the first sign that things might be coming to an end. Less than a mile later is the Willow View Trail, where the Bay Area Ridge Trail departs from the Skyline National Trail. The sign here is correct, although the Anthony Chabot maps imply that the Skyline Trail also goes up Willow View too (and George didn't believe me until confirming this with the park). A mile after the sign, one gets the first glorious glimpse of the Willow Park Golf Course. Never have I been so glad to see a golf course (except maybe the last time we visited). From the overlook, it was a good half mile down to the road. After an enjoyable visit to Willow Park's water fountain, it was a flat walk past the driving range and down to the staging area. Finally done!
After reading the congratulatory messages left on several windshields (by Sue), I radioed to see if anyone was near. Of course Ross was, and it wasn't too long until he showed up. Turns out that Ross had broken the kevlar shoelace on his fancy trail shoes, and was thus unable to jog on the trail. I knew there was a reason he hadn't passed me! He would later trade those shoes for a new (free) pair at REI, thus raising prices for all of us.
People trickled in for the next three hours, each with a tale to tell. People had been together, lost, found, regrouped, tired, refreshed; the whole gamut. The first person to show up after Ross was Russ--who drove there from home to join in the 500th celebration. (Supposedly Russ had to entertain some guests that afternoon, but it seems suspicious that there is only one founder who has never been on a hike over 28 miles, despite five opportunities to do so. . .Hmmmmm)
Sabine and Helen were the next to show up, and Sabine broke out a camping stove and cooked up chili from boxes. We all agreed that it was the best chili on earth. Hot food really hit the spot! Each interested hiker got a bowl soon after they came in--it was like a homeless soup kitchen, and we looked the parts after the long hike.
The cries for increasing the hike level to a six began early, and grew louder as more people came in. I was neutral, so left it open to Peter. We continued eating and drinking at the impromptu community potluck until Peter showed up (looking fresh as a daisy after maintaining a carefully measured pace). He agreed to the upgrade, and everyone was happy. . .either because of the level six, or because they could now go home.
Everyone loaded into their respective carpools and headed off. Ramesh got the added bonus of driving back to Wildcat Canyon to drop off Kate. Such is the onus of being the only East Bay guy on the hike, but he was a good sport after a long hike.
Now to think of something even longer. . .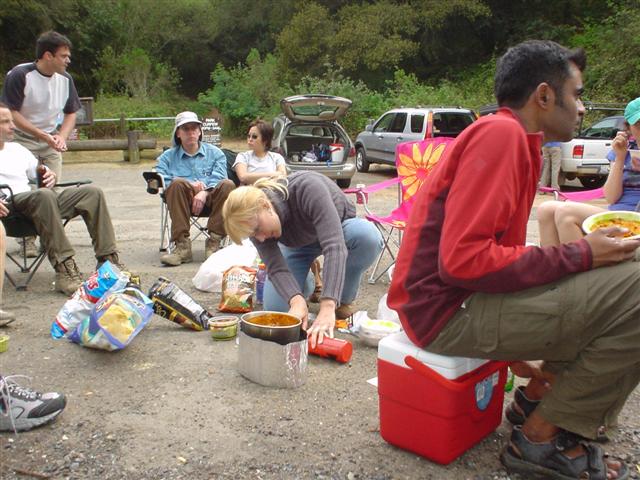 Ramesh has finished his bean-filled chili, and Sabine is playing with an open flame. Achtung!
---
For those looking for a time estimate of this hike, we all finished between 9 and 12 hours. The hike is never difficult--just very long.

Start time was 6:27 am.
| | | |
| --- | --- | --- |
| Steve | 3:29 | 9:02 |
| Ross | 3:37 | 9:10 |
| Helen, Sabine | 4:10 | 9:43 |
| Rudi | 4:45 | 10:18 |
| George1, Sparky | 5:16 | 10:49 |
| Janice, Padraig | 5:34 | 11:07 |
| JP1, Ramesh, Kate | 5:40 | 11:13 |
| Paul, Stacy2, Hima2 | 5:42 | 11:15 |
| Scott, Jeff1 | 5:52 | 11:25 |
| Walter, Wennie2 | 5:56 | 11:29 |
| Peter1 | 6:40 | 12:13 |
1Intrepidly hiked 2 or more bonus peaks along the way.
2Shamelessly skipped the only "hard" part of the hike, not to mention shortening it by a mile.






Pages maintained by Steve Walstra, Peter Saviz, and Russell Gee.
©2022 Intrepid Northern California Hikers