550. Pacheco Falls (02/03/07)

Hikers (17): David, George, Harvey, Hima, Janice, Jennifer Me, Jessica Me, JP, Kristen, Nani, Padraig, Peter, Ramesh, Ross, Silviu, Steve, Wayne E
Distance: 21 miles
Rating: 5 difficulty, 8 beauty
Park info: Henry Coe State Park east of Morgan Hill

Write-up by Peter -- Pictures by George and Janice
We met up at Hunting Hollow early on a brisk winter's morning (some would call it freezing, but the outside temp was only 36 degrees). The plan was to drop off some cars and carpool to the limited parking area at Coyote Creek, but everyone was itching to get going on the hike and there was general confusion about the carpool process, so we ended up only leaving Steve's car there and using 7 cars to take 17 people a distance of 2 miles!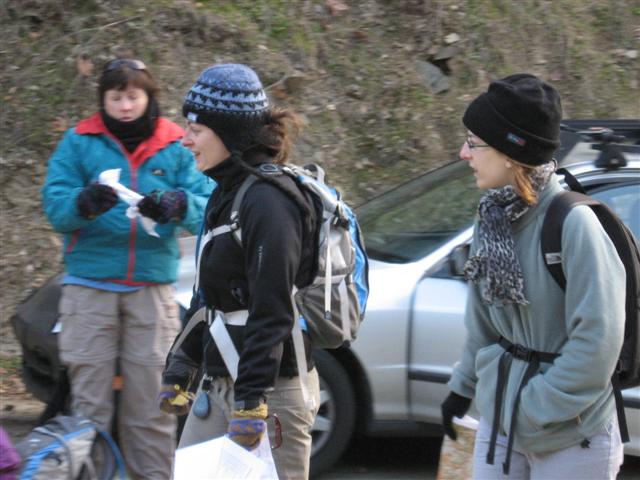 It was slightly chilly at the trailhead
At the trailhead, we got ready as quickly as possible, but before we could hit the trail, we did a warm-up exercise: George led us in a rousing rendition of the INCH Pacheco Falls anthem, sung to the tune of Gilligan's Island, which George had played nonstop in the car all the way from San Jose:
Just sit right back and you'll hear a tale,
a tale of a fateful trip.
That started from this remote trailhead,
setting out on foot.
The leader was a mighty hikin' man,
a leader brave and sure.
17 hikers set out that day,
for a six zone tour, a six zone tour………
The hiking started getting rough,
the tiny group was pooped.
If not for the courage of the fearless leader,
the whole day would be lost; the whole day would be lost.
The group stood ground on the shore of this uncharted pond,
with Geocacher, The Man too,
the Irishman, and his Wife,
the Chocolate Queen, the Math Whiz and the Bicycler
here in Henry Coe.
So this is the tale of our lost hikers,
they're here for a long, long time.
They'll have to make the best of things,
it's an uphill climb.
The Geocacher and The Man too,
will do their very best,
to make the others comfortable,
in the their nest of leaves and ticks.
No phones, no lights, no motor cars,
not a single luxury.
Like Robinson Crusoe,
it's primitive as can be.
So join us here each week my friend,
you're sure to get a smile.
From 17 stranded hikers,
Here in Henry Coe.

Here's the trail ... all the misery summarized in tabular form.
1st Leg - Up Wasno Ridge: We got off to a fast start, in large part due to the desire to warm up. The one-mile flat section was over in a blink of an eye, and then we begain the climb. INCH was on a mission as we charged up the ridge, and clothes came flying off at a furious pace as we began to work up a good sweat. One of the great highlights near the beginning was seeing a big wild pig come charging out of the bushes and do a nig loop around us. That sucker can move! Before you knew it, we were at the top.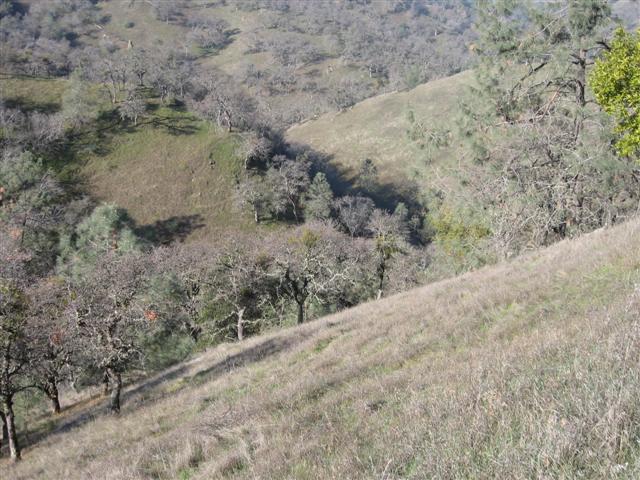 Looking back down at the Domino Trail from Wasno Ridge
2nd Leg - Down To Kelly Lake: From here it was smooth sailing down to the lake. Nice views could be seen in all directions from the top of the ridge. There was a smell of burnt ash in the air -- remnants of a recent fire, and parts of the trail had also caved in. Look out below!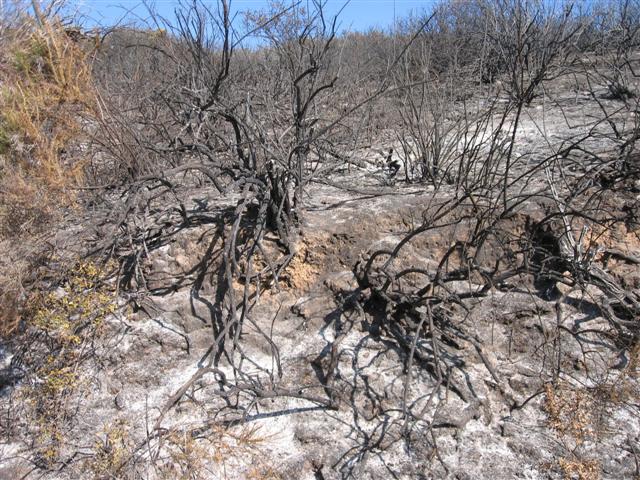 INCH was not the only thing on fire around here
3rd Leg - Up Willow Ridge: You know it's a Coe hike when you spend your whole day gaining or losing elevation. We'd just lot a good deal of elevation coming down to Kelly Lake, so it was time to pay up. I was walking solo at this point, with about half the pack ahead of me, and half the pack behind. Just as I made it to the top of the ridge, my phone rang! Hard to believe I could get signal out here. Can you hear me now? It was Taylor -- we chatted a bit and I took the opportunity to rest and have a snack. A couple of minutes later, David caught up to me and we headed over to Coit Lake together, while talking about the upcoming Super Bowl (my pick: Colts).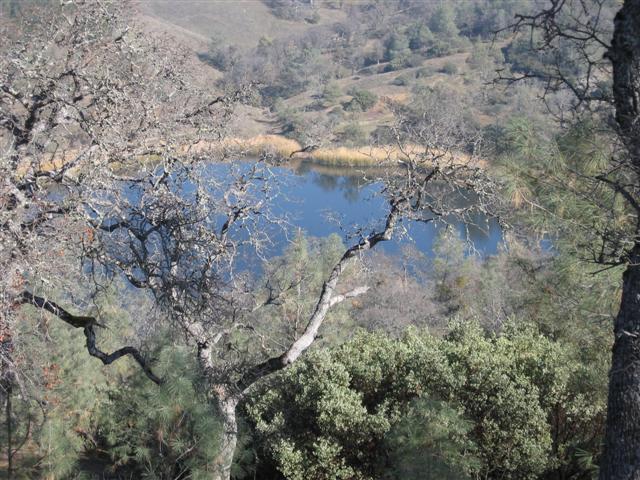 Looking down at Coit Lake from Willow Ridge
4th Leg - To Pacheco Falls: The trail down to White Tank Spring had recently been cleared -- kudos to the rangers for doing a great job. I could see how this could get pretty difficult to navigate otherwise. Also props to George for marking the trail with chalk arrows (hash style) all the way. I don't think anyone got lost all day, despite all the twists and turns (I guess it's not a true INCH hike).
A big tree is no match for an Irishman
Most of the crew made it to the Falls in under 4 hours, meaning they averaged about 3 miles an hour for the entire hike, which is saying a lot at Henry Coe. For their great effort, they were rewarded with a view of a trickle of water while they were eaten alive by ticks and sat amongst the poison oak.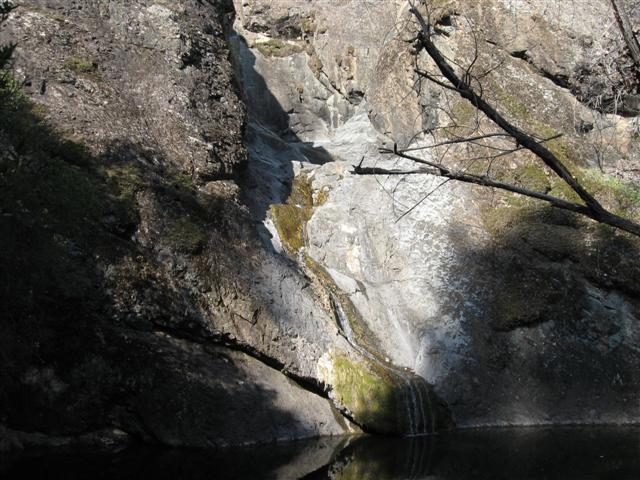 The elusive falls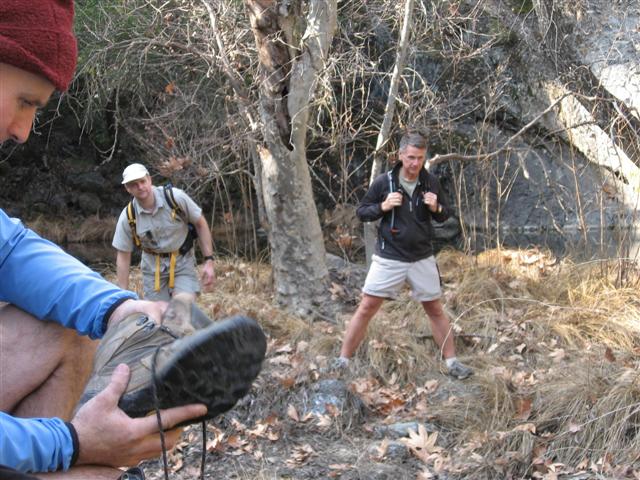 The ticks were having a good ol' time feasting on sweaty INCHers
5th Leg - Up From Pacheco Falls: After a brief rest, we packed up and headed out, wondering if it had all been worth it. I guess when you're here to suffer, it doesn't really matter. I thought this next part of the trail was pretty easy, but others (Nani, Chief) seemed to have a very different view after the hike. To each his own.
6th Leg - Down To Kelly Lake (again): You want to know which part sucked? This was it for me. Steep downhill all the way. Ugh!! The only saving grace was that it wasn't that long -- about a mile and half, with a nice view of the lake at the end. I caught up with Ramesh at the north end of the lake, found a nice log in the shade and sat down to rest my aching feet. We only had 5 miles to go, and I was more than an hour ahead of my planned pace, so I took the opportunity to rest a while, have a snack, and enjoy watching the ducks playing in the water. I knew I had the last major uphill of the day coming up next, so I figured I'd take my time before heading out.
7th Leg - Up To Wasno Ridge: All right, time to get this thing over with. As I headed up the steep hill, there were three things working against me: (1) I had carried too much water on the hike and was forcing it down the last few miles in an attempt to get rid of it, so I kept having to stop every half-mile to pee, (2) the afternoon sun was hitting me directly in the face and giving me a sharp headache (actually, this was a problem with the hike all day since we were travelling west-to-east in the morning and east-to-west in the afternoon), and (3) I could not get the damn Gilligan's Island theme song out of my head. Damn George!
8th Leg - Back Down To The Car: You know how I said the 6th leg sucked? Well, forget it. This was much worse. This section sucked, sucked, sucked, sucked, SUCKED!! The downhill wreacked havoc on my toes, ankles, and knees. The blisters I had on the back of each heel were not helping either. It just would not end. I was yearning for the climb out of Poverty Flat up to the Ranger Station to finish the hike. Next time, I think we'll have to do a one-way hike from Coyote Creek to Park HQ.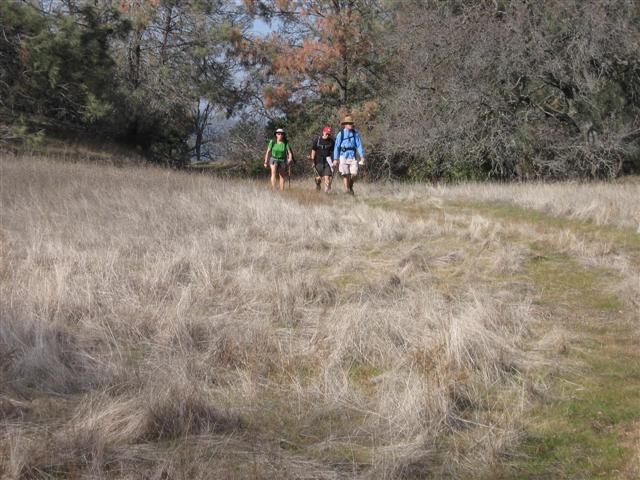 Happy INCHers are glad the hike is almost over
Finally, back at the car! I was disappointed to see that everyone had enjoyed the hike. I feel that I had failed in my mission, so I'll have to keep searching for harder hikes. Now if could only get that damn Gilligan's Island theme out of my head ...
For more photos, check out George (gone) and Janice's (gone) albums.
---
From Steve:
There is an unmarked path that leads to a very cool overlook behind the falls. From that vantage, one can see a series of smaller falls that precede the final falls--it's a sheer drop looking down (and probably why the path is unmarked). Not to be missed!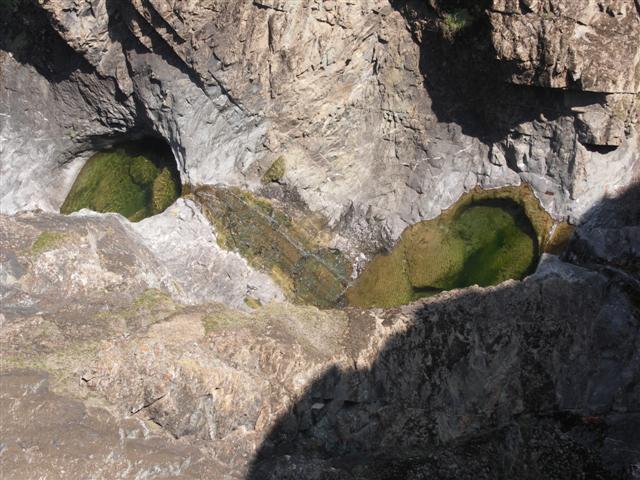 Cool pools
Milestones:
Jessica Me's 1st leaf
Silviu's 1st leaf







Pages maintained by Steve Walstra, Peter Saviz, and Russell Gee.
©2022 Intrepid Northern California Hikers