666. The Satanic Hike (04/19/09)

Hikers (5): Brian C, Devin, Diane, Eugene M, Steve
Distance: 23 miles
Rating: 6 difficulty, 8 beauty
Park info: Mt. Diablo State Park near San Ramon

Write-up by Steve -- Pictures by Steve and everyone (in the associated links below)
We wanted to do something special for hike #666. In fact, we had discussed it months earlier, so had plenty of time to think of something diabolically themed. The plan was Devil's Hole (in Las Trampas) to Devil's Pulpit (on top of Mt. Diablo), a demonic route that would cover many miles of new trails and hit Mt. Diablo from the south. Pain was guaranteed since we would hike 19 miles before reaching the steep part of Mt. Diablo. Additional pain arrived a day before in the form of a high-pressure region setting record high temperatures. We ended up hiking on a Sunday that was nine degrees hotter--hitting 90° F along our route--than the day before. Not only did we get "burned", but the Sunday hike would cause additional confusion.
A demonic dozen signed up for the hike, so I was frantically trying to arrange transportation for this one-way hike in the days prior. Early on, Kirk and Clive kindly volunteered to pick up people at the summit and drop them back off at Las Trampas. I couldn't hook anyone else until running into San Ramon resident (and rare INCHer) Cristina. She kindly agreed to help us out as well, so it looked like we could squeeze everyone in.
Things got less tight when Paul declared he was going to ride his bike back from the summit and Arlene said her boyfriend was going to pick her up from the summit. Whew.
1-2-3 INCH!
It was already warm at the 9:09am start, and two people were no-shows (Eugene M and James W). This is a story to itself.
Eugene and James both independently thought the hike was on Saturday. So both showed up at the parking lot, wondered where everyone was, and set off to do the hike. It took six e-mail iterations to figure this out, with the clincher being me asking "How could you have sent your pictures at 7pm if you got back to Las Trampas at 8pm?". Turns out Eugene and James made it to Macedo Ranch (SW edge of Mt. Diablo) when James decided he was cramping up too much to make it to the top on time. He called his fiancée for a lift back and ultimately picked up Eugene M from the summit. Eugene mentioned that he borrowed James' camera as well. . .which leads me to believe he didn't read the rather crucial camera detail! Thus, Eugene gets a for reading comprehension. But at least he gets a leaf, despite hiking on the wrong--and cooler--day. . .Kudos to James and Eugene for their teamwork in making it all work out.
So now we have ten people heading up to Las Trampas Ridge--on the Road to Perdition quipped David--just to plunge down the other side for a visit to Devil's Hole. The wildflowers on backside of the ridge were quite nice, and we were at Devil's Hole in no time flat. The hike had a special twist--we had to take pictures at five locations. The first picture was "something" at Devil's Hole. Most people snapped a picture of the trail sign, as there really isn't an unambiguous "hole".
From there, it's a steep fireroad back up to the ridge. The Devil was already up to his tricks, bewitching Arlene and Linda to go the wrong way at Devil's Hole. They ended up on property owned by the Sequoians Clothes Free Club which is just south of Ramage Peak. Tempted though they were to hang out in the hot sun, they headed back.
We got back to the ridge line, where I spent forever failing to find a geocache. Caught up with most everyone at the Elderberry junction, where Sarah, Diane, and Iyad could not resist the siren song of restrooms. I walked over to a nearby water spigot to wet my hat in an attempt to cool down, and then headed onward. Soon I would discover that the trail across Bollinger Canyon Road was closed. Brian C had already climbed the fence to the other side. Diane and Iyad went over the fence as well, while Sarah decided to go down the road. The trail ultimately went to a new parking area which appears to be about halfway completed. Not sure why they closed the original trail, as it is a perfect connector between the N and S sides of the park. I blame Satan. But it didn't stop us!
The Devil would have his due again, as he would mesmerize David into going the wrong way in Trampas. Miles later, David would figure this out, and then determine there was no way he could finish the hike (and get back to Las Trampas) before the park closed. So he sucked it up and hiked back to his truck. Of course, none of us knew this until the end of the hike. . .
Once up to Vail Peak (and down and over Eagle Peak), it was smooth sailing all the way out of the park. The trails and views were great, including Mt. Diablo looming far in the distance. Danville lay below, along with interstate 860. Although all downhill, I was surprised that no one passed me, even after searching for a couple caches. Were people lost?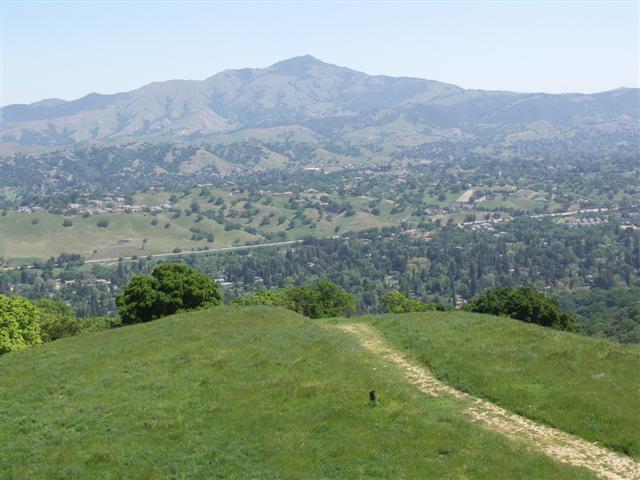 The only thing between INCH and Mt. Diablo is Danville and a lot of elevation
The route through Danville is surprisingly well marked. I heard later that some people took wrong turns, but if you walk straight between the signs, you can't go wrong. Less than a mile later I was in Hap Magee Ranch Park, the second picture location. This is a playground/dog park with nice, cool water fountains that I used to re-fill my water. I had already finished 2.5L by the time I got there. Washed up and drenched my hat again, and then went the wrong way along the dog-park side of Hap McGee. The map clearly shows the correct route is to the right of the park (and then under 860), but the sign at the entrance points left. The sign refers to the manicured gravel trail rather than the more inviting fireroad next to the canine corral. Turns out just about everyone else made the same dog-gone mistake. We are not used to luxury hiking.
This area is the lowest point on the trail (~150 ft), so it's uphill from there. And, indeed, the trail turns right and switch-backs up on various ridges separating huge houses from one another. It was actually a cool little trail, wending this way and that, ever upward. In a few places, there were fences on both sides, making the hiker feel like a rat in a maze. But usually it was wide-open green fields peppered with tony homes.
The edge of Mt. Diablo State Park just before Macedo Ranch
Near the end of the Las-Trampas-to-Mt.-Diablo Regional Trail, one hits the State Park land, which is green and rocky as far as the eye can see. Quite a sight. As I was taking a picture, I noticed a trail sign below. Turned out to be the last sign before Macedo Ranch, so I high-tailed it to the ranch, where I happily took off my shirt and rinsed it in a sink. It was gloriously cool when I put it back on. Topped off my camelback as well--this is a well hydrated route. Just as I was getting ready to go, I heard my phone ring. I didn't even know I had left my phone on, and had to sit down and dig through my backpack to find it. Called the number back--it was Linda. I said, "Why in the hell are you calling!?" Turned out she, Arlene, and Paul were at Hap McGee, and she wanted to let me know that she was going to catch a ride with Arlene, so not to wait. I recanted all my expletives and thanked her for the heads up!
I re-stowed my phone and headed up Wall Point Road. Had never been to this part of Mt. Diablo before, and was surprised to see all the rocks. In fact, there is a section that looks a bit like a baby Pinnacles. Was great all around. Half an hour later, the phone rings again. What the hell? I found a shady spot and searched for the phone. Couldn't find it, and yet it had to be there. Turned out to be under my water bladder, which is about the last place it should be. Called the number back and it was Diane this time. I decided not to say "What the hell". Turned out to be another car pool update: Sarah's leg was feeling pretty bad, so she called for a pickup at Macedo Ranch. This might be a problem, seeing as Sarah's ride was 33% of our summit pickup! D'oh! Diane then proceeded to tell me how they hadn't seen anyone in a long time, and how far ahead she and Brian C must be.
Well, I wised up this time and put the phone in an easily accessible location. I guess cell phones aren't so bad after all. I got to Wall Point Peak, hiked up to the top, and took a picture of Diablo while lying down in the tall grass. This was the bonus picture point. I went down the hill and hiked up the hill on the opposite side of the trail to snag a geocache. Although a little steep, it was nicely shaded, and by this point in the hike, it was getting really hot.
A mile later, checked my watch and realized that if I was the front-runner, then bulk of the hikers would not be getting there by 4:45pm, which is when Cristina was going to come. In fact, I already realized I wasn't going to make it by 4pm, which is when I had estimated that several people would be done. So I found another shady spot and gave Cristina a call to suggest a 5:15pm pick up. As I put the phone away, Diane M walked up followed by Brian C. He plopped down as well, happy to have someone else to take a break with. Diane was completely unfazed by the heat, but stuck around anyway as we explained how big guys generate more heat than their bodies can get rid of. Brian C said he wasn't sweating anymore, and complemented Diane on her excellent sweating abilities. We eventually set off again.
Not too much later, we turned up Ridge View Trail. I chose this steep section on purpose, and regretted it soon after starting upward. Between the heat and the steepness, I just looked straight down and kept climbing, hoping it would eventually end. Diane was ahead and Brian was lagging behind. But once we crested the hill and started up the Summit Trail, I had to take another break, along with Brian. Diane was already far enough ahead to not know we stopped. We got up again and I was happy to spot a picnic/camp site with running water. Went down and washed my face. Brian and I both wet our shirts and it was all good. Well, it was all good for the next half a mile until I decided to take yet another break. Brian kept going. Took one last break at Devil's Elbow (another picture spot) to take a picture of the sign, the actual elbow in the road, and Devil's Pulpit above it. From then on, I flew up the trail because I was familiar with the relative ease of the rest of the hike.
When I hit the summit road, the hike was effectively over. I zoomed around the Mary Bowerman Trail (which will always be the Fire Interpretive Trail to me), set up my camera and climbed halfway up Devil's Pulpit (another picture spot), and then continued on around the other side of the trail. That's when I encountered the Dark One's final test. There were clouds of black flying bugs. I don't know what they were, but they were dense. I had to angle my head down to keep the bugs out of my mouth. Every part of my arms and legs was covered with the bugs. I wiped them all away, only to enter another cloud. The sheer numbers were amazing. I gave up clearing them off until getting back to the asphalt on the other side. Never experienced anything like it. Must have been Beelzebub.
Happy to be done, I headed up the final bit of summit trail, passing a few ultra marathoners who were doing some sort of 50 mile Diablo circuit. I could feel my calves starting to cramp, but it was virtually over so didn't care. When I got to the top parking lot, Brian and Diane were already there, along with Sarah and (surprise to me) David. There were a couple tables with refreshments for the runners. The cold Gatorade looked so good as I walked up to visitor center door. Gave the famously heavy door a solid yank, only to discover it was locked. D'oh! (Note: closes at 4pm--it wasn't close) Had to take the last mandatory picture at the compass above the summit.
When I got back, David told me his story, and offered to pick up the late comers if we needed to get our cars before the park closed. What a nice guy! Cristina came up right on time, and Sarah, Diane, and Brian ultimately headed off. Luckily Cristina brought an e-book with her, so she had something to do. It was too hot to stand around outside, and she was too well dressed to sit in the shade like David and I were doing! David called Clive to let him know we already had enough drivers (my phone wasn't getting a connection). A few minutes later, my phone miraculously rang. It was Linda, who reported her group was at Wall Point Peak, about five miles out and 2200 feet below. She and Arlene knew they wouldn't make it up in time, so were going to get picked up by Arlene's boyfriend. They were with Paul, who was cramping and also going to catch a ride. That meant only two people were missing: Devin and Iyad.
About ten minutes later, Devin showed up. Hooray! He said he hadn't seen Iyad in a while, but he had seen him on the way to the summit. Devin headed up to the summit to get the last picture. Not too much later, Iyad dragged in. Hallelujah! Bewildered by Satan, Iyad skipped the fairly flat 0.7 mile Devil's Pulpit loop, claiming he wanted to make sure he'd get his wallet and car from Las Trampas. No Pulpit, no leaf--so close! What can you do? On the plus side, he didn't end up with a mouth full of flies like the rest of us.
We loaded our unclean selves into Cristina's immaculate leather-clad car and headed back to Las Trampas. Despite Cristina going plenty fast down the mountain, we didn't get to Las Trampas until about 7:20, twenty minutes after close. The rangers had wasted no time closing the entrance, so we got to hike half mile back to the cars. I took what I thought was a trail to the parking lot along the creek. We ended up having to cross the creek and climb over two gates (but I think it was ultimately a little shorter than taking Elderberry to the same point). Saw Arlene's final carpool (who were picked up at the top of Ridge View trail) driving in as I passed the gate around 7:45pm. Whew--what a stupid hike. Satan won!
Since Macedo Ranch was The Alamo for several people, it showed up in four unrequested pictures.
INCHer
Short Story
Diane M
Finished
Brian C
Finished
Steve
Finished
Devin
Finished
Eugene M
Finished on wrong day (Saturday)
Iyad
Made it to summit, but skipped Devil's Pulpit (so close!)
Linda L
Running late; Extracted from top of Ridgeview Trail; Returned next day to finish
Arlene
Running late; Extracted from top of Ridgeview Trail
Paul
Running late and cramping up; Extracted from top of Ridgeview Trail
Sarah
Bum leg; Extracted from Macedo Ranch
James W
Cramping, time constraints; Extracted from Macedo Ranch (Saturday)
David
Wrong turn in Las Trampas led to unlikely daylight Diablo summit
(so hiked back to truck)
Milestones:
Highest point in Contra Costa county







Pages maintained by Steve Walstra, Peter Saviz, and Russell Gee.
©2022 Intrepid Northern California Hikers