670. Santa Cruz Mountains Loop 2 (05/17/09)

Hikers (17): Chinyet, David, Devin, Diane, George, Helen, Iyad, John, Karl, Kristy, Linda L, Mark E, Paul, Peter, Ross, Steve, Tiffany
Distance: 29 miles
Rating: 6 difficulty, 8 beauty
Park info: Saratoga Gap Open Space Preserve near Saratoga

Write-up by Peter -- Pictures by Karl
The plan was to do a shorter version of the infamous Hike 566 -- one that would cut out Castle Rock and reduce the chance of having an angry red-faced ranger yelling at us at 10pm. When I planned the hike, I did not know the weather was going to be in 90's ...... what could possibly happen?
1, 2, 3, ... INCH!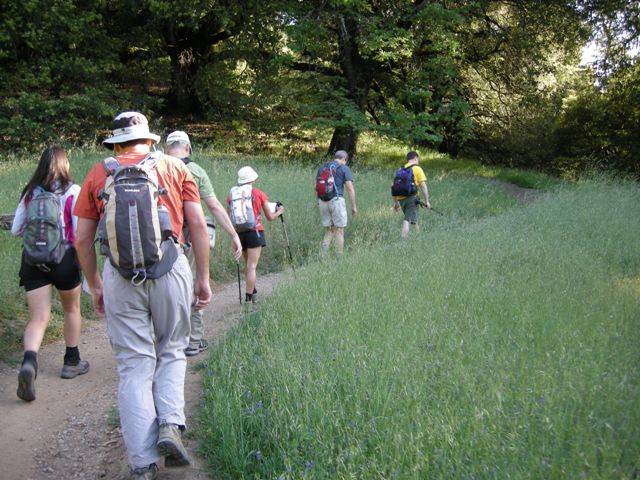 Heading out bright and early for a day of torture
The first part of the hike was pretty smooth. The only glitch for me was having to make an early pit stop to earn a brown leaf, and by the time I got back on trail everyone was long gone.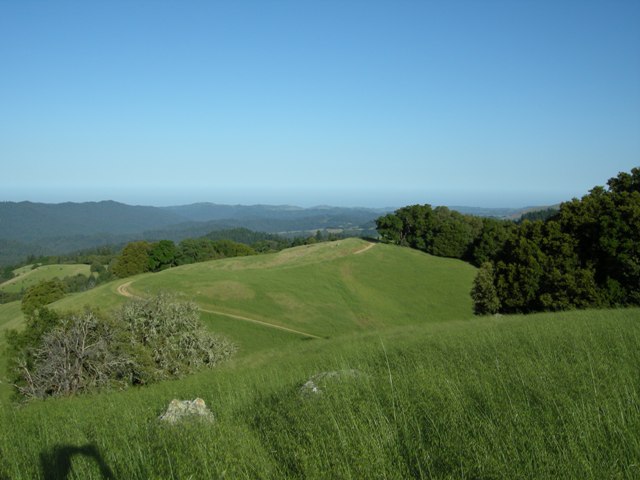 We have to go all the way down there and back up
The part heading down to Portola was nice and cool -- I don't think any sunlight ever penetrates the thick woods. Footing was nice and soft, and I was loving it. Couldn't we just call it a hike and end it here?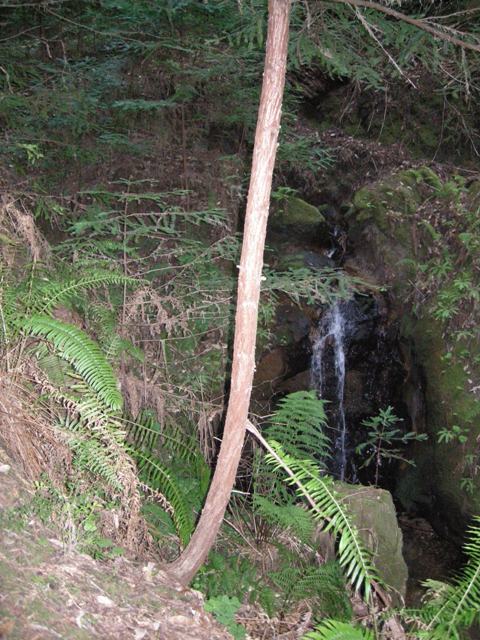 Ice cold waterfall -- the only thing cool on this day
After Portola HQ, things took an ugly turn ... I ran into a couple of joggers going up the Portola Trail going up to Butano, and for some dumb reason I picked up the pace to keep up with them (or at least keep them in sight). Bad mistake! I passed Kristy, Paul, and (briefly) Helen on the way up, but I was wiped out by the time I reached the scenic overlook. I sat on the log to catch my breath and recover, but the flies started to eat me alive, so I kept going. I had no energy left as I trudged along the Easement. I was seriously thinking I would need to bail out at China Grade. I figured even if I didn't hitch a ride from a chainsaw-wielding stranger, just walking along the roads back to the car would probably save me 2 or 3 miles over taking the trails. But could my knees put up with that much walking on paved roads, and did I really want to become roadkill?
I had lunch at China Grade and the break did me a lot of good. But once I got under the heat of the Basin Trail, I began to feel lousy again. I knew that shade would be coming soon, so I pushed myself to keep going and get under the redwoods. Once I did that, I was much better.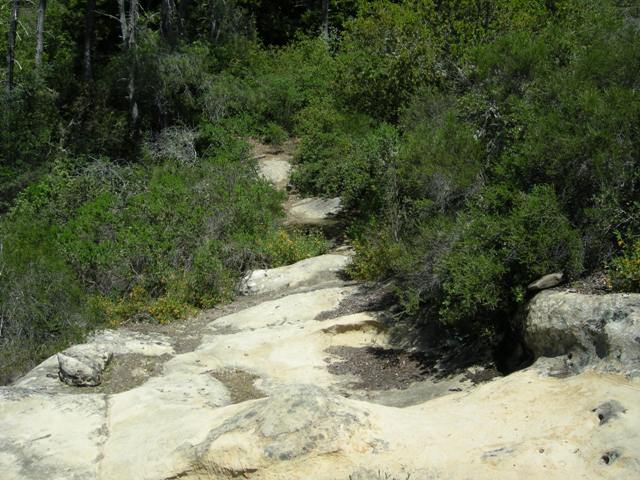 The hot rocks of the Basin Trail
I caught up with Dave sprawled on the ground about a 3/4 of a mile before Waterman Gap. He was pretty pale and looking spent. I walked with him to the trail camp and made he sure he got water. I was afraid if I stopped too long, I would completely stiffen up, so I left Dave there with Helen and Kristy and kept going. (By the way, major kudos to Helen for walking back down from the trail camp to Waterman Gap to bring water to Dave and Kristy, and then heading back up. Every man for himself, that's what I say!).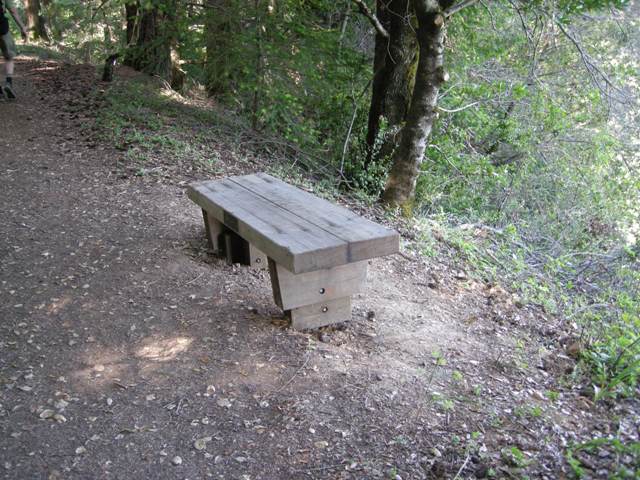 If I sit down, I may never get up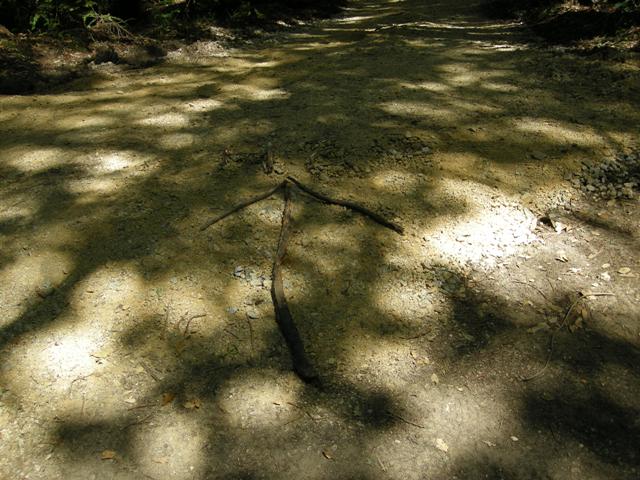 Arrow to water! (look for "H20" spelled out by Devin in rocks at the head of the arrow)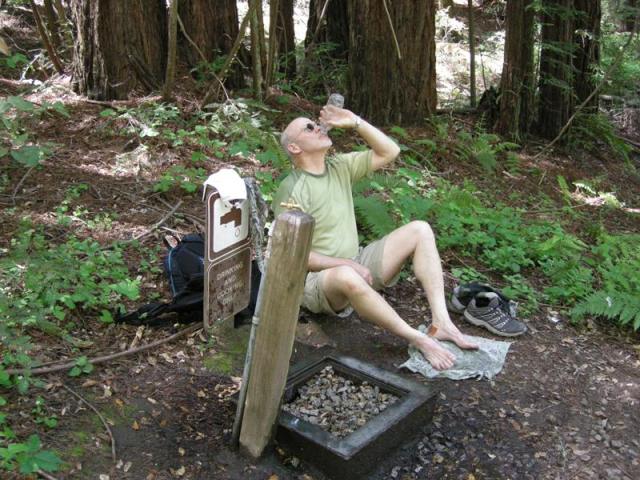 Beware of strange people who hang around trail camps
The trek up Skyline to the Sea was torture. I was coasting on fumes. My legs felt like rubber and my arms and back of my neck were tingling (sign of an impending heart attack?). I was dying to stop, but was thinking I would never be able to start again if I sat down. I was sooooooo tempted to cross over to the road and hitch a ride, but I kept convincing myself to go on a little more.
I caught up with Iyad about a half mile before the Sempervirens parking lot. He was taking a nap under a tree. At least I was not the only one suffering. Together we stumbled along to the big parking lot and collapsed on the ground. Two more miles to go, but it might as well have been twenty ....
Iyad headed out before me. I stayed back to rest a few more minutes, and by the time I was ready to set out, Helen and Kristy had caught up. The verdict on Dave was not good. Looks like we would need to send for help.
OK, let's get this damn thing over with ...... I somehow made it all the way back to Saratoga Gap and collapsed once again on the ground. I was too exhausted to even have a beer!
Normal sane people would do this hike over two days, especially given the heat wave. It was 92 degrees at 6pm when I finally stumbled into the parking lot, and I felt worse during and immediately after the hike than I have in a long time. We only needed two car rescues and everyone made it out OK which is the main thing. Given all this, I bumped it up to a Level 6.
Quote from our photographer on the day: "Not one of my better photo taking days. I spent the first 15 miles hiking very fast to keep up with Diane. I spent the last 13 miles dragging my ass back to Saratoga Gap!"
Steve's timetable of anality:
Hiker Name
Finish Time (pm)
Hike Time (h)
Steve
3:25
8:07
Diane
3:40
8:22
Lin
4:04
8:46
Mark
Ross
4:13
8:55
George
4:52
9:34
Karl
4:57
9:39
Devin
5:20
10:02
John
Linda
Tiffany
5:34
10:16
Iyad
5:48
10:30
Peter
5:56
10:38
Helen
Kristy
5:59
10:41
David
Car Rescue
Completed 90%
Paul
Car Rescue
Completed 90% (?)
Congratulations to the two newbies for completing the hike -- there's nothing like starting out with an INCH Level 6 hike.
p.s. When I got home, the scales revealed I lost 5 lbs during the hike, putting me below my college weight! Are you jealous Linda?
p.p.s. Other than a few sore muscles and a couple of blisters, it looks like I survived. Thankfully the footing was soft most of the way, for which my knees are thankful. The biggest problem was getting a mega-cramp in my leg while trying to change my infant son's diaper at 3am after the hike! Eaaaaaa--AAAAAAAAGGGGHHHHH!!!!!
Milestones:
Chinyet's 1st leaf
David's 190th leaf
Helen's 70th leaf
Kristy's 1st leaf







Pages maintained by Steve Walstra, Peter Saviz, and Russell Gee.
©2022 Intrepid Northern California Hikers