714. Las Trampas Loop (02/20/10)

Hikers (33): Amy D, Arlene, Aspen, Barbara, Bill R, David, Diane, Gavin, George, Hima, Jane, Janice, Jeff, John, Karl, Linda L, Maciek, Mike, Moe, Paul, Peter, Peter M, Ramesh, Robert, Ross, Russ, Samantha, Sarah, Scott, Sparky, Stacy, Steve, Sue
Distance: 13 miles
Rating: 3 difficulty, 8 beauty
Park info: Las Trampas Regional Wilderness near San Ramon

Write-up by Peter -- Pictures by George and Karl
After all the excitement of my last hike, I figured it was time for something quiet and simple, so I chose Las Trampas. After all, there's never any drama there.
Knowing that this was to be Diane's 151st hike, my key responsibility as hike leader was to bring along the appropriate libation. However, the night before the hike, I realized that I was out of supplies, so I had to make an early morning booze run. Good luck finding a liquor store open at the crack of dawn in the South Bay (this isn't Vegas or NOLA). After hitting a couple of dead-ends, I had no choice but to buy a big bottle at a supermarket. The plan now was to empty it as fast as possible in order to lighten my load during the hike. At least we weren't going up Sizer.
1, 2, 3 ... INCH!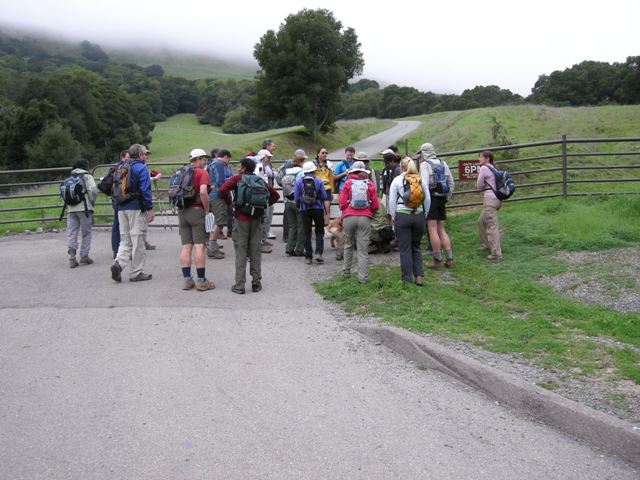 Barbarians at the gate (note Aspen down in the middle)
My original plan was to administer the 151 celebration at the second peak we would be visiting, Eagle Peak, as per tradition. I told Ross to hold up (not hold!) Diane at Eagle Peak before he ran off into the distance. However, as we approached the first peak, Las Trampas, Steve convinced me we should do the honors as soon as possible. It didn't take too much convince me as I figured there would be enough to do multiple rounds at the two peaks, and plenty of other places along the way, so poor Ross missed out on the first round. That's his just desserts for hiking too fast and being the first one to get to the beer on all the other hikes.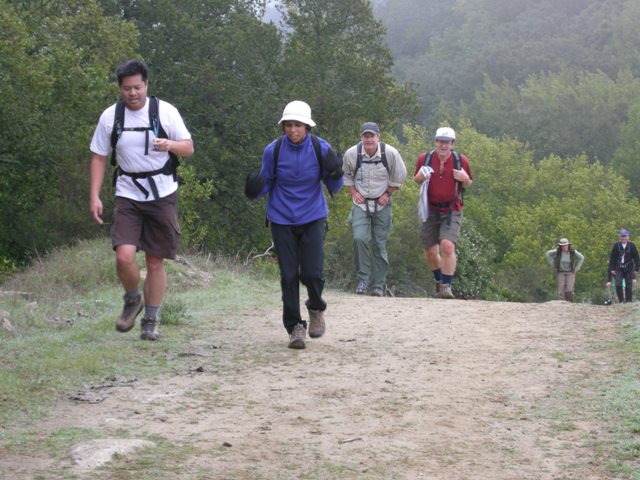 Diane's talking so fast, her hands are a blur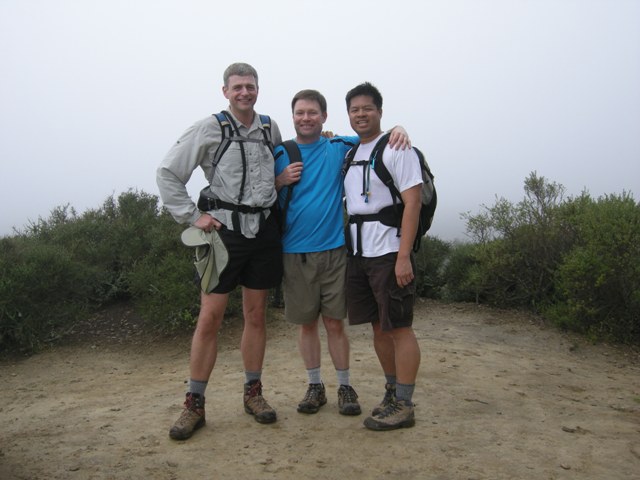 It's a rare day when all 3 of us are on the same hike any more -- must be the booze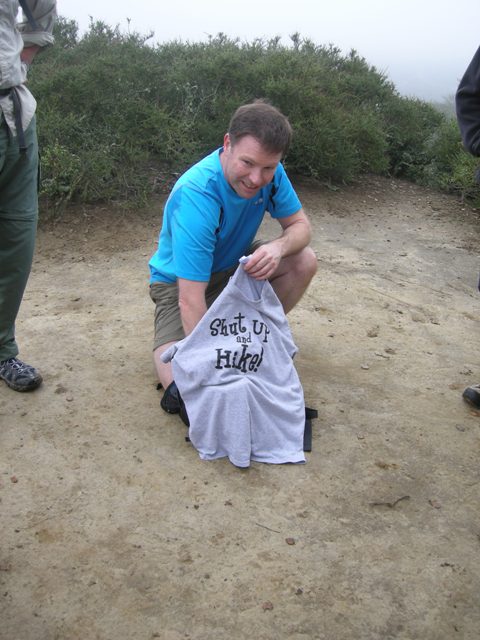 Peter's hike motto
Diane pretends to be a tee-totaler, but the way she knocked back those shots told me otherwise. One for the peak, and one for the road, and she was good to go. The other members of the elite 151 club joined her in a round at Las Trampas Peak, as did a couple of the stragglers on their way up the hill (no, not Aspen).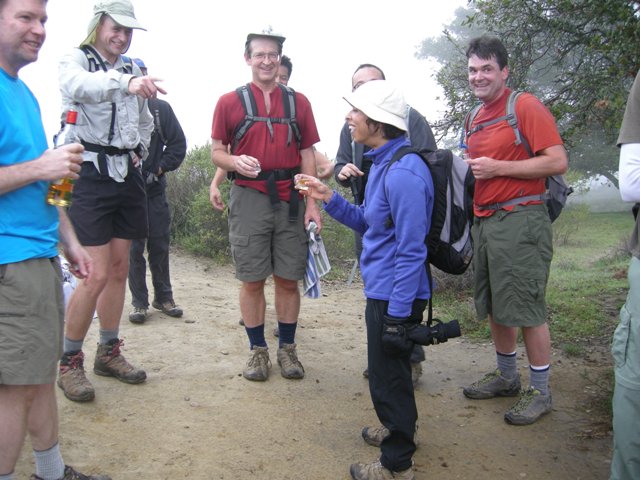 The Lady of the Hour gets the first shot at Las Trampas Peak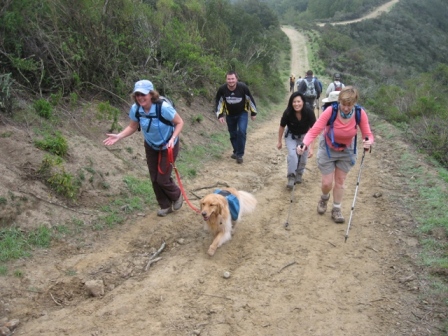 The stragglers head up the hill as everyone else stumbles down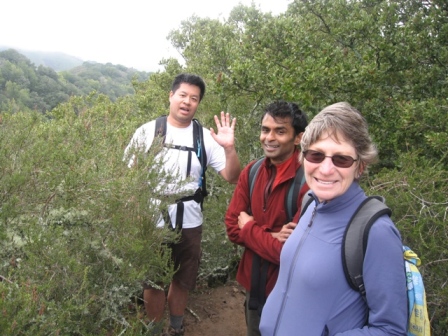 Ramesh came back from Beijing just for this hike
Second peak -- time for another round (or two, if you were Diane). She was definitely making up for her ignominious first INCH hike. For once, I was actually proud of her! She could definitely drink The Man under the table.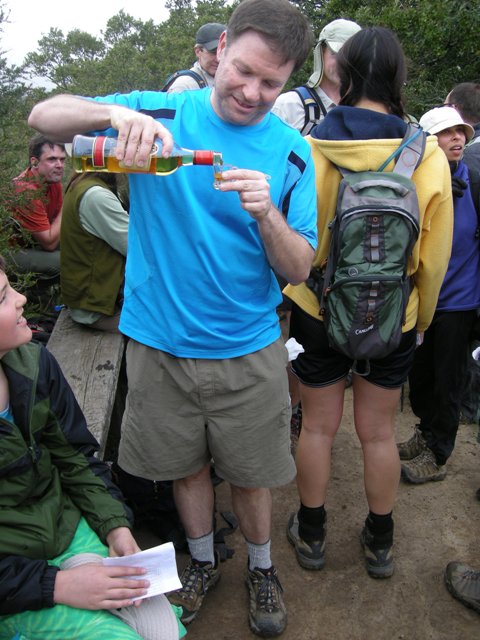 Second round at Eagle Peak (Gavin needs to wait a few years)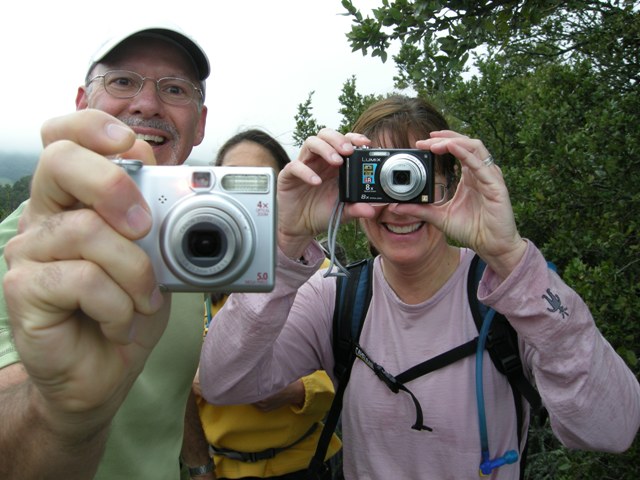 The paparazzi were out in force for the big occasion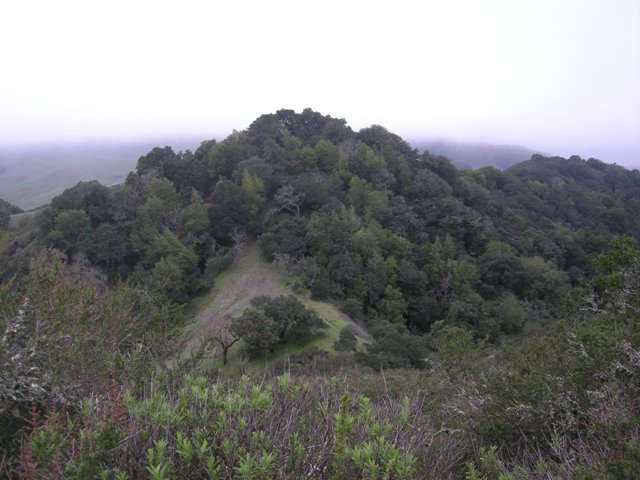 There was actually some hiking too -- here's a view looking back at Vail Peak ...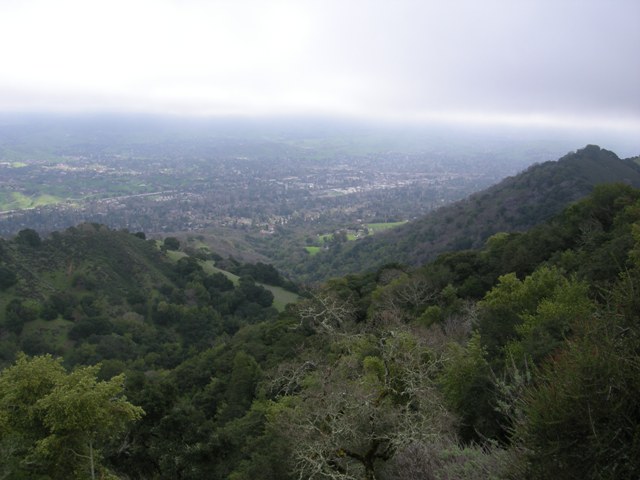 ... and looking down to San Ramon
I waited at the peak for another round with Sparky and Barb, then party time was over ... I picked up the pace and headed down the back side of Eagle Peak (where I ran into Jane O who had shown up late and was doing the hike in reverse) and then up the lovable Del Amigo Trail back up to the top of the ridge. I don't know if it was the shots or the fact that I was actually on a Level 3 hike for a change, but I found myself making good time and I actually caught up to the front-runners by the time I made it back down to the road.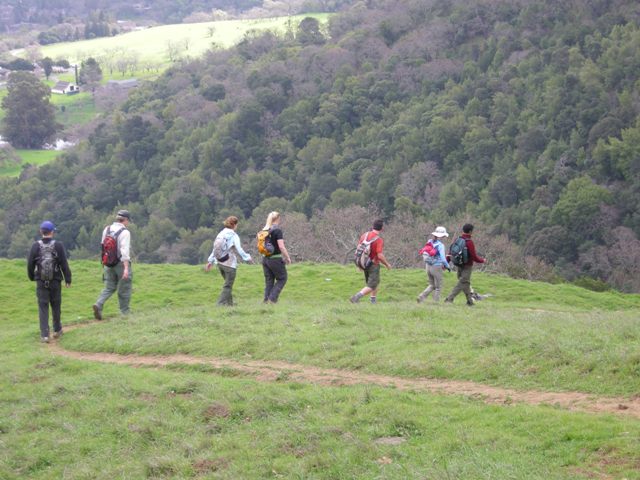 Heading down, down, down, before climbing back up the Del Amigo Trail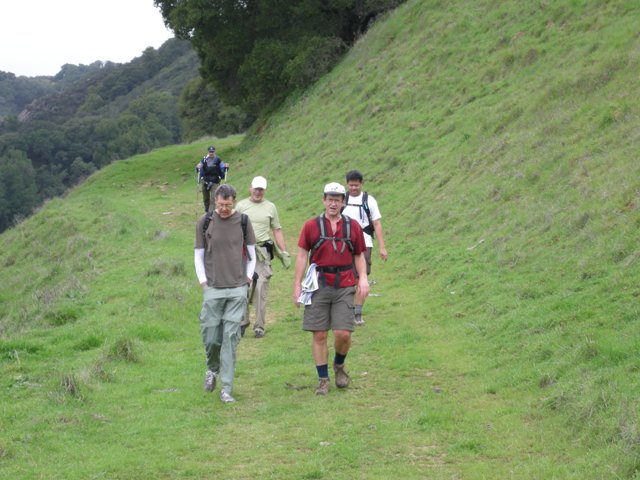 These guys look like they need another shot
But it was not all fun and games ... there was some serious hiking going on as well. In Diane's words: "Totally worth doing four shots of 151 and hiking half the route in a drunken stupor, just to have Peter hold my well-gloved hand as we skipped merrily along Bollinger Canyon Road."
Side note -- the video proves that I was able to catch up with Diane 8 miles into the hike. Now I realize I have to bring drinks to all the hikes in order to level the playing field.
Instead of leading us back to the cars as usual, the hike route this time would take us to the other half of the park and up the Rocky Ridge via the Elderberry Trail. There was lots of good shiggy on this trail -- mud, mud, cow poop, more mud, more poop, more mud, more glop -- good stuff! I came very close to having my boots sucked off but managed to escape the quagmire. Some others were not so lucky. The Man strikes again! [insert video link here] At least he didn't squeal like a pig.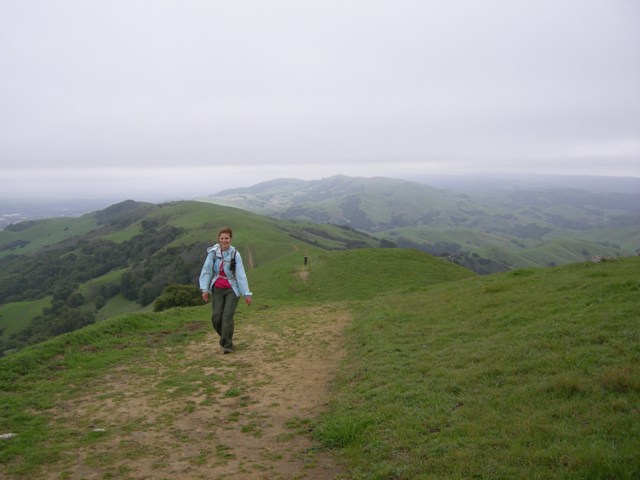 Amy on top of Rocky Ridge
We were greeted by the usual howling wind at the top of Rocky Ridge before dropping back down the Cuesta Trail and into the mud again. By now I wasn't even trying to avoid the mud any more. The shots had worn off and my knees were starting to hurt, so I just wanted to get it over with. Thankfully, it did not take too long.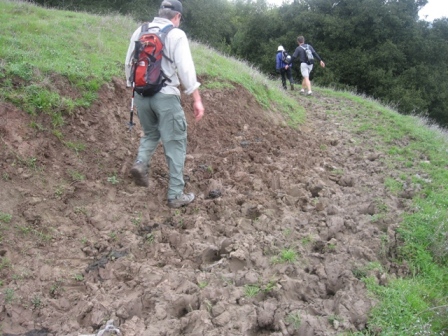 If you liked mud, this was a good hike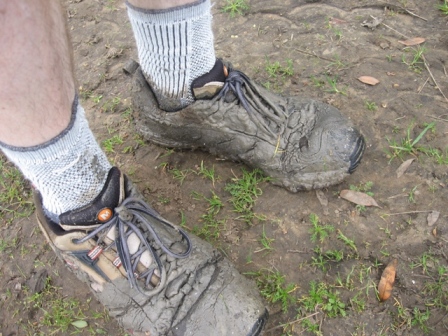 The aftermath
The sticklers amongst us (guess who) lobbied for no leaves for those who had taken alternate and/or shorter routes, but I was feeling generous, so Sparky, Barb, Jane, Arlene, Maciek, Sue, and, yes, Aspen -- you each owe me a beer!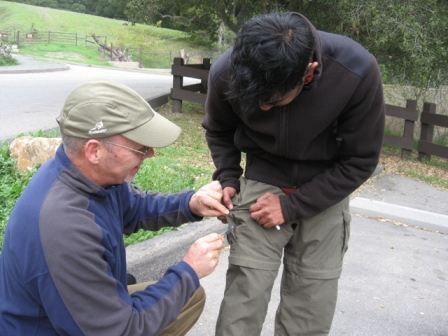 George tries to get into Ramesh's pants -- run back to China fast!!!
For more photos, check out George's pix [ancient webshots link removed].
Milestones:
Diane's 151st leaf (and shot)
Jane's 30th leaf
Maciek's 1st leaf







Pages maintained by Steve Walstra, Peter Saviz, and Russell Gee.
©2022 Intrepid Northern California Hikers