762. Murietta Falls (01/30/11)

Hikers (29): Ali B, Chris, Diane, George, Iris, Janice, Jeff, Karl, Karri, Kirk, Lida, Marci, Mike, Padraig, Paul, Pavlina, Peter, Ross, Rudi, Sabine, Sarah, Shuli, Sophie, Stacy, Steve, Susan, Suzie, Tiffany, Tony
Distance: 12 miles
Rating: 4 difficulty, 8 beauty
Park info: Ohlone Regional Wilderness south of Livermore

Write-up by Peter, George, Karl and Iris -- Pictures by Karl, Iris, and Tony
The weather had been beautiful all week. Naturally, I picked the day that was pouring with rain to do the hike. Yeah, baby! Lots of great shiggy on the trail -- Slip slidin' awaaaaayyyyyy!. In fact, I almost fell on my face before we even got to the trailhead. Luckily nobody caught that on film (or JPEG).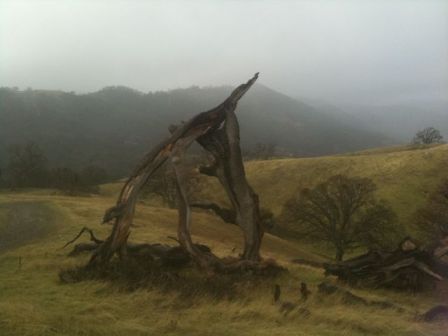 Scary looking tree in the fog
Aside from the shiggy section during the first mile or so, it was pretty smooth sailing all the way up to the Falls. I found the rain to be nicely refreshing, and didn't even bother to take my jacket out of the backpack. Yep, I hauled a jacket, a cap, and a change of socks up to the Falls and back without using them. I needed the extra workout.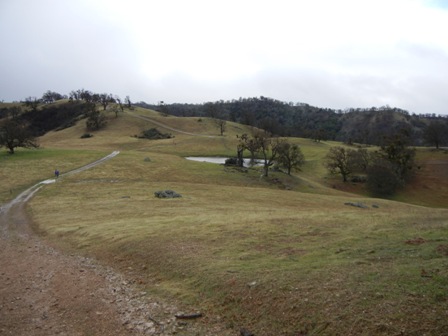 It was a drizzly, gloomy day at Johnny's Pond ...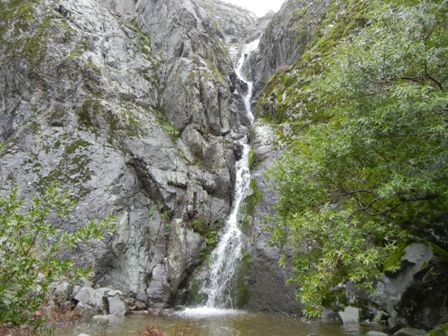 ... but it meant the water was flowing freely at Murietta Falls
Praying I can make it to the bottom of the falls without breaking my leg (I lost my dignity a long time ago)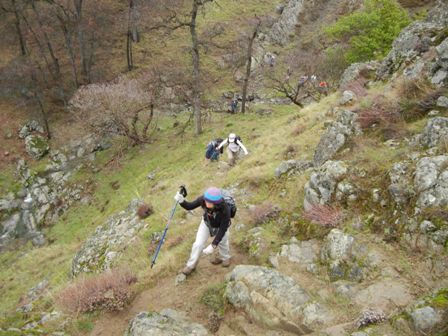 Working your way back up from the falls is always fun too
I took my time having lunch at the Falls, staying for a while after everyone else had departed to have the place to myself and enjoy the solitude -- just me and the Ghost of Murietta spending some quality time. Very nice.
As I made my way back up the ridge, I saw Iris and Steve stopped in the middle of the trail. Iris was hunched over and rummaging through her backpack. At first I thought she wasn't feeling well ....... she wasn't, but not for the reason I had thought. She had lost her car key somewhere on the hike, possibly back at the Falls. To make it worse, she was the carpool driver and everyone else had all their stuff in her car! Steve had a vested interest to help her find the key as he was one of the passengers, so I left them to search for it and I headed on down the trail to see if I could find it up ahead.
All the way back to Del Valle, and no sign of the key. I broke the news to the rest of the gang who got a good laugh out of it. Iris had forgotten she'd given the key to Shuli (who then gave it to Susan because she wanted to hitch an early ride back with Karl)! Oh, this would be good!!!
George's notes:
You remember before hike that people were scrambling, borrowing Iris' key to get back to car, Shuli gave Iris her backpack and ran to the bathroom, poles were exchanged, etc.
I grabbed Shuli's pack from Iris, last thing she needs is two packs!
Shuli caught up with me and got the pack, then caught up with Iris and exchanged poles or something.
At this point nobody said anything about the key, Iris forgot she gave it to someone. Nobody let her know who had it.
After lunch spot just after climbing up from the falls Steve asks Iris for key so he can get into car at the end, checks pocket, no key! Panic!
Steve goes BACK down to the lunch spot to check for key. Jeff goes too.
Key not found, Iris distraught. Looks for key on the trail the whole way back, poor thing was really stressed.
Back at the party we know nothing of all this til Peter gets back. I walk over and ask where Steve, Jeff, and Iris are. He tells about the key.
I walk back to party and tell folks what happened. Susan jumps up and says "I have the key!" and pulls it out of her pocket. We are all dumbstruck.
Turns out Shuli gave the key to Susan, not sure why or when, but Susan never let Iris know. Iris never asked Shuli. Shuli never told Iris. Get the idea ?
So of course, INCH being INCH we (I think the ones who had been drinking beer came up with this idea) had the idea to pretend we knew nothing, and that Shuli left with you and probably has the key.
When Iris got back and was told this story, I thought she was going to cry, so I quickly told her it was a joke, and that Susan has the key.
Iris was okay but you could see it had been a stressful day. We all stood around laughing and talking and having fun so hopefully she does not feel too bad.
Lots of comments about bringing extra keys, doing this, doing that. It is always like that. Do something the same way 100 times and it is fine. Just throw one monkeywrench into the works and suddenly there are plenty of experts telling you what you should have done. You can't prepare for everything ! If you bring extra key and someone loses it, then you don't have an extra key at home any more ! Iris said she is going to get AAA.
Bottom line - put a 2 pound metal weight on your key when someone borrows it. That way you are sure to get it back soon!!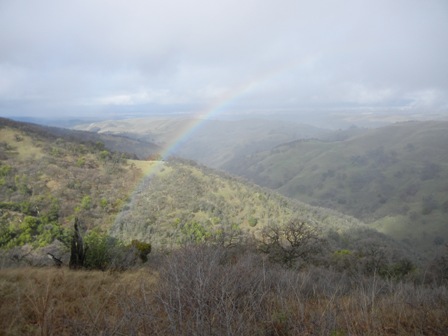 There's a rainbow at the end of every INCH hike ...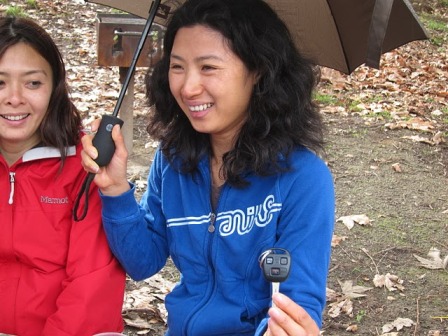 ... which leads to the missing car key
Karl's notes:
I normally leave my house or meet my carpool (if I have one set up) the same time that is set for the Intel carpool. For example, if Intel carpool is set for 8am, I figure the hike leaders know way better than me on what time is reasonable to leave for a hike, so I do the same....just my rule of thumb hike departure time that has worked for me for oh, 66 INCH hikes now...LOL
On the Murietta hike, the 8am departure time from home just barely got me to the parking lot in time. But I did arrive in just enough time to do my final hike preps....if I could do it over I would have left my home 15 minutes earlier as I like to take my time, organize myself, and not forget anything I might need on the trail.
When I get to the parking lot (the end near the bathrooms), Iris asks me if I have extra hiking poles. Who has extra hiking poles, right? Sometimes we have a set of hiking poles we don't plan on using on a hike. But who has an extra set? Well, I own 2 sets of lightweight hiking poles and wasn't sure which set I was going to use on this Murietta hike, so I brought BOTH. Not normal, but I had BOTH for this particular hike. Cool. I told Iris she could use one of my hiking pole sets. I knew this was going to be a muddy steep ski slope kind of hike, so I was glad to help Iris.
I drove to the trailhead end of the parking lot, parked near the others, and began getting ready for the hike. Meanwhile, the carpoolers (Iris, Shuli, Susan, Steve, etc) walked toward that end of the lot to start the hike.
I noticed one of my hiking poles, from the set I was considering lending to Iris, would not lock. While I was messing with this unlocking hiking pole, trying to get it to lock, Peter blows the whistle and everyone starts walking to the start of the hike. So, now, here I am.....dealing with unplanned scrambling and about to miss the start of the hike.
Shuli has her day pack, is also getting ready for the hike, but realizes she doesn't have her hiking poles. She thinks she left her hiking poles in the Iris carpool mobile, GETS THE KEY FROM IRIS, and goes running down to the other end of the parking lot where Iris's car was parked. While she is doing that, I start to lock up my truck and notice Shuli's hiking poles are on the front seat of my truck. LOL I guess Shuli needed a place to set her poles down while she was getting ready for the hike, saw my open truck door, and set them on the front seat. So, I yell "Shuli your hiking poles are here!" loud enough for her to hear me at the other end of the parking lot.
Meanwhile, I am hearing "1-2-3 INCH" and I now know I missed the start of the hike. Dammit...an INCH hiker's nightmare is missing the start of the INCH hike, one of our many nightmares anyway! Shuli runs back across the parking lot to my truck. Now, Shuli can't find her day pack! Oh, I can't find the second (working) hiking pole that I was going to lend to Iris. After a minute of searching the truck bed, looking under the truck, looking on top of the truck, looking around the truck, etc, we assume that Iris must have one of the hiking poles and Iris must have Shuli's day pack. Neither of us knew for sure that Iris had either or both. But damn, the hike had started and we needed to get going fast.
Shuli and I start running to the start of the hike. Shuli has the Iris car keys, her set of hiking poles, but no day pack. I have 3 hiking poles, my day pack and two GPS units that I forgot to turn on! Neither of my GPS units caught the beginning of the hike...I forgot to start them in all of the confusion ... not a good day ... LOL
As usual, the INCHers take off like a bullet, and they are already spread out a quarter mile or more ahead of us as we hike (more like sprint and run) trying to catch up on that steep and muddy slope called a trail. I can see Iris way ahead and can see that she has one hiking pole...great! We can see George with Shuli's pack....that's great too! Shuli grabs the now repaired and working hiking pole from me, and runs ahead to catch George and Iris. Shuli gets her day pack from George, and then runs ahead to Iris and relays the second hiking pole. Iris now has both hiking poles....great great! I was going to let Iris use the less temperamental hiking pole set that I was using, but at this point was thrilled she now had two matching hiking poles! Great!
Not too long after, I start both my GPS units...I cuss myself for not remembering to start them earlier, but great, better late than never as they say.
All is well in the world again, even though I am now exhausted just 3/4 miles into a tough hike.
All is well for everyone except Wendy. A couple more steep miles later, I managed to check my cell phone as I was curious if my recent switch to Verizon offered better reception. I noticed a missed call, voicemail, and text message from Wendy who had lost her way getting to Del Valle, knew she couldn't make the start of the hike, and decided to give up and head back to Sacramento. Poor Wendy had a worse morning than me! Wow, I was able to dial into my voicemail and retrieve the message a few miles into the hike. I laughed at myself with all my electronic gadgets on a rainy day: GPS watch, GPS handheld, camera, cell phone. I wondered if a hiker could get electrocuted with all of these gadgets on a rainy day, but hiked on.
Anyway, back to the key saga ... Shuli kept the Iris car key (evidently) ... That's all I know. Until the end of the hike when Shuli asks me if I could give her a ride to Intel since she had a 3pm appointment. I was very tired after 3 days of tough hiking and was anxious to get home. No partying for me this hike. So sure, I can give Shuli a ride to Intel. Shuli assumes Iris remembered that Iris gave her car key to Shuli. Shuli then told me she gave the Iris car key to Susan. What can go wrong, right? Susan will be at the post hike party waiting for Iris to return. I know Iris still has my hiking poles, but no problem, I can get them back from Iris on the next hike. As we left, I honked my horn and waived to the partying INCHers, but nobody heard or noticed, or waived back. We did tell Sophie we were leaving and we weren't going to stay for the post hike party. I drove to the other end of the parking lot to let Susan know that we were leaving, and I was going to ask Susan to let Iris know I would get my poles from her next hike. But there was no Susan. I assume Susan was changing into dry clothes. Shuli was in a hurry to make her appointment, so we left. I figured I'd contact Iris later about the hiking poles.....no problem.
Later that evening I sent a text message to Iris asking if the hiking poles worked out for her. She said the poles were great, thanked me, and said all went well except for some "car key drama". She said Shuli knows about it, it's all ok. I texted back and asked for more details, but no reply from Iris. I also sent an email to Shuli but no reply from Shuli Sunday night.
Wow. What a screwy mess!!! There was so much confusion at the start. I found out Monday that it all boiled down to Iris not remembering she gave her car keys to Shuli, when Shuli thought she left her hiking poles in Iris's car. There was so much confusion and running around. yada yada yada...LOL
I was thinking I would have a nice relaxing drive to the hike....solo this time....listen to sports talk radio or my iPod music, no delays stopping at a carpool location, no delays from late arriving carpool buddies, etc. I was more worried about how my legs would feel doing a third tough hike in as many days. I end up leaving myself behind and exhausting myself the first mile of a tough hike!
Well, the above are some of your missing details. Probably way more than you or anyone else wants to know! TMI LOL
See you next hike. Want to carpool? LOL
And finally, let's hear from the lady herself ....... who else quotes Pushkin in an INCH writeup?! I always knew INCH was a classy group.
Iris' notes:
It was fun to read Karl and George's account of what happened with this whole car key drama, even though at that time, it was no fun for me, I was completely stressed and keep blaming myself for being so absent-minded. It just reminded me a poem of Pushkin:
There is end to what is unpleasant experience,
Suddenly all files away,
And delight returns tomorrow.
don't be sad, don't be mad,
All is fleeting, all will go;
What is gone will then be pleasant memories.

So, I think I should tell of the story in your guys format also.
Ok, day started with 6 persons at Intel carpool site, Shuli asked if my "big" car can sit 6, so, I offered if Steve can sit in the trunk , then six of us all can scramble into one car. Anyway, we end up with in two cars, Steve, Shuli and Susan S in my car,( Wow, I did not notice this three S in my car until I write that, is it a sign?:-). Paul and Pavlina (Again, Two P ) in Paul's car, off we go, to Murietta fall.
On the way to Hike, Poor Steve was in Chinese language immersion program most of way. He warn the it would be muddy, slippery and lots uphill , he said with the air authority," this is that kind of hike you would need the poles". I started getting worried, I didn't have poles with me. And I have tried my hardest not want to be the last one walk into the parking lot at the end of hike, so, I need poles. ..
Arriving in the parking lot, I parked near the restrooms, because it would be easy to change cloth after the hike, rest of cars in the other end of parking lot. I took out my key and gave it to Steve, because last time he had to endure long time in the sweat soaked cloth to wait for me to arrive, so this time, I am sure he will be ahead of me or Suan, or Shuli. He said : keep it with you for now, I will walk some extra miles, so, when I catch you on the way, I will ask for key. So, I put my key back to front packet of my pant. Then, Susan was still getting her hike gears, I was in hurry to go to another end of parking lot to see if I can borrow a hiking pole from one of well equiped INCHers. So, I gave my key to Susan, and run to the another end.
I was very happy and relieved to know Karl can lend me poles, his very fancy light weight one, he told that story of how he try to fix it to adjust the height for me, This time, Susan returned my key, And everyone already start hike, Determined not to stay in the last one, so, I hurry off first. Shuli had to run back to car to get her poles, so, I gave her my key, Then i saw her backpack in the ground of parking lot with everyone already leaving, So, I picked up the pack and yelled to her:" I got your pack", I knew she can hike fast and catch up with me in no time.
Then George saw me with two packs, always being so helpful, He took Shuli' pack with him, And Shuli caught up with me and gave me the pole the Karl was trying to fix for me. I just in the fog about whether she return the key or not, I assumed she gave me the car key back and I put back into left front packet of my pant.
We were in the fall taking pictures and eating lunch, Shuli told me later at that time she was about to tell me the where about of the key, then she did not get around to tell me. I was very happy that hard part of hike was over, and I was not the last one in the hike, Thought of Key never enter my mind what so ever;-)
On the way back, Steve asked me for Key, I could not find in every packets and also my pack, I started getting very stressed , did i lost the key on the way? or lost it when I sit in the fall for lunch? I was bit in panicking state, I just not able to remember Shuli might have the key, I felt like I was able to cry, three other people 's whole stuff in my car, I am going to cause such trouble for other people, Then Peter, Chris and Suzie went by, and learned about that.
Steve had to hike back to the Fall to try to find the key, because If I hike back it would be so slow , it would take forever to comeback , in his words. So I continued hiking back, I try to look around at the trail to find the "lost" key, So I was slow, then, Karri caught up and told me Jeff and Steve were in the fall, but she did not know if they find it or not. At this point, my brain started to calm down a bit, I remembered Shuli might have my key, So, I Called Shuli, Well, She did not bring her phone, But at least, there is hope now, I called my friend tell her to prepare to bring my spare key , Good thing is that I told her to hold until I am sure that Shuli did not have the key.
Then you guys know the rest of story!
Wow, so much drama on the hike! Congrats to Ross on his 250th leaf, and honorable mention to Wendy B, who drove down all the way from Sac-Town, but couldn't find the park and drove back. The Ghost of Murietta strikes again!
For more great photos, check out Tony's album.
Milestones:
Ali B's 1st leaf
Paul's 230th leaf
Pavlina's 1st leaf
Ross's 250th leaf
Stacy's 70th leaf







Pages maintained by Steve Walstra, Peter Saviz, and Russell Gee.
©2022 Intrepid Northern California Hikers