761. Loma Prieta (01/22/11)

Hikers (16): David, Diane, George, Helen, Karl, Kirk, Mike, Paul, Robert, Ross, Sabine, Shuli, Sophie, Steve, Susan, Yipeng
Distance: 16 miles
Rating: 4 difficulty, 9 beauty
Park info: Uvas Canyon County Park near Uvas

Write-up by Steve -- Pictures by Karl, Diane, Susan S and Steve
The Santa Cruz mountains and the Diablo Range compose about 80% of all INCH hikes. INCH owns the Santa Cruz mountains, and every few years we visit its highest peak: Loma Prieta.
The hike starts in Uvas Canyon Park, but the peak itself is along a private road. To keep the numbers down, the notice was went to only 26 people who had done a couple level 4 hikes in the recent past. Still had sixteen people sign up, which is about as large of group as one would want for this type of hike.
1, 2, 3 -- INCH!
Off we went along the Contour Trail, up the side trail to Basin Falls, a quick look at Upper Falls, up the spur trail to Knobcone Point and then back down. A short detour to Black Rock Falls, followed by a trail along the creek (and missing bridge), and we were almost back to the parking lot. We took a side road to the campground area and picked up the Nibbs Knob trail. . .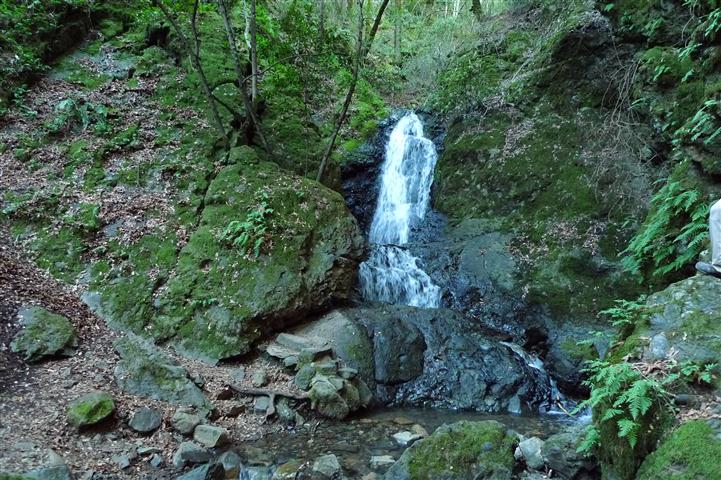 Basin Falls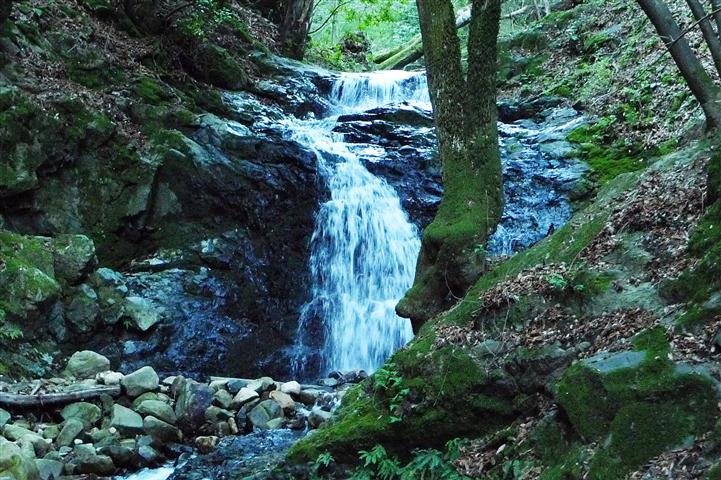 Upper Falls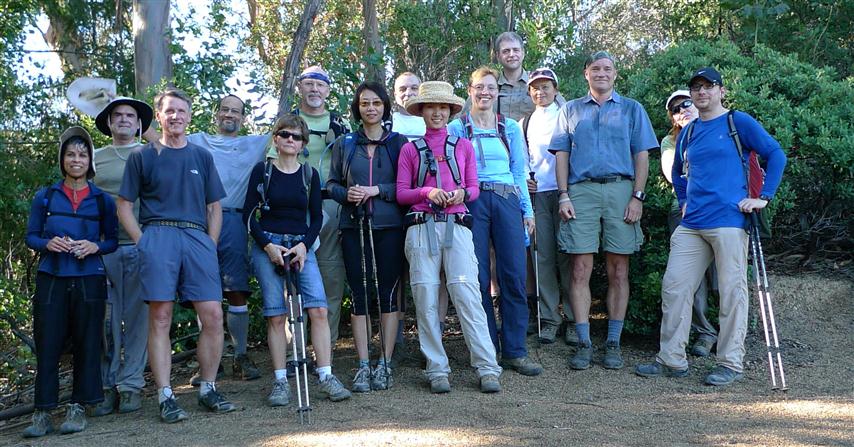 Knobcone Point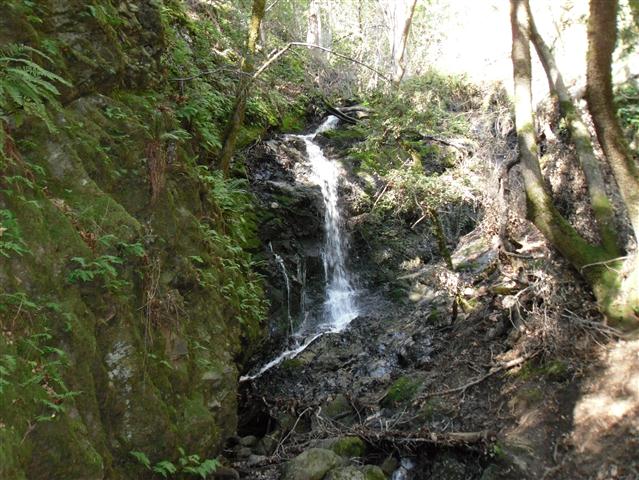 Black Rock Falls
The trail up to Nibbs Knob is famously steep. Temperatures were pushing mid 60s, which was fairly warm for "winter". Once I hit the sunny exposed section, it was like kryptonite. I had passed Diane a bit before but she soon stormed right on by. . .wearing two layers of clothing. After the turn-off to Nibbs Knob, the shade was back, and I caught up to Diane just before the gate. This was a staging point before the push to Loma Prieta. Most people were happy to take a little breather. . .except Paul, who didn't get one because we left as soon as he got there. The next couple miles was mostly flat, so no worries. David was missing--he had told us not to wait, as he was still a bit gimpy.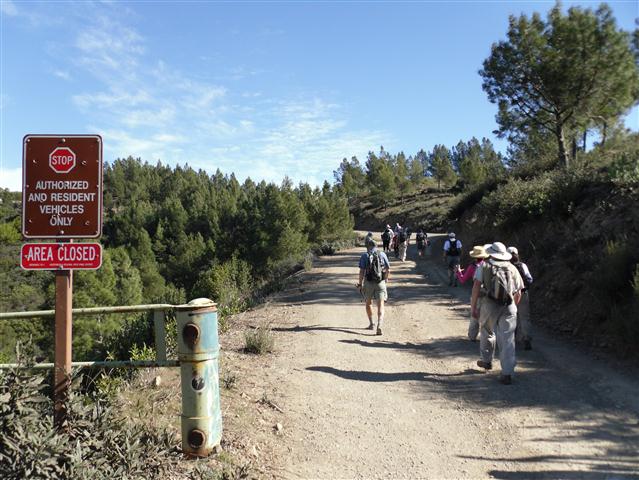 Hikers Only
We stayed together along the route and had no problems with cars/residents. No one minds as long as you don't impede traffic. We took the "middle road" when appropriate, which means we were almost atop Loma Prieta. I had checked the USGS database the night before and found that there was an official Loma Prieta marker outside the fenced areas. As we made our way to the tippy top, I started looking for it. George found it, although didn't realize it at first. The marker on Loma Prieta is actually in a one-foot hole in the ground, covered by a dirty rag, and capped with a metal lid. Once we pulled everything out and cleaned it off, everyone touched the peak (except Sabine and Kirk, who took the "wrong" route to the summit). Fun!
There is a concrete foundation for what was probably a shed near the top. It makes for a good place to sit down. Next to it was a bed. Don't know why the bed was there, but Kirk seemed quite comfortable on it.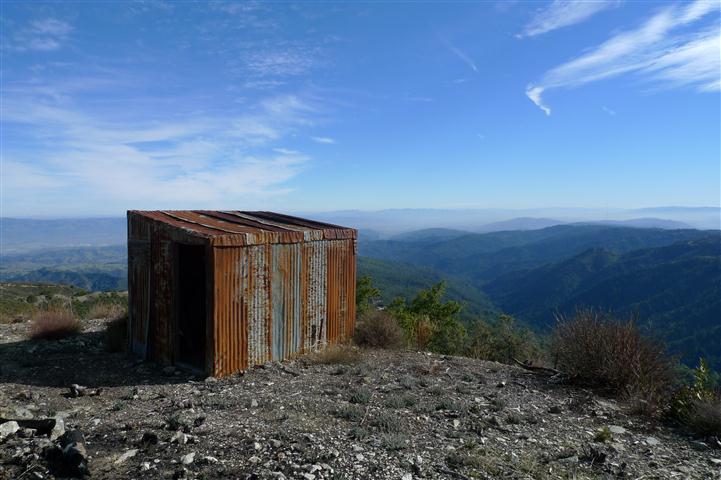 Uvas Canyon (and INCH Love Shack) from Loma Prieta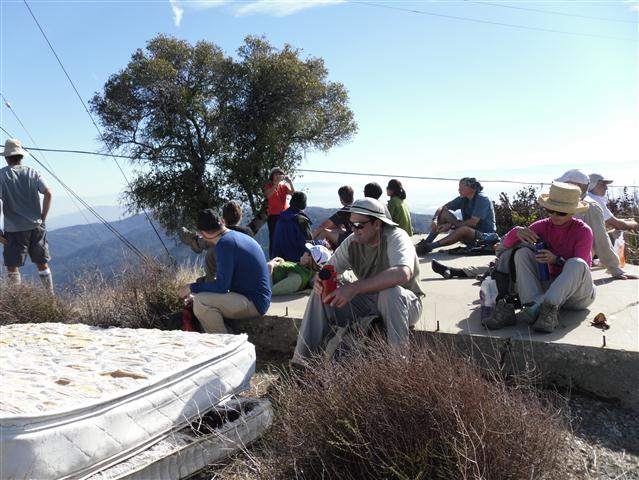 Paul contemplates a nap atop Loma Prieta
Once all the pictures were taken and lunches eaten, we were off. When planning the hike, I had seen two nearby peaks on the Topo Map (and Google Earth, for that matter) called Crystal Peak and Mt. Chual. Couldn't resist planning a ~2.5 mile excursion to visit them. Was surprised to get a few intrepid explorers including Yipeng, Diane, Ross, Sophie C, Kirk, and Robert. All the peaks looked easy to reach--and that was mostly true. This crossed two more (both higher than Mt. Umunhum) off the "named peaks" list.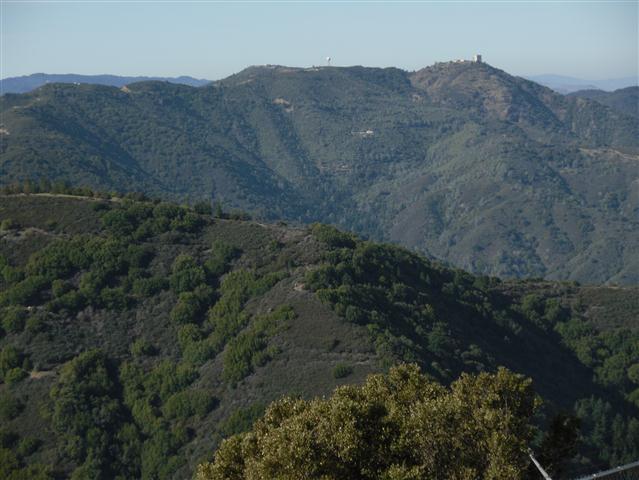 Mt. Umunhum from mighty Mt. Chual
On the way back around Loma Prieta, we ran into David, who was coming down from Loma Prieta's summit. One more picture and we were all off to conquer Nibbs Knob the much easier way.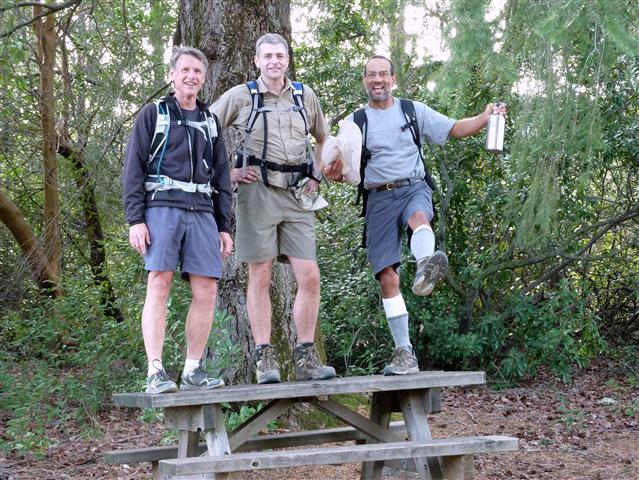 Conquering Nibbs Knob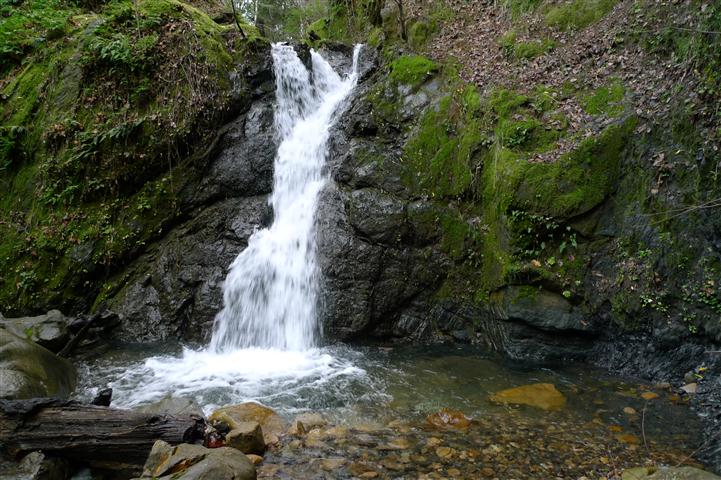 Bonus Falls (don't know the name)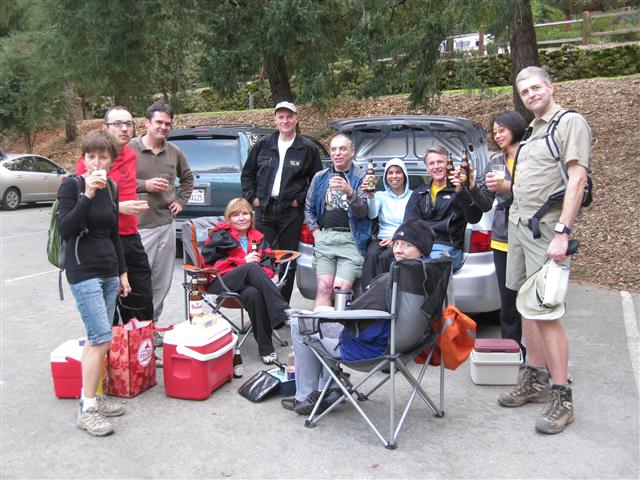 Bonus beer
And that was that. Highest point in the Santa Cruz mountains was visited for the third time with two bonus peaks for good measure. The food and drinks were in full force after the hike, so we had a good end to a good hike. For those who didn't do the side peaks, many visited a nearby fall (see picture above).
---
Fun fact! INCH owns the Santa Cruz Mountains. Below are the ten highest peaks (no two lists has the same peaks, though):
| | | | |
| --- | --- | --- | --- |
| 1 | Loma Prieta | 3786 | Today. |
| 1.1 | Crystal Peak | 3599 | Today for some. |
| 1.2 | Mt. Chual | 3562 | Today for some. |
| 2 | Mt. Umunhum | 3486 | Off limits. . .OK, now that it is officially open 745 was done before this hike. |
| 3 | Mt. McPherson | 3231 | Have taken small groups of INCHers there twice on Russ's favorite Sanborn Trail hike; peak is a.k.a. Mt. Bielawski. |
| 4 | El Sombroso | 2999 | INCH has been there many times, including once from the Priest Rock side. |
| 5 | Black Mountain | 2812 | Black Mountain is an INCH staple in Rancho San Antonio. We once hiked there three weeks in a row from different places. It also on the Steve's SuperHike loop. |
| 6 | Nibbs Knob | 2694 | Today. . .and just about every visit to Uvas. |
| 7 | Long Ridge | 2600+ | This private San Mateo county highpoint used to be open once a year, but no longer. I was there when it was open, so we'll call it an INCH visit. |
| 8 | Borel Hill | 2572 | No trip to Russian Ridge OSP is complete without tagging this summit. We've been there many times on the Ridge Trail hike, as well as every SuperHike variant. |
| 9 | Sierra Morena | 2417 | We've gone right by this peak in El Corte De Madera. Took a special trip there a couple months after this hike, but INCH has yet to officially tag it. [We later did] |
| 10 | Bald Mountain | 2387 | This peak in Sierra Azul is visited along with Mt. El Sombroso on an aptly named hike. |






Pages maintained by Steve Walstra, Peter Saviz, and Russell Gee.
©2022 Intrepid Northern California Hikers