765. Coit Lake (02/19/11)

Hikers (25): Carissa, David, Diane, Garth, George, Giulia, Hima, Iris, James W, Janice, Karl, Kirk, Linda L, Mark E, Mike, Padraig, Paul, Peter, Robert, Russ, Sarah, Sophie, Stacy, Steve, Tony
Distance: 19 miles
Rating: 5 difficulty, 9 beauty
Park info: Henry Coe State Park east of Morgan Hill

Write-up by Peter, George and Iris -- Pictures by Karl, Mark E, Stacy, and Tony
19 miles, 5200+ feet elevation in the rain, hail, sleet, and snow ... multiple creek crossings in the freezing temps to add to the misery ... after all that, I had to upgrade it to a level 5!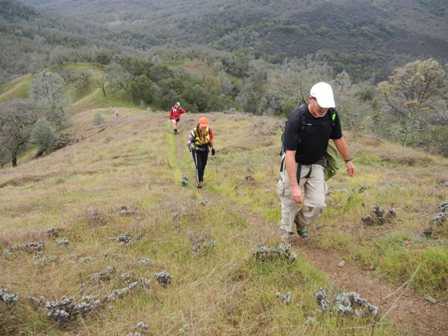 Heading up the trail ... looks like this is gonna be a piece of cake!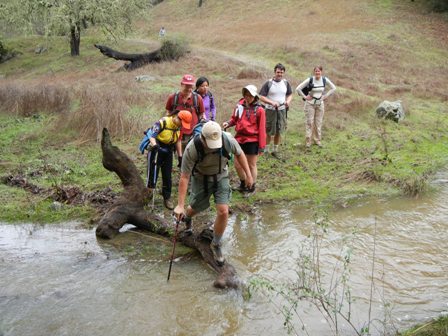 The Man makes the stream crossing look easy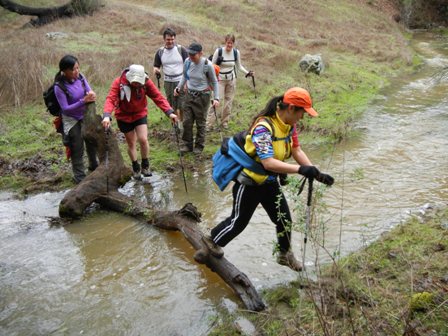 Wild Feet earns her nickname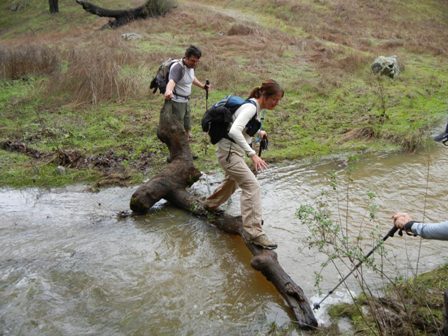 Stacy gets a 9.5 from the Russian judge ...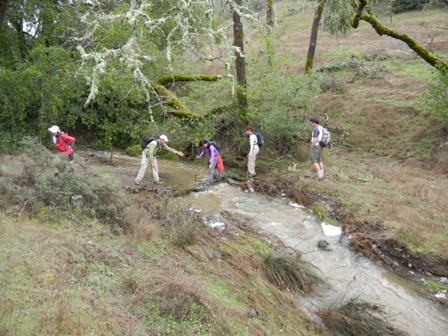 Gentleman George in action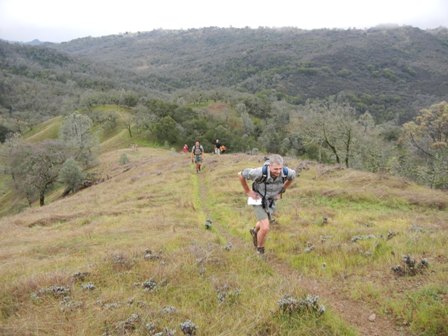 Steve finally picks up the pace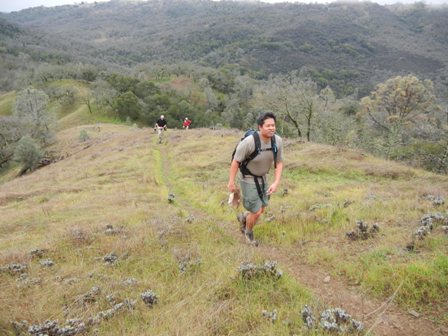 The Man lets it all hang out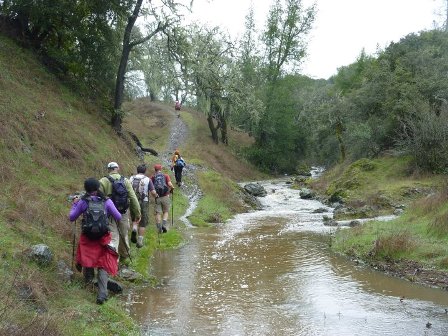 Crossing the creek for the last time on the outbound leg and heading up Tule Pond Trail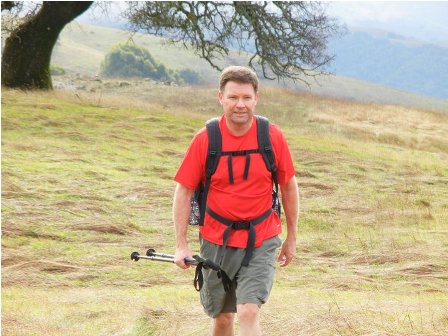 Where's all this bad weather we're supposed to have?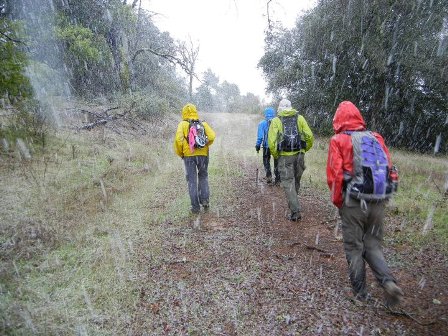 And then it came!
INCH knows the best places to eat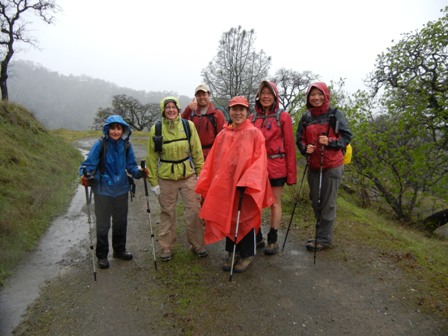 The Man's happy he decided not to bail on the hike...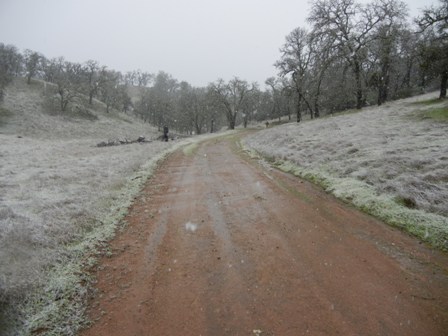 ... as Coe became a winter wonderland
I never thought I would live to see snow at Coe
Iris' warm smile melts the snow!
But Big Henry would not let us go back without kicking our ass some more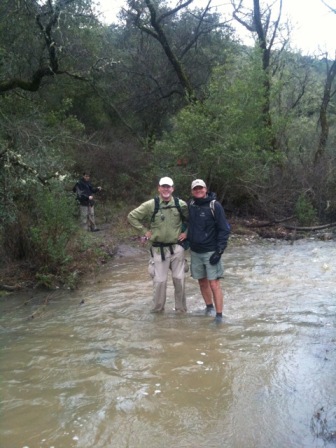 George and Karl cool their heels near the end of the hike
Iris shared a quote from French anthropologist Claude Levi-Strauss about hiking, which sums up the way she feels about this hike: "I found an immense vitality in the upended landscape. Instead of submitting passively to my gaze, like a picture that can be studied without one's giving anything of oneself. the mountain scene invited me to a conversation, as it were, in which we both had to give of our best. I made over to the mountains the physical effort that it cost me to explore them, and in return their true nature was revealed to me. At once rebellious and provocative, never revealing more than half of itself at any one time, keeping the other half fresh and intact for those complementary perspectives which would open up as I climbed up or down its slopes, the mountain scene joined with me in a kind of dance and a dance in which, I felt, I could move more freely for having so firm a grasp of the great truths which had inspired it." As for me, I hike because I like to drink beer afterwards.
Here's George's "View From The Rear" (I'll let you make up your own cheap jokes):
As promised I did not kill myself on your hike. I will save that for a crappy Steve hike. Surprising how much fun everyone had, I think the excitement of snow is what did it, plus the swollen creek crossings. Just hiking in the rain wasn't floating anybody's boat, so to speak. And neither was the cold and mud.
I wish I had a pic of Iris slipping a foot off a log at a crossing and almost going in completely. I was there to prevent the full-body soaker, and it was only a boot-full of water. However, it was Carissa's ill-placed flimsy log that Iris stepped on, so Carissa deserves credit for the entertainment.
Best part of the day was just after we saw Peter leaving the Coit Lake picnic table. Huddled in the overhang of the bathroom, pressed against the door of the bathroom were 4 or 5 guys, hard to tell they were packed in so tight - and sharing food! Ewwwww! We were all grossed out. But more better was coming. Russ headed over there to actually use the facilities, and all they did was press against the walls to let him squeeze through the door. They calmly resumed munching away on food under the overhang while Rusty made some phone calls.
Carissa decided to change socks - standing on one foot at a time, in the rain, trying to pull dry socks onto wet feet. The visual image should supply all the needed words.
As you know, Rusty and Stacy were hatching a mutinous plot in the parking lot before the hike started, but Stacy ruined Russ' plans for hot-tubbing and BBQ at Chester's. It wasn't too much later that we were laughing at Stacy as she schlepped along in the rain with the rest of us. But when the snow started both Russ and Iris really perked up - turns out they love the snow! Stacy - not so much.
When we got back to the Kelly Creek crossing just before the final ascent, most people were of a mind to hike through the stream - we were only a couple of miles from the finish, right ? After stomping through the creek we laughed and squished our way uphill. When we got to Hunting Hollow Rd and started our multiple river crossings, it was fun at first, but then the cold water started to bring on a lot of 'ow ow ow ow's'.
Karl and I were fine when walking in the water, but when we got out the cold really hurt, and it took a few minutes of walking to shake it off. Super Tough Hiker Iris was calling us wimps and girly-mans after the first few crossings, but then I noticed she was doubled-over with hands on knees joining us in the new INCH anthem 'ow ow ow ow ow ow'.
As usual after cold-water hikes my feet felt so much better than after a hot dusty hike. Once they thawed out that is.
Wasn't Iris' soup and Paul's bread fantastic! If they keep that up I just might hike with INCH once in a while. 4000 miles is not too far off.
Congrats to Diane on earning her second forest, and kudos to Kirk and Tony for doing the extra 4.5 mile round trip to Pacheco Falls. As you can see from Tony's album, it was well worth the trip.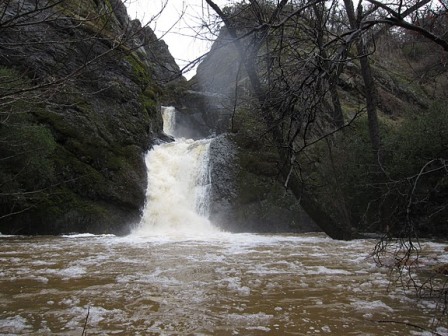 The mighty Pacheco Falls were in fine form on this day
Milestones:
David's 260th leaf
Diane's 2nd forest
Garth's 1st leaf
Steve's 610th leaf







Pages maintained by Steve Walstra, Peter Saviz, and Russell Gee.
©2022 Intrepid Northern California Hikers