764. Grant Park Big Loop (02/12/11)

Hikers (26): Amy D, Angelika, Carissa, Cecilia, David, Diane, George, George Re, Helen, Janice, Jeff, Karl, Marci, Mike, Nichole, Padraig, Paul, Robert, Ross, Sarah, Sophie, Steve, Subbu, Thomas, Wendy, Yipeng
Distance: 24 miles
Rating: 5 difficulty, 9 beauty
Park info: Grant Ranch County Park in East San Jose

Write-up by Steve -- Pictures by Karl and Jeff
Grant Park offered up another dose of pain for an early Valentine's Day present. The hike came out to be about two miles longer than normal, even though the map would suggest it should have been about the same. We hiked it counter-clockwise this time, which made it a bit tougher at the end.
1-2-3 INCH
We started about nine minutes late. I could tell Angelika and Thomas wanted to get started because they knew it was going to be a long day, but people kept coming in. As we were leaving, Marci was apparently getting parking somewhere on the road, never to be seen again.
This is a hike we've done many times. Some of the signs in Grant Park have faded away, but if pay just a little attention, it's easy to know where you are all the time because the junctions are few and far between. Ross, Jeff, and Diane were maintaining a quick clip, and were long gone by the time I finished my first cache. Jeff said "Are we going to get lost again?" as he passed. By the time I was back on the trail, there was another group of eight or nine people ahead as we headed toward the end of the trail, where Los Huecos Trail deadends on Cañada de Pala Trail. I remember the junction name well because, when I got there and consulted the map, Cecilia and George Re passed by. Cecilia read the trail names with an "authentic" accent. . .while going the wrong way with George Re, just behind Janice and a thread of people. Padraig helped hail the nearest segment of errant hikers and we were off in the right direction.
As I approached Antler Point, I could see Ross and Jeff on top and Diane going up a new use trail (there is a gentler route a bit farther on), so the front runners had made the correct turn, but no one in between had. Up on the real Antler Point (which has neither a trail nor a bench), we grouped together and took some pictures. People kept arriving, but by the time the group left, we were still missing a few people (Marci, Angelika, David, John).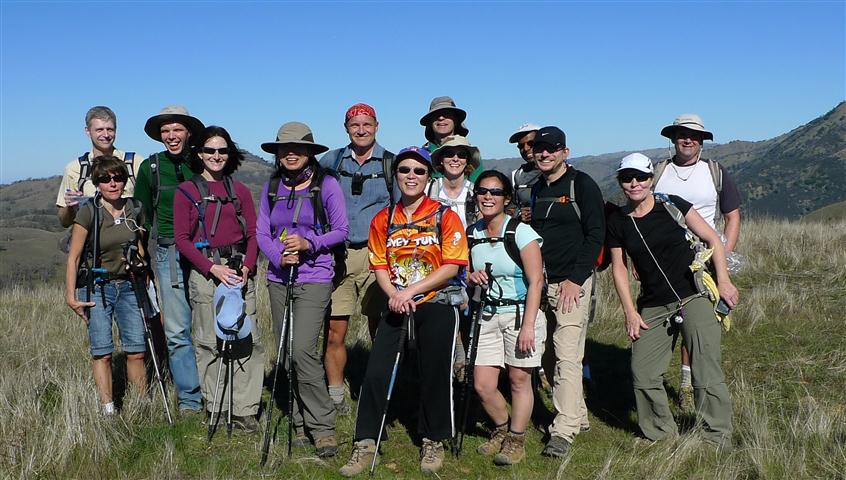 Antler Point conquered
New this year was taking the Washburn Trail, which allowed us to do a different loop in the opposite direction. Eventually we hit Mt. Hamilton Road, walked a bit NW, and picked up the Edwards Loop Trail. Soon we encountered a growling bull. George was higher up on the trail and recommended we just bypass the bull. Good advice. We were hoping no one would have to tangle with the bull and, luckily, the trail was a switchback, so we were quickly on the correct trail heading away from Ol' Growly.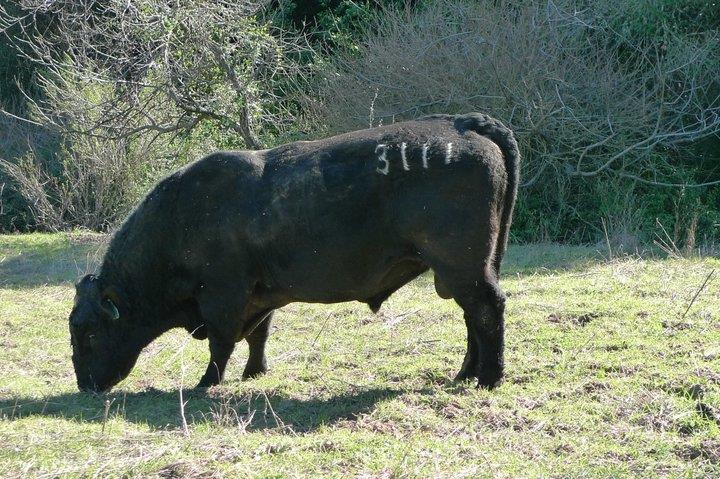 The Growling Bull
The hike featured an optional trip to Masters Hill. Only Jeff and Diane were nearby when I headed up. George, leveraging his keen GIS skills, had plotted out a longer, gentler approach. By the time we were heading up, George was much higher on the ridge already looking for a way across a fence. By the time we got there, George was heading back. The view from the peak was actually quite nice, with all the standard South Bay peaks (including recently visited Loma Prieta) in view. Diane and I took a different route down to pick up the trail while Jeff finished off his lunch. We could see a large group of INCHers enjoying lunch down where we picked up the use trail. Oddly, George Re and Yipeng were heading down the hill as we were leaving, but we never saw them at the peak (heard later they couldn't find a route--they thought it was trail the whole way). Ross told us at the end of the hike that he had also visited, so we were 5 out of 28--slightly higher than last year's optional side trip.
After the peak, we crossed Quimby and headed up the falsely named Dutch Flat Trail (it ain't flat, and it ain't Dutch!). I visited the Yerba Buena benchmark at the Scenic Overlook spot, but couldn't sit down on the bench because it was occupied by an amorous couple of kids. Oh well, better not to stop anyway.
Soon after, we spotted a someone resting spread eagle on the side of the trail. It was George! We chatted with him a bit, and he said he was going to rest up and take the shortest route back. He didn't need food or water, so we headed off. Just as we (Paul, Diane, me) were going, a big group of INCHers crested the hill. George was going to get worn out telling everyone his story.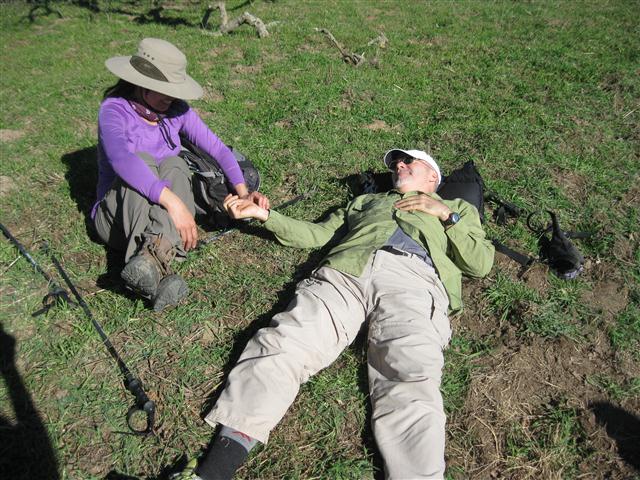 INCH hikes may be hazardous to your health
The next group of people decided George needed escort. Kudos to Iris and John for getting George back to the cars. We had a debate after hike about whether kindhearted souls should get leaves for not doing the hike. INCH leaves, of course, are for tracking people who do the hike. Exceptions to this are when dire things happen to people who mange to complete over 50% of the hike--we'll grant that one to George, since he was obviously trying to complete the hike and was sufficiently impaired for reasons unrelated to poor planning or fitness. The two people who escorted him out, however, didn't do the hike, so don't get leaves. Many people mistook this as a ding against altruism. We award leaves for hikes; altruism is its own reward, tracked in units of karma.
Soon we were heading downhill and eventually picked up far end of Cañada de Pala. This is a nice trail for a while, going along Halls Valley floor. Once it crosses San Felipe Creek, it's unrelentingly uphill for three miles and 1200 feet (which, coming during miles 19 to 22, takes its toll). Once across Hamilton again and up the final 0.5 mile stretch, it's pretty much all downhill. That downhill was worse than the uphill. I had stop and lay down while eating some Gu. Went another half mile until I saw a stile to sit on. Was feeling better when Padraig, Helen, and Sophie C came by, and we all headed back the final mile.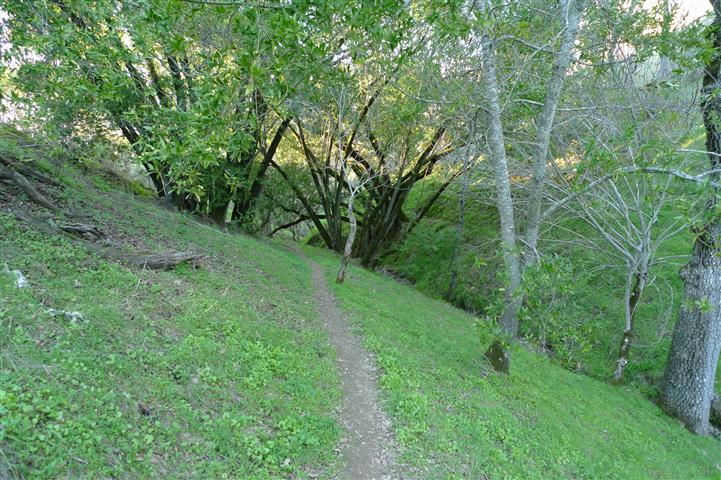 Most of the hike is open hills, but near the creeks it is cool and shady
A downright festive atmosphere prevailed in the parking lot, where we ate and drank while hikers came in. I am certain that this hike had the widest variety of beers of any past hike. Sophie had lots of interesting corked beers she had picked up from some Belgian friends. Thomas provided a Spaten Optimator, Helen shared a big bottle of porter, Mike was distributing some other porters, and everyone had brought different domestics. Good hike! There was food, too, including Iris's soup, cakes, cupcakes, chips, and other delicacies.
The high that day was around 70, a far cry from two years ago. Luckily, cool breezes throughout kept things manageable. All put together, it was definitely a five. The final uphill segment is much worse than the final ridge when doing it the opposite direction. Something to remember for next year.
Milestones:
Padraig's 140th leaf
Subbu's 1st leaf







Pages maintained by Steve Walstra, Peter Saviz, and Russell Gee.
©2022 Intrepid Northern California Hikers