773. Mt. Sizer Loop (04/16/11)

Hikers (31): Amy D, Angelika, Chris, David, Diane, Hans, Helen, Hima, Iris, Janice, Karl, Mark E, Mike, Padraig, Paul, Peter E, Peter M, Ross, Russ, Sarah, Scott, Shuli, Sophie, Sparky, Stacy, Steve, Suzie, Thomas, Walter, Wendy, Wennie
Distance: 16 miles
Rating: 4 difficulty, 8 beauty
Park info: Henry Coe State Park east of Morgan Hill

Write-up by Peter -- Pictures by Karl and Diane
I was mostly a spectator for this one, thanks to my bad back. I was originally just planning to go to the Monument to pay my respects to Big Henry, but The Chief's shot of tequila warmed me up and made me brave enough to attempt Frog Lake, as recommended by a wise ranger when we first visited Henry Coe 14 years ago. George and The Man kindly accompanied me at my snail's pace to the lake, where I finally was able to convince them to go on ahead, and I turned around and headed back to HQ on the Flat Frog Trail -- a new trail for me. Very nice! I think I will use that as the outbound trail from now on instead of the steep downhill to Frog Lake.
There was lots of commotion and hundreds of bikes by the time I got back to HQ. It turned out Coe HQ was the midpoint of a 100-mile bike ride on this day. I arrived just in time to see the paramedics haul off one guy who had fallen off and cracked his skull open. I ate my lunch and waited for most the riders to head out before I hit the road, but about a mile down the road, everything stopped. I could hear sirens approaching and a chopper overhead. This could not be good. It turned out another rider was having some sort of diffculty (I overhead someone say heart problems), so they had to haul him out of there too.
As you can imagine, it took a long time to clear the road and then they let all the bikes (in both directions) go through before letting the cars go, but since a car is faster than a bike, I caught up with the hundreds of bikes and had to navigate my way through them while hopefully not running anyone over. What was that crunching sound under my tire? Note to wanna-be traffic cop: Doesn't it make more sense to let the cars go through first?
My spies told me that Diane, Hima, David, Paul, Scott, Wennie, Walter, and The Man did the classic out-and back from The Bench (as had been pre-approved by the illustrious hike leader). George was not feeling well and turned back early, but it turned out that he just missed me.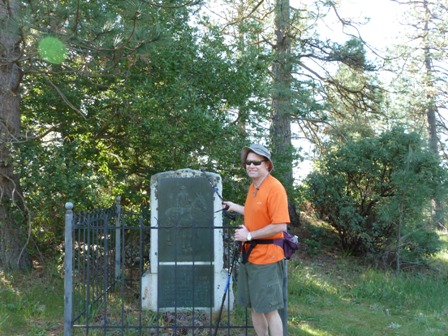 Paying respects to The Real Man!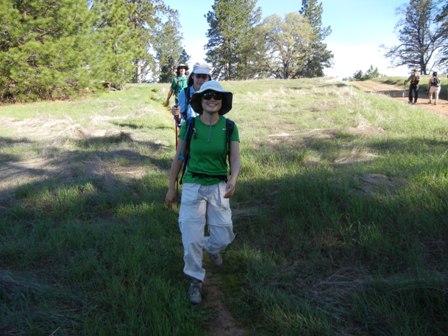 Winnie's all smiles on her Forest hike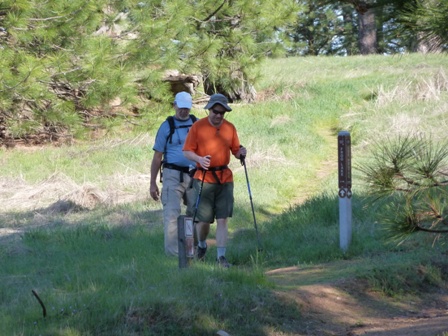 Security Detail made sure I didn't get lost on the way to Frog Lake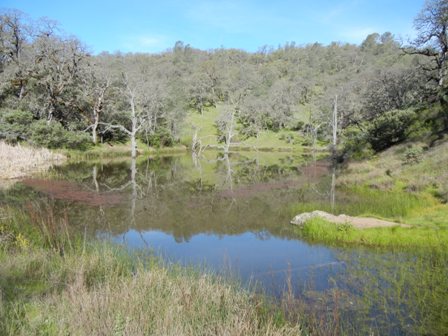 The beautiful and elusive Frog Lake
Not much water to cross before heading up to The Bench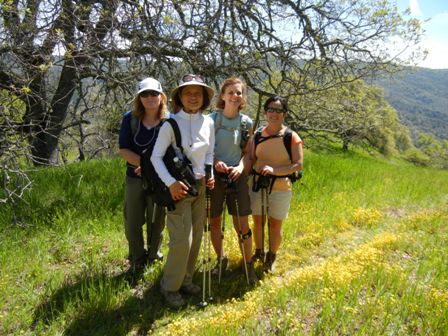 Pretty as a picture -- the ladies are all smiles at the top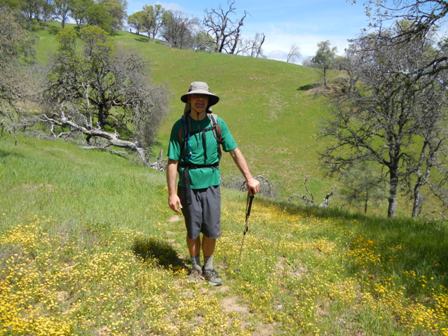 Paddy's running low on sugar ... need ... chocolate ... now!!!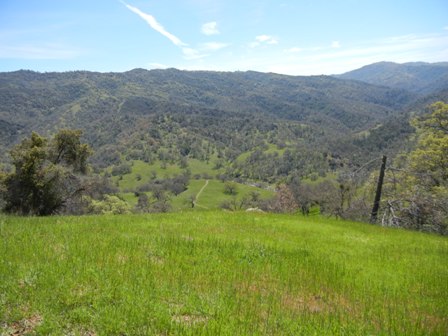 Looking down from Jackass Peak (named after ...)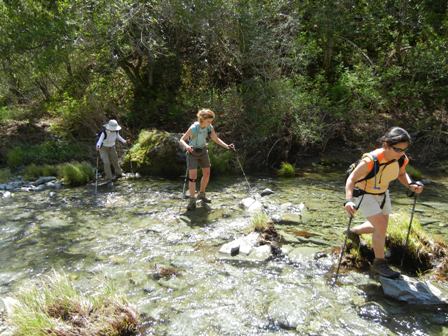 The ladies make crossing at Poverty Flat look easy
Congrats to Wennie on reaching the forest!
Milestones:
Chris's 20th leaf
Iris's 20th leaf
Scott's 120th leaf
Wendy's 10th leaf
Wennie's 1st forest







Pages maintained by Steve Walstra, Peter Saviz, and Russell Gee.
©2022 Intrepid Northern California Hikers