817. Grant Park Big Loop (02/11/12)

Hikers (24): Alan, Amy D, David, David A, Giulia, Gloria, Hailong, Iris, Jeff, Karl, Keung, Kirk, Linda L, Milon, Moe, Paul, Ralph, Russell, Sarah, Shuli, Sophie, Steve, Tony, Yipeng
Distance: 25 miles
Rating: 5 difficulty, 9 beauty
Park info: Grant Ranch County Park in East San Jose

Write-up by Steve -- Pictures by Giulia, Iris, Karl, Keung and Tony
Ah, Valentine's Day. A big loop at Grant Park is the INCH tradition. For a twist, we visited the "Spurs of Grant Park" because spurs, like hike leaders, don't get the love they deserve.
The weather said 20% chance of rain early in the day, which normally means it'll be a bit overcast. Even though it was drizzling slightly at the start, I didn't even take a poncho, much less a jacket. Didn't want to carry them around for the long, soon-to-be sunny hike. 33 started this initially cold, drizzly, breezy, fogged-in hike. But by the end, slightly after sunset, only 24 had done the whole hike.
1, 2, 3 INCH!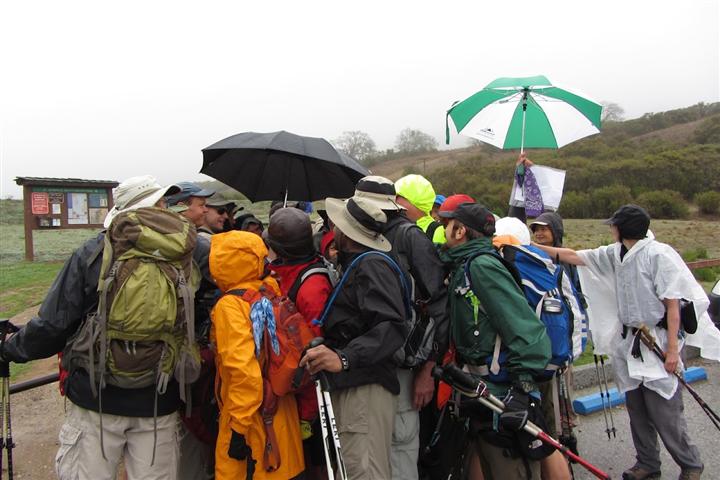 Rainy start
The first spur was not-Antler-Point, which is a nice bench that would be better located on the slightly higher Antler Point nearby. But it is the official spur on the map, so that's where we went. It was cold and rainy, so we huddled under a tree. Soon everyone wanted to leave, but I needed to keep people together because the next spur was unsigned, and I wanted to get everyone to the special location. I promised that we could leave once we saw the whites of either Iris's, Hima's or Chen's eyes.
Iris and Hima showed up about the same time, to much cheering. I was freezing in a pair of shorts and a short-sleeved shirt, and was about to get beaten up by the uprising of better-dressed (yet still cold) INCHers. Off we went, passing the few people still coming up the spur. Never saw Thomas and Angelika, so I put them on the "probably going to bail" list.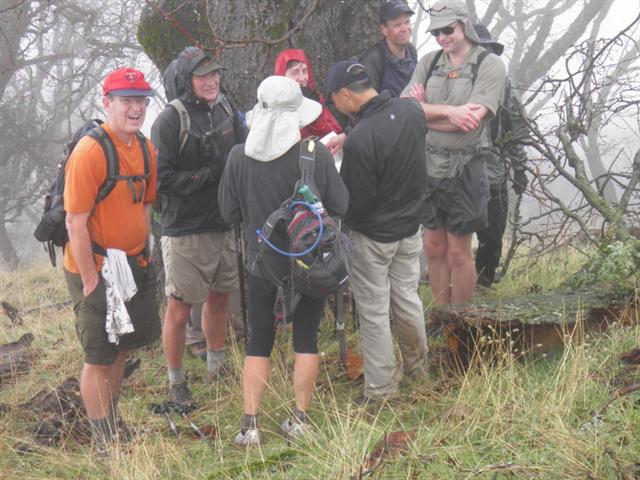 Awaiting the group at spur #1
I had created a few GPS waypoints for the next spur, Tamien Trail. Some on-line "research" indicated a downed windmill near the bottom. Google Earth confirmed this, so it became the focal point of the V-Day hike, where we would celebrate INCH milestones. The unmarked trail was far from obvious at the junction. Furthermore, the visibility was quite low, so no one could see far down the "trail" to confirm it kept going (or see others along the way). The front runners helped build a large arrow that would be difficult for people to miss. The trail was reasonably clear, but we eventually came to a multiple-way junction. I knew which way to go to get to our destination, and Alan kindly left his hiking poles to indicate the way for the next hikers. Off we went to a flat area. . .and then down to the windmill/water tower.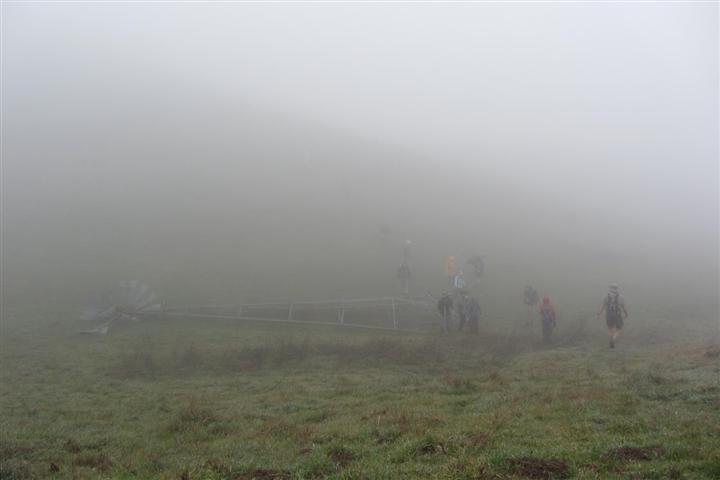 Don Quixote's victory at spur #2
It was a worthy location for a visit, made more interesting by the objects slowly materializing out of the ether as we walked down the hill in the fog. The first group got there intact, and we heard a second group calling out and guided them down. It was again cold and windy, so we warmed up with tequila shots to celebrate David's 300th hike in absentia. I wanted the whole group to participate but the weather was pretty crappy and there was a lot of hiking left to do. I let everyone leave who had (1) fewer than 151 hikes and/or (2) didn't drink. That turned out to be everyone except poor Paul, who wasn't substantially better dressed than I was. We waited a bit longer. . .then I set a "leave" time, and. . .then we left.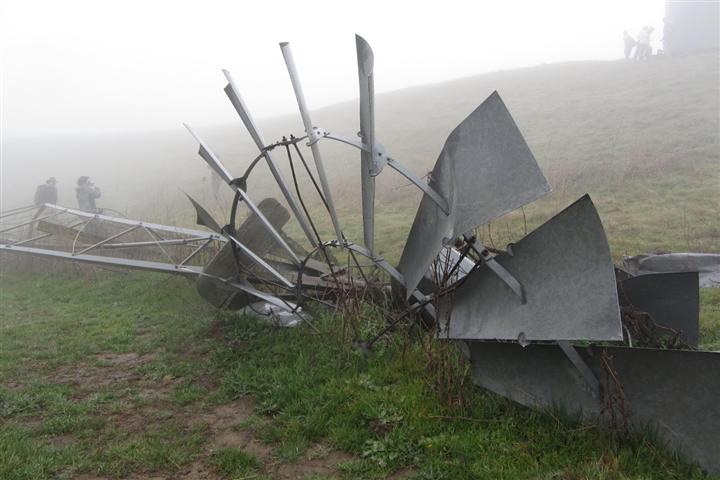 How the mighty have fallen
Paul and I made it back to the obvious tail and ran into David and Jeff. This was great, because it was not only David's 300th, but Jeff's 151st. I pulled out two flasks (both gifts from Janice--thanks!) with the correct beverages (tequila and 151-proof rum, respectively, for #300 and #151) and the four of us did many shots. By the end of it, I had done three tequila shots and one 151. . .and was still cold. Paul headed off, and I made sure to get the two celebrities down to the windmill. I learned that the trailing group couldn't find the last bit of trail. I was surprised, as we had been blowing whistles and the whole shebang, but maybe it was too late by the time we started making noise. Oh well, they got fairly close I later learned.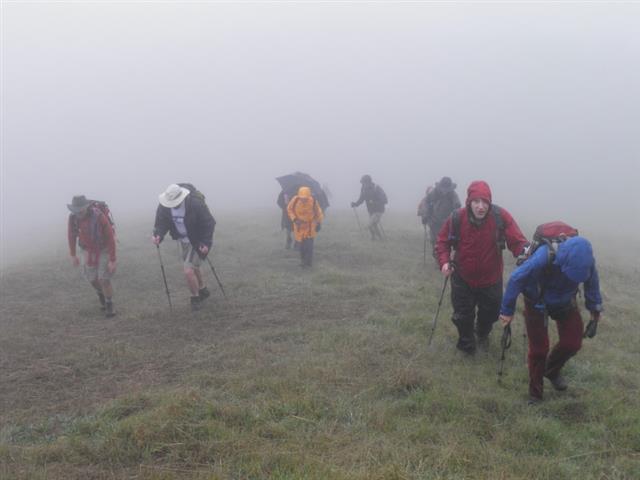 Great day for a hike. . .
The walk around Washburn Trail was mostly cold and drizzly, but the sun poked out a couple times and the temperature was rising enough that I wasn't feeling as miserable as before. Came to a water tank with a broken top. Grabbed the edge and pulled myself up to see if there was any water in it. Yep, there was. Fun! Then I started jogging--a rare event--to try to warm up on this mostly downhill segment.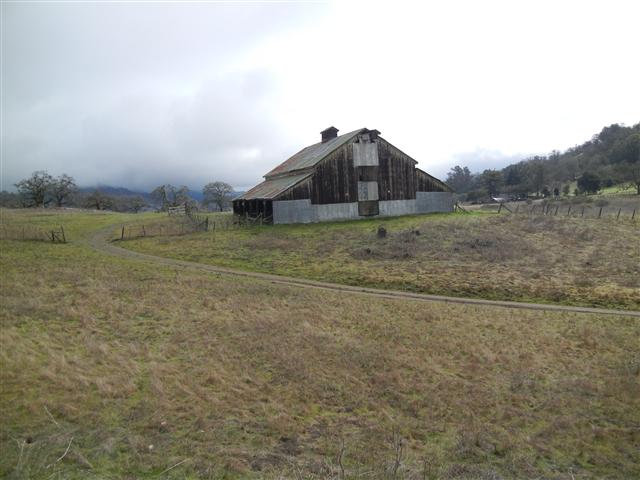 The White Barn gets less white every year
After the White Barn, one crosses the road. We normally go right and up to Edwards Loop. This time we went left, to head up the other side of Edwards Loop. Not too far up that trail, I was surprised to find a closed gate that had to be non-trivially crossed. I had just passed Paul and Gloria (with only David and Jeff behind), so figured there would be hours of entertainment ahead as I slowly passed people.
A couple tenths of a mile later, I came to a junction. It went the correct direction (left), but at an angle that did not match the map. I figured the map was more schematic than accurate, so took the turn. Over time i crossed two more gates and ended up on Quimby Road as expected. . .but much farther south--almost at the Mt. Hamilton Road/Quimby Road junction. I walked up Quimby for a while, but didn't want to route Gloria and Paul up the road (did I mention I left an arrow pointing down the wrong trail?), so walked back down to the gate I had exited on Quimby and left a huge arrow out of bark pointing to Mt. Hamilton Road. I walked down there and into the park, leaving arrows along the way. . .No one would use them, I learned later.
Everyone except Tony made that same wrong turn, and all of those people went up Quimby to pick up the correct Heron Trail. So while my arrows were for naught, at least I added some new trails to my repertoire and everyone else ended getting back on track. I eventually picked up the bottom of the Brush Trail, which climbs up toward the ridge. It makes a 180 turn before hitting the end of Dairy Trail. As I was coming out, I saw Subbu, Russ, Hima, and Iris (among others). Subbu wanted to know how much longer there was to go, and didn't seem enthusiastic about the answer (which I underestimated by a mile!). Everyone else seemed to be in reasonable spirits. Not too much later I ran into Keung, who was taking panoramic shots of the increasingly sunny day (see below). He said his mother had already headed back for the car.

The sun finally came out
I routed the hike to Circle Corral because we had never been there. Alan was going thorough his backpack as I got near the Circle. He asked for recon on his carpoolers, Russ and Hima. I said they were a bit farther back. He was worried they wouldn't make it out by dark. I checked my GPS and noted sunset was 5:40 (something like that)--no worries! Since I was passing him, he gave me his car key in case they turned back and got there before him.
Ten yards later, there was a group of INCHers milling about at the Circle Corral junction. They were looking at the maps and talking. I didn't understand what was complicated about the junction, but the real discussion was about bailing on the hike. Tiffany, John, and Sarah all declared they were going to head back. Tiffany and John were paying for a sitter, so had real constraints. Sarah was just pooped.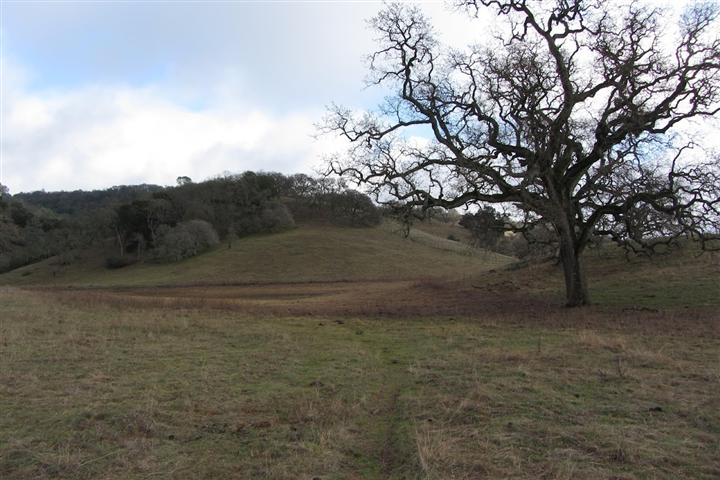 Pig Lake was barely there at the end of spur #3
The Hotel Trail out from Circle Corral was a steady, but mostly gentle, climb. Caught Shuli on the way up, who asked if the rest of the hike was optional since some people were heading back. "No, they're just not getting leaves".
Was surprised to find the trail to Pig Lake closed and unmarked (in the sense that they took the nameplate off the post). Was immediately delighted to see everyone was willing to proceed even after I said it was optional (due to the signage). Was even happier to find the lead hikers sitting by the (crappy!) lake when I got there. People can read maps. Walked all the way to the gate and back over the intervening hill, where I ran into the people who had been hanging around Corral Circle previously. This included Sarah, who had changed her mind and decided to stick it out.
I had added an optional spur of 3 miles RT (Manzanita). The intention was to provide a way to make the hike distance exceed marathon length. According to my GPS, I was going to get to 26 miles anyway (thanks to two trips to the Windmill and going up and down Quimby). Everyone but Tony had tacked on 0.7 miles already with the Edward Loop "detour" up Quimby as well. Nonetheless, I would find out later that Tony and Kirk did the bonus spur. Excellent job by both!
Bonhoff Trail offers a little kick before the final downhill to the cars. I felt pretty good, and chatted with the front runners for a bit. As I was going down Yerba Buena, however, I started flagging. The same thing happened a couple years ago. This time it made a little more sense, as I had run out of food at Pig Lake. When Yipeng came by, I begged for some food, and she produced not only a bag of peanuts, but some Shot Blocs to boot. The peanuts tasted great, and I sat on a rock and ate them as the rest of the front runners passed me. Remembered to hand Alan back his key as he passed. . .and then the peanuts kicked in. They were like spinach for Popeye. I felt fantastic.
Soon, I was back on my feet and caught back up with everyone as they were walking past the junction for Loop Trail. I called out that they were going to go the wrong way (continuing on boring ol' Yerba Buena), and convinced them that the (marked!) route was not longer or harder, and was actually nicer. This was all true! Just before I caught them, however, Yipeng had run (literally) ahead for some reason. I figured she was late for something so didn't call her back. We headed down Loop Trail past McCreery Lake and down to Grant Lake. This provided a nice view of the lake and setting sun.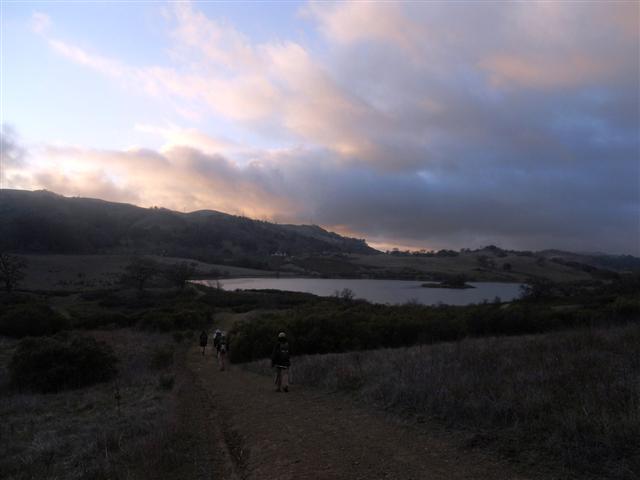 Grant Lake as seen from the final segment of Loop Trail
Back at the cars, Russ and Hima were there, having short cut back. I told them that Alan was just behind me--I should have kept the key. There were notes on my car from Tiffany about a gift to give to David for his 300th. Missing from the parking lot was Yipeng, who would show up with Sarah not much later. Somehow she thought she was lost and went back up Yerba Buena until she ran into Sarah. Of course, she was lost in a sense relative to the map. . .and Sarah was wrong. But as it turned out, beside the group I came down with, every other person came down Yerba Buena except Keung, who came down Mt. Hamilton Road for some unexplained reason.
We partied until the sun set, and still had Gloria, David, Jeff, and Paul missing. They would all show up together after sundown (with one headlamp). This normally wouldn't matter, but the parking lot closes as sunset. We had already talked to the ranger and told her we'd probably be a little late (luckily, she understood the Edwards Loop fiasco). We cleaned up everything and cleared out as David was cleaning up in the bathroom. Still, we weren't out until an hour after sunset, and the ranger gave me a second talking-to after we got all the cars out. For her sake, I promise to start earlier next year.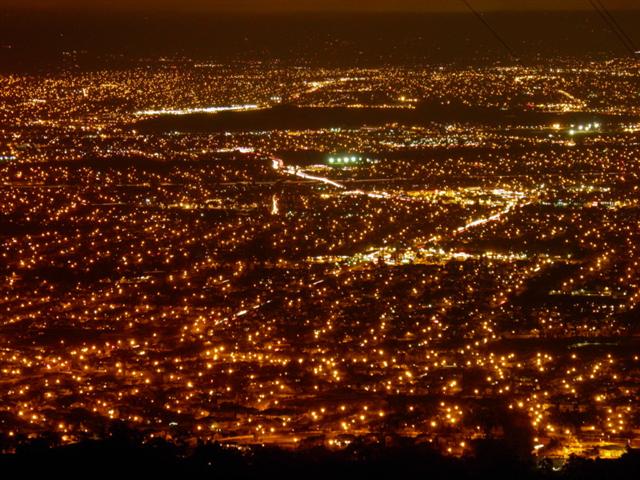 Coming back after dark
But the party didn't stop there! We set off for Darda Seafood in Milpitas to eat Chinese food and celebrate David's 300th leaf. Nine people put in orders, plus an order of onion pancakes, and we polished almost all of it family style. Gloria brought a festive cake for David's achievement. Yipeng lived so close that she took a shower, but the rest of us just stank up the joint. They wisely gave us a private room to shield us from the rest of the patrons. That isolation, however, encouraged us to keep talking and eating, long after the place was closed. Eventually we started getting gentle requests to get the hell out. Good end to a long day. Conquered Grant Park and closed down a Chinese restaurant--doesn't get much better than that.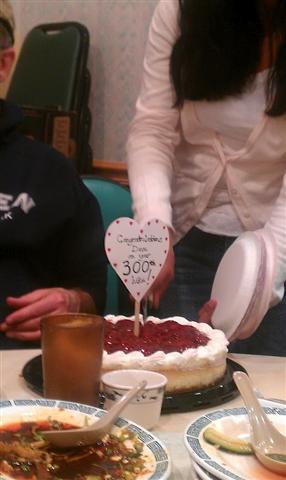 David is the first person to hit 300 hikes in 5.8 years
Milestones:
David's 3rd forest
Jeff's 151st leaf (and shot)
Keung's 1st leaf
Sophie's 50th leaf
Tony's 10th leaf







Pages maintained by Steve Walstra, Peter Saviz, and Russell Gee.
©2022 Intrepid Northern California Hikers