822. Montara Mountain via San Pedro (03/17/12)

Hikers (15): Alan, Chris, David, Gavin, Greta, Jeff, Karl, Ken, Mike, Peter, Pratibha, Russell, Sophie, Stacy, Steve
Distance: 7 miles
Rating: 2 difficulty, 9 beauty
Park info: San Pedro County Park in Pacifica

Write-up by Peter -- Pictures by Karl and Mike
My unnamed secret agent did the writeup, but I will take credit for it ...
With Peter still recuperating from some back pain, a short hike was on the agenda for St. Paddy's Day. Montara Mountain in Pacifica seemed perfect - only 7 miles or about 2.5 hours. As by magic, the hike was scheduled to happen between 10:00 and 1:00 pm, the only time of the day when showers were forecasted. Contrary to Dave's 300th hike, everyone was ready to confront the rain. Peter banished his orange T-shirt for a bright green one, hoping that the Saint Patron would chase the threatening clouds.
1, 2, 3 ... INCH!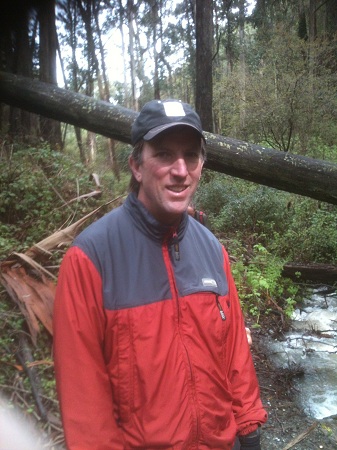 Ken was gambling that there would be no rain
Up we go to the top of Montara Mountain without getting lost. Like other kinds of carnivals, St. Patrick's Day is a feast day, a break from Lent in which followers are allowed to temporarily abandon rigorous fasting by indulging in the forbidden. To follow the tradition, Mike brought a bottle of Irish whiskey that we all shared on the top of the mountain.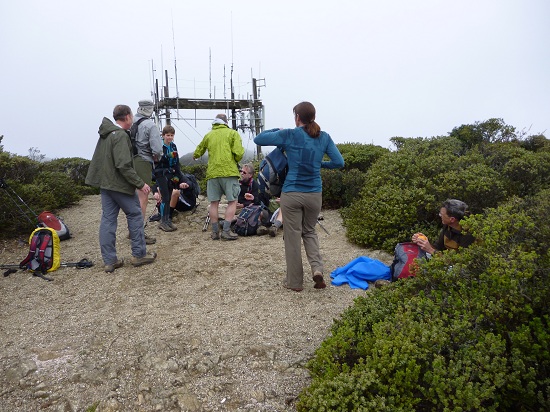 Big celebration on reaching the mighty summit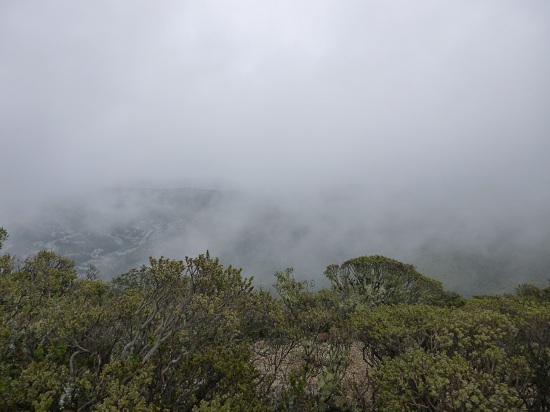 Better get back before the fog rolls in ...
All warmed up, we went back down the peak and reached the parking lot without a drop of rain. Russell decided that he did not get enough exercise and he went right back up to the peak.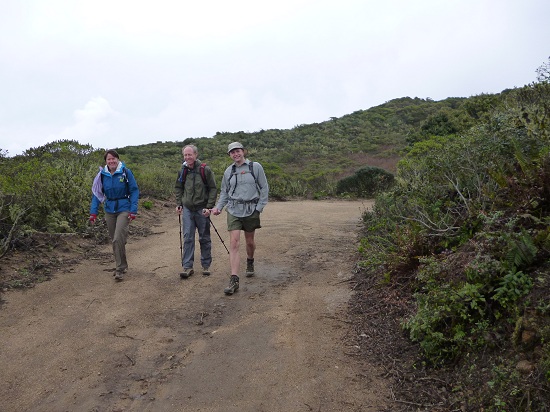 All smiles after shots of Irish Whiskey at the top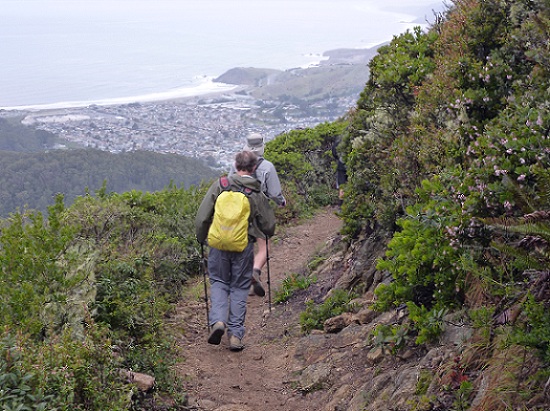 Rushing back down to Pacifica to celebrate St. Paddy's Day
In the mean time most of us felt like we did not give enough respect to St. Patrick. We went to Winters' Tavern in Pacifica where Guinness on tap was $1 a pint before 3:00 pm. After a couple of pints, an Irish dude convinced Steve to estimate the number of candies in a jar for $5. It is not clear yet if he won the challenge.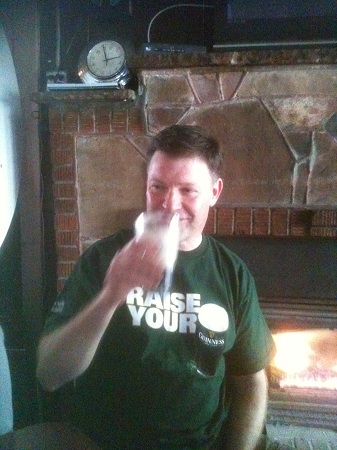 As Mike pointed out, this hike may have led the way in mileage to alcohol ratio -- cheers!
While we indulged on the cool dark liquid sitting by the fire, Pratibha, Jeff, and Gavin, who do not drink beer, had the mission to go fetch us some lunch. After an hour, they came back with five large pizzas to please the most sophisticated vegetarian palate. Even though some were disappointed by the meatless lunch, the pizzas disappeared in no time.
Milestones:
Peter's 440th leaf







Pages maintained by Steve Walstra, Peter Saviz, and Russell Gee.
©2022 Intrepid Northern California Hikers