833. Sweeney Ridge Loop (06/02/12)

Hikers (47): Alan, Arlene, Brendan D, Carissa, Chinyet, Daisy, David, Edita, George, Giulia, Gloria, Harvey, Helen, Hima, Isai, Jack X, Jackie, Janice, Jeff, Jim R, John, JP, Karl, Kathryn, Margaret R, Mike, Nagendra, Olive, Padraig, Paul, Peter, Peter E, Robert, Ross, Russ, Russell, Sabine, Sandy, Sarah, Shuli, Sophie, Sparky, Stacy, Steve, Susan, Tiffany, Vincent
Distance: 12 miles
Rating: 2 difficulty, 9 beauty
Park info: Sweeney Ridge in San Bruno

Write-up by Peter and Karl -- Pictures by Karl, Stacy and Giulia
In honor of George's birthday, he got to choose the hike and he came up with Sweeney Ridge, which was fine by me as I had never done this hike before. He even mapped out the trail and sent me all the trail notes, so all I had to do was print them out and show up to the hike -- future requestors, take note.
It was a beautiful sunny day as I set out to drive up the peninsula towards the trailhead. In fact, I was worried that we were starting out too late and we would run into a midday heatwave. No worries -- as soon as I turned off 280 towards Pacifica, it became super-foggy and the temperature dropped by 20 degrees. My kind of weather!
By some miracle, all the INCHers found each other in the fog, and after a long delay by someone (George) to figure out the parking situation, we set out almost on time.
1, 2, 3 ... INCH!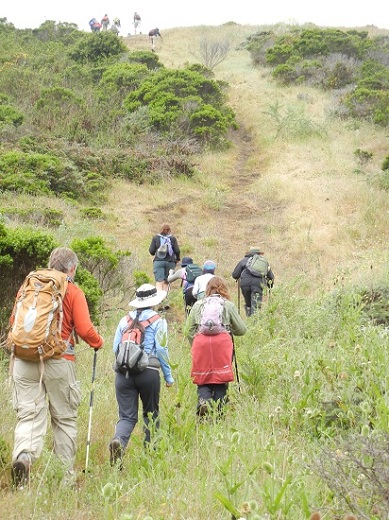 Heading up the 10th of 200 hills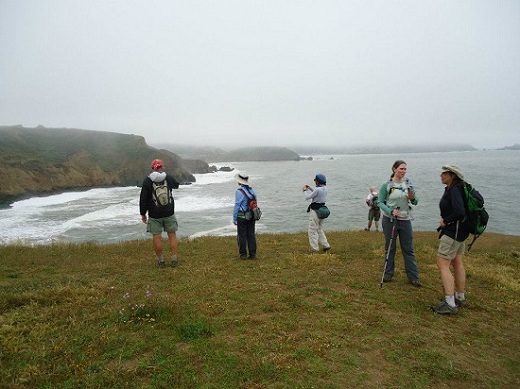 Enjoying the beauty of Mori Point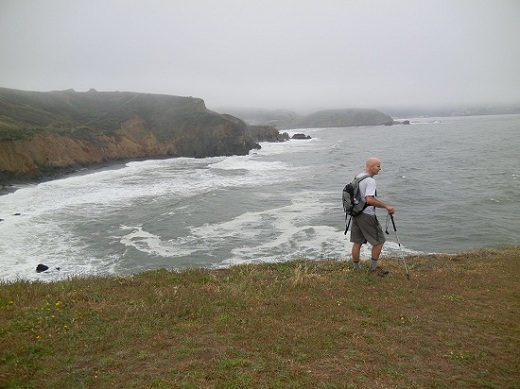 Paddy harkens back to the Emerald Isle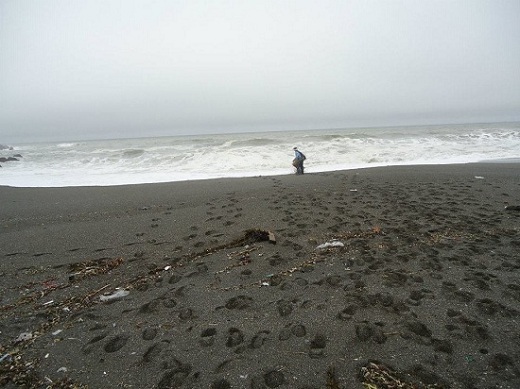 Carissa knows you gotta touch the water
Karl adds: Peter Ei knows he had to "touch the water" while on the beach. As he approaches, a waves comes fast...he starts to backpedal.....his feet get tangled and he falls to the beach, lying on his right side, as a waves surrounds him...LOL! The entire right side of his body SOAKED. Nice. Soaked by the ocean and 5 more miles to hike on a chilly day...LOL. I say: "Peter, you touch the water, not swim in the water!" He muttered something...might have been "Screw you George!". If it wasn't, it should have been!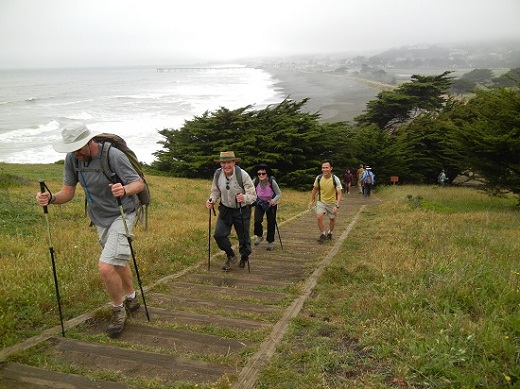 Back up from the beach ...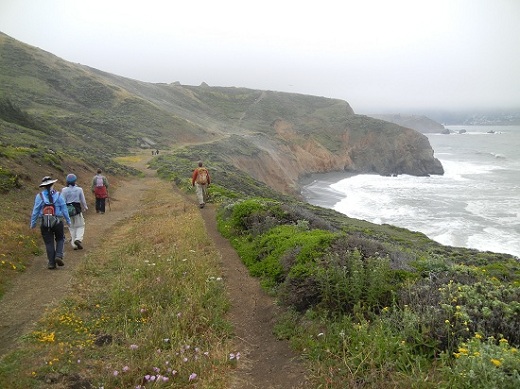 ... and on the trail again
More uphill -- screw you, George!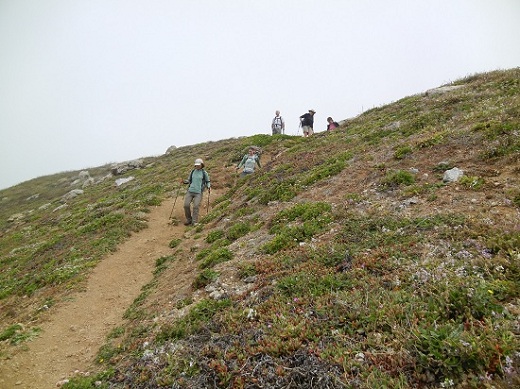 More downhill -- screw you, George!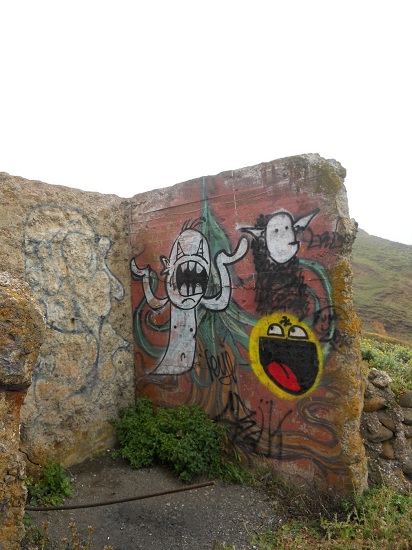 We enjoyed not only beautiful scenery on this hike, but also fabulous artwork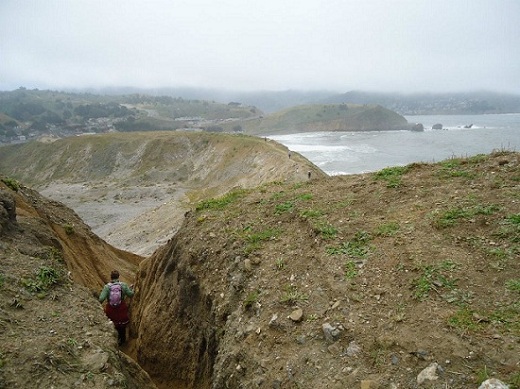 Down through the notch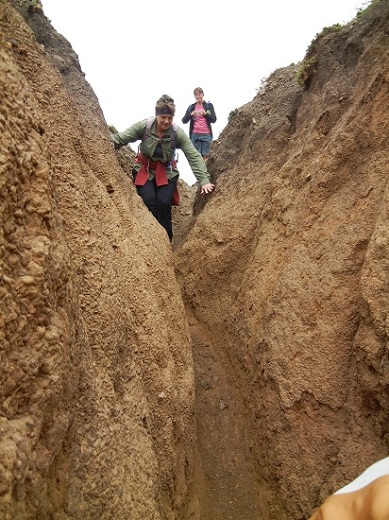 Photo of Stacy taking the previous photo
Approaching Rockaway Beach, where the smart ones in the group stopped for beer at Boston Bill's Chowder House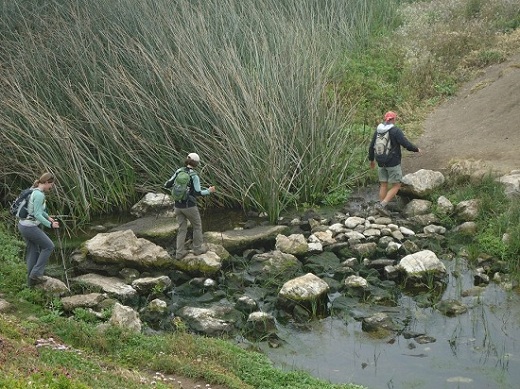 INCHers are pros at crossing streams
Fog rolling in again -- time to head out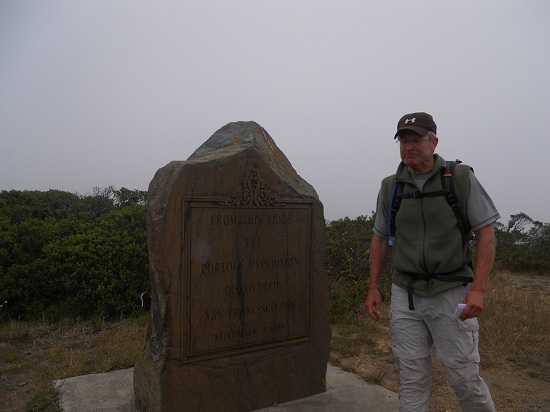 John checks out the monument at Discovery Point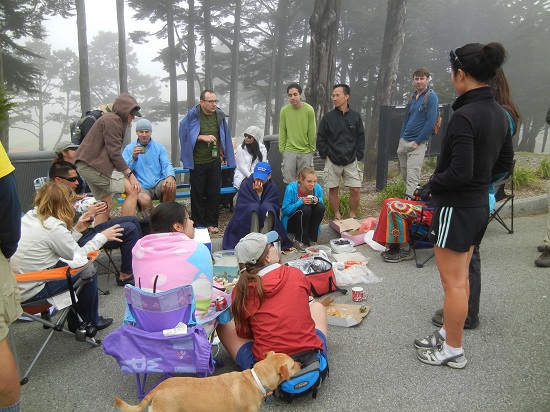 The frenzied (or is it freezing?) crowd eagerly anticipates UG's arrival at the party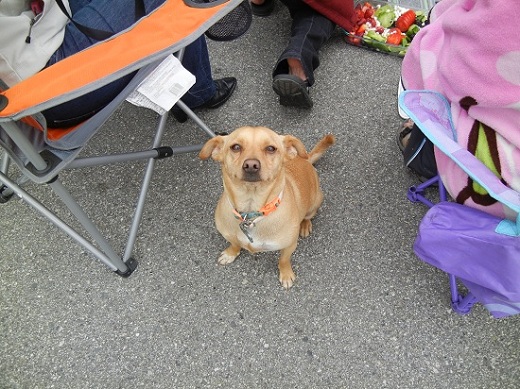 All the celebs came out for this one
Happy Birthday, you crazy old bastard!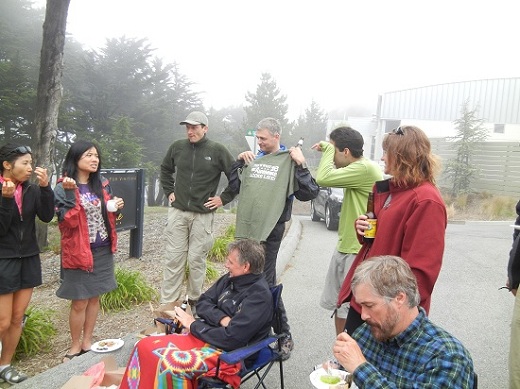 "Does this shirt make my ass look big?"
I loved this hike! A few steep sections, some poison oak, a tunnel, the ocean, a little bit of everything ... I definitely want to go back and do it again on a clear day so that we can actually see the ocean and the bay from the top of the ridge. And I will make a stop for a DBA at Boston Bill's mandatory for everyone.
Honorable mentions to Iris and Keung for (separately) doing parts of the hike. They both had airport duties in the morning and could not make it to the start, but did parts/most of the trail on their own. Close but no cigar. Too bad we could not break the INCH attendance record on Uncle George's 75th birthday hike. As it stands, we go in the record books tied for first, at least for now. The search for a hike to entice the elusive 48th person continues ...
Milestones:
George's 290th leaf
Giulia's 20th leaf
Jim R's 1st leaf
Margaret R's 1st leaf
Nagendra's 10th leaf
Padraig's 160th leaf
Paul's 270th leaf
Peter E's 30th leaf
Vincent's 1st leaf







Pages maintained by Steve Walstra, Peter Saviz, and Russell Gee.
©2022 Intrepid Northern California Hikers